At the end of spring, when longan trees start to flower, it's honey collecting season.
Honey to become the bee's knees
Ha Giang mountains offer perfect honey
As busy as a bee hunter can be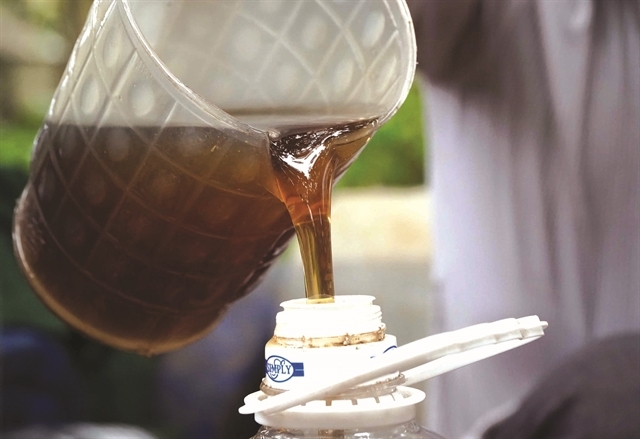 Honey from longan flowers is famed for its fragrance and nutritious value.
In big longan fields and small gardens in the northern province of Hưng Yên, rows of bee nesting boxes are placed in long lines, offering a home to the millions of bees busy searching for pollen.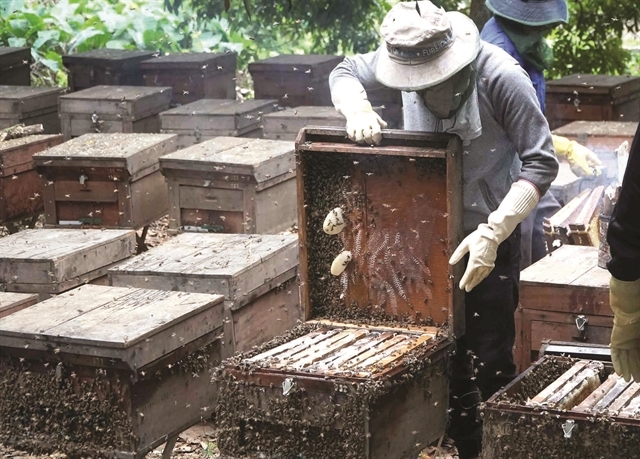 Collecting honey requires great care as the diligent bees may turn dangerous to farmers.
Most of the bee hives offer good quality honey, which may be sold wholesale for VNĐ80.000-90.000 (US$3.5-3.9) per kilogramme.
According to a local farmer, this year, the quality of longan flowers is worse than last year but the quality of honey will be the same. Honey from longan flowers is considered more fragrant and healthier than that from other kinds of flowers.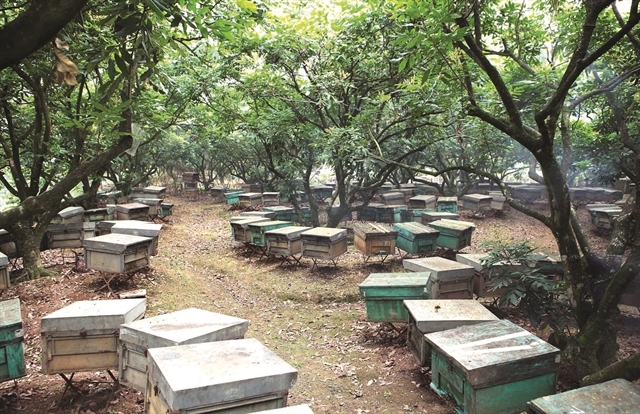 Nesting boxes are arranged under longan trees to help bees to find flowers.

If it is sunny, farmers can collect honey once every four to six days. Each bee nesting box may offer two to three kilogrammes of honey.
Last year, local farmers harvested around 150 tonnes of honey – 1.5 times higher than the productivity in previous years – which was sold widely throughout the country and exported overseas.
Honey season is a busy time for both bees and farmers.
Hưng Yên is famed for its longan, which is round with light yellow and firm skin. When opened, its flesh is fragrant, sweet and succulent.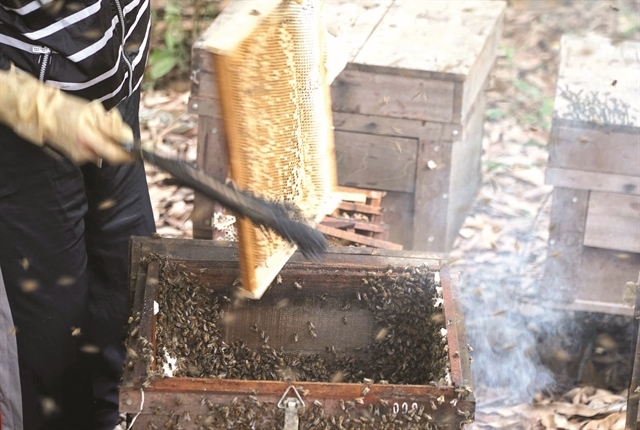 A farmer wipes bees off a hive to get honey.
The province is home to some 4,340ha of longan farms. Half of its longan fruits are grown under VietGAP standards.
Last year, longan output reached 42,000 tonnes, up nearly 20 per cent year on year. — VNS