D2C X Inc., the operator of a Japanese travel information website for foreign tourists, has recently launched its Vietnamese version.
Discovering the Japanese cultural spaces found in HCM City
Foreigners in Japan hit record high due to surge in Vietnamese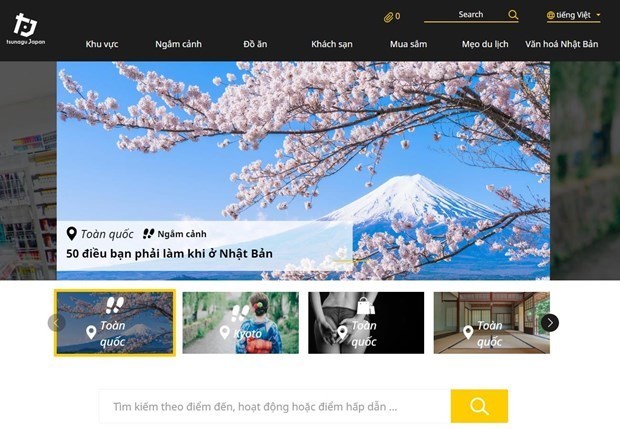 Interface of the website (Source: Tsunagu Japan)
The website https://www.tsunagujapan.com is now available in the five languages of English, Chinese, Thai, Korean, and Vietnamese.
It provides users with information on Japanese culture, the country's famous attractions and cuisine, as well as restaurants and hotels close to tourist sight-seeing locations. The website attracts about 1.5 million visits per month, said the D2C X Inc.
The Tokyo-based company said Vietnamese staff have been hired to produce content suitable for Vietnamese people.
Statistics of the Japan National Tourism Organisation showed that tourist arrivals from Vietnam to Japan hit a record number of 390,000 in 2018, a year-on-year surge of 26 percent.
As many as 120,000 Vietnamese visitors travelled to Japan in the first quarter of this year, up 42 percent compared to the same period in 2018. –VNA