Lang Co Bay in the central province of Thua Thien-Hue is celebrating 10 years since it was added to the WorldBays list of the world's most beautiful bays.
Festival honouring Lang Co Bay to be held in May
Lang Co town – A quiet retreat for summer escapes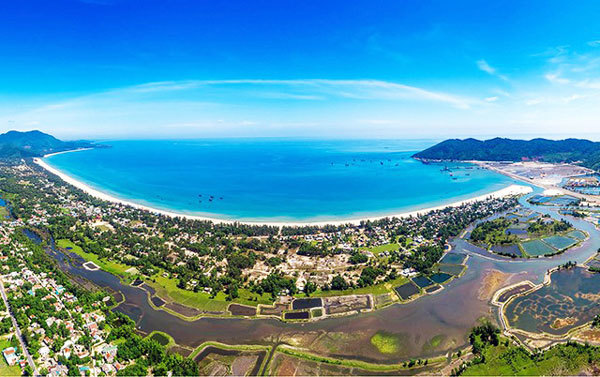 An aerial view of Lang Co Bay look from the upper Hai Van Pass in the central Thua Thien-Hue Province. Photo courtesy of local Department of Tourism
On Wednesday and Thursday, authorities in the province's Phu Loc District, where the bay is located, are hosting a celebration of the anniversary under the title "Lăng Cô – one of the world's most beautiful bays".
The event includes food, a beer fest, sport tournaments and a craft fair, as well as a photo exhibition, fireworks performance and art camps. Ho Trong Cau, the district's deputy chairman, said local authorities expected the festive day to remind people of Lang Co's beauty and draw more visitors to the bay.
On Tuesday, provincial authorities announced their master plan to make Lang Co one of the country's most prominent tourism hubs. Under the plan, Lang Co Bay will join with the adjacent Canh Duong Beach to form a marine tourism entity that includes eight zones for different functions.
The first zone includes much of Lap An Lagoon and Lang Co District, which includes the majority of hotel and resort facilities around the bay. The second zone has part of Lap An Lagoon and the Hoi Mit and Hoi Dua areas, and provides tourism services inside a residential area. The third includes Ca Beach, Chuoi Beach and Son Cha Pennisula, which are home to luxury tourism services.
The 9,490ha entity has another five zones, including a zone with the Chan May Sea Port that can accommodate large tourism vessels.
The planners have targeted the development of leisure travel, ecology tourism, golf tours, sport travel and MICE (meetings, incentives, conferences and exhibitions) tourism.
The provincial authorities also want the scheme to develop the area's infrastructure.
Authorities expect to increase revenue to VND3.4 trillion (US$146 million) by 2025 by welcoming 1.5 visitors per year. They are also targeting 2.5 million visits by 2030 for revenue of VND7 trillion.
Authorities said the plan was created to develop Lang Co into a world-standard destination, and would attempt to make use of the areas untapped beaches and lagoon.
Local tourism has for two decades relied on the relics left behind by the Nguyen Dynasty (1802-1945) in and around Hue, the former capital city of Vietnam. This heritage-based tourism system has been blamed for the area's low stay percentage among tourists, as they flock to neighbouring Da Nang and Hoi An for relaxation.
VNS