A new gastronomic and entertainment concept featuring the best of Vietnam's northern cuisine, as well as some regional art forms, has been introduced to residents and tourists in Hanoi.
Located in Sai Son Commune in Hanoi's Quoc Oai suburban district, about 25km from the city centre and home to the famous Thay Pagoda, Ngon Village aims to offer visitors a unique culinary and cultural experience.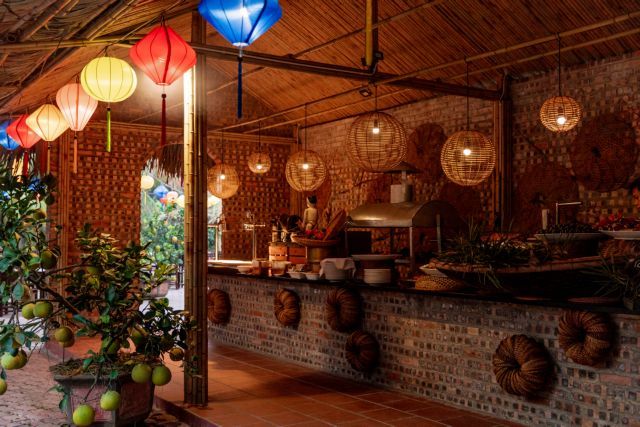 Ngon Village has been built in the form of traditional houses with exposed brick walls and palm-leaf roofs.

Visiting the venue, which has been built in the form of traditional houses with exposed brick walls and palm-leaf roofs, guests will be able to enjoy the diversity of Vietnam's northern cuisine through a variety of famous dishes such as nem rán (deep-fried spring rolls), bún chả (grilled pork with fresh vermicelli), phở (Vietnamese noodle soup), chả cá Hanoi (Hanoian style charcoal-grilled fish).
While the Market Corner showcases humble treats such as bánh đúc (rice-flour cake with peanut served with soya sauce), bánh khúc (a ball of glutinous rice mixed with cudweed and filled with mung bean and seasoned pork), boiled casava and corn, the Village Corner presents food created with ingredients caught from the rice field such as bún riêu (field crab noodle), bún ốc (escargot noodle), and ốc om chuối đậu (braised escargot with green banana and tofu).
Alongside the dishes from the village, the rural ambience has been enhanced with the surrounding bamboo as well as the brown-painted bamboo tables and chairs. Bamboo lanterns and fish traps have been used to adorn the restaurant.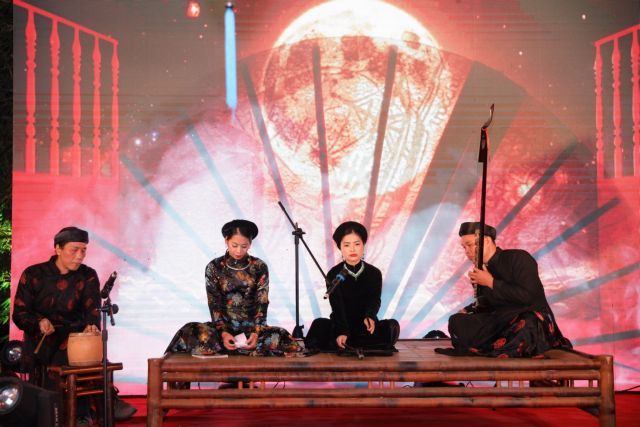 Artists perform ca tru (ceremonial singing) at Ngon Village.

While enjoying the food, guests can listen to ca tru (ceremonial singing) performances – a traditional art form recognised by UNESCO as an intangible heritage.

As the district once was a cradle of Vietnam's water puppetry, guests can also visit a nearby museum dedicated to the century-old unique artform. The cultural journey will be complete with performances of extracts from famous puppetry plays. The performances will be staged by local farmers on a water stage with a life-sized replica of Thay Pagoda's water pavilion as the background.
The cultural journey also features performances of some extracts from famous puppetry plays. Photos courtesy of Tuan Chau Hanoi JSC
This special stage is also the venue for the outdoor spectacle Tinh Hoa Bắc Bộ or The Quintessence of Tonkin, which was recommended by CNN as a must-see for anyone visiting Hanoi.
Staged by more than 250 performers, of which 150 are local farmers living in the area, the award-winning show demonstrates the agricultural culture of northern Vietnam. The show is a tourist product of the Tuan Chau Hanoi JSC.
For further information on the gastronomic and entertainment tour, please call +84 888 320066. — VNS

Bun cha is a well-known local food in Hanoi. 
There's a place in Vietnam you will really go nuts for. In days gone by when meat was in short supply, the substitute was pili nuts.
The Hanoi Culture Cuisine Festival 2019 is scheduled to take place from June 7 to 9 at Thong Nhat Park in the capital's Hai Ba Trung district.