Aside from the beautiful mountainscape and caves in Trang An and Tam Coc-Bich Dong, Ninh Binh Province is also famed for its specialties made of goats that live on limestone mountains.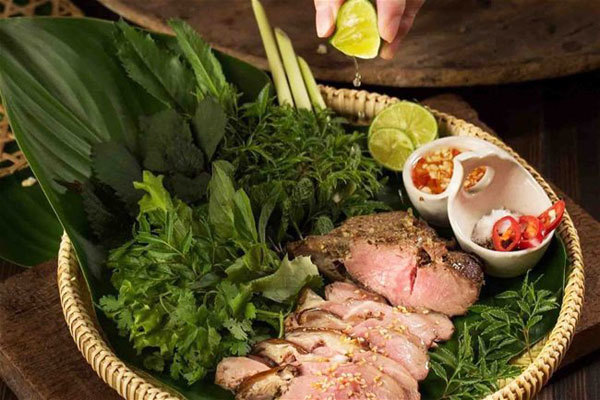 A set of grilled goat meat.
Raising goat for its meat is common not only in Ninh Binh Province but also in other neighboring provinces. However, goat meat from the province is said to be second to none because of the very special taste which comes from the way the goats are fed.
As the goats are free, they eat natural herbs and plants on limestone mountains formed after many millennia. What the goats take in makes their meat soft and very lean. Especially, the bad smell of the meat is not as strong as that of goats raised in other regions.
According to local cooks, goats weighing 15 to 20 kilograms each offer the best meat. Ninh Binh Province provides dozens of different dishes prepared from goat meat. The most tasteful among them are goat soup, grilled goat meat with five spices, steamed goat meat with ginger, goat hotpot, and goat porridge, to name but a few.
To enjoy the specialties in the province, travelers can visit eateries in the areas around Trang An, Tam Coc Caves or at the foot of Hoa Lu Mountain.
Source: SGT

The northern province of Ninh Binh is not only famed for its spectacular scenery but also local delicacies such as cơm cháy (scorched rice), dishes made of free-range chicken and goats raised on karst mountains.

Meats from goat, hill chicken and ostrich are the must-try dishes in Ba Vi District in Hanoi.