Noodles with jellyfish is a typical dish of the sea, which is popular in central and south regions.
The jellyfish for a noodle dish needs to be the size of a big toe and a dark white colour, which is often found near offshore islands.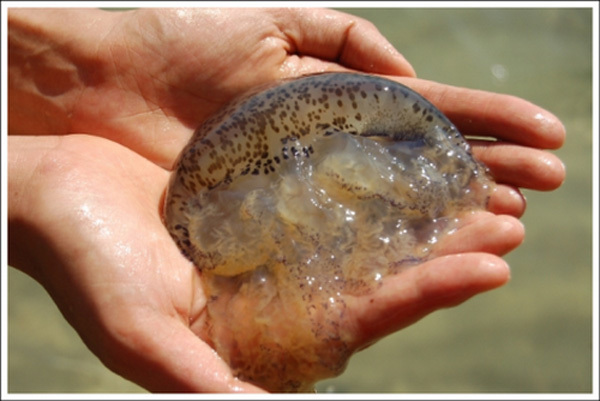 Jellyfish contains lots of nutrition. VNS Photo Thu Hien
When catching the jellyfish, locals rinse off the slime from the body. Then, they use minced guava leaves (with tart substance) or alum solution to soak the jellyfish for some hours. The jellyfish shrinks a little bit and is then rinsed in water carefully. It is then cut into small thin slices and stirred in fat with chopped tomato and onion.
The broth for this noodle dish is made from boiled fish. In Nha Trang City, liệt fish, a kind of small fish is used for the broth while in Quy Nhon City, people also use dried shrimp for a savoury taste. In other areas, bones and heads of salmon are used for the broth.
Minced fish paste is also used as an ingredient. The paste is made from delicious fish like thu (mackerel), nhồng (barracuda) and đối (mullet). The fish is separated from bones to get lean meat, which is minced and made into small balls, steamed well to eat.
"People in central region make the broth with only fish, not meat, other ingredients are also taken from the sea, and they use very little spices," said cook Mai Thu from Quy Nhon.
"That's why the broth is savoury but not fatty," she said. "Southern people would add some shrimp paste into the broth to make it saltier with a shrimp flavour.
"When sipping the broth, I remember the image of my hardworking sisters and mother getting up early to the fish market to buy fresh fish and squid to cook for the whole family.
"Then in a small cottage in the middle of a white sandhill, the whole family gathers to eat steamed fish dipped into chilly salt. I'll never forget that savour."
The final broth should be clear in appearance but offer a naturally savoury taste of fish.
Thu said she thinks tourists visiting the central region cannot resist this simple noodle dish.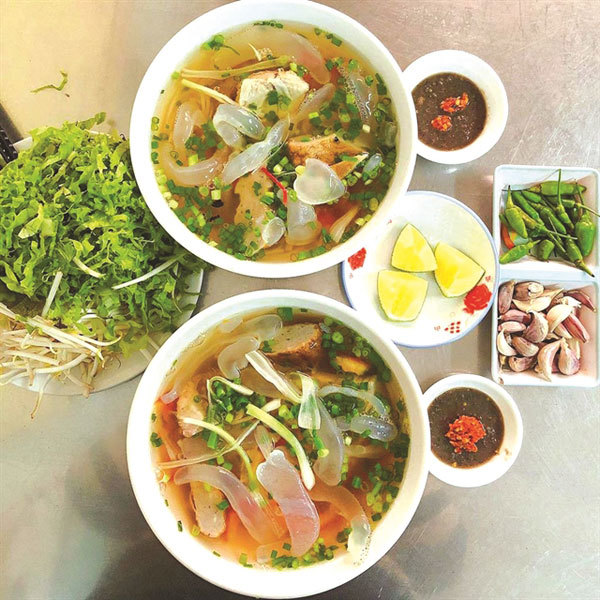 Noodles with jellyfish and fish paste in Da Nang. VNS Photo Thu Hien
"As the very simplicity in processing is the typical characteristic of the coastal region, to keep the natural taste the most intact," she said.
The noodles should be boiled then added with boiled fish paste, stirred-in-fat jellyfish and poured with the broth made from boiled fish.
The dish should be eaten with various kinds of vegetables like lettuce, aromatic herbs and bean sprouts, as well as chilli and lemon.
In Nha Trang, some of the best places to eat the dish include Nam Beo Restaurant, Cay Bang Restaurant and a restaurant offering fish, jellyfish and shrimp noodles at the junction of Yersin and Ba Trieu streets.
In many localities, restaurant use also pork bones for the broth to increase savour. To add attractive colour for the soup, chefs stir some fresh shrimp with chopped tomato in fat to make a reddish solution, which is then added to the broth to create the eye-catching colour.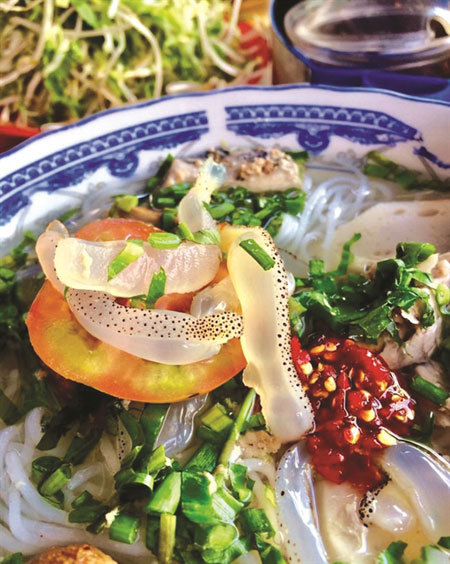 Noodles in Nha Trang. Photo bazantravel.com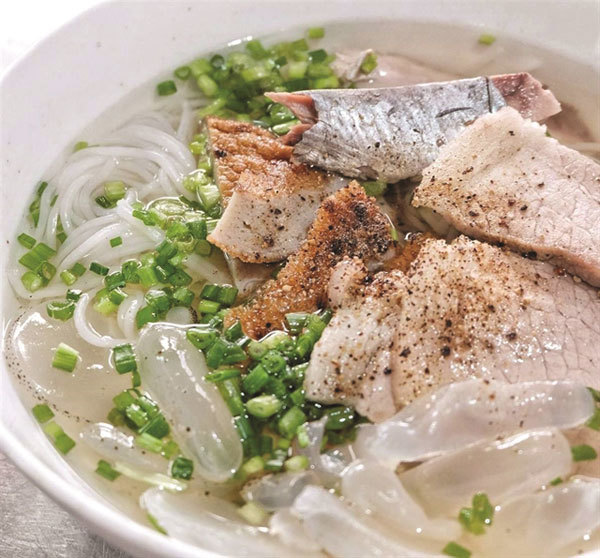 The noodles can be added with pork and fish depending on the creativeness of the cook. Photo foody.vn
In Quy Nhon, the final dish is served with also some baked peanuts and sliced green mango.
People can try the dish at restaurants like Bun Thuy Quy Nhon, Quan bun Ut Hanh and Bun ca Phuong Teo.
Elsewhere inland, the noodles can also be served with sliced pork and shrimp. VNS
Nguyen Thu Hien

Jellyfish noodle soup is popular in some central coast provinces like Binh Dinh, Ninh Thuan and Khanh Hoa. The specialty wins the heart of diners with its fresh taste of the sea.  

Apart from bòng bong (seaweed) salad, Ly Son Island in Quang Ngai Province is also famous for dishes like gỏi tỏi (fresh garlic salad) and different versions of ốc mặt trăng (moon face snail).