The new Hai Phong highway has reduced the travel time from Hanoi to World Heritage site Ha Long Bay, making it possible to easily enjoy a two-day trip. Ha Long Bay is so beautiful, we go there almost every summer and have never tired of it. 
Hand-ground cha muc, a speciality of Ha Long
Ha Long a must-visit travel destination
Ha Long City transformed into Vietnam's top destination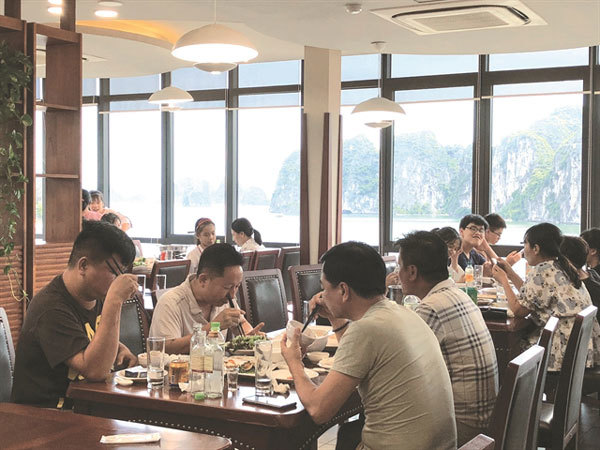 TOP SPOT: Diners on the sixth floor at Talata can have a great view of the bay. VNS Photo My Ha
Departing from Hanoi at 7 in the morning, we arrived at Ha Long by 9.30. The city centre built around the marvellous pure black Quang Ninh Library and Museums, designed by Spanish architect Salvador Arroyo Perez, give the city a modern look, but still sporting the region's natural black coal.
New spacious streets, shophouses, storefronts, recreational centres and apartment buildings have totally altered the surface of the previously working neighbourhood of Hon Gai.
In a beach city that has had plenty of seafood, it was easy yet difficult to find a great place to eat. It's very easy to have great seafood if it's fresh. Just a quick steam or roast on charcoal, dipped in salt and pepper with a pinch of lemon juice and chilli sauce is enough.
But we were a sizeable group and our leader has travelled around the country, so she knows great places to eat. So it took us a while to charter the chessboard roads of new living quarters by the bay before we arrive at a modern six-storey restaurant in a residential area.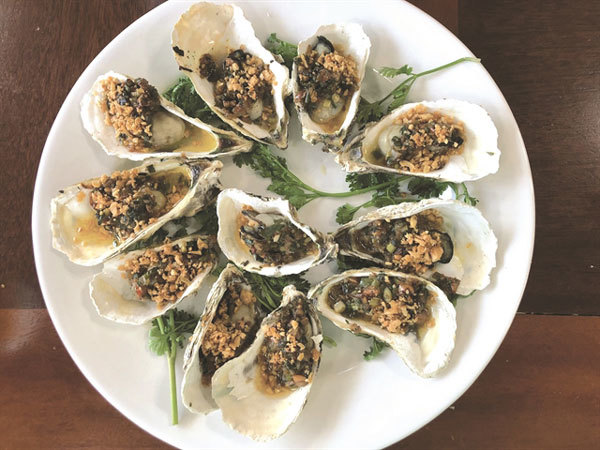 TEXT: Seafood restaurant with a view of stunning Ha Long Bay
Talata is a chain of seafood restaurants you can find in Hanoi, Hai Phong and Quang Ninh. We quickly rose to the sixth floor and when we got out of the elevator, my jaw dropped at what I was seeing. The beautiful rocks of Ha Long Bay were so close I felt I could reach out and touch them.
But everyone else in the dining room, including those in our group, obviously did not feel the same. They were so hungry they did not bother to look up.
We had steamed clams (VND240,000 per kilo). The clams were fresh and quite costly even by the coast. They're steamed with ginger, lemongrass, fresh chilli and basil. We drank the clear soup to cleanse our taste buds for the coming food.
The first two bowls of clams were gone in a blink, then we had some fried corn (VND20,000), which is a snack, but people love it as it keeps them busy waiting for dishes to be prepared.
Next came the oysters roasted with stir-fried shallot greens (VND17,000 each), which means you can have as many as you want. It was strange to have pricing like this in a fancy restaurant, but this way helps clients feel they are fairly charged.
We were all waiting for the main course to come. It's the famous crabs in tamarind sauce (VND800,000 per kilo). Usually a big crab can weigh up to a kilogram and you'll need at least two people to share one. The recipe for the sauce is widely available online, but each chef has his own way of mixing it with other ingredients. We were very lucky that we had a great experience at Talata in Ha Long. The sauce was sour and sweet and well-seasoned to mix with the fresh crab meat.
Vietnamese believe seafood belongs to the group of cold food as it comes from the sea. Thus they have to be cooked with lots of warm and hot ingredients like ginger, chilli and pepper, and of course served hot.
CATCH OF THE DAY: Fresh mantis shrimps for the hot pot. VNS Photo My Ha
We were once startled in a high-end seafood restaurant in Normandy to find out that all the cooked seafood was served on a bed of ice. Then the waiter looked at me as if I were from another planet when I kindly asked him if he or the restaurant, by any chance, have some chilli sauce, or better, Tabasco!
The final hotpot (VND130,000 per pot and you can add the toppings accordingly) wrapped everything up as it includes the special mantis shrimp, fresh from the sea. The bouillon was well-done with the shrimp and we had special black noodles from Hai Phong.
For a hotpot, plenty of fresh vegetables are served, so everyone was glad they all agreed on the last dish. It's such a communal dish because everyone picks from one pot and ladles the burning soup for themselves. I love family meals when we have hotpot on cold, winter days, because it's so cosy and can last for hours.
But this time our meal could not last for hours. We had to get back to our apartments, rented out in Ha Long at affordable prices for the city tour in the afternoon.
by Nguyen My Ha
VNS