Several foreign travel firms and cruise lines have cancelled tours to Vietnam.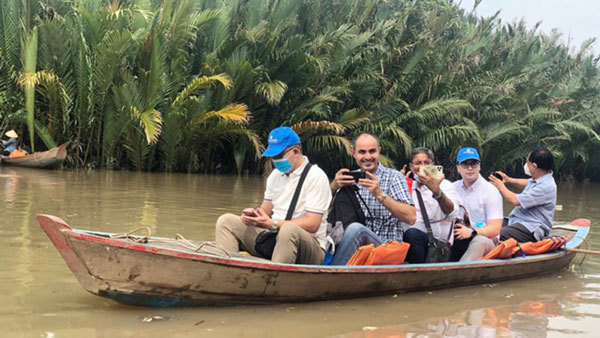 File photo of foreign tourists taking a boat ride in Ben Tre Province.
Several foreign travel firms and cruise lines have cancelled tours to Vietnam, which were set to depart in May 2022, as many tourist destinations in the country have yet to officially reopen international tourism services, causing a sense of uncertainty among local partner tour operators.
Many firms voiced concerns over the potential collapse of the international tourism segment in 2022.
Nguyen Huu Y Yen, general director of Saigontourist Travel, forecast a gloomy picture of inbound travel next year, saying that some major foreign travel companies such as Germany's TUI Group have called off all their Vietnam tour programs in March and April next year.
Many international tourists who want to tour Asia will have the option to travel to the Indonesian island of Bali, Singapore and Thailand, instead of waiting for Vietnam's reopening of inbound tourism.
As for cruise travel, several cruise lines, including Carnival, Star Cruises and Royal Caribbean, have also cancelled their planned Vietnam visits, set to depart in May 2022.
"If the reopening of international tourism continues to be delayed, tours on cruise ships to the country would be scrapped until the end of 2022," he said.
Nguyen Ngoc Toan, director of Image Travel & Events Company, said France's travel company Salaun had cancelled tours set for February 2022, while TUI Group had dropped its Vietnam tour programs set for May next year.
Many groups of foreign tourists have decided to travel to Thailand, instead of Vietnam, he said.
Source: SGT

Vietnam is putting measures in place to ensure the 'absolute safety' of residents and foreign tourists as the country is set to soon resume international tourism activities.