A workshop on drawing high-spending and long-stay tourists recently took place in Hanoi, with participants suggesting a range of measures to develop the sector.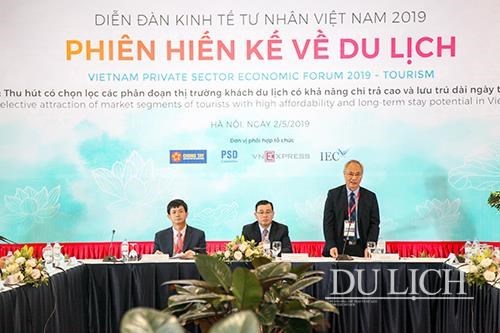 Scene at the event (Photo: vtr.org.vn)
Foreign visitors to Vietnam tend to stay longer but spend less than those to other countries in the region, said Le Quang Tung, Deputy Minister of Culture, Sports and Tourism. According to him, a foreign tourist spends an average 96 USD per day in Vietnam but 330 USD per day in Singapore.
Tung also pointed to a decrease in the proportion of visitors from high-spending markets, like North America and Europe, in the total number of foreigners to Vietnam since 2015.
He urged the tourist sector to pay more attention to exploiting high-spending markets and raising the proportion of self-guided travellers instead of those booking tours.
Vu The Binh, Vice Chairman of the Vietnam Tourism Association, recommended the first work to do is to improve visa policy for better competitiveness.
Truong Tan Son, a representative from tour operator Saigontourist, noted the sector needs to clarify its major products.
Pham Ha, director of the Luxury Travel Vietnam Limited Company, said four key points in developing the industry are visa policy, human resources training, tourism products, and effective promotion.
Ngo Minh Duc, chairman of the board of director at the HG company, suggested Vietnam establish a tourism development fund and tourism promotion offices overseas.
Cao Tri Dung, director of the Vietnam Travelmart, said the country's current infrastructure can satisfy visitors' demand for aviation, food and accommodation services. However, to keep them stay for longer duration, the tourism sector needs to provide more recreational activities like shopping, golf, and performance shows.
He added the building of tax-refund facilities at tourist destinations rather than just at the airports is also necessary.
According to the General Statistics Office, the number of foreign visitors to Vietnam in March exceeded 1.4 million people, raising the total number of foreigners to the country over the last three months to more than 4.5 million, a year-on-year increase of 7 percent.
In 2019, the tourism industry aims to welcome 103 million visitors, including 18 million international visitors and 85 million domestic tourists.-VNA