Vietnam has been named among enchanting destinations in Southeast Asia which one cannot afford to miss this year, according to Ceoworld Magazine.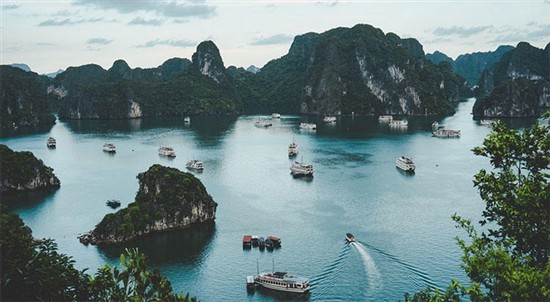 Ha Long Bay, Quang Ninh province in Vietnam.
The magazine advises travelers that to witness the pristine natural beauty, make sure Vietnam is part of the travel list.
It is the most diverse destination in Southeast Asia with paddy fields to rocky hills. Vietnam is also an ideal destination for couples. Ho Chi Minh City is the obvious place to visit and also witness Halong Bay, a world heritage UNESCO site.
Indonesia tops the list, followed by Thailand, Cambodia, Vietnam, the Philippines, Malaysia, Myanmar, Laos.
Vietnam is among most affordable places to move around the globe before they get too expensive, according to a list released by Live and Invest Overseas (LIOS), a savvy source for information on international living, retiring abroad, and investing.
LIOS recommends Vietnam as a forward-looking country with a fast-growing economy where new US residents can live on a basic budget of just US$500 a month.
"In spots like Da Lat and Da Nang, dinner at a local restaurant costs between US$1 and US$4; a Coke costs 50 cents, and a loaf of crusty French bread is 45 cents, making it easy to stretch your dollars without much in the way of sacrifice. And it's easy to have a fabulous beach vacation in the coastal city of Quy Nhon," LIOS wrote.
The number of foreign holidaymakers to Vietnam in the first four months of 2019 is estimated at nearly 6 million, a 7.6% increase from the same period last year, according to the Vietnam National Adiministration of Tourism under the Ministry of Culture, Sports and Tourism. Hanoitimes
Ha Phuong