Vietnam's tourism promotion campaign has shown its efficiency helping the country get close to its target of attracting 17.5-18 million international tourists this year.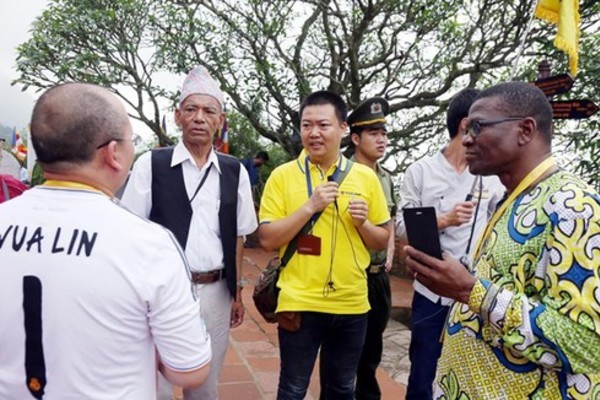 The VNAT has promoted tourism advertisement programmes to increase international visitors. Photo vietnamplus.vn
The Vietnam National Administration of Tourism (VNAT) concluded its 10-day programme to introduce Vietnam's tourism to Japanese cities and province successfully last week.
The campaign took place in Kanagawa Prefecture, Tokyo, Hokkaido prefecture during September 6-15.
If the new goals are reached, the total revenue from tourists is estimated at VND700 trillion (US$30.4 billion).
With the final quarter of the year considered a peak time for visitors, the industry is confident it will meet the goals.
Japan is one of the key markets for Vietnam's tourism, according to the administration. This year, Vietnam welcomed more than 620,000 Japanese visitors, up 13.7 per cent over the same period in 2018.
In 2018, the number of Japanese visitors to Vietnam reached nearly 830,000, a year on year increase of 3.6 per cent.
Japanese guests have a special impression on traditional culture, cultural heritages, cuisine, handicrafts, natural landscapes and historical sites of Vietnam, it said.
Following Japan, Vietnam's tourism industry will continue to attend the China - ASEAN International Tourism Fair 2019, which takes place from October 18-20, in Guilin, China, according to the administration.
The VNAT also said Vietnam ranks 63rd among the 140 countries and territories in the recently released Travel & Tourism Competitiveness Index (TTCI) 2019, jumping four places compared to the latest 2017 ranking, especially thanks to improvements in international openness and visa policies.
Its visa requirements in the international openness sub-index achieved the greatest improvement, jumping 63 spots in the global rankings.
In recent years, Vietnam has made multiple efforts to improve the openness of its visa policies, such as increase of number of countries joining visa exemptions for travelers and applying of e-visas.
According to the report, Vietnam also moved up in terms of price competitiveness (to 22nd from 35th), airport transport infrastructure (to 50th from 61st) and tourism service infrastructure (to 106th from 113th).
It ranked fifth in Southeast Asia in travel and tourism competitiveness, following Singapore, Malaysia, Thailand, and Indonesia.
However, the report said Vietnam still has to deal with challenges relating to labour quality, availability of information technology and communication, and tourism service infrastructure.
Asia-Pacific was one of the fastest-growing travel and tourism regions in this year's ranking, according to the report.
Released by the World Economic Forum (WEF) every two years since 2007, the TTCI 2019 analysed 140 economies and scored each according to their performance on the following six pillars – air transport infrastructure, ICT readiness, price competitiveness, international openness, travel & tourism prioritisation, and safety and security. VNS