Tourism in Vietnam and other countries in the lower part of the Mekong River such as Myanmar, Cambodia, Laos and Thailand has been booming in recent years, which is expected to help Vietnam draw investment from diverse sources.
Hoi An ancient city in central Quang Nam province
Michael Duck, Vice President of Informa Markets Asia Corporation, said there are more flights in Vietnam connecting domestic and foreign locations. For example, new airline Vinpearl Air is expected to start flying soon after receiving a business licence in July.
Earlier, in December 2018, Air Asia signed a memorandum of understanding with local partners in Vietnam reaffirming its intention to establish a low-cost airline, he added.
Recently, many international hotel groups have revealed plans to build more locations in Vietnam. Specifically, Oyo Hotels & Homes will invest 50 million USD in Vietnam in the next years. Meanwhile, Eastin Grand Resort Vung Tau Vietnam will open in 2022 with 192 villas and 4,000 resort units, and Centara Hotels & Resort strives to open at least 20 new hotels in Vietnam by 2024.
The luxury cruise ship Mekong Jewel is expected to begin its journey down the Mekong River by 2020. This will open up a new market for travellers who want a luxurious and unique vacation by cruise ships from Vietnam to Cambodia.
In particular, the Asian Development Bank (ADB) has approved a 45 million USD loan for Vietnam, which will be used to develop Hoa Binh, Nghe An, Quang Binh, Quang Tri and Thua Thien - Hue into competitive tourist destinations.
Katerina Giannouka, President of the Radisson Hotel Group in Asia-Pacific, said the central coast of Vietnam is becoming one of the most attractive destinations in Asia.
Particularly, the ancient city of Hoi An gives visitors a perfect blend of the charm of ancient culture and modernity. This is also why the Radisson Hotel Group has participated in a number of projects in Vietnam, including the Radisson Blu Hoi An project, she added.
Vietnam welcomed 11.3 million international tourists in the first eight months of 2019, a year-on-year rise of 8.7 percent. The country aims to serve 17.5-18 million foreign arrivals and 85 million domestic ones this year.
Forum looks to develop Vietnam's tourism startup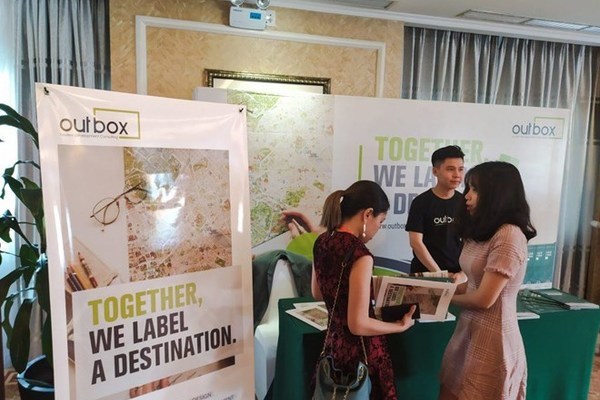 A startup booth at the Startup Tourism with Global Vision forum (Photo: khoinghiepsangtao.vn)
Experts gathered at a forum in Ho Chi Minh City on September 4 to discuss measures to encourage tourism startups.
At the Startup Tourism with Global Vision forum, organised in the framework of the 15th International Travel Expo, Ho Chi Minh City, experts said education and training play an important role in shaping smart tourism, while smart tourism startups have not been put into the curricula of Vietnamese colleges and universities yet.
Domestic and international cooperation in the field must be enhanced to create breakthrough tourism products, open new markets and improve the tourism supply chain, contributing to improving competitive edge and global tourism integration, they said.
According to CEO of Songhan Incubator Ly Dinh Quan, a national master plan is needed to develop the sector and each region, helping them acquire a deeper insight into components of the startup system.
The project should enhance collaboration between the Vietnam National Administration of Tourism (VNAT) and local tourism departments so enterprises in this field can benefit from preferential policies.
Meanwhile, Director of VNAT's Tourism Information Centre Le Anh Tuan said the Fourth Industrial Revolution (Industry 4.0) is making enormous impact on all sectors, and it requires the industry to have proper measures to create added value for tourism products and services.
Together with the development of science and technology, State agencies and businesses should work together to find out new approaches, aiming at boosting startups and developing tourism, he added.
HCM City holds great potential for medical tourism
Aside from cultural and historical tourism, Ho Chi Minh City also boasts potential for medical tourism thanks to the concentration of many leading hospitals of Vietnam, heard a workshop held on September 4.
Deputy Director of the municipal Tourism Department Nguyen Thi Anh Hoa cited statistics as showing the number of foreigners coming to Vietnam for both healthcare and tourism has been rising, generating an annual revenue of some 2 billion USD.
In 2018, about 300,000 foreigners came to receive medical examination in the country, including 57,000 inpatients, and about 40 percent of them chose HCM City as their destination.
These figures indicate HCM City holds huge potential for medical tourism, Hoa said.
She added according to the World Tourism Organisation, medical tourism is among the future global travel trends. Therefore, developing this type of tourism is in line with the global trends while helping diversify tourism products and attract more visitors to HCM City.
At the workshop, part of the 15th International Travel Expo HCM City, local healthcare establishments introduced traditional medicine along with low-cost and high-quality medical services for tourists.
The municipal Department of Health also introduced a mobile app for searching local healthcare examination and treatment facilities. The English version of this app is expected to debut in early 2020.-
SGT/VNA/VNN