The Vietnam International Travel Mart (VITM) 2020 had ended with fresh hopes for the recovery and development of the local tourism industry, according to Cao Thi Ngoc Lan, vice president of the Vietnam Tourism Association (VITA).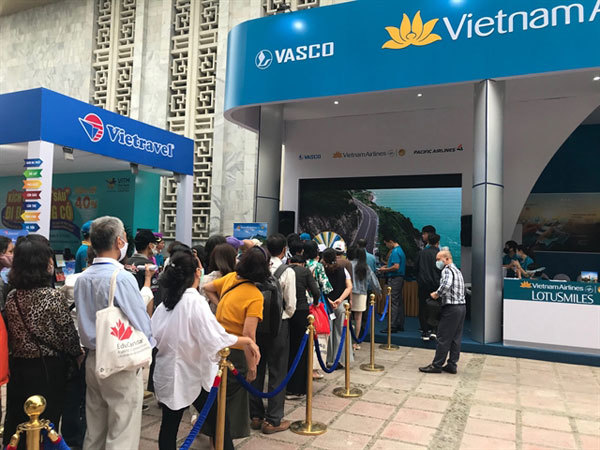 Customers hunt for cheap tickets at a Vietnam Airlines' booth at VITM 2020. VNS Photo Le Huong
The four-day event took place in a very difficult context this year for the entire tourism industry, especially travel companies which have been heavily influenced by the COVID-19 pandemic.
"Due to the pandemic's impacts, VITM 2020 focused mainly on business connections activities," she said at the closing ceremony on Saturday.
She estimated that the mart had attracted the participation of around 2,000 enterprises, and tens of thousands of people who bought air tickets and tours at the event. A survey found that VITM 2020 had satisfied 60 per cent of enterprises that took part.
Within the framework of VITM 2020, 25 events were held, including the Digital Transformation Forum for Tourism Development, a workshop on Vietnamese Chef Standards, and 10 press conferences introducing new products and programmes to introduce technology in tourism. 
Connections to make strength
In order to promote tourism at this difficult time, enterprises said they were determined to enhance co-operation. The highlight of the event was a joint tourism development programme between Hanoi, HCM City and other central provinces and cities. A Forum for Linking Tourism Development between Hanoi, HCM City and the Central Key Economic Region with the title "The flow of quintessence" will be held on November 27-28 at the South Hoi An Complex Resort (HOIANA) in the central province of Quang Nam.
Accordingly, the content will focus on the State management of tourism, developing human resources, and promoting products and destinations.
The Central Key Economic Region includes Yhua Thien Hue, Da Nang, Quang Nam, Quang Ngai and Binh Dinh with an entire natural area covering ​​28,114sq.km with favourable natural conditions including diverse terrain, a long coastline and beautiful landscapes.
The Central key economic region has diverse and plentiful resources, and outstanding tourism potential. The potential for sea and island tourism remains one of the region's competitive strengths with a chain of world-class beaches, beautiful bays and attractive islands and peninsulas. The potential for heritage tourism is also high as the region is home to three out of five of the country's UNESCO world cultural heritage sites. It is also the intersection for many cultures, with rich tourism resources in the mountains and forests including famous hills, waterfalls and lakes.
Tran Trung Hieu, vice director of Hanoi's Department of Tourism, remarked that the link between the three regions marked a milestone in the field of tourism.
"Through the link, localities will take full advantage of tourism resources and unique and distinctive features to turn their tourism potential into their own branded tourism products. At the same time, we can join hands to prepare for the return of international visitors when the pandemic is under control." 
Lack of international business involvement
VITM 2020 took place successfully despite the lack of foreign businesses. In previous years, the event attracted hundreds of foreign representatives from embassies, airlines and travel companies. This year, due to the pandemic and restriction of commercial flights, only Vietnam-based foreign partners took part in the event, including the Korea Tourism Organisation (KTO), Colombian Embassy and Japan National Tourism Organisation (JNTO).
With the theme "Imagine Your Korea - Discover Korea in your own way", KTO offered Vietnamese visitors interesting and new information about Korean tourism.
At its booth, KTO Vietnam also introduced visitors to unique cultural experiences such as traditional Korean costumes (Hanbok), Korean tourism films, a K-Pop dance show and DIY Korean bracelets.
Before the pandemic, Korea was a popular destination among Vietnamese tourists with outstanding growth. Last year, Korea welcomed 553,000 tourists from Vietnam, according to Park Jong-sun, chief representative of KTO Vietnam.
"2020 has been a particularly difficult year for the global tourism industry, and many tourists have been unable to travel abroad. Through the VITM, we hope to draw the interest of Vietnamese tourists again to Korean destinations. We will also work with Vietnamese travel companies to promote the recovery of the tourism market as soon as flights connecting the two countries are re-established," he said.  VNS

The Vietnam International Travel Mart 2020 (VITM) is taking place in Hanoi after being postponed twice due to COVID-19. The event will run until Nov. 21.

Tran Trung Hieu, deputy director of the Hanoi Tourism Department, talks on his department's plan to attract tourists to the city in the context of the COVID-19 pandemic.