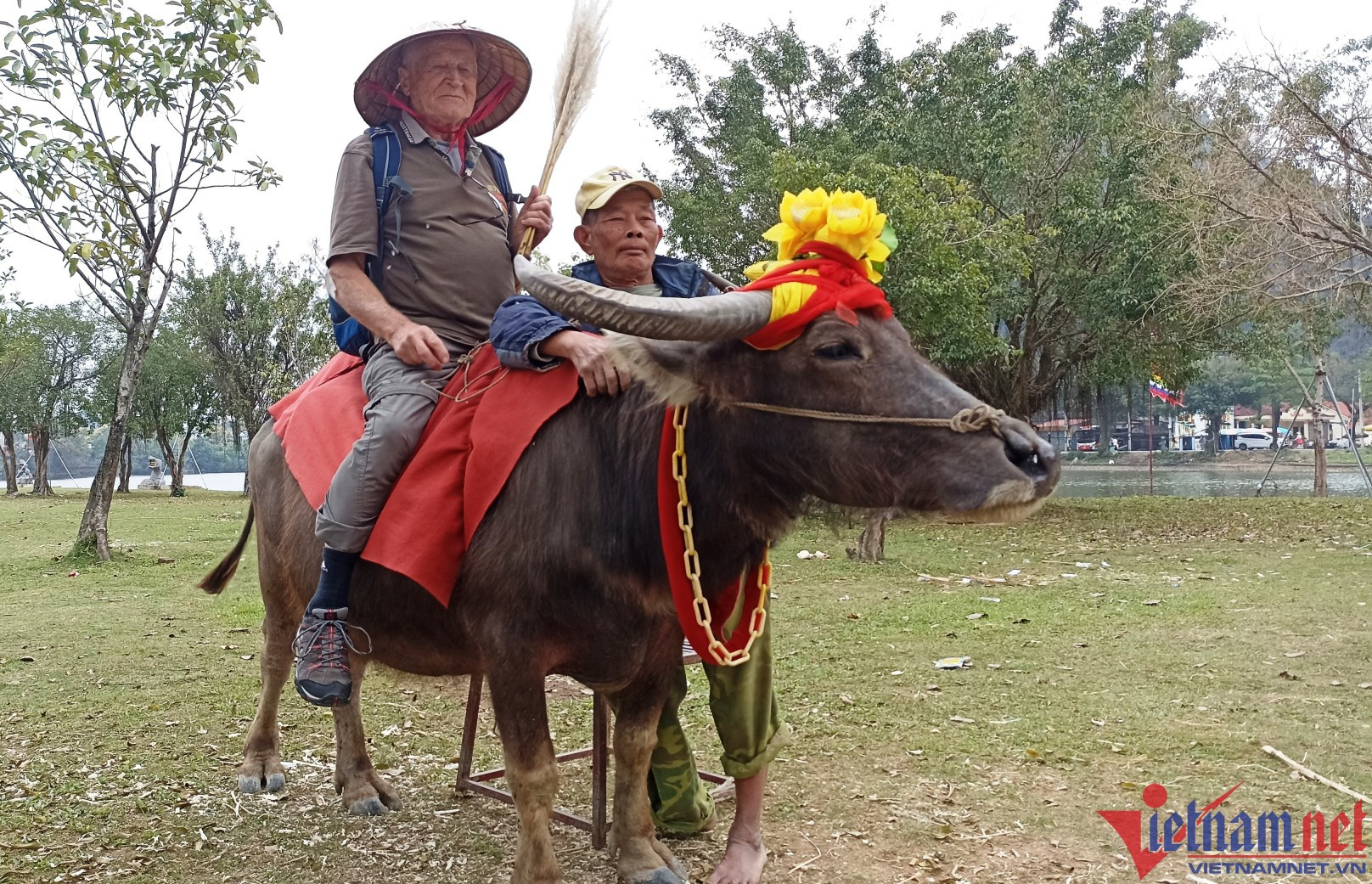 For 10 years, Tran Van Toan, 79, in Bac hamlet of Truong Yen commune in Hoa Lu district in Ninh Binh province, has been earning a living with an odd job – leasing buffalo to travelers to ride on and taking picture in the ancient capital town of Hoa Lu.
Every morning, Toan leads the buffalo to the grass field near his house to feed it. When noon nears, he 'makes up' the buffalo and brings it to the Hoa Lu ancient capital relic site, where the buffalo works as a 'photo model'.
"Previously, we bought buffalo to plough in the rice field. But we are getting old and cannot undertake field work anymore. But we don't have the heart to sell the buffalo," Toan said.
"Sometimes when I gazed at the buffalo in the area near the relic site, I realized that some travelers were curious about the buffalo and they wanted to take pictures with it. Then I began thinking of making up the buffalo and letting travelers take photos with it," he explained.
Before the photo, Toan gives a bath to the buffalo, decorates its head with flowers, and puts a red shirt on its back and a bell on its head.
He also wraps a red scarf around its head and neck. He goes to the mountain to pick up reed branches. Travelers hold the reed branches when taking pictures to recreate the image of the former King Dinh Tien Hoang riding a buffalo to quell the rebellion of 12 warlords, an important event in Vietnamese history.
According to Toan, the existence of a buffalo photo model not only attracts foreign travelers, but domestic travelers as well.
Nguyen The Anh, a traveler from Hai Phong City, said in his childhood, he usually went gazing at buffalo with friends to help parents. He rode buffalo back and had a bath on the river together with his friends. He was happy that after tens of years, he could ride buffalo again to recall the memories he once had in the childhood.
A foreign traveler said he felt interested after taking a picture of the buffalo. "I once saw buffaloes on TV, but this is the first time I can see a buffalo in reality. Vietnam's buffaloes are really amazing," he said.
Tran Nghi