Every time we visit there, we seek out dishes that help us explore many things of interest about the locale.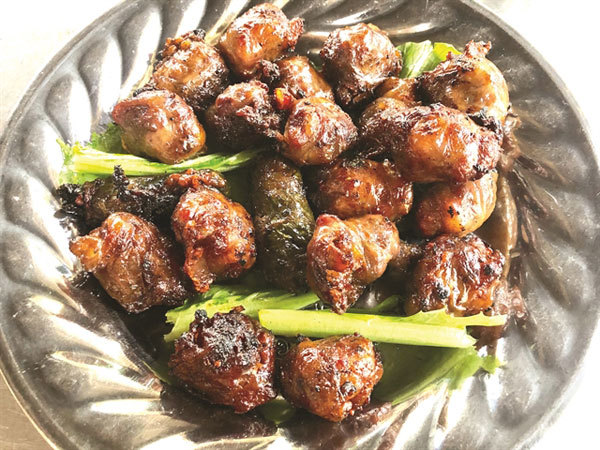 Bò cuốn mỡ chài (grilled ground beef with pork caul fat casing) is a favourite among adults and children dining at Hang Dua – Nam Phuoc. VNS Photos Minh Phi
At Hang Dua – Nam Phuoc, well-known as one of the "top ten" grills in Binh Duong, diners, especially from the south, can feel they have returned home when they step into this simple downtown restaurant that offers delicious traditional BBQ. 
Other grills on the national road going toward Binh Duong's provincial capital city Thu Dau Mot, some 30km from HCM City, are also good, but Hang Dua – Nam Phuoc is outstanding. The restaurant is easily visible from afar as the smoke and a savoury smell from its kitchen pervade the air, particularly during meal times on any day of the week.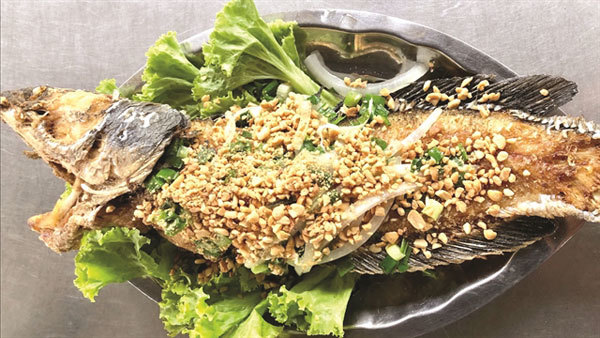 Cá lóc cuốn bánh tráng (deep-fried snakehead rolled in rice paper, salad greens and herbs) is among the signature dishes at Hang Dua – Nam Phuoc.
Many diners say the restaurant offers the best flavour of the local cuisine and that anyone visiting the area should try its amazing delicacies.
"I ate the food at Hang Dua – Nam Phuoc just once and it was fantastic," one diner said.
For more than three decades, the grill has been the choice among connoisseurs for its finely marinated food and grilled dishes, and its friendly family-like services at unbeatable prices. Its large parking space and central location are also a plus.  
The restaurant offers 18 Vietnamese delights featuring fish, eel, frog and beef prepared in different ways, with a focus on charcoal grilling.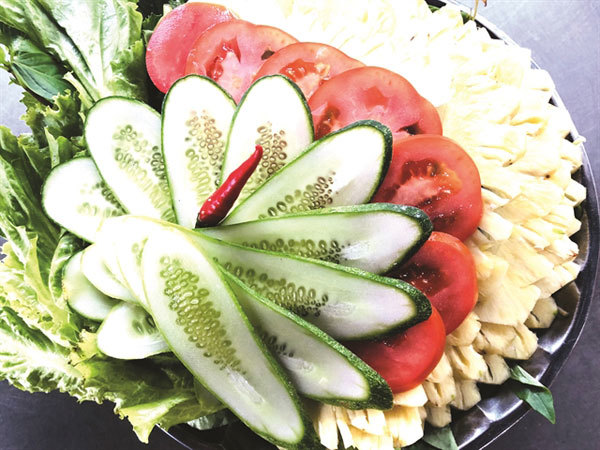 Tropical herbs and salad greens with sliced pineapple, tomato and cucumber go well with BBQ items, especially deep-fried snakehead and grilled beef, at Hàng Dừa - Năm Phước Restaurant.
Cá lóc cuốn bánh tráng (deep-fried snakehead fish with ground peanuts and spring onion sauce, rolled in greens, herbs and rice paper, and dipped in fermented tiny fish paste) and bò nướng lá lốt (charcoal grilled ground beef rolled in betel leaf, and served with tamarind sauce and herbs) are the two standout dishes for which the restaurant is known.
The two delicacies are the most popular among people in the south, especially snakehead dish, which can be served on occasions such as family parties and Tet (Lunar New Year).
I was born in the southeast, so I had tried these dishes when I was very young. However, I was curious when I visited the restaurant and asked them to bring out a deep-fried snakehead (VND220,000/whole fish of 1.2kg).
Instead of an order of beef rolled in betel leaf, my children begged me for ground beef in pork caul fat casing, a favourite among children at the restaurant, as recommended by a waiter.
On the list were other beef signature dishes, including bò xào sả ớt (stir-fried beef with lemongrass and fresh chilli), bò nướng sả ớt (grilled beef with chopped lemongrass and chilli), bò xào hành tây (stir-fried beef with onion) and bò nhúng dấm (sliced beef dipped in a vinegar hotpot), at the flat price of VND120,000 for two or three.
At Hang Dua – Nam Phuoc, diners can grill their own food on a mini charcoal stove on the table or let the cooking staff do it for them. My twins wanted to grill the beef themselves. 
"We want to experience how to cook our food, so please mom," my daughter insisted.
Though the restaurant was busy, our ordered snakehead was brought out to our table very quickly. We were impressed when the fish was placed in front of us. It looked stunning with a large colourful plate of beautifully arranged herbs, greens, and sliced cucumber, pineapple and tomato.
Fried to a golden brown and covered with spring onion sauce and ground peanuts, the fish had an irresistible fragrance that made my mouth water, and I could not wait any longer to start our "BBQ party". Still warm, the fish was fresh and crispy, and its texture was soft and tasty, all creating a uniquely savoury flavour.
Rolled in rice paper, aromatic herbs and salad greens, the fish was well married with the unique home-made fish paste. Though the fish paste had a strong and special smell, I'm sure that once you taste it you will like it. Tantalising my taste buds, the fish was the highlight of our dinner.
After the fish, we sampled the beef, always my twins' favourite. They were "very patient", grilling the beef rolls over the charcoal, and seemed to be very happy with the job. When they were done, they enjoyed them one by one.
They ate the beef but rejected the herbs and sauce, though I was sure that the homemade tamarind sauce would have made the beef more delicious.
The beef rolls were full of flavour. "The mixture of beef and fat looks sumptuous. The roll is tender and melts in my mouth," my son said.
A lover of "wrap and roll" dishes, I wrapped the beef with rice paper and slices of pineapple and cucumber, tomato, herbs and salad greens, and enjoyed them with the tamarind fish sauce with fresh red chilli. It was more than great.
The delicacy, which my family loved, is a good choice for groups of diners with both adults and children.
Though we were nearly full, we could not leave without trying a hotpot. For the last order, we tried a hotpot of frog and pickled bamboo shoots with fresh rice vermicelli at VND120,000. It was a treat for those who love sour soups.
It was the first time I had tried a bamboo shoot hotpot at a restaurant. It had a lovely fragrance of pickled bamboo shoots. Its sweet-sour broth helped balance our big meal.
My daughter, who dislikes sour smells, tried a small bowl, saying it was "not bad", while my son was crazy for the dish.
We were stuffed after the hotpot, so we had to wait until another visit to try the eel grilled with lemongrass and onion at VND150,000 and frog grilled with green pepper at VND120,000.
Our flavourful feast at Hang Dua – Nam Phuoc was indeed a memorable one. I think we will return soon to discover more special dishes from the rich southern land. VNS
My Duyen

Vịt Cu Chì Restaurant is a friendly, cosy outdoors spot that has specialised in organic duck dishes for many years in Thu Dau Mot Town near HCM City. My Duyen reports.