Two detained for trafficking 77kgs of drugs into Vietnam

Investigative police in Dien Bien have arrested two suspects for their alleged involvement in a transnational drug trafficking ring, with 220 packs of heroin, weighing 77 kilograms, being seized.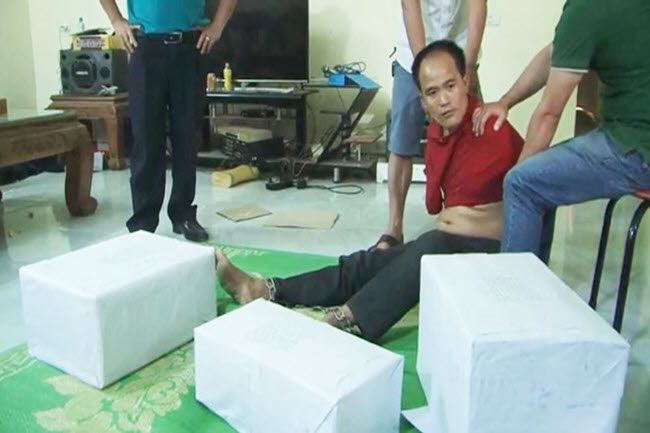 Thao A Binh is arrested by police – PHOTO: THANH NIEN ONLINE
Sung A Hong, director of the provincial Police Department, said on November 10 that the two suspects are Thao A Binh, 28, residing in the province, and Thao A Chu, 32, from Yen Bai Province, reported Thanh Nien newspaper.
Earlier, the investigative police on drug-related crimes caught Chu and Binh trafficking heroin on November 9 in Na Tong Commune, Dien Bien District. Aside from the drugs, the force also seized two cars, one motorcycle, four mobile phones and many other items, according to the police official.
Chu and Binh at a local police station confessed that the drug originated from the Golden Triangle, where the borders of Thailand, Laos and Myanmar meet, one of the world's largest opium producers. The heroin packs were bought in Laos and transported to Vietnam.
To avoid detection, the suspects had fixed a false floor in their vehicle to create a secret chamber for hiding the drugs. SGT

Drug trafficking around Vietnam's borders has become more complicated as the country has become a transit hub for traffickers.

Crimes related to drug dealing and trafficking had been on the rise in HCM City in recent years, said Đinh Thanh Nhàn, deputy head of HCMC Police.