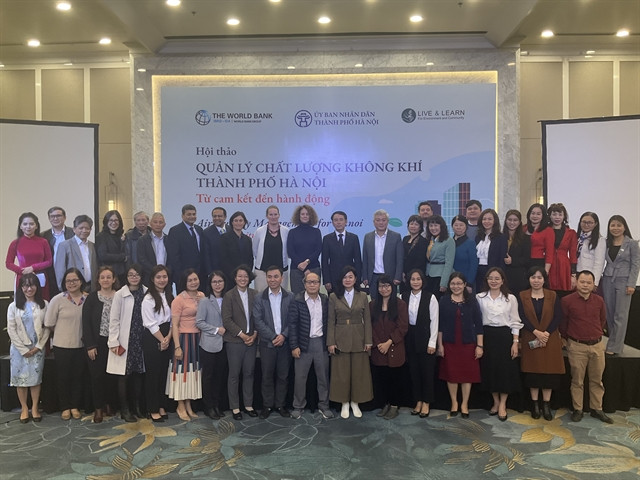 Delegates at Thursday's 'Air pollution management in Hà Nội: From commitment to action' seminar. — VNA/VNS Photo Anh Đức
Titled "Air Pollution Management in Hà Nội: From Commitment to Action," the seminar was jointly organised by The World Bank Vietnam and the Hà Nội People's Committee.
"These figures are much higher compared to the last 7 or 8 years," said Nguyễn Thị Lệ Thu, a representative of The World Bank Vietnam.
According to a World Bank Vietnam study, urban pollution emitters only account for one-third of the total pollution sources.
The rest comes from nearby areas in the form of straw and garbage burning.
A Hà Nội Department of Natural Resources and Environment report also showed that citizens face the negative effects of pollution and climate change.
Out of the city's 9 million inhabitants, there are 7 million motorbikes and 600,000 cars. These are perceived as one of the main causes of air pollution in Hà Nội.
"In 2015, 40 per cent of Hà Nội's inhabitants were exposed to a level of PM2.5 pollutants twice the national standard, and many times higher than the WHO's recommendations," said Lệ Thu. "The numbers are not updated for 2023, but with the rise of urbanisation, we believe these figures are much higher now."
"Urbanisation has brought a more vibrant, dynamic image of Hà Nội, but it has also brought some new challenges," said Carrie Turk, World Bank's Representative in Việt Nam.
The World Bank Vietnam also gave recommendations to Hà Nội for solving air pollution.
The recommendations include banning trash and agricultural waste from being burnt, better support for agricultural waste management, enforcing motorbike emissions criteria, and encouraging the development and use of public transport and renewable energy vehicles in the city.
A sustainable strategy to manage waste is also recommended to eliminate waste burning, and the criteria for industrial emissions must be tightened.
"One of the challenges in delivering these solutions is raising public awareness," said Mai Trọng Thái, Deputy Director of the Hà Nội Department of Natural Resources and Environment to Việt Nam News, "Citizens must comply and stop the burning of waste outdoors."
"To solve the pollution problem, it also requires the cooperation of many localities," Thái added, "The responsibility of protecting the environment must also be shared, and authorities must ensure they develop their industries so that their pollution problems don't affect neighbouring provinces."
"Hà Nội is also pushing to complete waste treatment plants such as Lam Sơn Thiên Ý plant in March, with a capacity of 4,000 tonnes per day, and other plants so that by 2025, Hà Nội will have control of waste management in the city, and the burning of the waste outdoors will be eliminated."
"In terms of vehicle emissions, Hà Nội and other localities will build and report to the Ministry of Transport and the Ministry of Natural Resources and Environment criteria of personal vehicle emissions," said Thái.
In his speech at the conference, Deputy Chairman of Hà Nội People's Committee Nguyễn Trọng Đông asked local authorities to gather feedback from experts and scientists to improve the air quality in the city.
Đông said solving these challenges will help Hà Nội develop sustainably and move Việt Nam closer to the goal of net-zero emissions by 2050.
"To achieve that goal (net-zero emission by 2050), we need support from international organisations and collective action from all authorities and people of Hà Nội," said Đông. — VNS