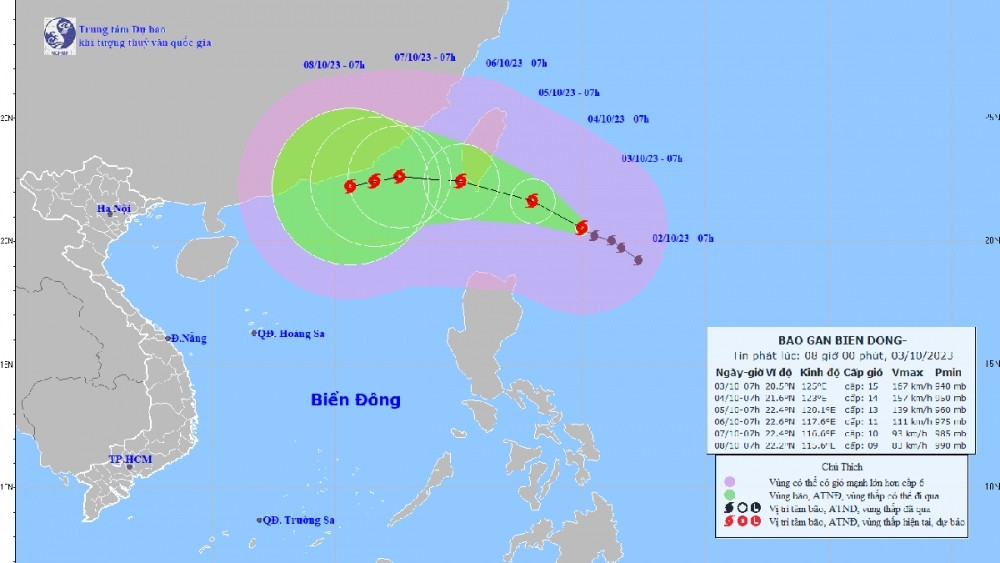 Forecasters noted that typhoon KOINU was located in the northeastern sea of Luzon island in the Philippines, with the strongest winds near its eye reaching between 167km and 183km per hour.
During the next 48 hours, the weather pattern is expected to track in a west-northwest direction at speeds of about 10km per hour.
On the morning of October 5, storm KOINU will enter the northern East Sea as it heads towards the southern area of Taiwan Island (China). Over the course of 72 hours, storm KOINU will likely change its direction and move westward at a speed of about 10km per hour.
By 7:00 a.m. on October 6, the storm's centre will be located in the eastern part of Fujian province in China with wind speeds reaching level 11 and 13. The storm is forecast to continue to weaken as it makes landfall in the Chinese province of Guangdong.
Due to the impact of storm KOINU, there will be strong winds and rough seas occurring in the North East Sea region from the night of October 3, with sea waves reaching between five metres and seven metres high.
The National Center for Hydro-Meteorological Forecasting said that about one or two tropical low-pressure systems or typhoons are predicted to hit the East Sea and may potentially affect the mainland of Vietnam this month.
Nguyen Duc Hoa, deputy head of the National Centre for Hydro-Meteorological Forecasting's Climate Forecasting Office, warned that rainfall in the northern, Central Highlands, and southern regions would be 5% to 15% higher than the average level recorded in previous years, while rainfall in the central region would be 5% to 15% lower than the average level seen in previous years.
He stated that cold spells would gradually increase in frequency and intensity this month. Typhoons, tropical low-pressure systems, southwest monsoons, and cold spells might cause strong winds and big waves which affect activities at sea, he said.
Along with that, the occurrence of dangerous weather phenomena such as thunderstorms, tornadoes, lightning, and hail nationwide could greatly affect production and people's daily activities, he added.
Source: VOV