Unique version of spring rolls
A noodle soup with special name and special ingredients from the Mekong Delta province of Soc Trang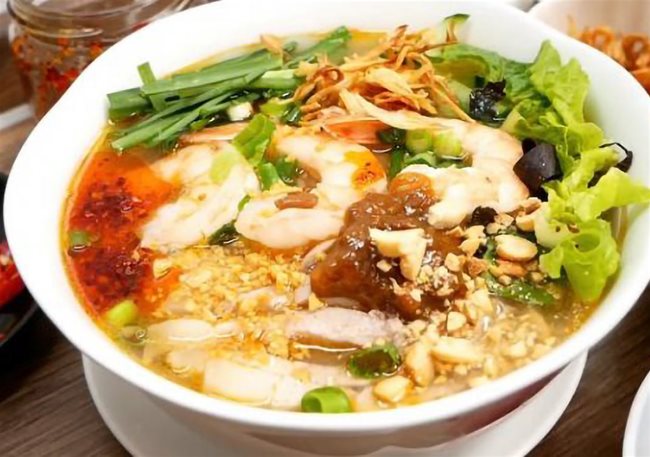 A bowl of goi da noodle soup
Soc Trang Province is a place of many specialties such as bun nuoc leo (noodle soup), banh cong (fried prawn cake), pia cake, etc. Yet there is also a unique specialty but it is not as well-known as others. It is called Bun goi da (goi da noodle soup). The dish is in fact a version of goi cuon (spring roll). Instead of using rice paper to wrap all ingredients and make them into rolls like in the case of spring rolls, the ingredients are put in a bowl and served with dipping sauce. About the name of the dish in the local dialect, bun means rice noodles, goi means salad and da means eat.
Originally, goi da noodle soup included a bowl of broth and a bowl of rice noodles and other ingredients. But now the broth is directly added to the bowl of rice noodles. Aside from pork bones, the broth is made from fermented soybean that creates the signature flavor of the rice noodle soup. Tamarind juice is also added to help the broth have gentle sour taste that delights diners' taste buds.
Like spring rolls, goi da noodle soup cannot do without boiled bacon and shrimps. Ingredients for the specialty are also enriched with seafood like fish and squid, and egg. However, these ingredients can be changed based on personal taste as long as the true flavor of goi da noodle soup is still maintained.
Lettuce and banana flower are served with the dish. Finally, a bowl of goi da noodle soup is topped with roasted peanuts, fried garlics, some drops of lemon juice and sliced chilies.
SGT

Con Market is well-known in Danang for its numerous food offerings which have attracted many visitors.