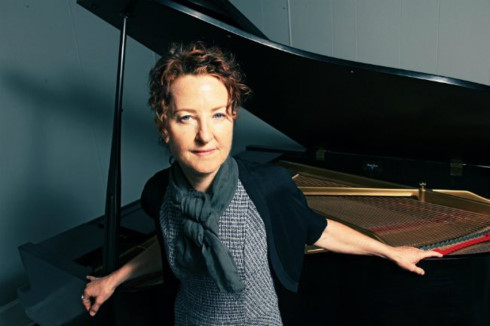 American pianist Myra Melford - Photo: Courtesy of organizer
Myra Melford will share the stage with her partners Stomu Takeishi on bass and Rudy Royston on drums.
The "Myra Melford in Black and White" concert is under the banner of Soul Live Project Series: Jazz Through Time, established with the aim of bringing Vietnamese audience the opportunity to enjoy the diversity of jazz music performed by world-class artists.
The concert will take audience on a journey to explore a musical world inspired by the contrasting colors of black and white, with striking jazz music translated through quick fingers on piano keys by Myra Melford.
The concert is inspired by the contrast in Myra's music, sometimes lyrical and melodic, sometimes emphatic on rhythm and groove, while other times it's more adventurous and about exploring different textures and colors.
This is also a unique concert-going experience as the organizer encourages the audience to come to the show in black and white dress codes.
Featuring Myra Melford on piano, Stomu Takeishi on bass and Rudy Royston on drums, the concert will bring HCMC audience a unique night of musical contrast, at once delicate and graceful yet equally dynamic and explosive, under the autumn moonlight.
Born in 1957, Myra Melford started playing the piano at the age of three. Described by the New Yorker as "a stalwart of the new-jazz movement", Myra has spent the last three decades making brilliant original music that is equally challenging and engaging.
Since debuting, she has released more than 20 albums as a leader or co-leader and boasting collaborations with creative-music luminaries like Dave Douglas, Ben Goldberg, Chris Speed, Erik Friedlander, Cuong Vu and Marty Ehrlich.
Along the way, Myra has received some of the most prestigious honors in contemporary music, including a 2012 Alpert Award in the Arts for Music and, in 2013, a Guggenheim Fellowship and a Doris Duke Performing Artist Award. In 2016, her quintet Snowy Egret was named Midsize Ensemble of the Year in the Jazz Journalists Association's annual Jazz Awards.
"I'm super excited to be bringing my trio to play in HCMC. I've been to Vietnam once before to stay with friends and travel around the country a bit - I loved that experience, especially meeting many welcoming people in such a beautiful place, and I look forward to being back - this time to share my music," said Myra.
The "Myra Melford in Black and White" concert will take place at the Soul Live Project Complex in District 3 on August 24, starting at 8 p.m.
Thanh Van