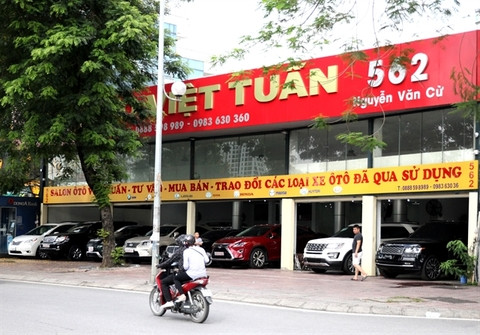 A used car dealer in Nguyễn Văn Cừ street. — VNS Photo Đoàn Tùng
The local used car market has witnessed bleak conditions since the Government allowed domestically manufactured and assembled automobiles to enjoy a 50 per cent cut in registration fees from July 1 to December 31 2023, according to local business owners.
On June 28, the Government issued Decree 41/2023/ND-CP, cutting registration fees for cars, trailers or semi-trailers pulled by cars.
The decree aims to support the domestic auto industry which has faced challenges due to high interest rates, market liquidity problems and surplus inventory.
According to local car experts, the degree is good news for car buyers and new car dealers, assemblers and manufacturers alike. The reduction of registration fees helps buyers up to hundreds of millions of đồng in some cases, while car dealers and manufacturers can reduce their surplus inventory.
Domestically-assembled and manufactured cars have seen the lowest prices, ranging from VNĐ356 million (US$15,148) for a new Kia Morning to VNĐ5.75 billion ($244,000) for a Mercedes-Benz 450 Luxury. Under Decree 41, prices will be cut by a further VNĐ17.8 million for a Kia Morning and VNĐ345 million for a Mercedes-Benz, respectively.
Many car manufacturers have applied a 50 per cent cut in registration fees for buyers, depending on car models. Consumers will enjoy free registration on some models. For example, Honda is offering to pay all registration fees for its CR-V and 50 per cent for Civics and Accords from July 5-31.
Car traders cut losses
Mạnh Thắng, a used car trader with a showroom on Lê Văn Lương Street in Hà Nội said the market had suffered from the real estate crisis, and volatility in the financial markets, noting that things would only get harder with the cut in registration fees leading more people to buy new instead of used.
Thắng added that purchasing new cars such as the Hyundai Santa Fe and Ford Everest would cost VNĐ200 million more than a used model.
This presented a good opportunity for used car dealers at the time. Thắng lamented that to stimulate sales, dealers now had to offer steep discounts to attract buyers.
Lê Văn Tiến, a salesman on Lê Văn Lương Street said most buyers now just came and looked at the cars. Late last year, his showroom sold around 30 to 40 cars per month, but now his showroom barely made any sales at all.
Tiến said most used car dealers had to lower prices by some VNĐ50 million to attract buyers if a new car was offered a discount of VNĐ100 million or more.
Quốc Trung, owner of a car dealership in Phạm Hùng Street, said he just had to sell a Mazda CX5 at a loss of VNĐ50 million.
Trung said from the beginning of July, his showroom had gradually stopped importing luxury used cars and switched to selling used vehicles under VNĐ500 million. He said it was not easy to sell them as prices of new cars continuously decreased.
Trịnh Văn Hiếu, owner of a used car dealer in Nguyễn Văn Huyên Street, said over three weeks this month, practically no one visited his showroom. Hiếu said he accepted selling vehicles at a loss of hundreds of millions of đồng but no one wanted to buy them. He also noted that customers now favoured buying cheap new cars rather than used ones.
"Luxury cars such as Mercedes and Lexus in my showroom now have suffered a loss of at least VNĐ500 million per unit. Every month, I must spend at least VNĐ300 million for rent expenses, employees and taxes. Fortunately, investment capital for the showroom comes from my family not from bank loans. However, if bleak conditions continue then I do not know what I will do with my business," he said.
Quang Minh, owner of a car dealer in Nguyễn Văn Cừ Street, said due to gloomy business conditions, smaller car dealers had to change their strategies by focusing on consignment to avoid bankruptcy. Minh said he was thinking of changing his business if the situation persisted.
The country's economy still faces many challenges, including financial and monetary problems, macro variables such as inflation, low liquidity, high interest rates and problems with real estate market. None of this has helped the used car market in recent times. — VNS