The event was held on March 16-17 by the Vietnamese Ministry of Foreign Affairs, the Ministry of Foreign Affairs and Trade of Australia and the European Commission.
As co-chair and head of the delegation of Vietnam, Mr. Vu Ho, Director of the Department for ASEAN Affairs of the Ministry of Foreign Affairs, spoke about the importance of maintaining and promoting dialogue and cooperation to respond to security challenges in the region, including marine security.
The sea and oceans play an important role for all countries, Ho said, adding that all countries share a common interest in ensuring all waters are peaceful, secure, safe and clean. Countries should continue to cooperate with each other, particularly among law enforcement forces.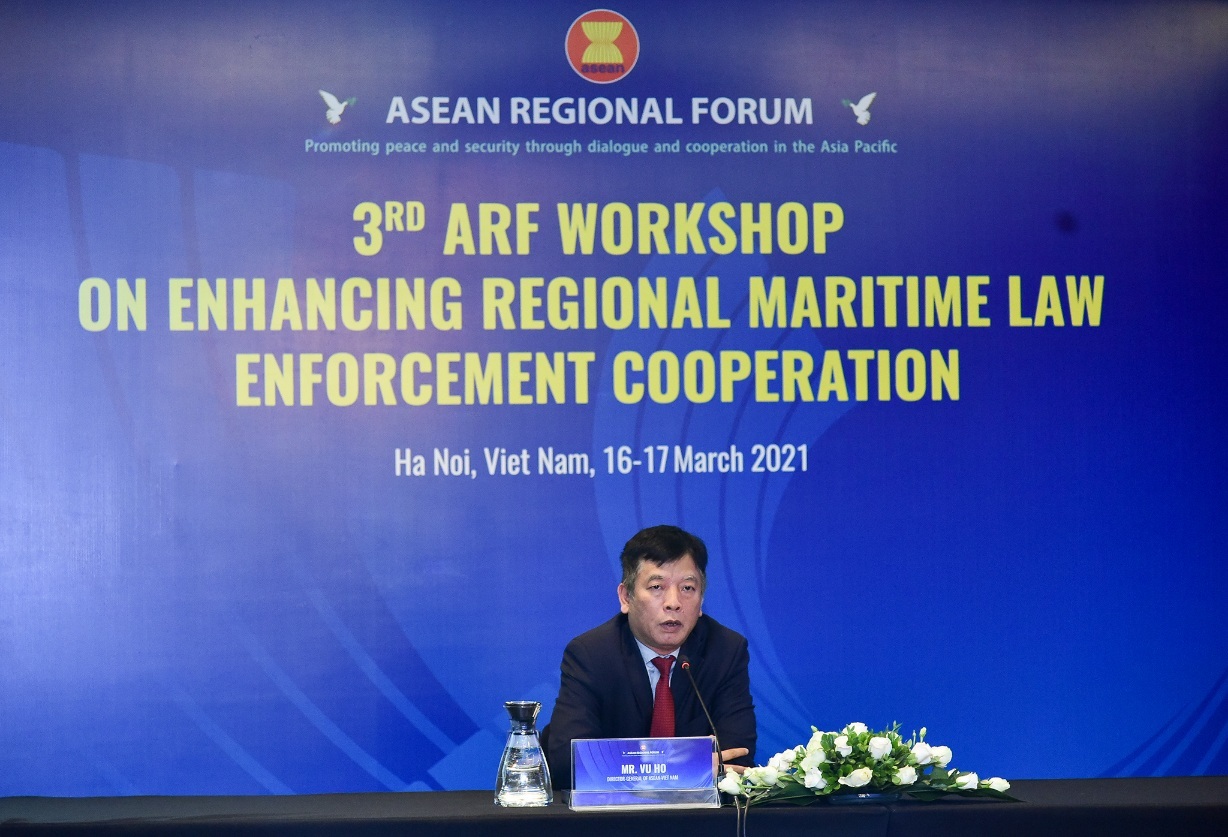 Mr. Vu Ho speaks at the seminar.
To contribute to the implementation of the ARF Declaration on Cooperation between law enforcement agencies at sea approved by the Ministers of Foreign Affairs in 2016, Vietnam, together with Australia and the EU, organized a series of ARF workshops and achieved many positive results.
Regarding the situation and related developments since then, the workshop noted that along with the improved operations of enforcement of sea law enforcement forces, the risk of collisions and incidents has increased.
There have been many discussions among scholars and experts about the possibility of devising guiding rules and general activities to reduce the risk of incidents, misunderstandings and miscalculations, including suggestions introduced at the 12th International Conference on the East Sea held last November.
Another issue of concern is the use of force in law enforcement at sea. At the workshop, many scholars emphasized that although it is an international law, the United Nations Convention on the Law of the Sea have provisions allowing the use of force while on duty, but only if it is necessary and appropriate, and with necessary restrictions, would it be the last resort after all other measures have been taken. Also, the use of force should comply with general principles and procedures, especially to avoid harm to life.
In addition, the use of force only occurs in waters under the jurisdiction of countries. If it happens in disputed waters, this is very sensitive, easily leading to an escalation of tensions.
At the workshop, speakers and delegates spoke about many models of cooperation among law enforcement forces at sea, such as in the Mediterranean, offshore Somalia, and frameworks for responding to transnational marine challenges, such as crimes of human trafficking, drug smuggling, weapon smuggling, terrorism, as well as prevention of illegal fishing and conservation of marine resources and environment.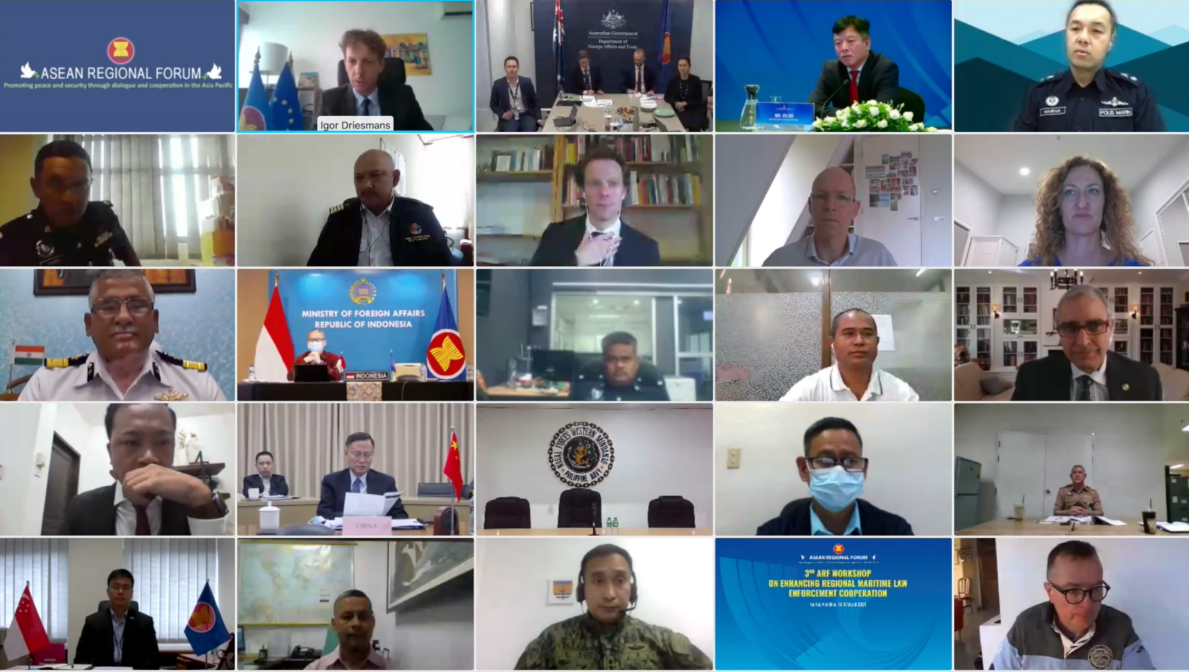 The workshop was held online.
Models and methods of cooperation are diverse, including sharing information and intelligence, setting up urgent communication channels, building joint monitoring mechanisms, implementing joint patrols, or building rules of behavior.
In order to create a basis for cooperation, participants said that it is necessary to create measures to build trust and mutual understanding among law enforcement agencies at sea.
In Southeast Asia, ASEAN has identified maritime cooperation and security as priority areas in the Indo-Pacific Perspective Document. Accordingly, it is promoting intra-regional cooperation and cooperation with external partners in this field.
Regarding the future direction of cooperation, the workshop recorded many recommendations focusing on the need to develop guiding principles, rules to help prevent collisions and incidents, technology application to support operations and improve capacity and equipment, and make necessary adjustments in the context of the Covid-19 pandemic.
The content of discussions and recommendations will be summarized and reported to the 12th meeting of the ARF Working Group on Marine Security, scheduled for April 2021.
Adopted in 2016 as an initiative of Vietnam, the Declaration calls on ARF members' maritime law enforcement agencies to strengthen substantive cooperation through activities such as sharing experiences, capacity building, organization of activities such as joint patrols, anti-piracy drills, and assurance of freedom of navigation and overflight, towards building common rules and standards of conduct.
Tran Thuong

Experts believe that smaller countries can collectively and peacefully address disputes through note verbales.