Vaccines for the Mekong Delta
In current difficult conditions, Vietnam needs leaders who "dare to think, dare to do and dare to take responsibility" for the people who have to leave large cities to return to their hometowns.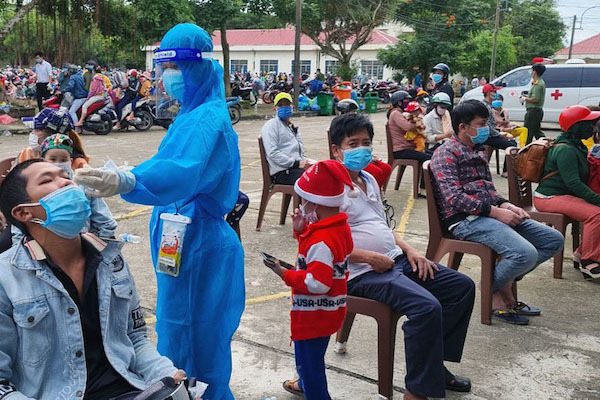 On October 6, the Ministry of Health released a dispatch on how to apply anti-pandemic measures to people returning from HCM City, Binh Duong, Dong Nai and Long An.
Those who have been fully vaccinated or have recovered from Covid-19 will monitor their health conditions themselves at home for seven days and take a test on the first day.
The new guidance will help remove the difficulties related to overloaded concentrated quarantine zones in the Mekong Delta, which is receiving hundreds of thousand of people from HCM City in a migration wave.
In early October, thousands of workers from HCM City, Binh Duong, Dong Nai and Long An flocked to the western provinces of the southern region after the provinces began loosening lockdowns.
According to the Ministry of Public Security (MPS), 3.5 million people from over the country work in these four cities/provinces. Of these, 2.1 million people want to return to their hometowns.
Prime Minister Pham Minh Chinh said at the Government meeting that if workers are determined to return to their hometowns, local authorities need to organize to receive them in an orderly and safe way without causing congestion.
He asked provincial authorities to ensure social security, consolidate grassroots healthcare systems, and strengthen mobile healthcare so that people can access healthcare services easily from a distance.
Under the spirit of safe coexistence with Covid, people need to be given the autonomy to take initiative in treating the disease themselves at home.
When staying at home, they have enough food, drugs and peace of mind and other things that they cannot find in concentrated quarantine zones.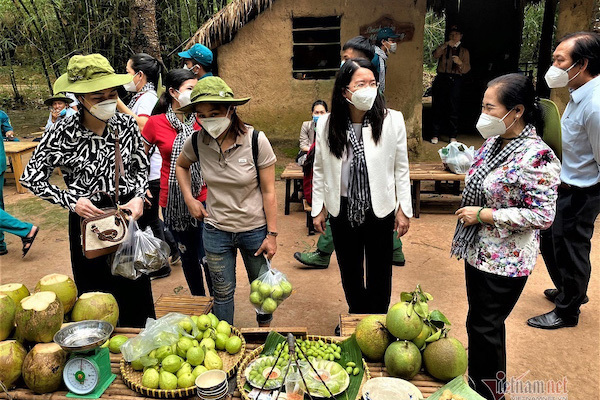 Can Gio and Chu Chi districts have begun receiving tourists
There will still be concentrated quarantine zones for those whose conditions are not good enough for home quarantine.
According to the Ministry of Health (MOH), most patients (80 percent) only have mild symptoms of mild fever, cough and fatigue and they can recover by themselves after one week.
Many others don't have any clinical symptoms. Nearly 20 percent of patients turn severe (the time for initial symptoms to turn severe is 5-8 days). Of these, 5 percent need treatment.
The statistics show that it's necessary to focus on treating the small proportion of severe cases to mitigate the mortality rate, rather than bringing all people to hospitals.
As the number of people leaving for their hometowns is high, concentrated quarantine zones, which are schools with rudimentary equipment and poor facilities, have become overloaded.
Some officials have asked to block the flow of people and called on people to stay in HCM City instead of leaving. But leaders of provinces all feel sympathy towards the citizens who are in distress after four months of facing hunger and worrying about the pandemic.
Combination of western and oriental medicine
Experts said it's necessary to disseminate experiences in treating Covid-19 patients in Cu Chi, where the mortality rate was inconsiderable and the achievements have been praised by HCM City and the Government.
Pham Thi Thanh Hien, Chair of the district, said Cu Chi's way was to ensure a nutritious diet for patients, with additional fruits. The district mobilized teachers to cook water with lemonade, citronella and ginger water for patients to drink every day. The quarantine zones in the district have large spaces for patients to exercise and walk around instead of staying in their room. There is a radio system that helps entertain people with music and guides patients on how to treat disease.
Thanks to the effective measures, the asymptomatic cases brought to treatment at higher levels was below 3.5 percent, 114 out of 3,029 cases.
Together with community healthcare units and medicine chests at commune/ward level as per the Government's new treatment strategy, Cu Chi's experience will be helpful to 12 pandemic-hit provinces in the Mekong Delta, which has experienced a long lockdown and is not likely to impose another one.
Vaccination strategy also has played an important role in coping with the pandemic. As of the end of September, 15-35 percent of population aged above 18 in 12 Mekong Delta provinces, except Long An, had received their first shot, while only 4-8 percent had the second shot.
If the vaccination coverage among the elderly and people with underlying health conditions is small, the risks remain high.
Therefore, MOH needs to provide vaccines immediately to 12 Mekong Delta provinces, which are the most exposed to risks.
Nguyen Thu Anh, an epidemiologist, said that HCM City needs an additional 1 million vaccine doses to give injections to 80 percent of people aged over 50. Neighboring provinces, including Dong Nai, Binh Duong, Tay Ninh, Long An and Ba Ria - VungTau, also need more vaccines. The region, which makes up 45 percent of the country's GDP, needs about 4.3 million doses. 
Tu Giang

Vietnam is scheduled to receive foreign visitors with a vaccine passport on a trial basis in November, before fully reopening to the international tourism market by June 2022.

The downward trend in new COVID-19 infections and a high ratio of vaccination have been among good signals creating the momentum for Ho Chi Minh City to reopen its economy after September 30 as planned.