The northern province of Quang Ninh plans to turn Van Don special administrative-economic zone into a smart and green island urban area, Nguyen Van Doc, secretary of the provincial Party Committee, said.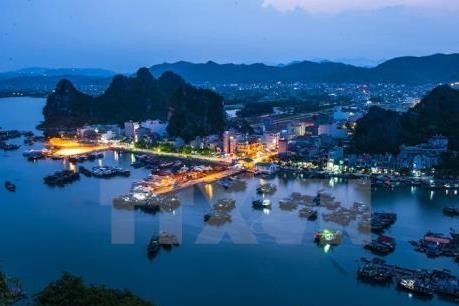 The zone, located in Van Don District, has a total land area of 581.13sqkm, a sea area of 1,620sqkm and a population of around 46,000.
The district lies in a politically and economically important region, on the strategic transit route from East Asia to Southeast Asia and from ASEAN to China, in the Vietnam-China "two corridors, one belt" co-operation area, in the Nanning-Singapore economic corridor, and in the extended Tonkin Gulf inter-regional co-operation area.
Van Don is one of the three special administrative-economic zones designated by a government-approved plan; the other two are Vân Phong in the central province of Khanh Hoa and Phu Quoc in the southern province of Kien Giang. These zones will pilot key new economic and administrative policies before they are applied nationwide, to develop the maritime economy.
Quang Ninh is working on a master plan of Van Don zone as well as specific laws for it. The province aims to develop Van Don into a dynamic economic centre with focus on services, high-end tourism and high-tech industries. The zone is expected to become a centre for start-ups, innovation and international trade.
The zone will apply an environment-friendly development model with streamlined administrative apparatus and competitive policies in order to tap distinctive local potentials to the fullest, and to attract investment and talent.
The zone is expected to spearhead the province's growth, consolidating Quang Ninh's position as a leading economy in the northern region, while ensuring national security.
The Van Don master plan will define the local advantages with a view to pinpointing goals and priorities for development, draft a long-term development strategy for the zone, and propose management models.
Recently, the province organised a conference in France for advice from the Association of Vietnamese Scientists and Experts (AVSE) on the master plan, and invited Kien Giang and Khanh Hoa provinces to a workshop on the special administrative-economic zone master plan.
The province hopes to put forward new mechanisms and policies for the zone to give it a competitive edge internationally.
The province will hire foreign consultants to draw up the socio-economic development plan for the zone and revise the blueprint for Van Don economic zone to suit the new status as a special administrative-economic zone as directed by the Politburo at Conclusion No 21-TB/TW on March 22, 2017.
A line-up of huge domestic groups such as the Sun Group and FLC have been pouring investment into Van Don District, including Van Don International Airport, Van Don luxury resort-entertainment complex and casino, and other high-end resorts.
The master plan and laws for Van Don special administrative economic zone are scheduled to be submitted for consideration at the National Assembly's fourth meeting in October.
VNS