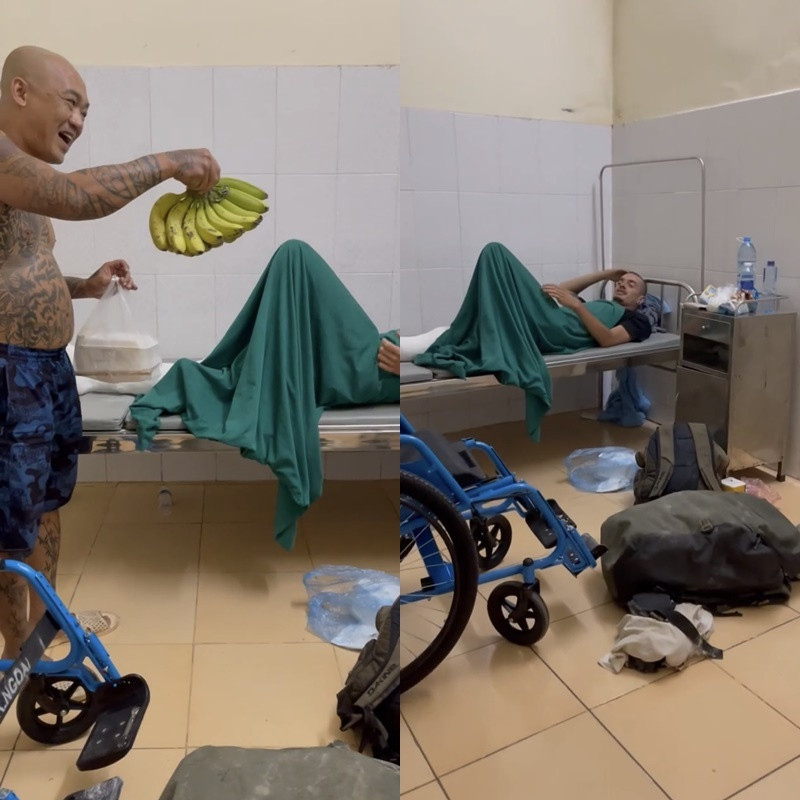 The male traveler suffered an injury after an accident in Dien Bien, and the Vietnamese man helped him during his days in the hospital.
Tien Bao, 40, in Muong Lay, Dien Bien was filmed by Vuong Trang, his wife, who uploaded the video on the internet.
Trang said shortly after her husband returned from work, he received a call from the town hospital asking for his help. The caller said a foreign man had been hospitalized because of injuries on his leg, and the doctors needed an interpreter.
Bao, who can speak English, immediately left for the hospital.
He spoke to the foreign man and explained the man's injuries. He also told him how to follow hospital admission procedures and how to pay hospital fees.
Though Bao's grammar and pronunciation were not at a high level, the foreign man repeatedly nodded his head to show that he understood.
According to his wife, the foreign man was traveling alone. During his trip, he became acquainted with two people. When they travelled from Sa Pa to Dien Bien, the man had an accident and was brought to the hospital. The two friends stayed at the hospital for one night and then left to continue their journey.
The relatives of the traveler were informed about his accident and status, but they have yet to arrive in MuongLay.
Bao and his family members often went to the hospital to visit him. Bao bought rice, fruits and a 4G simcard with his own money to give to the traveler. With the simcard, the man felt more comfortable.
In the video clip, Bao has a special appearance, with no shirt and many tattoos on his body, and is shown giving bananas to the man.
After the clip was shared on the internet, Bao became known as the "tattooed man".
Bao's hospitality towards the traveler surprised many people. Trang said he and his wife were happy they could help someone who was alone after an accident.
"We'll do our best to help him. I hope he will recover soon to continue his journey," Trang said.
Despite his injury, the foreign traveler was friendly and showed his gratitude to Bao and his family. They also took pictures together for souvenirs.
Tu Linh