Vietnam are ready to take King's Cup

Vietnam held their first training in Buriram, Thailand, ahead of the King's Cup yesterday with the team in a buoyant mood and ready for the tournament.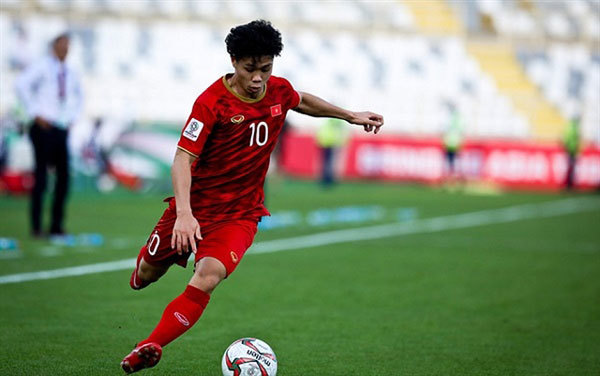 Nguyen Cong Phuong is one of Vietnam's strikers at the coming King's Cup. Photo tinmoi.vn
They have three days to prepare for the first match against the hosts on June 5 at the Chang Arena Stadium.
Coach Park Hang-seo revealed he wasn't happy with transport arrangements as his squad must make a number of flights before the kick-off but he added the players are excited ahead of the competition and will do all they can to please supporters.
One negative ahead of the tournament was the loss of defender Tran Dinh Trong through injury just a day before they left for Thailand.
Park called up super sub Thanh Chung of Ha Noi FC to fill the gap.
Chung was in Park's team since the U23 event in 2017 and is a big loss as he can play in both attack and defence.
"I have watched him playing for his club," Park said.
"He played like a striker and scored. It is interesting to have such defender with scoring skills in the team."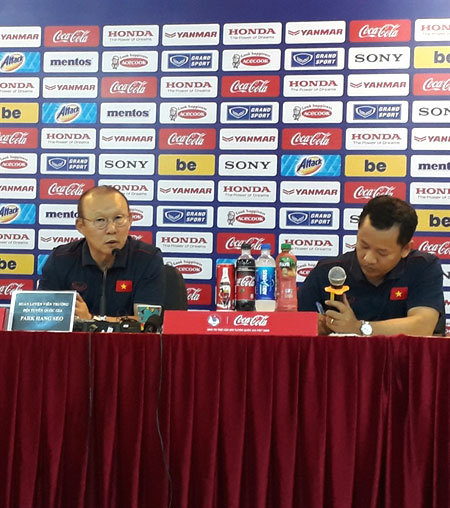 Coach Park Hang-seo (left) speak to reporters about King's Cup tournament on Saturday in Hanoi. Vietnam are ready to play hosts Thailand on June 5. — VNS Photo Thanh Ha
At the meet with media on Saturday, Park also explained the reasons he picked midfielder Luong Xuan Truong who is rarely playing for Buriram FC in Thai-League, Truong Viet Hoang who has not played a single match for Viettel due to late registration and other players such as Vu Van Thanh and Nguyen Tuan Anh who just returned to competition after months sidelined due to injuries.
Park said he and his assistants visited many stadiums to watch players, including those playing abroad. He said players called to the national team must be in good conditions, thirsty to contribute and well integrate with the team.
Striker Nguyen Cong Phuong is also in the list. He just ended his contract with Incheon United before flying from South Korea to join teammates in Bangkok.
He was in a one-year loan contract from Hoang Anh Gia Lai FC to Incheon but has scored just one goal in eight games.
According to Hoang Anh Gia Lai representative Tan Anh, Phuong will have a month training with a club of the French Ligue II on June 15-July 15.
Procedures are completed and he would join the new team, whose name is not revealed, after the King's Cup.
With his 23 players, Park is confident.
Thailand dominated the region for a long time with five AFF Cup trophies and 16 SEA Games titles. However in the last two years under Park Vietnam are on the up. The regional No 1-ranked team has finished runners up in the Asian U23 Championship, a berth in the Asian Games, a slot in the Asian Cup and a trophy of the AFF Cup.
"I think Thailand do not want to accept Vietnam as the champions. They are hurt with the fact and they really want to beat us to regain their image. They have well prepared for this event," said Park through an interpreter on Saturday.
"Vietnam are champions of ASEAN. It is difficult to protect our position. In football we can win or lose but we still can prove our ability.
"We must travel a lot before the competition and we will play away from home. We also under heavy pressure from local media and supporters. But honestly we are not afraid of any rivals including Thailand. We will show our Vietnam spirit there. We will have our plan to have the best results," he said.
"Anyway, King's Cup is only a friendly tournament. Our key target is the World Cup qualifications later this year."
The other match on June 5 is between India and Curacao.
Two winners will advance to the final while the losers will compete for bronze medal on June 8.
VNS