Vietnam attracts less FDI in first half of the year

Foreign investors registered to pour US$1.73 billion into Viet Nam in June, bringing the total amount of foreign direct investment (FDI) committed to the country in the first six months of the year to $18.47 billion, down 9.2 per cent year on year.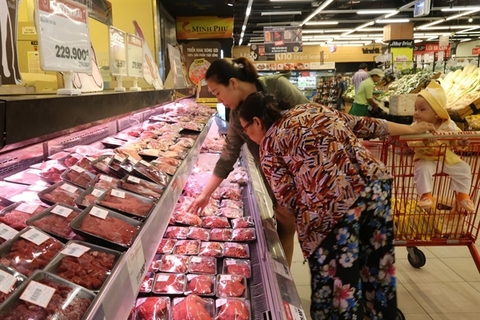 Customers shop for beef at a Lotte Mart supermarket in HCM City. Retail and wholesale is one of the most attractive sectors for foreign investors. — Photo thegioitiepthi.vn
Experts have said the decline is due mainly to a number of large-scale projects that received licences in June last year.
Statistics from the Ministry of Planning and Investment's Foreign Investment Agency show performance was strong in the first five months of the year, with FDI pledged to the country hitting a four-year high for the period of $16.74 billion, up 61 per cent year on year. The performance for the first half of the year was dragged down only by the numbers for June.
More than 1,720 new projects, valued at $7.41 billion, were granted investment licences in the first half of this year, marking a year-on-year decline of 37 per cent. Meanwhile, 628 existing projects were allowed to raise their capital by $2.96 billion, equivalent to just 66 per cent of the same period last year.
On a more positive note, overseas players spent $8.2 billion to acquire shares in Vietnamese companies in the first quarter of the year, a yearly increase of 98 per cent and accounting for 44 per cent of all registered capital.
FDI disbursement also saw a rise of 8 per cent to $9.1 billion from January to June.
Among 19 fields and sectors receiving capital from foreign investors, manufacturing and processing led with $13.15 billion, accounting for 71 per cent of the nation's total FDI. Real estate came next with $1.32 billion (7.2 per cent) followed by retail and wholesale with $1.05 billion (6 per cent).
Hong Kong retained its position as Viet Nam's leading source of FDI in the six-month period with $5.3 billion, making up 29 per cent of total investment, thanks in large part to Beerco Limited spending $3.85 billion on a stake in Vietnam Beverage Co Ltd.
South Korea ranked second with $2.73 billion (15 per cent of all FDI), followed by mainland China with $2.29 billion (13 per cent). Singapore and Japan were the runners-up with $2.2 billion and $1.95 billion, respectively.
The capital city remained the most attractive destination for foreign investors as it lured more than $4.87 billion, equivalent to 26.4 per cent of all FDI pledged in the country. The southern economic hub of HCM City came next with $3.1 billion (17 per cent) and the southern province of Binh Duong claimed third position with $1.37 billion (7.5 per cent).
The foreign-invested sector recorded a trade surplus of $15.7 billion in the January-June period as it exported $85.9 billion worth of goods, up 6 per cent year on year, while its imports topped $70 billion, surging 8 per cent over the same period last year.
During a meeting on Sunday with Thailand's major corporations on the sidelines of the ASEAN Summit in Bangkok, Prime Minister Nguyen Xuan Phuc said the Vietnamese Government was continuing to work on creating favourable conditions for foreign companies to do business in the country.
However, Viet Nam would not accept all FDI projects, but instead would focus on projects that apply modern and environmentally friendly technologies and are energy efficient, the PM said.
Earlier, Bao Viet Securities Company (BVSC) predicted that FDI into Viet Nam would likely hit $22 billion in 2019, up 13 to 15 per cent year on year.
The main sources for FDI growth in the near future would come from South Korea, mainland China, Taiwan and Hong Kong, said BVSC in its latest report.
Vietnam posts trade surplus as of June 15

Rising export value this month helped Viet Nam gain a trade surplus of nearly US$70 million from the beginning of the year to June 15 after posting a trade deficit of $434 million in the first five months.
Reports from the General Department of Customs showed that in the first half of June, the country's export revenue reached nearly $10.18 billion while the import value was $9.63 billion. The higher export value helped the country have a trade surplus of some $500 million in the period.
Mobile phones and phone components were the largest export earner in the first half of June, with export revenue reaching $1.71 billion. Computers, electronics and parts came second with more than $1.4 billion in revenue, followed by apparel with around $1.4 billion.
Computers, electronic products and parts made up the largest proportion of imports at $1.9 billion in the first half of June. Machinery, equipment, tools and machine parts ranked second with some $1.4 billion.
According to experts, despite a slowdown in export growth, the performance was encouraging when compared with other regional countries. Viet Nam posted a 6.7 per cent export growth in the first five months, against 7.1 per cent in the same period of 2018. Many other countries and territories saw exports shrink in the first three months of the year including Japan, Indonesia, Taiwan (China) and Singapore. Chinese export turnover inched up just 1.4 per cent during the first quarter of 2019.
Economist Vo Tri Thanh said Viet Nam's trade was still performing well even though the global economy has slowed due to uncertainties including the US-China trade war.
In its latest report, analysts from the Rong Viet Securities Company expressed optimism about Viet Nam's trade balance, especially from the third quarter of 2019.
Viet Nam would export more in the coming months, while imports will decrease because of seasonal reasons and Government measures, the analysts said. They said exports of farm produce and electronics, which make up 40 per cent of the country's total export turnover, may see better growth. VNS

Main sources for FDI growth in Vietnam in the near future would come from South Korea, China, Taiwan and Hong Kong (China).    

National Assembly deputies have raised their concerns about the potential risks of soaring Chinese foreign direct investment inflows into Vietnam.  

The HCM City Depatment of Customs has listed 1,000 businesses that have not paid tax worth trillions of dong, including foreign direct investment (FDI) firms.