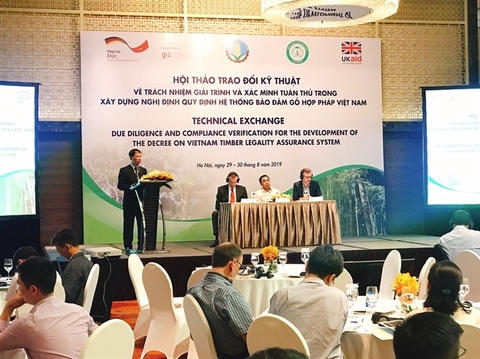 At the conference, experts discuss solutions to help Viet Nam build up regulations to fight against illegal timber products.
Illegally harvested timber, as well as traders of this item, will not be able to enter the supply chain Viet Nam is putting in place under the Voluntary Partnership Agreement on Forest Law Enforcement, Governance and Trade (VPA/FLEGT), an official has said.
Director General of Vietnam Forest Administration (VNFOREST) Nguyen Quoc Tri was speaking at a two-day technical exchange on the Viet Nam timber legality assurance system (VNTLAS) in Ha Noi on Thursday and Friday.
Tri said VNFOREST was drafting a decree regulating VNTLAS, guiding the implementation of VPA/FLEGT articles and the Law on Forestry. The draft decree's two important most contents are accountability and verification.
"These two contents are new in Viet Nam and very difficult for the drafting board. During the drafting process, we received many comments from groups affected by this decree. We will absorb these comments to implement the decree effectively," Tri said.
Accountability would be key for all importers and all wood products. Inspections would be conducted by customs offices through import clearance and post-clearance inspection if needed.
The verification of imported wood in Viet Nam is currently being carried out under a circular issued by the Ministry of Agriculture and Rural Development, which includes customs declarations, forest product lists, permits under the Convention on International Trade in Endangered Species of Wild Fauna and Flora (CITES) for forest products and documents on the origin of forest products.
Koen Duchateau, Head of Cooperation, EU Delegation to Viet Nam, said he was very encouraged to witness a strong commitment from the Vietnamese Government to have a new decree on VNTLAS approved by the end of this year. This is a very challenging task for VNFOREST and the drafting board members, who are responsible for the preparation of the decree.
According to Duchateau, the EU is a major export market for timber and timber products from Viet Nam, among the five largest - next to the US, China, Japan and South Korea. In recent years, the EU has been the second largest export market (after the US) for value-added timber products from Viet Nam.
"We have come a long way since we started negotiations of the FLEGT Voluntary Partnership Agreement (VPA) in 2011, with the aim of ensuring that timber exported from Viet Nam to the EU has been legally produced. It has been a long and arduous process and a lot of efforts continue to be made by all parties, including not only government, but also civil society and our respective forest-based industries," Duchateau said.
"Through a lot of hard work, as well as open and constructive engagement on both sides, we trust that our partnership to tackle illegal logging and related trade will continue to grow," he added.
With the signature of the FLEGT-VPA on 18 October last year and its entry into force on June 1, 2019, the Vietnamese Government committed to develop its VNTLAS and strengthen its mechanisms to detect violations and to ensure better law enforcement. This also covers imported timber, an issue the EU prioritised throughout the negotiation process.
The implementation of the VPA (including the VNTLAS) will involve representatives of different stakeholder groups along these chains, including government agencies (particularly at provincial level), the private sector and civil society and forest producers. They are expected to join forces to define a credible way to ensure the legality of timber products produced in Viet Nam.
"We are pleased to note that the development of the forest sector throughout the supply and value chains of forest products becomes the direction for Viet Nam in the coming years in order to ensure sustainable timber production and trade towards sustainable forest management," Duchateau said.
Head of Development Cooperation, German Embassy Sebastian Paust said the ratified VPA/FLEGT Agreement showed a radical change in the forestry sector in Viet Nam, which has formalised world forestry legislation into national legislation.
He said supporting the implementation of the VPA/FLEGT in Viet Nam was a priority of German development co-operation.
"Building strong and accountable institutions in the forestry sector, combating the illegal timber trade and strengthening civil society are three of the twelve priorities of the German development co-operation Forest Action Plan," Paust said.
"The focus of ongoing and future German development co-operation with Viet Nam in this regard is on strengthening the institutional framework and capacity of actors, to effectively implement controls of imported timber, implement due diligence by timber importers and establish mechanisms for independent and participatory monitoring of forest governance and safeguards," he added.
According to statistics of the General Department of Vietnam Customs, it has detected 48 violations of import and export of wood products since early last year, with 30 cases resulting in fines, one in prosecution, five others transferred to other agencies and 12 cases are still being investigated.
The department is co-operating with relevant sectors to review and formulate the draft decree on legal timber assurance system. To implement the decree after it is approved by the Government, it will build an information technology system for the management and organise training courses for local customs agencies and businesses on control procedures. — VNS