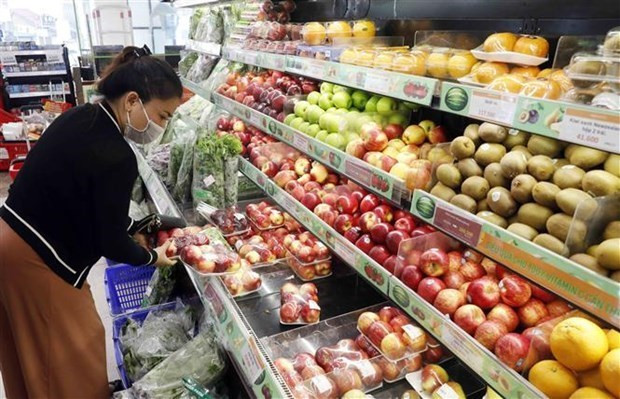 A consumer shops at a supermarket. (Photo: VNA)
Total retail sales of goods and consumer service revenue increased 13.9% year on year to over 1.5 quadrillion VND (63.9 million USD) in the first quarter of 2023, compared to the 5% growth in the same period of 2022, the General Statistics Office (GSO) reported.

Excluding the price factor, the retail sales and service revenue went up 10.3% while that in Q1 last year rose 2%.

Compared to Q1 of 2019, before the COVID-19 pandemic broke out, the amount in this year's first three months increased 26.7%, the GSO noted.

Retail sales are estimated at nearly 1.19 quadrillion VND, up 11.4% (8.4% if the price factor is excluded). In particular, sales of grain food and foodstuff grew 14.6%, apparel 12.3%, vehicles (excluding automobiles) 4.5%, and household items and equipment 3.9%. Cultural and educational goods saw a decline of 2.7%.

Meanwhile, accommodation and food services generated about 161.1 trillion VND in Q1, up 28.4% from a year earlier.

Tourism revenue surged 2.2-fold from a year earlier to around 6.8 trillion VND, partly thanks to a large number of New Year cultural and tourism activities which were not held in the same period last year due to COVID-19, according to the GSO.

In March alone, retail sales of goods and consumer service revenue totalled 501.3 trillion VND, up 2% month on month and 13.4% year on year.

GSO General Director Nguyen Thi Huong attributed such results partly to the reopening to international tourists on March 15, 2022, overseas tourism promotion activities, and domestic consumption stimulation.
Vietnam calls for more investment from LG
Deputy Prime Minister Tran Luu Quang hosted a reception for Kim Myoung-kyu, Vice President of LG Display Co Ltd, a subsidiary of LG Group of the Republic of Korea (RoK), on March 31 in Hanoi.
During the meeting, Quang suggested the RoK firm expand its investment in Hai Phong and other Vietnamese localities and build a research & development centre in Vietnam.
The Deputy Prime Minister highly appreciated the investment and business efficiency of LG Group and LG Display in particular in Vietnam, saying that those have contributed to the Southeast Asian nation's socio-economic development, and deepening the Vietnam – RoK comprehensive strategic partnership.
Quang said the Vietnamese Prime Minister has approved the adjusted master plan of Hai Phong city to 2040, with a vision towards 2050, which aims to expand the land fund for industrial development, thus creating favourable conditions for investors, including LG Group, to increase investment in the city.
For his part, Kim appreciated the support of the Vietnamese Government in general and Hai Phong in particular for the firm in implementing investment projects, maintaining production and business activities in Vietnam, especially during the COVID-19 outbreak.
According to the Management Board of Hai Phong Economic Zone Authority (HEZA), LG Group has seven projects worth over 7 billion USD in the city, including LG Electronics, LG Display and LG Innotek. Hai Phong is also home to over 50 other RoK businesses with a total investment of nearly 1 billion USD.
Last year, the export value of LG 's subsidiaries in Hai Phong totaled 12.4 billion USD, accounting for over 40% of Hai Phong's export turnover. RoK firms have created jobs for nearly 40,000 labourers in the city.
The RoK remains the largest foreign investor of Vietnam with a total registered capital of nearly 82 billion USD. RoK investors are operating in 19 economic sectors in 59 provinces and centrally-run cities across the country.
HCM City sees over 22% rise in FDI inflows in Q1
Ho Chi Minh City has drawn 497.5 million USD of foreign direct investment (FDI) in the first three months of this year, up 22.4% year on year, according to the city's Statistics Office.
The office reported that in the first quarter of this year, the city issued new investment licences to 216 projects worth 133.2 million USD, a rise of 30% over the same period last year, mostly in construction sector (53.7 million USD).
Singapore remained the leading investor in the city with 47 projects with a total capital of 86.7 million USD, accounting for 65.4% of the total FDI the city attracted in the period.
Hong Kong (China) came second with 15 projects worth 9.5 million USD, accounting for 7.1%, and Japan with 19 projects worth 9.0 million USD.
At the same time, investors also injected additional 87.1 million USD into 37 underway projects. Of the total, 35.5 million USD, or 40.8%, came from the Republic of Korea.
Meanwhile, 468 share purchase deals involving foreign investors were conducted with a total value of 277.3 million USD, down 5.9% year on year.
According to the Foreign Investment Agency under the Ministry of Planning and Investment, in the first quarter of this year, HCM City continued to lead localities nationwide in FDI attraction, showing the attractiveness of the local business environment amid the instability in the world economy.
To date, the city has hosted 11,598 valid FDI projects worth over 56.4 billion USD, the highest numbers among localities nationwide.
Import tax exemption to benefit domestic ITC industry
The information and communication technology sector has grown by 6-9% each year and has often exceeded the country's GDP growth rate in recent years, attendees were told at workshop held by the Ministry of Information and Communications (MIC).
MIC held the workshop on policies for the import and export of raw materials, supplies, components and information technology products; and disseminated Circular 25/2022/TT-BTTTT in Hanoi on March 29.
The Authority of Information Technology and Communication Industry said Resolution 23-NQ/TW dated March 22, 2018, of the Politburo set out the orientation for the national industrial development towards 2030.
The resolution identifies the development of the information technology industry, in which the electronics industry is the main path. It also set a goal to reach an advanced level by 2030, meeting the requirements of the fourth industrial revolution in order to create digital technology platforms for other industries.
The revenue of the IT industry reached 148 billion USD last year, with software accounting for about 6 billion USD, and electronic hardware 135 billion USD, accounting for 17.8% of the whole industry.
However, the above results are mainly contributed by FDI enterprises.
In terms of hardware, up to 99% of the electronic and telecommunications equipment in use in Vietnam is imported.
Vietnamese electronics enterprises still have many limitations in terms of scale and technology and the domestic market mainly relies on imported or foreign brands.
To promote the development of the country's IT and electronics industry, the Government and the Ministry of Information and Communications have implemented the Make-in-Vietnam strategy with a focus on design, creation and manufacturing in Vietnam.
As of January 2023, Vietnam has signed 17 FTAs and is considered an open economy.
With the implementation of many trade agreements, tariff barriers are increasingly reduced and most IT and electronic products have a 0% import tax rate.
However, there are still many raw materials and components for the production of IT and electronic products with tax rates of 5-20%.
The inadequacy in import tax on CBU products and raw materials and components leads to the lack of competition of domestically-produced products with imported products in terms of production costs.
This has a significant impact on the development of Vietnam's digital technology industry.
Do Thuy Huong, Vice President of the Vietnam Association of Supporting Industries (VASI), member of the executive committee of the Vietnam Electronic Industries Association (VEIA), emphasised that the electronics industry has made a great contribution to the balance of foreign exchange and trade balance for the whole country.
The country had a trade surplus of 11.2 billion USD last year, of which, the electronics industry has a trade surplus of 11.246 billion USD, said Huong.
However, in the process of import and export, Vietnamese electronics enterprises were facing many difficulties and challenges, she noted.
Speaking at the opening of the workshop, Deputy Director in charge of the Authority of Information Technology and Communication Industry Nguyen Thien Nghia said that in order to solve the policy inadequacies, support to promote research, development and production of electronic hardware products in Vietnam, the Ministry of Information and Communications issued Circular 25/2022/TT-BTTTT on December 31 last year defining imported raw materials and components that are exempt from import tax to directly serve production activities of IT products, digital content, and software.
This is an important policy to support domestic enterprises in the production of IT products, and to solve the inadequacy of the import tax on CBU products which is lower than the import tax on raw materials and components.
This also aims to create policy solutions for the Make-in-Vietnam strategy, which promotes design in Vietnam, product making in Vietnam, and switch from assembling and processing to manufacturing Vietnamese products.
Vinh Phuc province looks to woo US investors
A delegation from the northern province of Vinh Phuc, headed by Hoang Thi Thuy Lan, Chairwoman of the provincial People's Council, has visited the US in a bid to attract investors to the province.
Meeting with representatives from the New York Chamber of Commerce, Lan introduced Vinh Phuc's socio-economic conditions and orientation in foreign investment attraction.
She expressed her hope that the chamber will help connect the province with businesses wishing to invest in Vietnam so that they can learn about Vinh Phuc's business climate.
The delegation had a working session with the law firm Gibson, Dunn & Crutcher LLP, which boasts 20 offices around the world and over 1,800 attorneys with extensive legal experience and skills.
Lauding the company's capacity and performance, Lan wished it will become a bridge between US investors and the Vietnamese province.
Vinh Phuc will continue to conduct investment promotion activities in countries with strengths in technology and financial potential, especially the US, she affirmed.
The delegation also worked with the New York Stock Exchange (NYSE), which said it welcomes all efforts of countries and multinational companies to expand investment on the exchange.
By the end of 2022, Vinh Phuc was home to 1,270 investment projects, including 445 foreign direct investment (FDI) projects worth 7.55 billion USD and 825 domestic direct investment ones worth over 121 trillion VND (5.1 billion USD).
Global minimum tax application under consideration
The General Department of Taxation under the Ministry of Finance has said it will keep a close watch on the implementation of the global minimum tax in other countries, listen to opinions of firms impacted by the tax and study guidelines of the Organisation for Economic Cooperation and Development (OECD) to propose its application in Vietnam.
The application of the global minimum tax should not create adverse impacts on Vietnam's foreign investment attraction, and should ensure the country's tax collection right, said deputy head of the general department Dang Ngoc Minh at a press conference held by the Finance Ministry in Hanoi on March 30.
The OECD's Pillar Two establishes a global minimum effective corporate tax rate of 15% for large multinational enterprises (MNEs), which has important implications for the use of tax incentives around the world.

In Vietnam, a task force in charge of studying the global minimum tax and proposing relevant solutions was established in August 2022 with Deputy Prime Minister Le Minh Khai as the head.
The Finance Ministry set up a working group in February 2023, led by a deputy minister, to assist the task force.
The general department, which is assigned by the ministry to study and propose the implementation of the global minimum tax, held a meeting with businesses on March 28 to acquire opinions raised by enterprises that may be impacted by the tax, according to Minh.
At the press conference, the official also cleared up queries regarding the roll-out of the electronic invoice system and value-added tax refund.
32nd Vietnam Expo promises to boost business linkages
The 32nd Vietnam International Exhibition (Vietnam Expo) will take place in Hanoi from April 5-8 with the participation of more than 500 domestic and foreign enterprieses, the event's organisers have announced.
Exhibitors from Vietnam, the Republic of Korea, Japan, Indonesia, Poland, and mainland China will showcase advanced equipment and technologies in electronics - machinery and supporting industries and digital technology - e-commerce; food industry, handicraft and beauty sectors at more than 600 booths.
The expo is expected to offer organisations and businesses opportunities to enhance the exchange of experiences, promote their products, seize investment opportunities, and transfer technologies to improve efficiency in production and business.
Other seminars to boost efficiency in investment and trade promotion in both domestic and foreign markets will also be held.
Besides, under the Improving Private Sector Competitiveness (IPSC) project, the US Agency for International Development (USAID) will provide assistance for 20 Vietnamese small and growing businses (SGBs) which have received technical support from the project to show their products and services at the expo.
Through innovative skills training, tailored technical assistance, and expanded coaching and mentorship networks, the project will improve SGB efficiency, increase revenue, and help SGBs act as sustainable sources of inclusive economic growth and job creation as well as introducing their brandnames to international market.
According to the organisers, each year's event will feature the market's tendency in general and growth pace, adaptation of businesses in particilar.
Vietnam Expo is held annual in Hanoi in April and Ho Chi Minh City in December.
Capital poured into HCM City's export processing, industrial zones up 21% in Q1
Export processing zones (EPZs) and industrial parks (IPs) in Ho Chi Minh City attracted over 90.1 million USD worth of capital in the first quarter of 2023, increasing by 21.36% year-on-year and fulfilling 16.39% of the yearly plan.
According to the HCM City Export Processing and Industrial Zones Authority (HEPZA), 48.8 million USD of the sum was foreign investment, representing a two-fold rise year on year.
Meanwhile, domestic firms channeled 956.2 billion VND (41.35 million USD) into the local EPZs and IPs, down 15.8 from the same period last year.
In the first quarter, 18 projects in these EPZs and IPs were put into operation, six were under construction, and two stopped working.
Hua Quoc Hung, head of HEPZA, said in the next quarter, the authority will increase its support for and monitoring of operating firms via thematic dialogue conferences; launch events connecting their supply and demand; and survey the localisation rate of the enterprises.
The accumulated number of valid investment projects at the city's EPZs and IPs has so far reached 1,700 projects worth 12.43 billion USD, including 554 foreign-invested ones valued at 6.92 billion USD.
Currently, 1,482 projects, including 517 foreign-funded ones, are operating in these EPZs and IPs.
Deputy PM demands precision on fuel storage infrastructure planning
Deputy Prime Minister Tran Hong Ha had a meeting with the verification council for the draft planning on national petrol, oil, and gas storage and supply infrastructure for 2021 - 2030, with a vision to 2050, in Hanoi on March 30.
Stressing the importance to national energy security, he requested that the planning have high precision and feasibility, match the set tasks and targets, and guarantee active and stable energy supply for the economy.
The official asked the Ministry of Industry and Trade and the advisory unit to ensure that shortcomings and problems in the existing petrol, oil, and gas storage and supply infrastructure are pointed out and assessed in the draft planning.
He noted some issues in the fuel market in late 2022 and early 2023, and that the planning must take into account demand in reality and be closely connected with the land, environment, transport, and urban planning.
Amid the growing trend of green and renewable energy use, the planning also needs to closely follow the Party and State's orientation, and facilitate science and technology application and digital transformation. It must also enable the connectivity among production, storage, and selling establishments to ensure supply and demand balance to help connect the country with global renewable energy hubs, Ha said.
The Deputy PM also underlined the necessity for environmental impact to be thoroughly assessed in the planning.
The draft planning sets up detailed targets for petrol, oil, and gas storage and supply infrastructure in the 2021 - 2030 and post-2030 periods, with about 270 trillion VND (11.5 billion USD) to be invested in infrastructure development by 2030.
It gives priority to investment in the national storage infrastructure for crude oil and petrol and oil products; large-scale petrol and oil warehouses in the areas of deep-water seaports; integrated petrol, oil, and aviation fuel warehouses in the areas of international airports; and large warehouses for imported liquefied natural gas to ensure supply for gas-fueled thermal plants.
The draft planning also puts forth six groups of measures about mechanisms and policies; investment capital mobilisation; science and technology; environment, fire and explosion prevention; human resources development; and international cooperation.
Vietnam, Australia seek to expand trade cooperation
Solutions to promote trade cooperation between Vietnam and Australia and the implementation of the Australia-Vietnam Enhanced Economic Engagement Strategy (EEES) were tabled at an online meeting on March 30 in Hanoi.
During the 4th session of a trade working group within the framework of the Ministerial-level Vietnam-Australia Economic Partnership Meeting, the two sides focused on reviewing the implementation of cooperation contents agreed at the 3rd session and discussed issues related to regional and multilateral cooperation, as well as supply chain cooperation.
Both sides expressed their delight at the impressive growth of bilateral trade recently. Australia became the 7th largest trade partner of Vietnam in 2022 with two-way trade hitting 15.7 billion USD.
The positive results were attributed to efforts of both sides in promoting economic and trade cooperation, fully tapping free trade agreements (FTAs). They include the Agreement Establishing the ASEAN–Australia–New Zealand Free Trade Area (AANZFTA), the Comprehensive and Progressive Agreement for Trans-Pacific Partnership (CPTPP), and the Regional Comprehensive Economic Partnership (RCEP). They have also implemented flexible policies of the two governments and relevant ministries.
The two sides agreed to speed up the implementation of important cooperation, towards further promoting the bilateral trade ties in a balanced and sustainable manner, thus matching the strategic partnership between the two nations.
Accordingly, the two sides will continue to promote market opening and facilitation to the export of Vietnam's agricultural products such as passion fruit, pomelo, and fresh flowers. On the other side, honey, and reindeer and kangaroo meat will come from the Australian side.
Attention will be paid to boosting technical and investment cooperation in the field of agriculture; sharing experience in trade promotion, supply chain and transportation; and pushing the signing of a protocol amending the Vietnam – Australia aviation agreement.
The discussion and proposals at the event are aimed at bringing practical benefits to the business community of both sides, contributing to developing regional and global value chains, supporting post-pandemic economic recovery, building a rules-based multilateral trading system, and promoting regional economic integration.
The two sides highly valued efforts by their relevant agencies in bolstering cooperation within EEES, especially in organising periodical dialogues on trade remedies.
The two memoranda of understanding (MOU) on establishing a ministerial-level dialogue mechanism on trade, energy, and minerals between Vietnam and Australia, which is expected to be inked in 2023, will create an important exchange channel for government agencies and the business community to expand cooperation activities in these areas.
The contents discussed and agreed upon at the session will be submitted to the Ministerial-level Vietnam-Australia Economic Partnership Meeting, which is slated for mid-April this year.
Statistics from the Ministry of Industry and Trade show that two-way trade between Vietnam and Australia hit 2 billion USD in the first two months of 2023. Vietnam earned 769.4 million USD from exporting goods to Australia, while spending 1.2 billion USD on imports from the country.
Ho Chi Minh City CPI inches up by 0.04% in March
Ho Chi Minh City's Statistical Office on March 30 reported that the consumer price index (CPI) of the country's biggest metropolis increased by 0.04% in March.
Four out of the 11 commodity groups increased in price, three remained unchanged, and the rest saw prices fall, it said.
Beverages and tobacco, garments and footwear, housing and construction materials, equipment and household appliances all saw prices jump. Drugs and medical services, education, culture and entertainment held steady, while food and catering services, transportation, post and telecommunications, and other goods and services all fell in price.
Analysing the price index movements of some industry groups compared to the previous month, the office said that the group of food and food services decreased by 0.27% in prices. The price of housing, electricity and water, fuel, construction materials increased by 0.53%; gas prices decreased by 3.16%; home repairing services' prices increased by 0.5%. Meanwhile, prices of equipment and household appliances group increased by 0.11%.
On the downward trend, transportation prices decreased by 0.02%, the post and telecommunications group saw prices decrease by 0.14% compared to the previous month, while the postal and telecommunications services remained unchanged.
According to the office, in the first three months of 2023, the city's CPI increase by 4.5% in the first three months of this year.
Vietjet opens route connecting Can Tho and Quang Ninh
Vietjet has just opened sales on the direct route connecting the Mekong Delta city of Can Tho city and Van Don in northeastern province of Quang Ninh, contributing to promoting trade, economy and tourism between two provinces as well as two key economic regions.
The carrier will officially provide service on the route from April 25 with three return flights on every Tuesday, Thursday and Saturday.
The flight departs from Can Tho at 6:00 and arrives in Van Don at 8:20, and the return flight takes off from Van Don at 8:55 and lands in Can Tho at 11:10.
Travellers are offered tickets priced from only 0 VND, excluding taxes, fees and the period of Summer and holidays of each markets.
Specially, from now until May 5, Vietjet offers the promotion of 50% discount on SkyBoss and SkyBoss Business tickets in all routes.
Global minimum tax should not impact investors' benefits
Vietnam needs to develop appropriate policies to adapt to the global minimum tax and remain an attractive FDI destination, heard a seminar in Ho Chi Minh City on March 29.
Dr Tran Du Lich told the seminar, titled "Global Minimum Corporate Tax - Prospects and Challenges in attracting FDI in HCM City", that the global minimum corporate tax rate of 15%, which is set to be applied next year in Vietnam, is forecast to have a significant impact on Vietnam in whose economy FDI plays a significant role.
The tax applies to multi-national corporations with revenues of at least 750 million euros (870 million USD). When a company invests in a foreign country but pays corporate income tax of less than 15% in that country, it will have to pay the difference in the country where it is headquartered.
As of today, 141 countries and territories have signed up to implement the tax.
"It is estimated that 1,015 FDI companies in Vietnam will be affected by the tax," said Lich, who is a member of the National Advisory Council for Monetary Policies and vice president of the Vietnam International Arbitration Centre.
Vietnam uses tax and land rentals as two key incentives to attract FDI, and it needs to amend its investment attraction policies to ensure compatibility with the minimum tax but still maintain a favourable environment to attract investment, he said.
Phan Duc Hieu, Permanent Member of the National Assembly's Economic Committee, said in recent years Vietnam has mainly used tax incentives such as complete waivers and breaks and incentives for investors investing in industrial parks, economic zones, high-tech parks, and others.
"According to preliminary estimates, foreign companies are subject to an average corporate income tax of 12.3%, against the regular 20%. The rates for large corporations are as low as at 2.75 -5.95%."
He and other experts at the seminar agreed that the new tax rule is both a challenge and an opportunity for Vietnam with regard to improving its investment environment.
The country needs to switch to cost-based incentives, including super-reduction and cost-based tax deductions if needed, he added.
Do Thien Anh Tuan, a lecturer at the Fulbright School of Public Policy and Management, said HCM City was a bright spot in attracting FDI with a total of 3.94 billion USD last year, a year-on-year increase of 5.4%.
It had 11,273 operational projects with total capital of 55.84 billion USD at the end of last year, and FDI has greatly contributed to its socio-economic development, he said.
To continue attracting high-quality FDI projects, the city should abandon its tax incentive approach and focus on creating a fair and equal competitive environment, investing in human capital, promoting R&D, upgrading infrastructure, improving the business environment, speeding up administrative reform, implementing green growth, and making itself a livable city, he said.
Agreeing with him, Phan Vu Hoang, Deputy General Director of Deloitte Vietnam, said the quality of the investment environment is more important than incentives.
Vietnam has no other choice than implement this tax rule, but it has to participate wisely, he said.
"If we are smart enough to redesign the system of preferential policies to attract investment, we have countless opportunities."
Le Thanh Nhan, manager of the Saigon Hi-Tech Park's enterprise management department, said improving the business and investment environment are key to attracting investment.
Prompt resolution of investors' difficulties by government agencies is also very important, he said.
"We have many good policies but their implementation is somehow not effective, and that needs to be improved."
Vietrade and Messe Frankfurk cooperate to promote trade activities
The Vietnam Trade Promotion Agency (Vietrade) and German Messe Frankfurt on Thursday signed a memorandum of understanding (MOU) on enhancing cooperation in trade promotion activities.
At the event, Vietrade's director Vu Ba Phu announced that the two sides will coordinate to organise four international trade fairs focusing on textile yarns, fabrics, accessories and textile technology; consumer goods including furniture, kitchenware and gifts; industrial automation technology; and bicycle industry including finished products and spare parts and components.
Phu highlighted Vietrade's experience in organising international fairs in Viet Nam and bringing Vietnamese businesses to major trade fairs abroad. However, the agency's activities have so far only focused on agriculture, seafood, or food and have lacked international support in industrial-related fairs
"Thus, we have been looking for partners to collaborate in organising international-scale fairs in Viet Nam in the industrial field such as textiles and mechanical automation and manufacturing."
Messe Frankfurt is the world's leading company in the field of organising trade fairs, conferences and seminars. The MOU signing is expected to establish an effective mechanism for implementing trade promotion activities, creating favorable conditions for Vietnamese businesses to participate in international fairs and establishing the brands of Vietnamese enterprises in international markets.
Wolfgang Marzin, President and CEO of Messe Frankfurt, expressed his hope that the cooperation will be beneficial for Vietrade's goal of facilitating trade connections for businesses in the industrial and manufacturing sector and contribute to the Vietnamese government's commitment to deepening its economic integration.
Viet Nam has recently joined the group of the top 20 largest economies in terms of trade scale in 2022, with export growth reaching 8-10 per cent per year on average during 2015-20. In 2022, the total import and export turnover of goods reached a record of US$732.5 billion, a 9.5 per cent year-on-year increase.
Da Nang strives to revive FDI flow
The central city of Da Nang is implementing many solutions to stop a decline in foreign direct investment (FDI), striving to attract US$7 billion worth of FDI by 2030.
In the past two months of 2023, Da Nang licensed 16 new foreign-invested projects with a total registered capital of $2.55 million, down 54 per cent in capital over the same period last year, baodautu.vn reported.
The city has to date attracted 965 foreign-invested projects capitalised at over $4 billion. Industry, real estate and services were fields that attracted the lion's share of FDI. Japan is currently the city's largest source of FDI, with over $900 million, followed by Singapore, the US, and South Korea.
According to local authorities, FDI inflow into the city has been on a downward trend. One of the reasons was that due to the COVID-19 pandemic, foreign investors found difficulty in coming to Da Nang to explore investment opportunities, while the tendency to protect domestic production in many countries was increasing.
Another reason was insufficient clean land fund inside and outside the city's industrial zones (IZs) to serve the needs of foreign investors. Most foreign-invested projects are located in IZs, but these zones have reported over 85 per cent land occupancy. Meanwhile, new zones are under construction.
Tran Thi Thanh Tam, Director of the municipal Department of Planning and Investment, spoke to baodautu.vn that the city would complete and then approve the planning of functional subdivisions under the Adjustments to the Da Nang Master Plan by 2030, with a vision towards 2045.
At the same time, it would complete procedures to organise auctions of land use rights for clean land areas and create conditions for investors to complete investment procedures for the projects they had committed.
In addition, the city would focus on completing infrastructure projects to serve the high-tech industry, information technology and logistics.
It was also accelerating completing and upgrading the technical infrastructure of Hoa Nhon, Hoa Ninh, the second phase of Hoa Cam IZs, and Da Nang Supporting Industrial Park. Tam added that pushing up investment promotion would also be included.
Vice Chairman of the municipal People's Committee Ho Ky Minh said his city was preparing a land fund for industrial development, supporting industries, high technology, and information technology to welcome capital flows into Viet Nam.
Furthermore, it also focused on building high-quality human resources, removing difficulties and obstacles to create the best conditions for businesses to invest in the locality, Minh said.
South Korean firms seek opportunities
Over 100 enterprises from South Korea this month arrived in Da Nang to seek investment opportunities in the city.
Speaking at an investment promotion conference with the participation of these firms, Director of Da Nang Investment Promotion Agency Huynh Lien Phuong said the city identified Korea as one of the leading strategic partners in investment, trade and tourism cooperation.
Last year, Da Nang welcomed over 385,000 South Korean visitors, accounting for more than 45 per cent of the total number of international visitors to the city and 50 per cent of the total number of Korean visitors to Viet Nam.
Phuong said South Korea is one of Da Nang's major import and export markets in Asia. In 2022, the city exported $50 million worth of goods to South Korea, up 12 per cent year-on-year. Its imports from the market hit $78 million, up 4 per cent on-year.
By the end of last year, South Korean investors pumped about $358 million into 256 projects in the city or equivalent to 8.9 per cent of the total foreign investment. That ranked Korea fifth among countries and territories investing in the city.
Shin Kyeonglyun, Deputy Director of KOTRA Da Nang, said many Korean businesses showed interest in the central city thanks to its investment incentives.
She said that Da Nang was moving towards a smart city, attracting many investment projects with many preferential policies. Korean businesses would find many opportunities in the city where local authorities always offered the best support to businesses.
During the seminar, many Korean businesses showed their concern about the city's human resources, as its current population was only 1.2 million. The issues related to securing assets and the support of the city government were also raised by Korean firms.
Phuong said that the city's population would reach 1.5 million by 2025. It was expected to increase to 1.8 million by 2030. Currently, about 50 per cent of its population was of working age.
At the same time, the city has more than 20 universities and colleges. The city has regularly connected businesses with universities so that schools can understand the needs of companies so they can provide the right human resources according to the development goals of enterprises.
As a regional economic centre, Da Nang has also attracted a large number of foreign workers, Phuong said.
She added that the city's investment environment has improved with fast investment procedures and administrative reform to save business costs, time and effort.
Source: VNA/SGT/VNS/VOV/Dtinews/SGGP/VGP/Hanoitimes