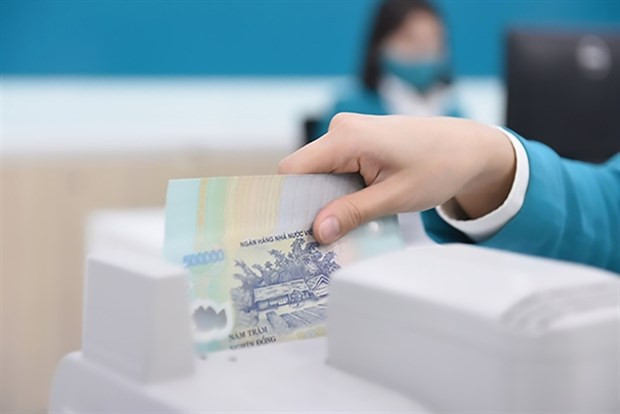 The State Bank of Vietnam (SBV) has unveiled a preliminary revision to Circular 16, requesting public input on proposed modifications that would permit credit institutions to procure corporate bonds as a means of boosting liquidity in the corporate bond market.
The revision corresponds to Decree 08 of the Government, which went into effect on March 5 and aims to address bottlenecks in the corporate bond market.
Circular No. 16/2021/TT-NHNN, issued on November 10, 2021, delineated principles for the acquisition and sale of corporate bonds by credit institutions. The preliminary revision aims to clarify and expound on various components of Circular 16 to avoid ambiguities and gaps.
The notable changes include more specific regulations for banks in investing in corporate bonds, such as banks' responsibility of inspecting and supervising proceeds from bond issuance, criteria for banks to buy bonds, as well as regulations on the management of bonds to supplement working capital and cash flow management.
The rule allowing credit institutions to sell and buy unlisted corporate bonds sold before December 31, 2023, without having to wait 12 months as currently stipulated draws the attention of the market.
Data from the Vietnam Bond Market Association (VBMA) showed in December 2022, nearly 50 trillion VND (2.1 billion USD) worth of bonds were bought back before maturity.
However, the number in the first two months of this year decreased to only 10 trillion VND. According to the association, this indicator shows the issuers are struggling to have money to repay the debt.
In the context that about 150 trillion VND (roughly 6.4 billion USD) worth of bonds will mature in the second and third quarters of 2023, market analysts expect the permission for banks to buy corporate bonds will be a great support.
"Corporate bonds are different from bank loans because they have low liquidity," Dinh Thi Quynh Van, general director of PwC Vietnam and the lead partner of Tax and Legal Services told VTV1. "Banks have the right to repurchase and resell them, which can boost liquidity and support bond issuers."
To limit risks, the draft will only allow banks to buy bonds when the issuing business meets certain conditions, such as having a feasible issuance plan, being able to repay principal and interest, or having a low debt ratio and not allowing to use proceeds to contribute capital or buy shares in other companies.
According to data from Fiin Group, banks are holding over 253 trillion VND of corporate bonds, equivalent to about 29% of total outstanding bonds. This figure is lower than the number of 45% in 2021.
Therefore, banks still have room to increase their bond ownership through repurchasing, helping to clear the deadlock in capital flow for issuing businesses.
According to many market insiders, credit institutions cannot buy corporate bonds of companies whose debt exceeds five times their own capital, which will exclude a lot of bonds issued by realty firms.
The regulation that allows banks to buy bonds to supplement working capital in the short-term of less than one year also causes a headache for companies as businesses rarely issue short-maturity bonds (typical bond terms are five to ten years).
According to Nguyen Quang Thuan, Chairman and CEO of Fiin Group, one of the most important issues for bond issuers today is the need to refinance or restructure debt, but regulations of debt restructuring has not yet been revised in this draft.
He said this measure is more technical because the key is still the improvement in cash flow from businesses, but the outlook has not shown any signs of improvement.
Therefore, a cross-effect on the credit quality of banks is present, he said, adding when a business is late in paying bonds, it will then be likely to be late in repaying bank loans and likely turning to bad debts.
Real estate businesses are also proposing that the corporate bond redemption should last until the end of 2024 instead of just 2023, as in the revised draft, because the maturity pressure is not only within this year.
"The total value of realty bonds due in 2023 and 2024 may reach 230 trillion VND," said Le Hoang Chau, Chairman of Ho Chi Minh City Real Estate Association. "Therefore, we propose to extend the implementation of Point a, Clause 8, Article 4 to 'until the end of December 31, 2024' instead of 2023 so that businesses can negotiate with bondholders on the payment."
U.S. weighs restarting coconut imports from Vietnam
The U.S. is considering resuming fresh coconut imports from Vietnam, which have been affected by a tightened pest risk control policy.
According to Le Van Thiet, deputy head of the Plant Protection Department under the Ministry of Agriculture and Rural Development, the U.S. has finished the pest risk review of Vietnam's fresh coconuts.
However, more comments on the study are expected prior to the release of an official report.
Therefore, if any input is received, further amendments should be made and made public in the Federal Gazette for feedback in the following 60 days.
Once there are no more opinions about the study, the U.S. side will finalize the result.
The U.S. imported fresh coconuts without a green outer layer, which was later entirely removed until the coconut meat was exposed as a post-harvest treatment in 2022.
Speaking with The Saigon Times, Dang Phuc Nguyen, general secretary of the Vietnam Fruit and Vegetables Association, said that the policy made life hard for Vietnam in terms of qualified food preservation under the requested standards.
This time, the U.S. review concerning removing only the green outer layers would give Vietnam a chance to revive the demand for this item in the U.S. market, he added.
Cross-border activities run smoothly at Huu Nghi border since China's reopening
Cross-border activities have been smooth sailing at the Huu Nghi International Border Gate since China reopened its border with Vietnam in the middle of this month.
Since the reopening of cross-border tourism on March 15, the border gate has seen the entrance and exit of about 1,000 people daily. Most of them are tourists and those who travel to seek jobs or visit relatives.
In the first two months of this year, it has completed immigration procedures for over 16,000 people. All immigration procedures there were done smoothly, ensuring compliance with regulations on medical quarantine conditions.
Major Tran Van Hung, deputy head of the Border Guard Station of the border gate, said that the station are well prepared for the increasing number of people who enter or leave Vietnam via the border gate.
Regarding cross-border trade activities, statistics from the Management Board of the Dong Dang - Lang Son border gate economic zone show that since February, about 500-600 vehicles carrying import and export goods have traversed through the border gate daily. Some days, the number reached 800.
Goods going through the border gate are mainly electronic components, machinery, household appliances, and agricultural products.
It is forecast that in the coming time, the flow of goods, people and vehicles through the border gate will increase, Hung said, adding that border guards made plans to direct vehicles and support customs clearance work to avoid traffic congestion at the border gate area.
Minister talks enhancement of economic, trade ties with China's province
Minister of Industry and Trade Nguyen Hong Dien discussed measures to promote economic and trade ties between Vietnam and China's Yunnan province, while meeting with Secretary of the Yunnan Party Committee Wang Ning in Hanoi.
Dien said Yunnan province holds an important role in economic and trade ties as it has a large market and diverse goods demand while serving as a crucial gateway for Vietnamese products to enter the southwest of China.
However, trade between Vietnam and Yunnan remains modest, accounting for less than 5% of the Vietnam - China trade, which hasn't fully reflected the cooperation potential and demand of both sides or met expectations leaders from of the two countries, he went on.
Proposing measures for fostering economic and trade links, the host official suggested Yunnan facilitate customs clearance at its border gates with Vietnam and the export of Vietnam's fishery products to China. He also suggested to connect businesses and help them participate in fairs and exhibitions, properly carry out the memorandum of understanding between the Ministry of Industry and Trade and the Yunnan administration, and sign an action plan on the MoU implementation for 2023 - 2026 early.
The minister asked the Chinese province to quickly and completely resume activities of border gates and crossings with Vietnam, and create conditions for Vietnamese truck drivers when handling customs clearance procedures. He also asked to consider measures for cutting down logistics costs, and upgrade infrastructure serving the import of fishery products from Vietnam so as to help meet Chinese consumers' demand and turn these products into a new growth engine of bilateral trade.
For his part, Secretary Wang noted he has assigned agencies, sectors, and border localities of his province to consider reopening more border gates and crossings, extend operation times, upgrade customs clearance infrastructure at border gates, and consider permitting Vietnamese drivers to stay in Yunnan overnight pending customs clearance.
He said Vietnamese fishery products are attractive to consumers in not only Yunnan but also other southwestern localities of China, adding that Yunnan is a large province so logistics costs are also high accordingly, but it will devise solutions to this issue.
Wang also called for stronger tourism and investment partnerships as both sides hold cooperation potential in these fields.
At the meeting, the two sides also looked into concrete measures for implementing the common perceptions between Vietnamese and Chinese leaders and for creating breakthroughs in economic and trade connections.
The Industry and Trade Department of Vietnam's Bac Giang province also signed an MoU on economic and trade cooperation enhancement with the Yunnan Commerce Department.
MSB, Solv help firms access capital on digital platform
The Maritime Bank Vietnam (MSB) has become the first financial partner of Solv Vietnam Co., Ltd. (Solv) - a B2B electronic platform for small and medium-sized enterprises.
Accordingly, MSB signed a comprehensive cooperation agreement with Solv on March 29 to provide business support solutions, increase benefits in e-commerce transactions, and help businesses access capital easily.
To maximise convenience and experience for businesses, MSB has built a Supply Chain Finance digital platform to support the integration and synchronisation of information exchange flows between Solv and MSB in an automated and highly secure manner.
Hanoi's consumer price index up 2.25% in Q1
The capital city of Hanoi recorded an annual increase of 2.25% in the consumer price index in the first quarter of this year, according to the Hanoi Statistics Office.
In March, three out of 11 groups of goods saw a downturn in prices, including housing, electricity, water, fuel, and construction materials down 0.57%; restaurant and dining services 0.5%; food 0.29% and transport 0.08%.
The remainder posted a slight price increase month-on-month, including culture, entertainment, and tourism up 0.44%; apparel, headwear, and footwear up 0.2%; equipment and household appliances 0.15%; post and telecommunications, beverages, and tobacco 0.06%; education, medicines, and medical services 0.02%.
In the first quarter, tourism, dining services, beverages, and tobacco saw price increases, as did apparel, headwear, and footwear. Household equipment, housing, electricity, water, fuel, and construction materials also increased in price, as did medicine and healthcare services. Education, post and telecommunications, and transport trended downward.
The city reported 11.9 billion USD in total exports-imports, down 9.9% annually. Of which, 3.72 billion USD was exports and the remaining was imports, down 4.6% and 12%, respectively year-on-year.
Vietnam, RoK boost cooperation in developing green industries
A forum discussing measures to promote cooperation between Vietnam and the Republic of Korea (RoK) in developing green industries and smart mobility was held in the RoK on March 28.
Jointly organised by the Vietnam-Korea Businessmen and Investment Association (VKBIA), the Vietnam – Korea Alliance for Green Mobility (VKERC), the Office of the RoK National Assembly, the event saw the participation of representatives from six RoK government's agencies, businesses, organisations, research institutes and universities which are involved in the green industry and smart mobility.
Addressing the event, Dr. Tran Hai Linh, member of the Vietnam Fatherland Front (VFF) Central Committee and Chairman of VKBIA, spotlighted cooperation potential between agencies, businesses, universities, research institutes of Vietnam and the RoK in green and supporting industries, and opportunities to boost green industries in Vietnam.
He also briefed participants on Korean businesses' investment in Vietnam in recent years.
Kim Jong-bae, President of VKERC stressed that the transition to green and smart means of transport in developing countries in Asia, including ASEAN, will not only contribute to achieving the national goal of reducing greenhouse gas emission, but also promote green industry development, creating great opportunities for socio-economic growth.
However, he underlined the need to strengthen cooperation among countries to address obstacles and barriers facing the transition to low-carbon means of transport in Asia, such as technological reliability and high initial cost.
According to Yang Jung-suk from the RoK's National Policy Committee, his country will support the green industry to make inroads into the international market through setting up a green industry alliance, linking green ODA sources.
On the occasion, VKBIA, VKERC, and Honam University of the RoK signed a cooperation agreement on implementing programmes to promote technology exchange and transfer, support in expertise and vocational training and employment, investment promotion, development of green industry and smart transport; and cooperation in these fields between Vietnam, the RoK and other ASEAN countries.
HCM City to host international paper, coatings, rubber, and plastic expos
Four international exhibitions, Paper Vietnam, Rubber and Tyre Vietnam, Coatings Expo Vietnam, and Plastech Vietnam, will be held in Ho Chi Minh City from June 14 to 16.
The expos are expected to attract 230 companies, 50% higher than that of last year's shows, said Nguyen Ba Vinh, Director of Minh Vi Exhibition and Advertisement Services Co Ltd, the expos' organiser.
They are from 20 countries and territories, and India continues to be the country of honour at the expos, with many Indian companies taking part, he said.
Speaking at a press briefing on March 28 to introduce the four expos, Luu Hoang Ngoc, Deputy General Director of Vietnam Chemicals Agency under the Ministry of Industry and Trade, said paint, paper, rubber and plastic industries played an important role in supporting the development of many other industries.
Rapid development of a rich and diverse range of products in recent years also raised concerns about their harmful effects on the environment and human health. This required authorities, organisations and businesses to join hands to find solutions for this issue, he said.
"Green economy, circular economy and sustainable development are inescapable global trends, and businesses need to embrace them to enhance their competitiveness despite facing challenges," he added.
Nguyen Thi Lac Huyen, Chairwoman of the Vietnam Paint and Printing Ink Association, said the coating and printing ink industry recorded negative growth last year, with output of certain types of paints plunging between up to 40-50% due to low demand in the domestic and export markets.
The printing ink industry also witnessed a decrease of around 10% in output last year, she said.
This year would continue to be a difficult year for the paint and printing ink industry due to high prices of raw materials and a decline in demand, she said.
The expos would help firms update market information and technology, and find partners to boost the paint and printing ink industry's recovery, Huyen said.
She also said that many businesses had conducted research to make more environmentally-friendly paint products to meet market requirements.
In the plastic industry, companies had invested in giving new life to used plastic products, while the rubber industry had a high recycling rate with all used types recycled, said Nguyen Quoc Anh, Chairman of the HCM City Rubber-Plastic Manufacturers Association.
By focusing on environmentally friendly and sustainable practices, companies could gain a competitive advantage in the market, he added.
Hai Phong ranks among top localities in FDI attraction
The northern port city of Hai Phong continued ranking among the top localities in attracting foreign direct investment (FDI) in the first quarter of 2023.
As of March 22, the city had lured 385.08 million USD in FDI, equal to 78.89% of the figure in the same period last year, and 17.91% of the yearly plan.
To date, industrial and economic parks in Hai Phong have attracted 468 FDI projects totaling 23.3 billion USD, and 202 domestic-invested projects with combined capital of 296.59 trillion VND (12.6 billion USD).
These figures are the results of continuous efforts and drastic actions by the city's leaders, as well as relevant sectors and units, particularly the Hai Phong Economic Zone Authority (HEZA).
Dialogues with investors and contractors have been held regularly by the authority to help them deal with difficulties and obstacles in production and business activities and to strengthen security and order.
In a regular meeting of the municipal People's Committee on March 27, its Chairman Nguyen Van Tung asked sectors, units and localities to step up the implementation of measures to reform administrative procedures and improve the business and production environment.
Vietnam's first blockchain peer-to-peer energy trading project launched
Australian energy trading technology company, Powerledger, on March 28 announced it's partnering with Vietnam Electricity Central Power Corporation (EVNCPC) to launch Vietnam's first peer-to-peer (P2P) energy trading project at the Australia-Vietnam Forum on Energy Transition.
The initial 6-month trial will see Powerledger's technology used by so-called "prosumers" with rooftop solar in central Da Nang city and Quang Nam province to sell electricity directly to consumers.
"This project is a major step for Vietnam. It will showcase how, with the right technology, issues of intermittency and grid congestion can be overcome whilst still growing renewables. Everyone on both sides of the partnership is looking forward to the results," said Powerledger Chairman Dr Jemma Green.
Vietnam has become the world's tenth-largest producer of solar power, and is the biggest solar power producer in the ASEAN region.
However, the increase in renewables has created imbalances for the grid which has resulted in intermittency issues.
Powerledger said the trial is expected to demonstrate how technology can be used to reduce energy costs, improve price transparency by establishing a Local Energy Market or LEM.
This approach will in turn reduce stress and strain on the energy grid, reducing curtailment and maintenance efforts, as well as increasing the resilience of the network.
The outcomes of the trial will be shared with electricity regulators and policymakers in Vietnam, to inform future decisions about technology-led solutions which enable greater proliferation of renewable energy.
Powerledger has more than 30 projects in 12 countries including Europe, Asia Pacific, North and South America, including some of the largest distribution and transmission utilities, businesses, energy retailers and property developers globally.
Viettel's Cambodia affiliate signs strategic cooperation agreement with local group
Metfone, the Cambodia-based affiliate of the military-run telecom group Viettel, and ISI Group of Cambodia signed a memorandum of understanding (MoU) on strategic cooperation in Phnom Penh on March 29.
Under the MoU, the sides will bring into full play their advantages and strengths to support each other. Accordingly, Metfone will ensure the network in the areas where the multi-sectoral Cambodian group is investing, and cooperate with K-mall, the commercial centre chain which sees ISI investments, in the field of marketing.
Metfone committed 45,000 USD/year to ISI for five years, including funding for flashlights at its Dangkor Senchey Stadium, and agreed to consider sponsoring its football club. The telecoms firm also allowed ISI subsidiaries to optimise its technical platform for marketing purposes.
Binh Dinh partners with eight localities in tourism development
The Tourism Association of Binh Dinh province signed a cooperation agreement with its counterparts of eight localities in the coastal northern and north central regions on March 29 in efforts to establish Binh Dinh as a leading destination in Vietnam and the region.
Under this agreement, the tourism associations of Hai Phong city and the provinces of Thai Binh, Nam Dinh, Thanh Hoa, Hai Duong, Quang Ninh, Ninh Binh, and Quang Binh will give advice and assist Binh Dinh to build and implement tourism promotion plans.
In particular, travel companies in the eight localities will help develop images of Binh Dinh as an attractive destination, support local tourism units to take part in fairs and exhibitions, and popularise tourism via travel correspondents' clubs and promotion events.
They will also conduct surveys to assess the tourism potential of Binh Dinh; maximise local advantages to create typical products such as relaxation, sports and MICE tourism; design tours linking Binh Dinh with destinations in the south central and Central Highlands region; and coordinate with local authorities to develop new tourism products.
The eight associations will help connect domestic and international travel firms with service suppliers in Binh Dinh like restaurants, hotels, and places of interest via farmiliarisation trips and events they organise.
US extends investigation of trade remedy evasion of Vietnamese plywood
The Trade Remedies Authority of Viet Nam under the Ministry of Industry and Trade said that the US Department of Commerce (DOC) has announced the sixth extension of the deadline for issuing its final conclusion on an anti-dumping and anti-subsidy tax evasion investigation into hardwood plywood imported from Viet Nam. The final conclusion is expected to be issued on May 2.
The Trade Remedies Authority of Viet Nam, said that previously, the DOC announced the preliminary conclusion of the case on July 25 last year.
It said that plywood imported from Viet Nam into the US, which had a core using peeled board imported from China, would be subject to anti-dumping and anti-subsidy tax as applied to plywood imported from China.
Plywood from Viet Nam which has a core using peeled boards manufactured domestically or in other countries, would be exempt from the tax.
The authority estimates that the temporary tax rate could be up to 378.26 per cent, applicable to shipments imported into the US from June 17, 2020.
However, the DOC allows Vietnamese enterprises that co-operate in the investigation process to self-certify that they do not use Chinese materials so as not to be subject to measures.
According to calculations, the number of enterprises participating in self-certification accounts for about 80 per cent of the country's export turnover during the investigation period.
Hanoi-Ca Mau flight route to be launched next month
A new flight route linking Hanoi and the southernmost province of Ca Mau is scheduled to be launched on April 29.
According to a meeting held on March 29 between Ca Mau authorities and representatives of Bamboo Airways, round-trip flights will be available on Tuesdays, Thursdays and Saturdays with one-way tickets starting from around VND769,000.
The flight covers 1,900 kilometres in two hours, using Embraer 190 aircraft with 90 economy class and eight business class seats.
Flights from Hanoi will depart at 7.05 am and land in Ca Mau at 9.25 am; while those from Ca Mau will depart at 9.55 am and land in Hanoi at 12.10 pm.
Speaking at the meeting, Ca Mau Provincial People's Committee Party Secretary Nguyen Tien Hai, expressed his thanks to Bamboo Airways for launching the new air route.
Bamboo Airlines Chairman Nguyen Ngoc Trong said the airline was the first to provide flights from Hanoi to Ca Mau Province, the carrier's latest domestic destination among the 22 airports nationwide.
Ca Mau Airport currently has only one air route from Tan Son Nhat International Airport in HCM City.
Two scenarios proposed to upgrade Con Dao Airport
New investment schemes have been proposed regarding the upgrade and expansion of Con Dao airport in the southern province of Ba Ria-Vung Tau, including a public-private partnership (PPP) venture.
In late March, the Civil Aviation Authority of Vietnam (CAAV) sent a dispatch to the Ministry of Transport (MoT) reporting on the investment preparation activities for Con Dao airport's upgrade.
In the dispatch, the CAAV wants the MoT to report to the government on assigning Ba Ria-Vung Tau province as the state body taking charge of implementing the project under the PPP mode.
The CAAV also said it has mandated the consulting consortium ADCC-TEDI to coordinate with various airlines, including Vietnam Airlines, Bamboo Airways, Vietjet Air, and more, to learn about their actual demands, and on that basis, consider the scenario of runway expansion as noted in the approved policy.
If the existing runway (1,830m x 45m) is used with state-of-the art (Code C) aircraft (Boeing737 or Airbus A320/321) as in the approved policy, the load must be reduced by 15-18 tonnes, limiting commercial efficiency.
The CAAV has asked the consulting unit to recalculate the plan related to runway length.
If the project fails to lure investors, the MoT will consider seeking approval to expedite the Con Dao airport upgrade project using public investment sources.
According to Pham Van Hao, deputy head of the CAAV, to ensure efficiency when using Code C aircraft, it is necessary for the runway to reach 2,400m in length. With this extension, the investment cost is estimated to surpass $43.4 million – not including the cost to restore the marine ecosystem that would be affected by the runway expansion plan.
If the project fails to lure investors, the MoT will consider seeking the government approval to expedite the Con Dao airport upgrade project using public investment sources.
In a dispatch sent to the CAAV in late February, the MoT asked it to survey investor interest if the project is implemented under the PPP mode, and from there make a report to the government for consideration.
To ensure the efficiency of the investment mode using public investment sources, the MoT wants the CAAV to urge the relevant consulting unit to carefully calculate the investment plans to ensure the utmost safety and investment efficiency.
In addition, the CAAV and the consulting unit have been tasked to study the revised planning scheme, including the content on the position and direction of the runway, and compare that to the approved scheme. If necessary, any revised planning should be reported to the MoT.
In respect to investor interest, the CAAV revealed that on February 23, An Sinh International Community JSC, based in Ho Chi Minh City, sent a document to the MoT to express interest and a proposal to carry out the project to build the new dual-use Con Dao airport.
This business has also constantly sent proposals over the past two years to both Ba Ria-Vung Tau province and the MoT seeking permission to implement the project.
Along with Con Dao airport, An Sinh JSC also seeks approval to expedite many sizable infrastructure projects in the country, including building the Ho Chi Minh City-Can Tho railway line.
Development pace picking up in energy

Wealthy foreign investors in energy are expanding their long-term strategies in Vietnam while many ongoing projects that missed the feed-in tariff deadline are struggling to find a revenue balance.

Some foreign giants are continuing to pump in vast amount of money into energy projects in Vietnam, photo Le Toan
Despite global economic uncertainty, Singapore-based SP is confident of Vietnam's continued long-term development. After it acquired a 10MW-peak of solar power assets including the Europlast Phu Yen solar power plant and the Thanh Long solar plant in the south-central province of Phu Yen in March, it said that the move was part of SP Group's green ambitions in Vietnam to develop 1.5GW of utility and rooftop solar projects by 2025.
Since 2021, SP has been developing rooftop solar initiatives across the country through several partnerships and joint ventures, accumulating a total of more than 115MW of rooftop solar assets to date.
SP has also inked an agreement to install up to 20MWp of rooftop solar power at three mega factories for manufacturer TKG Taekwang Vina in Vietnam. The group is waiting for a direct power purchase agreement to be put in place to have the capability and expertise to help customers achieve 100 per cent clean energy consumption.
During a recent visit to Vietnam, CEO of SP Group Stanley Huang said the group pledged to inject $550 million into sustainable energy projects in Vietnam from now until 2025 to double the wind and solar energy capacity in the country in 2030.
Meanwhile, Thailand-based Super Energy plans to pour around $1.21 billion to fund renewable projects in Vietnam between now and 2025, according to the Bangkok Post.
According to Tran Thi Khanh Hien, analysis director at VNDirect Securities, the growth of renewable energy through companies such as these is inevitable, at a time when Vietnam's demand for electricity is anticipated to increase more than 8-fold between now and 2030. By 2025, 78 per cent of the largest manufacturing companies in the world plan to remove their slow-moving suppliers.
Last week, the Ministry of Industry and Trade (MoIT) requested that Electricity of Vietnam (EVN) reach agreements on purchase prices with renewable power projects that missed the government's preferential feed-in tariff (FiT) before March 31, but insiders said that the deadline is far too tight, as most of the investors would not be able to complete documents for negotiations with EVN.
The European Chamber of Commerce in Vietnam (EuroCham) noted just over a week ago that the MoIT's recent decision on ceiling tariff levels represent a 20-25 per cent reduction from the previous FiT levels for wind, based on current FX rates, and almost 40 per cent reduction for ground mounted solar initiatives.
Meanwhile, the energy transition will continue to be a focus for investors and management teams in terms of energy, utilities, and resources, with significant amounts of capital going towards mergers and acquisitions and other capital project developments, according to PwC's Global M&A Industry Trends Outlook for 2023.
HoREA proposes extension of repayment schedules for businesses

The Ho Chi Minh City Real Estate Association (HoREA) suggests permitting enterprises with secured assets to receive loans from banks to repay bondholders.
On March 26, HoREA sent a document to Prime Minister Pham Minh Chinh to propose some solutions for credit and project transfers to remove difficulties in the real estate market.
According to HoREA, Decree No.08/2023/ND-CP has had a positive impact on the confidence of the market and its investors. This is the legal basis to pave the way for a negotiated agreement between the companies that have issued upcoming bonds and the bondholders.
The decree, dated March 5, focuses on amending, supplementing, and ceasing the effect of a number of articles in previous decrees on the private placement of corporate bonds and the trading of privately placed corporate bonds on the domestic market, along with the offering of corporate bonds on the international market.
These mechanisms and policies will remove the difficulties businesses have issuing bonds that are about to come due and support bondholders, while at the same time creating favourable conditions for the transfer of real estate projects, increasing state budget revenue, and improving the management of the market.
However, this decree only stipulates the negotiation mechanism between the enterprise that has issued the upcoming bond and the bondholder, especially the bond swap mechanism for the payment of principal and interest bonds to maturity with other assets.
Therefore, HoREA said that the government needs to add some solutions for credit and project transfers.
Specifically, HoREA proposed that the State Bank of Vietnam allow commercial banks to permit businesses to issue bonds that are about to come due to enable those who have collateral and projects approved by competent state agencies to borrow to restructure the bond debt.
The loan that can be considered should not exceed 70 per cent of the issued bond package value, but HoREA wants commercial banks to be allowed to mortgage with this bond package and other security assets.
The issuance would be through commercial banks disbursing directly to bondholders.
In addition to the above proposal, this association also asked the State Bank to reduce lending interest rates and create conditions, especially for real estate units and home buyers, to have more favourable access to credit.
It also suggested the State Bank guide commercial banks to allow businesses to extend the repayment schedule according to the guidelines of Resolution No.33/NQ-CP dated March 11 from the government on specific solutions to resolve difficulties and develop the real estate market.
At the same time, HoREA outlined allowing real estate businesses to agree to transfer real estate projects according to their needs.
Financial support increase proposed for resettlement in HCMC
HCMC has proposed expanding the list of eligible persons and increasing financial support for the city's residents as they await a resettlement arrangement.
The proposal was made at a conference held on March 28 by the Vietnam Fatherland Front Committee of HCMC to seek public feedback on a draft resolution supporting residents with resettlement.
According to a representative of the Department of Finance, those eligible for financial aid to cover house rentals include individuals and households required to urgently move out of seriously deteriorating apartment buildings, life-threatening polluted areas and areas vulnerable to landslides, given that these persons have not been arranged with resettlement.
Those subject to on-site resettlement due to part of their homes and land being cleared are also included in the list.
According to the Department of Natural Resources and Environment, when land is revoked to be handed over to an investor for project development, homes and land for resettlement must be made ready. However, during the past time, homes and land for resettlement have not been made available beforehand due to the urgent needs of affected households and individuals in on-site resettlement or handover of site clearance for the project execution.
It is, therefore, necessary to add those who choose to find their temporary living places on their own and supplement actual residential conditions before issuing the land revocation notice to the list of eligible subjects to calculate financial support for temporary residence.
The conference attendants also agreed that the financial support proposed in the draft was low and should be raised to meet the actual demand.
Cai Mep - Thi Vai receives one of world's largest container ships
OOCL Spain, one of the world's largest container ships with a loading capacity of 24,188 TEU, docked in Cai Mep - Thi Vai deep seaport cluster this morning.
This has been also the largest foreign container ship ever to dock in Vietnam's port system so far.
As of this morning, a welcoming ceremony for the container ship was held solemnly at Gemalink International Port in Cai Mep - Thi Vai deep seaport cluster, Ba Ria- Vung Tau Province.
This is the maiden voyage of OOCL Spain for 84 days on the Asia-Europe LL3 route through ports of Shanghai, Xiamen, Nansha, Hong Kong, Yantian, Cai Mep, Singapore, Piraeus, Hamburg, Rotterdam, Zeebrugge, Valencia, Piraeus, Abu Dhabi, Singapore and Shanghai.
Goods retail sales, service revenue rise almost 14% in Q1
Total retail sales of goods and consumer service revenue increased 13.9% year on year to over 1.5 quadrillion VND (63.9 million USD) in the first quarter of 2023, compared to the 5% growth in the same period of 2022, the General Statistics Office (GSO) reported.
Excluding the price factor, the retail sales and service revenue went up 10.3% while that in Q1 last year rose 2%.
Compared to Q1 of 2019, before the COVID-19 pandemic broke out, the amount in this year's first three months increased 26.7%, the GSO noted.
Retail sales are estimated at nearly 1.19 quadrillion VND, up 11.4% (8.4% if the price factor is excluded). In particular, sales of grain food and foodstuff grew 14.6%, apparel 12.3%, vehicles (excluding automobiles) 4.5%, and household items and equipment 3.9%. Cultural and educational goods saw a decline of 2.7%.
Meanwhile, accommodation and food services generated about 161.1 trillion VND in Q1, up 28.4% from a year earlier.
Tourism revenue surged 2.2-fold from a year earlier to around 6.8 trillion VND, partly thanks to a large number of New Year cultural and tourism activities which were not held in the same period last year due to COVID-19, according to the GSO.
In March alone, retail sales of goods and consumer service revenue totalled 501.3 trillion VND, up 2% month on month and 13.4% year on year.
GSO General Director Nguyen Thi Huong attributed such results partly to the reopening to international tourists on March 15, 2022, overseas tourism promotion activities, and domestic consumption stimulation.
Can Tho city hosts Mini Thailand Week 2023
The Mini Thailand Week 2023 is being held in the Mekong Delta city of Can Tho from March 31 to April 2.
The event is organised by the Thai Ministry of Commerce's Department of International Trade Promotion in order to boost cooperation between the two countries' enterprises.
On display are food and beverages, health and beauty products, kitchen utensils and household appliances, apparel and accessories, products for children, tourism and cuisine.
Visitors to the event could enjoy Thai culinary performances and join in other activities.
Vice Chairman of the municipal People's Committee Nguyen Van Hong said local leaders will continue promoting the enhanced strategic partnership between Vietnam and Thailand and between Thailand and Can Tho in particular, contributing to the two countries' socio-economic development via the "Three Connects" strategy, including connecting supply chains, connecting basic economic sectors, especially connecting sustainable growth strategies of the two countries, which are Vietnam's National Green Growth Strategy and Thailand's Bio-Circular-Green (BCG) Economic Model.
Vientiane-Da Nang direct air route launched
Lao Airlines officially put a direct air route from Vientiane to Da Nang into operation on March 30, with the debut flight carrying the first 150 passengers to coastal Vietnamese city from the Lao capital.
Upon their arrival, disembarking passengers were greeted to a lively welcome ceremony with a lion dance performance.
As part of the occasion, the carrier also offered three vouchers for round-trip air tickets for the Vientiane-Da Nang route to three lucky passengers.
The airline will use an Airbus A320 aircraft on the Vientiane - Da Nang route with two flights running per week on Thursdays and Sundays. The journey is expected to last for one hour and 15 minutes.
Lao Airlines has been operating direct flights to Ho Chi Minh City and Hanoi. These routes are anticipated to attract more passengers from countries such as the Republic of Korea and China, with Vientiane becoming transit points for passengers heading to Vietnam.
Furthermore, the new air service is of great significance to Da Nang tourism as it not only links the central city to Laos, but it also connects to other tourism markets in the northeast region of Thailand.
Last year witnessed Laos rank 10th among the top 10 major tourism markets of Da Nang, with the number of passengers reaching nearly 10,000, duly accounting for 2.1% of the total number of tourists to the central coastal city.
Nguyen Xuan Binh, deputy director of the Da Nang city Department of Tourism, said the central city has actively restored international markets as part of activities aimed at reviving the local tourism industry.
In particular, the rising number of flights to Da Nang city during the initial months of the year represents a positive sign for the recovery and development of the Da Nang aviation and tourism market, Binh added.
Source: VNA/SGT/VNS/VOV/Dtinews/SGGP/VGP/Hanoitimes