VIETNAM BUSINESS NEWS DECEMBER 5
2022 ASEAN Postal Business Meeting to be held in Binh Dinh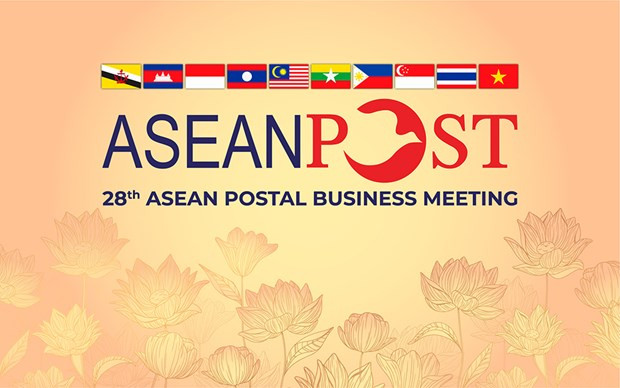 The poster of the event (Source: vnpost.vn)
The Vietnam Post Corporation will host the ASEAN Postal Business Meeting (ASEANPOST) for the third time from December 7-9, with the central province of Binh Dinh selected as the venue.

The meeting is set to feature a symposium on postal business; a roundtable conference of ASEANPOST senior leaders; and a fact-finding trip to some post offices and operation centres of Vietnam Post.

At the conference, the leaders will discuss the multilateral cooperation and action plan approved at the congresses of the Universal Postal Union (UPU) and the Asia-Pacific Postal Union (APPU), which aim to develop a common strategy to address challenges in the region.

In addition, there will be a roundtable meeting of Southeast Asian postal CEOs to mull over opportunities and challenges facing the industry amid the digital transformation era.
Vietnam Post will present papers on innovative and improved solutions that share its experience in postal operation management.
Earlier, the corporation hosted the 7th edition of the meeting in Hanoi in 2000 and the 17th edition in Da Nang in 2010.
Vietnam's wind power prices are higher than in other countries
Prime Minister Pham Minh Chinh said the prices of wind power in Viet Nam are higher than in other countries.
The Government chief made the above statement after inspecting wind power projects in the Southern province of Bac Lieu on Sunday morning.
Given the great potential of renewable energy in Bac Lieu and other localities, the Government has put in place mechanisms to encourage the development of wind and solar power, said the Prime Minister.
He, however, said that the selling prices of wind power in Viet Nam are now higher than in other countries and than energy generated from other sources.
Wind energy technologies are advancing rapidly, leading to remarkable reduction of costs while the State has to build transmission lines with huge volume of investment capital, Pham noted.
He stressed the need to review the prices of wind power in order to ensure the harmony of interests between investors, the State and people.
Pham requested the Ministry of Industry and Trade to continue improving mechanisms and policies on wind and solar power development.
The Government leader also called for accelerating technology transfer and human resource training, and for manufacturing of such products as engines, turbines, and wind turbine blades in an effort to develop the renewable energy sector.
As of November 1, 2021, 84 out of 146 wind power projects came into commercial operation with a combined capacity of more than 3,980 MW, according to the Ministry of Industry and Trade.
Export prices of Vietnamese rice world's highest
The export prices of Vietnamese rice are standing at the highest levels in the world, according to the Vietnam Food Association.
Specifically, 5% broken rice currently fetches 438 USD per tonne, and 25% broken rice is sold for 418 USD per tonne.
With these figures, the prices are around 20 USD per tonne higher than those of Thailand.
Experts predicted that the export prices will remain at high levels in the first months of 2023.
According to the Ministry of Agriculture and Rural Development, Vietnam is likely to ship 7.2-37.3 million tonnes of rice abroad this year, pocketing 3.3-3.5 billion USD.
Notably, the exports to choosy markets have recorded high growth, including the US (85%), and the European Union (82%).
VN-Index to head toward 1,130-point level this week

The market posted the third weekly gain last week, with the VN-Index witnessing the biggest increase since 2009. Experts said that the uptrend of the Vietnamese stock market is continuing strongly and the benchmark index is expected to head toward the next resistance of 1,130 points.
On the Ho Chi Minh Stock Exchange (HoSE), the VN-Index closed last week at 1,080.01 points, a rise of 4.22 per cent, and the HNX-Index on the Ha Noi Stock Exchange (HNX) climbed 2.35 per cent to finish the week at 215.96 points.
For the week, the VN-Index advanced 11.17 per cent, while the latter was up 9.75 per cent.
After three consecutive weeks of rising, the market benchmark has gained 23.6 per cent since the lowest of 873.78 points set on November 16.
The market liquidity also improved significantly, with the average trading value per session on the southern bourse reaching over VND18.3 trillion (US$752.6 million), up 78.5 per cent over the previous week and 68 per cent over the average of the last five weeks.
Foreign investors net bought on both main exchanges for the fourth week in a row, with a total net buying value of more than VND9.3 trillion, whereas domestic retail investors continued to net sell nearly VND8.2 trillion on HOSE.
Saigon-Hanoi Securities JSC (SHS) said that with the recent bullish week, the VN-Index officially ended the medium-term downtrend which has lasted since August 2022. The market almost confirmed that it has passed the medium-term bottom and the movements in the future will be more positive, the securities firm said.
In general, the market's strong recovery last week is very convincing, but it is still not enough to confirm that the market will create a new rally trend - the more technical recovery state - due to strong declines in recent times.
With the current recovery momentum, the index is likely to continue to move actively in the near future, but according to technical analysis, market participants will pay attention to a strong resistance level of the threshold of 1,150 points.
Similarly, Tan Viet Securities JSC (TVSI) said that the VN-Index is gradually showing a medium-term bullish signal, after a good performance week and surpassing the resistance area of the previous recovery month at 1,070 points.
Meanwhile, MB Securities JSC (MBS) forecasts that the market is still likely to fluctuate in the range of 1,084 - 1,100 points in the first trading day of this week, when more than 1.2 billion shares will return to investors' account.
The securities company also believes that the corrections during the session will be an opportunity for investors to restructure their portfolios or increase the proportion of stocks.
HCM City: New foreign investment tops 3.5 billion USD
Ho Chi Minh City licensed 807 foreign invested projects worth 3.54 billion USD in the first 11 months of this year, up 3.3% in value from a year earlier, according to the General Statistics Office.
That added up to 11,219 valid foreign invested projects with registered capital totalling 55.75 billion USD at present in the southern economic hub, which is taking the lead nationwide in terms of the project number.
So far this year, HCM City has also seen 164 existing projects add 1.5 billion USD to their capital, up 39.2% year on year. They included 18 supplemented with 915 million USD in the processing and manufacturing industry, accounting for 58.8% of the total additional capital; and 21 with 278 million USD in the information and communications sector, accounting for 17.9%.
Singapore is currently the biggest foreign investor in HCM City with 148 projects worth 159.1 million USD, making 33.3% of the newly registered capital. It is followed by Japan with 82 projects worth 80.1 million USD (16.8%) and the Republic of Korea with 112 projects worth 54.9 million USD (11.5%).
Vietnam, New Zealand eye 2 billion USD in bilateral trade
Economic and trade partnerships have always been one of the bright spots in the Vietnam - New Zealand relations, and the two countries are striving for 2 billion USD in bilateral trade by 2024.
Despite the COVID-19 pandemic, bilateral trade turnover still reached 1.3 billion USD in 2021, up 26.7% year on year. It increased 14% from a year earlier to stand at 1.2 billion USD in the first 10 months of 2022, including 602.2 million USD in Vietnam's exports (up 12.8%) and 623.2 million in imports from New Zealand (up 15.2%).
The two economies are complementary to each other. The commodities in demand in New Zealand include electronic devices, apparel, footwear, wood products, tropical farm produce, and fishery products. Meanwhile, Vietnam has demand for dairy materials and products, wine, mutton, fruits, timber, and textile - garment and leather - footwear materials from New Zealand.
Notably, both are members of the Comprehensive and Progressive Agreement for Trans-Pacific Partnership (CPTPP) and the Regional Comprehensive Economic Partneship (RCEP). New Zealand currently ranks 36th among the trading partners of Vietnam.
The Vietnamese Trade Office in New Zealand said as both countries have joined several free trade agreements (FTAs), tariff and non-tariff barriers are being lowered or have been lifted, which is a big opportunity for Vietnamese goods to enhance competitiveness over rivals from the countries without FTAs with New Zealand.
Besides, amid international trade friction and the complex COVID-19 pandemic, more and more enterprises of New Zealand are paying attention to goods from Vietnam, especially apparel and building materials.
However, the office noted, challenges are considerable since New Zealand has high technical barriers for agricultural, fishery, and food products. So far, this country has just licensed mango, dragon fruit, rambutan, tra fish, and processed food from Vietnam. High costs and long duration of transportation due to geographical distance also boost prices of Vietnamese goods compared to some other countries' rivals.
Bilateral trade has yet to match potential, the office said, adding that with a population of about 5 million, New Zealand's export demand is higher than import. The five biggest exporters to this country, namely China, Australia, the US, Japan, and Germany, have already made up a relatively high proportion of New Zealand's imports.
To achieve the 2-billion-USD bilateral trade by 2024, the office recommended a methodological and long-term strategy be issued to boost Vietnam's export to New Zealand, and enterprises work closely with importers to ensure their products meet the market's standards and regulations.
GeneStory wins startup contest VietChallenge 2022
GeneStory, a start-up in the healthcare sector, has become the winner of VietChallenge 2022, the biggest fund calling contest for Vietnamese startups around the world held at Nasdaq, the second biggest stock exchange on the globe.
Launched in May, GeneStory, founded by Vingroup with the participation of leading scientists from many countries such as the US, the Netherlands and Germany, aiming to care for the public health through genetic decoding, surpassed five other competitors in the contest's final round to win a cash prize of 25,000 USD.
Highly valuing the capacity of the six finalists, Dong said that he hoped Vietnamese startups around the world will connect with each other through this contest to build a common innovation ecosystem and help Vietnam rise to the world and grow stronger in the future.
Ambassador Dang Hoang Giang, Permanent Representative of Vietnam to the UN, highlighted the strong entrepreneurship spirit of Vietnamese young people, and hailed the efforts of the organisers and competitors in the contest which drew great attention of both Vietnamese and US business communities.
Held annually from 2015, VietChallenge has so far seen the competition of more than 800 Vietnamese startups from more than 20 countries worldwide.
Restructuring to boost M&A in banking industry

Weak banks that are restructuring will be the target of mergers and acquisitions (M&A) deals in the near future as the Government is strongly promoting the restructuring of the country's finance and banking industry.
News portal vnbusiness.vn quoted Yoshizawa Toshiki, board member at Orient Commercial Joint Stock Bank, as saying that M&A activities will increase sharply after the pandemic, of which M&A in finance and banking in Viet Nam will be better, .
Currently, the Vietnamese Government has policies such as equitising State-owned enterprises and banks, and restructuring weak, undercapitalised and substandard banks. This is an opportunity for foreign organisations to make investments. Japan's medium-sized banks are also considering the financial market and M&A in Viet Nam, Toshiki said.
Warrick Cleine, chairman and CEO of KPMG in Viet Nam and Cambodia, quoted by vnbusiness.vn, also said M&A activities in the financial and banking sector slowed in the first ten months of 2022, but he expected the sector will be the target of M&A transactions from 2023.
It is positive that many foreign investors are interested in the sector. They have a certain confidence in the Vietnamese market and businesses, Warrick said, adding many CEOs are also considering M&A as an important way for them to change their business model more effectively.
A typical deal is that VPBank expects to sell 49 per cent of FE Credit shares to Japan's Sumitomo Mitsui Banking Corporation (SMBC). At the same time, VPBank has increased the maximum foreign ownership ratio from 15 per cent to 17.6 per cent of charter capital. Though the time to complete the capital sale plan has not been disclosed, a representative of VPBank said it would be implemented between 2022 and 2023.
Besides the bank share purchase of foreign investors, M&A activities among domestic enterprises are forecast to boom in 2023 under the Government's compulsory plan of transferring weak banks next year.
Though no name has been officially announced, with the recent moves of commercial banks, it can be seen that a number of deals have almost been decided, according to vnbusiness.vn. For example, Military Bank and Vietcombank might receive the compulsory transfer of Ocean Commercial Bank (OCB) and CBBank, respectively, while DongA Bank and GP Bank might be transferred to HDBank and VPBank, respectively.
The M&A form of weak banks is completely different from previously. Accordingly, weak banks will be merged with big banks under the parent-subsidiary model. The transferred weak banks will operate in the form of one-member limited liability banks where the parent bank is the owner of 100 per cent of the charter capital.
The subsidiary banks have legal entities that are independent of the parent banks, and do not carry out consolidation of financial statements with the parent banks. Besides, the subsidiary banks' calculation of capital adequacy ratios, dividend policy, profit distribution and provision of funds are also independent from parent banks.
Vietnam's rice exporters see opportunities as Indonesia boosts imports
Indonesia plans to import 500,000 tons of rice to improve its reserves in 2022, presenting an opportunity for Vietnamese rice exporters to enter the Indonesian market.
Indonesia's national rice reserves have fallen to under 600,000 tons, while the nation aims to secure 1.2 million tons in rice reserves this year.
Apart from buying from domestic suppliers, the Indonesian government is projected to purchase 500,000 tons of rice abroad.
Besides, the Indonesia Logistics Bureau forecast that the country will need a stable supply of around 150,000 to 200,000 tons of rice every month to stabilize the market, with Thailand, Pakistan, Myanmar and Vietnam expected to be the main rice suppliers of the country.
According to the Ministry of Industry and Trade, this is a good opportunity for Vietnamese firms to ship more rice to the Indonesian market.
Vietnam shipped only 6,800 tons of rice to Indonesia in October, ranking fourth among rice sellers to the country in Southeast Asia, after the Philippines, Malaysia, and Singapore, the Vietnam Food Association reported.
HCMC's foreign investment approvals up 3.3%
As of early December, HCMC's total foreign investment approvals had reached US$3.54 billion, up 3.3% year-on-year.
The municipal authorities have so far this year approved 807 new foreign-invested projects with total pledged capital of US$477.7 million.
Remarkably, there are 304 projects in wholesale and retail trade, automotive, and motorbike maintenance, among others, with a total registered investment of US$163.2 million.
Foreign investors have also poured US$138.6 million into 173 projects in the field of information and communication, and another US$87.2 million into 207 projects in science, and technology.
Among countries investing in the city, Singapore topped the list with 148 projects with total pledged capital amounting to US$159.1 million, followed by Japan with 82 projects and South Korea with 112 projects, worth US$80.1 million and US$54.9 million invested in the city, respectively.
Deferred tax payments put at VND106 trillion in Jan-Nov
The tax offices have deferred tax payments of VND105.9 trillion between January and November this year, representing 78.4% of the plan set in the tax deferral policy at VND135 trillion, according to the Ministry of Finance.
The deferral of value added tax (VAT), corporate income tax (CIT), personal income tax (PIT) and land fee payment totaled VND96.3 trillion, while the deferred amount of excise tax for domestically manufactured and assembled cars was estimated at VND9.6 trillion.
Tax exemptions and reductions under the Social and Economic Recovery and Development Program in the first 11 months of the year were estimated at VND47.8 trillion, making up 74.7% of the plan.
The reduction of the VAT from 10% to 8% amounted to VND36.7 trillion. Meanwhile, a 50% registration fee reduction for cars, trailers, or semi-trailers towed by cars and vehicles similar to domestically produced and assembled cars was VND6.6 trillion.
At the same time, the environmental tax on jet fuel was subject to a 50% reduction, at VND1,9 trillion.
Besides, the Government planned to reduce land and water surface use fees for those affected by the Covid-19 pandemic, estimated at VND3.5 trillion.
Jan-Nov goods exports expand over 13%
Vietnam's merchandise exports in the year to end-November had amounted to an estimated US$342.21 billion, a rise of 13.4% over the same period of last year, according to the General Statistics.
According to the Government news website (chinhphu.vn), processed and manufactured goods accounted for 89% of the total, while fuels and minerals made up a mere 1.4%, and agro-forestry and aquatic products 6.6% and 3%, respectively.
Some 35 product lines recorded an export value of over US$1 billion each, including eight lines boasting an export value of over US$10 billion each.
According to the General Statistics Office of Vietnam, the export value in November was US$29.18 billion, down 3.9% over the previous month.
The U.S. was the largest buyer of Vietnam-made products with a value of US$101.5 billion this year to date.
Danang sees industrial production up 8.6% in Jan-Nov
Danang's industrial production index (IPI) in the year to November had improved 8.6% over the same period last year, according to data from the Danang Statistics Office.
During the 11-month period, the central coast city saw its manufacturing and processing sector expanding 7.4% year-on-year. The electricity generation and distribution sector expanded 15.2% against last year's figure. Water supply, garbage and wastewater management and treatment soared 27.5%, and mining rose 3.8%.
Some key industries' IPI during the period improved significantly against last year, such as beverage production, up 23%, leather and related products expanding 27.2% and vehicles manufacturing soaring 43.1%.
Key industrial products with a high year-on-year IPI increase comprised frozen shrimp 25.4%), sports footwear (27.2%) and bricks (31%).
Meanwhile, some sectors recorded a sharp year-on-year decline in IPI between January and November, including furniture manufacturing and chemical production, down over 21% each.
The trade and services sector in the city is bouncing back, with a host of tourism events and products attracting a large number of visitors to the city.
The city's total retail sales of goods and services in the year to November reached an estimated VND100,635 billion, rising nearly 46% compared to last year. Of this, revenue generated from lodging and dining services accounted for some VND16,700 billion, equal to an 81% year-on-year increase.
HoREA asks for credit expansion by year-end
The HCMC Real Estate Association (HoREA) has written to the prime minister and the State Bank of Vietnam proposing a national credit growth expansion of 1%, equal to VND100 trillion.
In its letters, HoREA said it is time that the central bank raised the credit growth limit, as businesses are in dire need of capital for production, including property companies and home buyers, during December and the period ahead of the 2023 Lunar New Year.
The housing market, enterprises, home buyers, and realty investors are faced with problems and thirsting for capital, said Le Hoang Chau, chair of the association, adding that in the absence of effective and timely measures, the market may slide into recession and thus drag the economy down, adversely affecting the country's macroeconomic stability and social security.
According to Chau, revising up the credit limit is the most effective way to remove the stumbling block for the economy, while it would see lending flowing again to companies and households.
Meanwhile, Vietnam's economy is growing more resilient and has regained its growth momentum, reflected in the 3.02% growth of the consumer price (CPI) index from January to November, making the government's goal of keeping CPI below 4% highly achievable this year, while budget revenues hit 116% of the full-year plan, Chau said.
Franchising of toll collection on State-funded expressways considered
The Ministry of Transport has requested relevant agencies to weigh franchising toll collections on State-funded expressways, which would enable the Government to recover capital immediately to finance other traffic projects.
Though the Government has allocated up to VND300,000 billion to develop road traffic infrastructure in 2021-2025, huge resources from the private sector are still needed for completion of the approved projects.
The execution of build-operate-transfer (BOT) projects, in reality, showed that investors were not concerned about the projects' financial plan at the beginning stage. However, these projects had to face revenue shortages later on due to another state-budget projects making the traffic flows distributed.
The Ministry of Transport is, therefore, seeking solutions to remove such hurdles by building policies to lure private capital for project investment, in the form of public-private partnership (PPP), including franchising toll collections on State-funded expressway projects.
In the year to November, the Ministry of Transport had disbursed VND34,900 billion of public capital, achieving 63.4% of the plan. To meet the disbursement target, large component projects, such as the North-South Expressway for the period of 2017 – 2020, Mai Son – National Highway 45, Cam Lo – La Son, Vinh Hao – Phan Thiet and Phan Thiet – Dau Giay, must be completed on schedule.
Some 12 components of the North-South Expressway Project between 2021-2025 have been urged to move quickly in preparation for execution at the end of this year.
Binh Duong plans to build engineering supporting industrial zone
The southern province of Binh Duong has inked a cooperation memorandum with Truong Hai Auto Corporation (THACO) for the establishment of an engineering supporting zone costing VND26,000 billion.
Binh Duong Province and THACO will begin launching the project in 2023, with the provincial government in charge of supporting the legislative procedures, paving the way for the enterprise to conduct the necessary research and implement processes.
Recently, Binh Duong Province authorities and THACO representatives have conducted business tours to potential project locations.
Binh Duong Province officials have sought to attract high-tech investments by carrying out activities as part of its smart city planning direction.
The development of the industrial supporting zone is planned to stimulate local economic growth and facilitate in the expansion of businesses in Binh Duong Province.
More significantly, the province will play an important role in attracting investment inflows and improving collaboration among the business community, the local media reported.
The province of Binh Duong presently operates 29 of the 34 permitted industrial parks.
The province came in second nationwide in foreign direct investments, behind HCMC, with 4,079 projects worth up to US$40 billion.
F&N Dairy Investment to increase stake in Vinamilk
Singapore-based F&N Dairy Investment, a large shareholder of Vietnam's leading dairy firm Vinamilk (VNM), has registered to buy nearly 20.9 million VNM shares from December 6 to January 4.
Once the transactions are completed, the Singaporean firm would raise its ownership in Vinamilk from 17.69% to 18.69%.
In related news, Vinamilk has announced its board's resolution on the dissolution of Vibev, a food and beverages joint venture between Vinamilk and Kido's Corporation, citing changes in their business strategies.
Kido gave the same reason, adding that the global and domestic economic uncertainties were also behind their dissolution decision.
Vibev was founded in March last year with the initial investment of VND400 billion. Of this, Kido contributed VND196 billion, or 49%, the rest was financed by Vinamilk.
Selex Motors officially launches electric mobility ecosystem

Vietnamese smart mobility startup Selex Motors, a manufacturer of smart electric motorcycles, officially launched a new ecosystem of electric mobility for delivery, "Selex Camel".
Aside from producing e-motorcycles, Selex is creating an e-bike ecosystem that includes batteries and battery-swapping systems. Its products try to address pain points in logistics, transportation, fuel consumption, and battery swapping flexibility.
As the first electric "pickup" scooter in Southeast Asia, Selex Camel fully integrates a high-performance energy solution equipped with Selex Motors' patented proprietary technology. With a three-year warranty, this electric scooter is operated by a pack of three Lithium-ion batteries, which are easy to disassemble and allow travel of up to 150 km after batteries are swapped at Selex stations.
Selex Camel has higher load capacity (50 per cent) and lower maintenance cost (50 per cent) compared to ICE vehicles. Because of that, Selex Motors aims to create "a green revolution" in the delivery industry, and thus raise awareness of EVs in Viet Nam.
VinFast opens flagship stores in France, Germany
VinFast, the first Vietnamese electric vehicles (EV) manufacturer, has recently inaugurated its flagship stores in Cologne (Germany) and Paris (France), in an effort to enter these two lucrative markets.
VinFast Cologne and VinFast Madeleine are the first among more than 50 stores VinFast has planned to open across Europe, affirming the manufacturer's strong commitment to promoting the sustainable mobility revolution.
The two stores have been designed to display VinFast's products and provide customer consultation. Visiting the showroom, customers can learn more about VF 8 and VF 9 cars penned by Pininfarina, experience advanced technologies and get support from VinFast experts.
The opening of VinFast Cologne and VinFast Madeleine is part of VinFast's retail channel development strategy in Germany and France. The Vietnamese car manufacturer is scheduled to inaugurate similar stories in other German localities such as Berlin, Munich, Hamburg, Frankfurt, and Oberhausen, and in other French localities like Paris, Marseille, Rennes, Montpellier and Metz in the coming time.
Vietnam's first batch of fresh pomelos arrives in US
Two tonnes of fresh Vietnamese pomelos, the first batch of its kind, have been exported by air to the US.
After over five years of negotiations, the US Department of Agriculture officially licenced the import of the fruit earlier this year, making it the seventh fresh fruit of Vietnam permitted to enter the market, following mango, longan, lychee, dragon fruit, rambutan, and star apple.

Chanh Thu Fruit Import - Export Group Joint Stock Company in the Mekong Delta province of Ben Tre's Cho Lach district is the exporter of the first batch of pomelos.
In the US, the Vietnamese pomelos will be initially distributed on the supermarket systems in the Washington, Maryland, and Virginia states and Philadelphia in the state of New Jersey.
Vietnam's pomelo plantations cover 105,400 ha in total, yielding nearly 905,000 tonnes annually. Of the total area, Ben Tre accounts for about 10,000 ha with an annual productivity of more than 200,000 tonnes.
The province has so far been granted 25 planting area codes to export green-skin pomelos to the US and the EU. The 11 codes serving the US market span 156.76 ha and produce 3,135 tonnes on an annual basis.
The US's annual fruit consumption demand is up to 12 million tonnes.
Source: VNA/SGT/VNS/VOV/Dtinews/SGGP/VGP/Hanoitimes