VIETNAM BUSINESS NEWS DECEMBER 6
Da Nang to host Vietnam International Travel Mart
Around 350 booths, including 50 of foreign companies, are promising to bring a lot of new and interesting experience to visitors to the Vietnam International Travel Mart (VITM) to be held in the central city of Da Nang from December 9-11.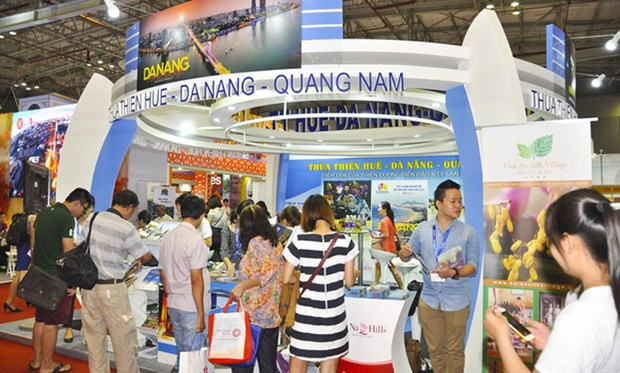 The event, to be hosted by the Vietnam Tourism Association (VITA) and the municipal Department of Tourism, expects to attract the participation of about 2,000 domestic and foreign enterprises, and 30,000 visitors.
VITA Chairman Vu The Binh said that the event will focus on promoting the development of sea-based tourism and fully unlock the potential of tourist destinations in the central region. It also intends to attract businesses in sports tourism (golf, canoeing, surfing) as well as leisure, MICE (Meetings, Incentives, Conferences and Exhibitions) and adventure tourism.
A series of workshops are also scheduled as part of the event, including one seeking ways to develop sea-based tourism in central Vietnam, one of leisure tourism properties, and another on digital transformation in tourism.
Earlier this year, from March 31 – April 3, the VITM was organised in Hanoi capital city, drawing over 2,000 businesses and 40,000 visitors.
Ministry proposes canceling funding plans over disbursement delays
As disbursements remain slow and adversely affect Vietnam's rebounding economy, the Ministry of Finance has proposed canceling the use of public capital sourced from foreign loans under the law on public investment if the money is not fully disbursed this year.
Disbursements of public funds sourced from foreign loans in the year through November had moved at a snail's pace, reaching only slightly more than 25% of the full-year plan.
Though the disbursement rate of foreign official development assistance (ODA) and concessional loans, as of November 30, nearly tripled the figures recorded in the first half of the year, standing at 26% with over VND9,000 billion, it was still lagging far behind that of public funds from domestic sources, at 60% in 11 months, said Truong Hung Long, director of the Department of Debt Management and External Finance under the Ministry of Finance, during a government meeting held this morning, December 1.
Of the total, ministries spent over VND4,150 billion and localities VND4,860 billion, hitting 35% and 21%, respectively.
According to Truong Hung Long, only three ministries and five localities have disbursed foreign ODA and concessional loans over 50%, while 10 ministries and 54 localities have yet to complete half of the plan. Of these, six ministries and four localities have yet to disburse the money.
A representative of Hanoi City attributed the slow disbursement to Covid-19 and obstacles from previous years lingering on until January.
Meanwhile, Long urged ministries and localities to speed up disbursement in order to meet the deadlines, suggesting that the capital distribution should not drag on until next year and be canceled if they fail to meet the deadlines.
Hamburg workshop spotlights chances in Vietnam for German investors
The Hamburg Chamber of Commerce and Industry (IHK) and the German Asia-Pacific Business Association (OAV) held a workshop on investment in Vietnam on December 5, attracting about 50 major enterprises from the German city and nearby areas.
Addressing the event held at the IHK headquarters, Vietnamese Ambassador to Germany Vu Quang Minh highlighted some outstanding outcomes of German Chancellor Olaf Scholz's recent visit to Vietnam, noting the trip showed that Germany views Vietnam as a trustworthy partner in not only politics and security but also economy, trade, and investment.
Amid numerous global uncertainties and German enterprises' intention to diversify business ties, Vietnam is one of the leading and trustworthy destinations for investors, he went on, suggesting the two sides expand partnerships to renewable energy, green technology, digital economy, sustainable development, environment, farm produce processing, manufacturing, IT, pharmaceutical production, health care, and other key sectors of Germany.
By the end of September, Germany had 436 FDI projects worth 2.34 billion USD in Vietnam, according to Counsellor in charge of investment Nguyen Manh Hai at the Vietnamese Embassy.
He noted the Southeast Asian country is attracting more foreign investors thanks to low labour costs, an abundant workforce, good production capacity, and incentives for businesses.
Talking about some advantages making Vietnam attractive to German firms, Regional Manager for ASEAN at OAV Daniel Marek said Vietnam has posted fast growth despite global economic difficulties during the COVID-19 pandemic. Some of its key industries include textile - garment, footwear, electronics, and farm produce; while it imports mainly machinery, pharmaceuticals, and equipment from the European nation.
Bilateral trade reached 14.5 billion EUR (15 billion USD) in 2021, including 10.7 billion EUR in Germany's imports from Vietnam.
At the workshop, representatives of some German businesses like TESA and the German Investment and Development Corporation (DEG) shared experience in operating in Vietnam and also pointed out several issues related to production and business there.
HCM City Tourism Week in full swing
The 2nd Ho Chi Minh City Tourism Week, a series of tourism-sport-music events serving domestic and foreign visitors, kicked off at a ceremony in the southern metropolis on December 5.
According to Vice Chairwoman of the municipal People's Committee Phan Thi Thang, the 2022 edition has a larger scale and more diverse activities than those of the previous year.
It is set to feature a hot air balloon festival, an international marathon, and a music festival. Visitors also will be treated to performances of traditional music and modern dances, folk games, and calligraphy art, among others.
In addition, a host of talk-shows are scheduled, focusing on green tourism. Meanwhile, an exhibition of paintings and urban sketches about the economic hub's symbols and tourist attractions by the Urban Sketcher – a group of professional architects – will take place for the first time.
For the festive week that last until December 11, tourism companies and providers of accommodation, shopping, and dining services have launched hundreds of discount programmes serving both locals and tourists.
Bac Ninh attracts over 2 billion USD in FDI
The northern province of Bac Ninh has so far this year attracted more than 2 billion USD in foreign direct investment (FDI), thanks to innovations and increased efficiency of investment promotion activities.
The work in this effort includes dialogues with companies and workers, honouring outstanding individuals and organisations in tax payment, and maintaining a quick response team to support enterprises.
So far this year, the province has licensed 124 projects with combined registered capital of 318.8 million USD, marking an increase of 7.8% in terms of the number of projects. Meanwhile, 118 projects were granted certificates for capital addition with a total of 1.67 trillion USD, an increase of 8 folds.
Cumulatively, the province now has 1,799 valid FDI projects with a total registered investment capital of more than 23.1 billion USD.
Also in the period under review, Bac Ninh has granted new investment registration for 49 domestic projects with a total registered capital of 16.211 trillion VND (677.01 million USD). It granted investment registration to adjust capital for 38 projects with an addition of 1.828 trillion VND.
The number of new domestic enterprises in the province this year is 2,443, up 15.5%, with a registered capital of 20.036 trillion VND.
Cumulatively, the province has 17,930 domestic enterprises with a total registered capital of nearly 329.35 trillion VND.
The province expects to attract 1.2 billion USD in FDI to its industrial parks in 2023.
Vietnam, New Zealand hold potential to enhance economic ties: NA leader
Chairman of the National Assembly (NA) Vuong Dinh Hue attended an economic cooperation forum in Wellington on December 5, noting that bilateral economic ties have ample room to flourish.
Apart from sound relations in politics, diplomacy, defence, security, education and training, and science and technology, partnerships in economy, trade and investment have also been thriving.
The two sides are working towards 2 billion USD in annual bilateral trade, but this target remains modest compared to their economic potential, and investment in each other's countries is still low.
Hue said Vietnam and New Zealand have favourable conditions to increase economic ties as both are members of key new-generation free trade agreements such as the Comprehensive and Progressive Agreement for Trans-Pacific Partnership (CPTPP), the Regional Comprehensive Economic Partnership (RCEP), and the ASEAN-Australia-New Zealand Free Trade Area.
They boast much potential and many advantages for augmenting cooperation amid disrupted global trade and investment due to the COVID-19 pandemic and the unpredictable international situation. In addition, they are also members of four important regional cooperation frameworks, namely the Asia-Pacific Economic Cooperation (APEC), the Association of Southeast Asian Nations (ASEAN), the East Asia Summit (EAS), and the Asia-Europe Meeting (ASEM).
Such intensive and extensive economic connections at both bilateral and regional levels will guarantee maintained supply chains, reduce barriers to international trade, and create a new and greater space for economic cooperation, especially when the two economies do not compete with but are complementary to each other, the NA Chairman said.
He cited Governor-General of New Zealand Dame Cindy Kiro as saying at an earlier meeting with him that 14,000 people from the country visited Vietnam in the first 10 months of 2022, contributing to the 24-fold year-on-year increase in the number of foreign arrivals to the Southeast Asian country, and this figure will grow if direct air routes between two countries are maintained.
Prime Minister receives US-ASEAN Business Council delegation
Prime Minister Pham Minh Chinh hosted in Hanoi on December 5 a reception for Senior Vice President and Regional Managing Director of the US-ASEAN Business Council (USABC) Michael Michalak and a delegation of the council's businesses.
PM Chinh told his guests that Vietnam is developing on three pillars, including building a law-governed socialist State, building socialist democracy and developing a socialist-oriented market economy, focusing on three strategic breakthroughs related to institutions, infrastructure and human resource; building a fair, transparent an stable business environment; and reducing input costs for businesses and investors in the spirit of harmonising interests and sharing risks for mutual benefits.
In 11 months of this year, Vietnam's exports-imports surpassed 673 billion USD, up 11.8% annually, with a surplus of 10.6 billion USD. Foreign direct investment in the country was estimated at 19.68 billion USD, up 15.1% year-on-year. Two-way trade between the two countries topped 105 billion USD, up 18% on an yearly basis.
Affirming that Vietnam always treasures comprehensive partnership with the US, the host suggested the USABC and the council's groups firms support Vietnam in three strategic breakthroughs, education-training, governance experience, and invest more in hi-tech, digital and green transformation, climate change response, aviation industry and cyber security, thus making substantive, healthy and effective contributions to bilateral ties.
Michalak, who is also former US Ambassador to Vietnam, and executives of the council's groups, said Vietnam could be proud of its high vaccination coverage and rapid economic re-opening and recovery, especially the top third-quarter GDP growth in ASEAN.
Vietnam is effectively drawing new capital inflows and potentially benefits from the shifting of global supply chains, they said.
The guests spoke highly of Vietnam's business environment and potential as well as its initiative to hold 2022 International Defence Expo in Hanoi this month.
They expressed their wish to enhance cooperation with Vietnam in trade, defence industry, security, aviation, education-training and human resource development, contributing to bilateral ties.
Gov't officials discuss macro-economic, fiscal, and monetary policies
Prime Minister Pham Minh Chinh chaired a meeting between permanent Government members and some ministries and sectors on December 6 to discuss macro-economic, fiscal, and monetary policies.
In his remarks, the PM said despite numerous difficulties and challenges, especially pressure from the global situation, economic recovery has been sustained with many encouraging outcomes thanks to the Party's leadership, the National Assembly's supervision and assistance, joint efforts by the entire political system and people nationwide, along with support from international friends.
He pointed out that the global situation has still witnessed complex and unpredictable developments over the last 11 months. Some economies have shown signs of recession, inflation remains high around the world, and interest rates and currency depreciation are on the rise in many countries. Meanwhile, the COVID-19 pandemic, geopolitical tensions, and strategic competition are still complicated.
A decline in the world market intertwined with the unsettled supply chains disruptions has strongly affected trade, production, and business activities in many countries, especially highly open economies like Vietnam, he said, adding energy security, food security, natural disasters, and climate change continue to be issues needing attention.
In Vietnam, over the two years of combating COVID-19, the health of the economy has been eroded while the country has also had to cope with external shocks and rectified operations of the stock, real estate, and corporate bond markets to ensure their transparency, safety, and sustainability.
The Government and PM have ordered ministries, sectors, and localities to grasp the situation, take measures to tackle difficulties facing the economy, and keep a close watch on the enterprise, labour, and employment situation to give timely support, PM Chinh said.
For the last over one month, the Government and PM have issued more than 40 documents giving directions on macro-economic, fiscal, and monetary policies. Three working groups were set up to resolve emerging issues related to finance, real estate, and corporate bond. Ministries and sectors have also shown strong engagement.
As a result, he noted, the situation has been stabilised, with macro-economy remaining stable, inflation kept under control, growth boosted, and major balances guaranteed.
He requested Government officials, ministries, and sectors review their performance of the Cabinet and PM's instructions, step up situation analysis and forecasting, propose tasks and measures for fulfilling the targets for 2022, and prepare for the implementation of duties next year.
LG plans to pour further US$4 billion into Vietnam
LG Corporation of the Republic of Korea has planned to inject an additional US$4 billion into its projects in Vietnam in the near future, announced Kwon Bong-seok, vice chairman and CEO of LG Corp.
Kwon revealed the plan at a meeting in Seoul on December 5 with Vietnamese President Nguyen Xuan Phuc who was making an official visit to the RoK.
Kwon said the Korean firm had begun its investment in the Vietnamese market in 1995 and has so far poured US$5.3 billion into fields such as camera, electronics, household appliances, and auto component manufacturing.
Around 27,000 Vietnamese workers are currently employed in LG Corp.'s plants throughout Vietnam, with plans already underway to add another US$4 billion into the country, he affirmed.
LG Corp. has high hopes of developing Vietnam into its centre for manufacturing smartphone cameras in the future, Kwon said.
President Phuc applauded the group's strong investment in Vietnam, saying he had previously attended an inauguration ceremony for one of its US$2 billion plant in Hai Phong, hoping to create jobs for many local workers.
He expressed hope the group would increase its investment in Vietnam, especially in fields such as automobile spare parts and mobile phone components, whilst also boosting cooperation in information technology and software training.
Viet Nam is well-positioned for GH2 production

Green hydrogen (GH2) industrial development is a direction for Viet Nam in the energy transition roadmap to achieve the goal of zero carbon emissions by 2050 but challenges remain, experts said.
According to experts at the workshop on policy framework for renewable energy development and the potential for green hydrogen in Viet Nam, held by GIZ in co-operation with the Electricity and Renewable Energy Authority under the Ministry of Industry and Trade, with the support of the German Federal Ministry for Economic Affairs and Climate Action (BMWK), Viet Nam has a large and diverse renewable energy industry, proximity to major importers in the Asia- Pacific region, strong renewable energy resource potential and low political risk.
The GH2 produced from the electrolysis of water using renewable energy will play an important role in the reduction of greenhouse gas emissions towards the net zero carbon goal that the world and Viet Nam are pursuing in line with the commitments in COP 26.
Ali Habib, an international consultant, told the workshop: "Viet Nam was well-positioned for the production, but policy and partnerships will be essential to ensure success."
Vo Thanh Tung, a project expert with GIZ Energy Support Programme, said that renewable energy technologies, such as wind and solar power, have developed strongly in recent years, which opens up new opportunities to promote the development of the green hydrogen industry.
Many countries worldwide have developed strategies for the green hydrogen industry, setting specific mid- and long-term goals and ambitions to develop the domestic consumption market. Japan, South Korea, Germany, and EU countries also plan to import hydrogen from neighbouring countries and the region.
In addition, an important geopolitical factor stemming from the Ukraine - Russia conflict has also spurred the development of this industry because green hydrogen can store clean energy for a long time, helping to ensure energy security. It is also considered a very important factor today in Europe.
At the workshop, experts pointed out limited land availability compared to other major potential exporting countries, such as Australia, Chile, and Morocco, as well as lower resource quality than some of the other potential competitors, in particular solar, greater geographic distance to the EU (and hence, higher GH2 shipping cost) and higher cost of capital than many other potential exporting countries such as Australia or Chile were challenging Viet Nam in the production of GH2.
Under such a circumstance, Viet Nam's policies and partnerships are essential for success, said experts.
They suggested Viet Nam establish clear long-term targets for the production of green hydrogen, seek out strategic partnerships with major importing countries like Japan and Germany for the production of green hydrogen, introduce favourable tax and fiscal rules for green hydrogen production, and explore the introduction of feed-in tariffs for green hydrogen production fed into the natural gas network and develop monitoring and certification protocols to ensure compliance with international standards.
At the same time, they urged the country to establish an industrial cluster designated for hydrogen production and research.
Viet Nam was recommended to introduce standards for the injection of green hydrogen into natural gas infrastructure, provide fiscal incentives for industries to shift their hydrogen or ammonia consumption to green hydrogen, introduce policies to encourage green hydrogen use in key sectors such as shipping as well as adopt carbon pricing: carbon pricing helps make green hydrogen more cost-competitive against grey hydrogen.
Held in Ha Noi last week, the workshop discussed international trends in renewable energy development policies towards the net-zero target, international experiences in the related areas, and global trends for new technological solutions – green hydrogen.
The workshop was within the framework of BMWK's visit to Viet Nam from November 28 to 30 to foster the relationship between the two countries through dialogues about policy framework development for renewable energy, the potential of green hydrogen in Viet Nam, setting up an energy efficiency club, as well as meeting with German businesses in Viet Nam.
Since 2013, energy has become one of the priorities of Vietnamese-German cooperation, establishing the GIZ Energy Support Programme, a partnership between Viet Nam's Ministry of Industry and Trade (MOIT) and the Deutsche Gesellschaft für Internationale Zusammenarbeit (GIZ) GmbH.
The programme aims to contribute to Viet Nam's emissions reduction and green growth strategy by improving the existing regulatory framework for Renewable Energy and Energy Efficiency to foster private sector investment and by increasing key institutions and stakeholders' professional and organisational capacities.
Petrolimex to divest ownership in BMF
Vietnam National Petroleum Group (Petrolimex) is going to divest all stakes in Dong Nai Building Material and Fuel JSC (UPCoM: BMF).
Petrolimex is slated to sell all its 443,500 BMF shares, equivalent to VND4.4 trillion, to pull money out from BMF.
The shares will be put up for auction in the Ha Noi Stock Exchange with a starting price of VND36,600 apiece. Time of payment is from December 29, 2022 to January 6, 2023.
BMF is not only the company in which Petrolimex plans to divest its ownership. In fact, under its restructuring plan between 2021 and 2025, Petrolimex will proceed with the disinvestment from Petrolimex Group Commercial JS Bank (UpCoM: PGB).
Regarding companies whose core business involves oil and fuels, Petrolimex will remain a majority shareholder. Specifically, it will continue to hold 100 per cent of ownership in 43 affiliated companies.
It is also worth noting that the petrol giant will retain its holding in Petrolimex Singapore Single-Member LTD whereas divest its ownership in Petrolimex Laos Single-Member LTD between 2021 and 2025.
For other companies, Petrolimex will develop a specific restructuring scheme for each, based on its business situation.
For instance, the fuel giant will continue to hold 50 per cent of ownership in Petrolimex Petrochemical Corporation, Petrolimex Gas Coporation, Petrolimex Aviation Fuel JSC and Van Phong Bonded Petroleum Terminal JV LTD.
Additionally, it will own 35 per cent of BP Petco LTD and 40.95 per cent of Petrolimex Insurance Corporation, whereas withdraw its capital from Petrolimex Group Construction and Trading Corporation JSC.
Source: VNA/SGT/VNS/VOV/Dtinews/SGGP/VGP/Hanoitimes