VIETNAM BUSINESS NEWS DECEMBER 7
Vietnam spends nearly 190 million USD on importing pork in ten months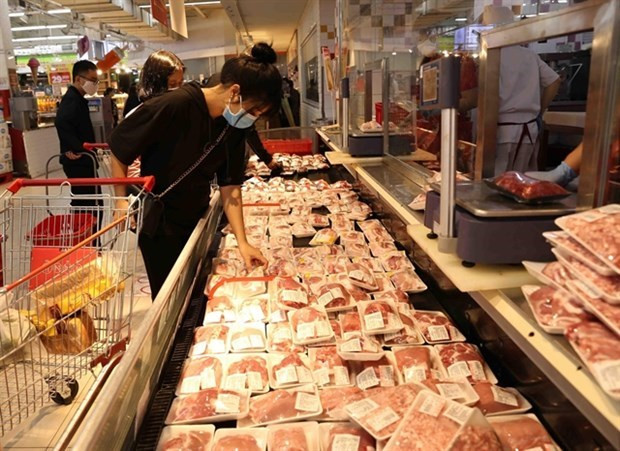 Vietnam imports about 89,000 tonnes of pork in the first ten months of this year. (Photo: VNA)
Vietnam spent nearly 190 million USD on importing about 89,000 tonnes of pork in the first ten months of this year, according to the General Department of Vietnam Customs.
The figures showed year-on-year decreases of 34.4% and 39.6% in volume and value, respectively.
In the first ten months of 2022, Vietnam imported pork from 30 markets, including Brazil (37.3%), Russia (24.9%), Germany (12.8%), Canada (8%), and the Netherlands (4.7%). Except for Brazil, the amount of pork imported from the other markets decreased compared to the same period in 2021.
In October 2022, Vietnam imported nearly 12,000 tonnes of pork, valued at 26.02 million USD, down 5.6% in volume and 22.4% in value compared to the figures a year earlier.
Meanwhile, in October this year, the country earned 5.77 million USD from exporting about 1,000 tonnes of pork, up 113.3% in volume and up 68.6% in value. Vietnamese pork is mainly exported to Hong Kong and Laos.
According to the Agency for Foreign Trade under the Ministry of Industry and Trade, the amount of exported pork accounted a small proportion of the country's total pork output due to limitations in processing, market forecasting for production adjustment and disease prevention and control.
Pig breeding costs in Vietnam are higher than the world's average, resulting in the lower competitiveness of the country's pork.
As Tet (Lunar New Year) is approaching, the domestic demand for cattle and poultry meat is expected to increase but the hike will not be high because of abundant supplies, according to the department.
In 2023, Vietnam's livestock sector strives to achieve an output of more than 4.5 million tonnes of live pigs and pork prices are expected to rise by 5% thanks to increased demand and reduced supply.
VinFast unveils submission of listing documents for US IPO
Vietnamese electric vehicle (EV) maker VinFast unveiled on December 7 that it has submitted a listing application under the form F-1 to the US Securities and Exchange Commission (SEC) as it prepares for an initial public offering (IPO).
At present, the number of shares set to be offered and the expected price range has yet to be determined.
VinFast plans to list common shares on the Nasdaq Global Select Market with the ticker symbol "VFS".
Citigroup Global Markets Inc., Morgan Stanley & Co. LLC, Credit Suisse Securities (USA) LLC, and J.P. Morgan Securities LLC will act as lead book-running managers and as representatives of the underwriters for the proposed offering.
Furthermore, BNP Paribas Securities Corp., HSBC Securities (USA) Inc., RBC Capital Markets, LLC, and Wolfe will also serve as the book-runners for the deal. In addition, Robert W. Baird & Co. Incorporated will act as co-manager for the proposed offering.
According to VinFast, these securities may not be sold, nor may offers to buy be accepted, prior to the time the registration statement becomes effective.
At present, the company's EV price in the US market stands at US$42,000, plus a battery subscription, while a Tesla Model 3 costs US$40,000.
Bac Giang builds trademarks for farm produce to expand market
The northern province of Bac Giang is building trademarks for local farm produce with an aim of reaching more markets, toward raising the value of agro-forestry produce export by an average 8% a year to reach about 200 million USD by 2030, reported the provincial People's Committee.
The province will promote the export of local signature products such as lychee, orange, pomelo, processed vegetables, pork, chicken and processed wood to China via official channels while exploring new markets such as the European Union (EU), US, Australia, Japan, the Republic of Korea (RoK), ASEAN and the Middle East.
The province now has eight key agricultural products namely Thieu lychee, chicken, pork, citrus fruit, high-quality rice, vegetable, peanuts and fish, 14 typical products and 30 products of good potential. Among them, 40 products have had their trademarks protected. Some have earned geographical indication protection abroad like Luc Ngan lychee is protected in Japan, the Republic of Korea, Thailand, the US, Australia and Singapore, Chu and Ke dry rice noodle ares protected in Japan, the RoK, Thailand, and Yen The range chicken in Singapore, China and Laos.
Bac Giang also has 60 products with trademarks and 155 One Commune One Product products meeting three-star standards and above.
Since obtaining a certificate of geographical indication (GI) from the Ministry of Agriculture, Forestry and Fisheries of Japan in March 2021, Thieu lychee grown in Luc Ngan district has seen its competitiveness and export volume significantly rising.
The fruit is the first Vietnamese farm produce to be granted such certificate by Japan, with related negotiations lasting for nearly three years. In addition to Japan, Thieu lychee has already earned geographical protection in six others, namely China, Laos, Cambodia, the RoK, Singapore, and Australia. The protection is like a 'passport' to help speed up customs clearance processes, raise prices, and improve the value of the farm produce.
Official data showed that 48.5 tonnes of the Luc Ngan lychee were shipped to Japan, and 293.5 tonnes to other markets (excluding China) in 2020. The figures rose to 56.7 and 9,500 tonnes in 2021. This year, Bac Giang exported 164.4 tonnes of the fruit to Japan, 36 tonnes to the US, and more than 1,800 tonnes to other markets.
The province also focuses on expanding the cultivation area of farm produce meeting VietGAP, GlobalGAP and organic standards to yield quality products with high productivity for domestic consumption and export.
Yen Bai airport feasible for civil aviation development
The northern upland province of Yen Bai has proposed the Ministry of Transport include a local airport in the national aviation development plan for 2021-2030, with a vision to 2050.
Yen Bai airport is managed by the Ministry of Defense. Its 279.5-hectare area and 2,400-meter-long runway are convenient for both civilian and military use, the Vietnam News Agency reported, citing the provincial People's Committee.
At a recent meeting with Yen Bai, the Civil Aviation Authority of Vietnam said that it is feasible to develop Yen Bai military airport into a civilian one.
The airport was proposed to become a grade 4C civilian airport and a grade 2 military one, with an estimated capacity of 0.8 to 1 million passengers per year, and to be developed under the public-private partnership investment format.
Global Sourcing Fair opened for first time in Vietnam in late April, 2023
The Global Sourcing Fair Vietnam will take place from April 26-28, 2023, expected to become a direct trade bridge connecting buyers and suppliers, and meeting the increasing demand for product supplies from Vietnam and the ASEAN region.
The fair, the first of its kind in Vietnam, is expected to bring together more than 500 booths and attract more than 6,000 buyers from the US, Europe, Asia and other parts of the world.
Global Sourcing Fair Vietnam is scheduled to be organised annually in the country.
Deputy PM calls for more Korean investment to Vietnam
Permanent Deputy Prime Minister Pham Binh Minh on December 6 encouraged Korean firms to expand investment in Vietnam in digital technology, electronics, infrastructure and industrial zones.
During a working session with Korean Deputy PM and Minister of Economy and Finance Choo Kyung-ho in Seoul, Minh asked the Republic of Korea (RoK) to facilitate Vietnam's agro-fisheries exports to the country, toward lifting two-way trade to 100 billion USD by 2023 and 150 billion USD by 2030 in a more balanced and sustainable manner.
Choo, for his part, suggested both countries expand coordination in new spheres such as digitalisation, climate change response and environment-friendly technology.
The RoK will provide more official development assistance for Vietnam within the framework of the Economic Development Cooperation Fund (EDCF) signed during President Nguyen Xuan Phuc's ongoing visit, he said.
He wished the Vietnamese Government will make it easier for Korean financial organisations to enter Vietnam, thus expanding Korean investment in the country.
The two sides agreed to broaden areas receiving Vietnamese workers and those of Vietnam's demand, as well as to work with competent agencies to facilitate travel, entry-exit and residence of citizens while propelling cultural and tourism cooperation, and people-to-people exchange.
At the Vietnam-RoK Business Forum held in the morning the same day, President Phuc witnessed the signing of 15 memoranda of understanding on cooperation.
Phuc hosted representatives of Korean enterprises operating in infrastructure, electronics, finance, transport and education that expressed their interest in Vietnamese market. They vowed to continue investing in Vietnam in the near future.
Statistics from the Vietnamese Ministry of Planning and Investment showed that deals reached during the visit are estimated at nearly 15 billion USD.
US businesses urged to boost Vietnam-US ties in trade, defence, security
Vietnamese Minister of Public Security General To Lam has called on the US-ASEAN Business Council (USABC) and the US business community to continue to act as a bridge between the two governments, and between enterprises of the two countries, thus helping the two sides study each other's wishes and needs to boost economic-trade and national defence-security cooperation.
The move was also expected to create favourable conditions for Vietnamese goods to enter the US market and increase US investment in Vietnam, Lam said while receiving an USABC delegation in Hanoi on December 6.
He emphasised that Vietnam always considers the US a leading partner with high potential in techniques, sciences and technologies and that Vietnam wants to expand and strengthen practical and effective cooperation with the US in areas, particularly infrastructure development, technology transfer, human resource development and experience sharing.
The Ministry of Public Security hoped that USABC can connect businesses to discuss the possibility of promoting cooperation and sharing experience with the ministry in specialised areas and procurement of high-quality products, Lam said.
The minister also proposed the USABC and US businesses support Vietnam to deeply participate in the global supply chain in information technology, digital economy, and green growth.
They were urged to actively contribute to promoting and realising cooperation commitments and initiatives between the Association of Southeast Asian Nations (ASEAN) and the US in economy, trade, maritime security and aviation.
Lam also called for stronger cooperation between US businesses and the Ministry of Public Security in the security industry, including new-generation professional technical equipment, telecommunications products, IT, fire prevention, search and rescue and hi-tech products.
The two sides are expected to strengthen public-private cooperation with US enterprises in cyber security, share experience and transfer technologies and solutions on cyber attack detection, warning, prevention and control, data security, digital investigation, and the collection, analysis and recovery of electronic evidence.
Da Nang to begin construction of Lien Chieu Port
The central city of Da Nang will commence construction of the Liên Chiểu Port on a total 450ha with an investment of VNĐ3.426 trillion (US$137 million).
The port will allow access to 200,000 deadweight tonnage (DWT) cargo ships and container ships with loading capacities from 8,000 to 18,000 twenty-foot equivalent unit (TEUs) as well as 30,000DTW liquid cargo vessels in 2050.
The city's management unit of priority infrastructure projects said the port construction plan will be following the country's master plan on the seaport system until 2030, making it a key port in the central region and the third largest port system in Việt Nam.
The 20-berth port, which was designed to handle from 40 million to 50 million tonnes of cargo in 2050, will be used as the main logistics centre for the north-south railway and road systems and the East-West Economic Corridor No 2 (EWEC2) connecting Thailand, Myanmar, Laos and Việt Nam via Đà Nẵng port system, the unit managing board said.
The construction of the Liên Chiểu Port will help ease the overloaded Tiên Sa Port – which currently hosts both cruise and cargo ships.
FTA Index urges localities to help enterprises take advantage of trade deals

The free trade agreement index (FTA Index) was expected to create an impetus for localities to create a favourable environment for enterprises and enable them to take advantage of free trade deals.
According to the Ministry of Industry and Trade, the Government approved the ministry's proposal of developing the FTA Index, which was scheduled to be launched at the beginning of 2023.
Ngo Chung Khanh, deputy director of the ministry's Multilateral Trade Policy Department, said that after the signing of new-generation free trade agreements, like the Comprehensive and Progressive Trans-Pacific Partnership (CPTPP), the EU – Viet Nam Free Trade Agreement (EVFTA), the UK – Viet Nam Free Trade Agreement (UKVFTA), action plans at Government and local level were issued with an aim to effectively exploit these FTAs.
Localities were paying increasing attention to the implementation of new-generation FTAs, Khanh said, adding that it took eight months for localities to complete the action plans to implement the CPTPP while it took only four months for the EVFTA and two months for the UKVFTA.
However, to date, only 38 out of 63 provinces and cities had import and export activities with member countries of CPTPP, indicating that there was huge untapped potential to promote exports, he said.
Khanh pointed out a problem that many provinces and cities did not have detailed plans to support businesses to take advantage of FTAs and a lot of the support was just too general and did not go directly to specific industries.
He expected the FTA Index would urge provinces and cities to change their thinking and make efforts to create more favourable conditions for enterprises to grab the opportunities of the FTAs, like the impact of the provincial competitive index (PCI) which was introduced in 2005 on improving the business climate.
According to Nguyen Kieu Oanh, deputy director of Ha Noi Department of Industry and Trade, export activities of enterprises in the capital city to member countries of FTAs remained limited and mainly focused on traditional markets.
She cited statistics that Ha Noi's exports to member countries of the CPTPP, EVFTA and UKVFTA were estimated to total US$5.88 billion in 2022, or 33.9 per cent of the capital city's total export revenue. The capital city imported around $13.03 billion from member countries of these three trade deals this year.
Around 2,600 enterprises had export activities and 7,900 had import activities with member countries of FTAs.
Pham Ngoc Thach, deputy head of the Legal Department under the Viet Nam Chamber of Commerce and Industry (VCCI), said VCCI's survey found that enterprises had a huge demand for market access and expansion in international integration, especially in the context that Viet Nam participated in a number of new generation FTAs.
Vinamilk and Kido joint venture disbanded
Vibev, an ice cream and non-alcoholic beverage company owned by Vinamilk (51 per cent) and Kido (49 per cent), has announced its dissolution after more than two years.
Vietnam Dairy Products JSC (Vinamilk) and Kido Group JSC have just announced the suspension and dissolution of the joint venture Vibev.
Vinamilk said the Vinamilk – Kido Beverage Joint Venture Company (Vibev) was terminated because of certain changes in the development perspective of both parties. Kido's side added that unpredictable changes in the domestic market and global economy were also a factor.
Vibev registered its establishment in March 2021 and started out with an investment of $17.4 million. Vinamilk contributed $8.9 million as the controlling power, while Kido gave $8.5 million.
After many delays due to the pandemic, Vibev launched its first product in November 2021 with many ambitions, such as holding the number one position in market share in the freshwater industry and reaching an output of 150 million bottles a year, equivalent to sales of$87 million) after five years of operation.
American investors eyeing Vietnam's logistics sector
With investment opportunities widening in logistics, some US players in the sector have expressed interest in penetrating the Vietnamese market.
At the Vietnam-United States Trade Forum in Ho Chi Minh City in mid-November, Susan Burns, US Consul-General in Ho Chi Minh City, said that logistics is one of three sectors in Vietnam in which US businesses see great investment opportunities, following clean energy and health.
Burns pointed out that with strong financial potential and an understanding of US regulations, businesses that decide to invest in logistics in Vietnam have many advantages over domestic groups, with most of Vietnam's businesses in the sector small- and medium-sized.
US-Vietnam bilateral trade reached nearly $113 billion in 2021, and the result is expected to be higher in 2022. Vietnam has become a significant link in the global supply chain, playing an important role in the US economy. Vietnam is currently the eighth-largest export market for US agricultural products, while the US is Vietnam's largest export market for agricultural products.
Under Vietnam's service sector commitments to the World Trade Organization, Vietnam has opened certain types of logistic services for foreign investors, previously in some cases with restrictions. For example, foreign investors can establish a 100 per cent foreign-owned company in some stages of logistics in Vietnam such as warehousing service, freight agency, and delivery services. Therefore, these are considered favourable conditions for foreign enterprises to invest in logistics in Vietnam.
A report on the emerging market logistics index released by Agility in February this year ranked the Vietnamese logistics market at 11th out of 50 emerging logistics markets globally. The annual growth rate in the period 2022-2023 of the Vietnamese logistics market is forecast to reach 5.5 per cent.
With investment opportunities widening in logistics, some US players in the sector have expressed interest in penetrating the Vietnamese market. In September, Charles R Kaye, director general of US-based Warburg Pincus, had a working meeting with leaders of Binh Duong province to discuss the investment plan for a cross-border e-commerce project in the southern province.
Ministry announces 218 firms as prestigious exporters of Vietnam
As many as 218 companies have won the "Prestigious Export Business" title for 2021, according to the list unveiled by the Ministry of Industry and Trade (MoIT) on December 5.
The list of the honourees, operating in 27 business lines, is publicised on the MoIT portal (www.moit.gov.vn) and the websites of some relevant agencies.
In May this year, the MoIT coordinated with other ministries, sectors, business associations, provincial-level departments of industry and trade, and related agencies to select and publish the list of nominees on its website to collect public feedback.
They were chosen based on the MoIT's criteria, including the minimum export revenue, business prestige among foreign partners, and performance of their customs, tax, and environmental obligations.
The selection aims to encourage Vietnamese enterprises to promote export and expand the market, particularly as the country has participated in many bilateral and multilateral free trade agreements.
Tri Viet Securities has new board chairman
Pham Thanh Tung has been picked as new board chairman at Tri Viet Securities Joint Stock Corporation (TVB) for the 2022-2024 tenure, with effect from December 2, replacing his predecessor Bui Minh Tuan.
Tuan resigned from his post of TVB board chairman the same day. He earlier tendered his resignation, citing health reasons.
Tuan was appointed to the post of TVB board chairman on July 6 this year. He was also a board member of Tri Viet Asset Management Corporation JSC, the parent firm of TVB.
Regarding Tung, he was serving as vice chairman of the TVB board before being elected TVB chairman. He has over 20 years of experience in finance and securities.
Prior to his appointment, Tung had registered to sell two million TVB shares from November 29 to December 18. If the transactions are done, he could earn some VND11.2 billion, adding that his ownership in TVB would decline from 2.48% to 0.69%, or from over 2.77 million TVB shares to around 77,000 shares.
Major ventures on way from chip makers
In the framework of meetings with the leadership of Thai Nguyen People's Committee in late October, President of Samsung Vietnam Choi Joo Ho revealed the latest business result of the company in the country, while also mentioning the construction process of the expanded Samsung Electro-Mechanics Vietnam venture, which is estimated to cost $920 million.
Samsung is just one of the world's largest memory chip producers to be implementing semiconductor component projects in Vietnam. At present, mobile phone and smart electronics producer Hana Micron Vina from South Korea is eager to recruit a labour force to work on its expanded facility, which is in the final construction workload.
The expansion has a total investment of $600 million which will be disbursed within 10 years, including an additional investment of $249 million over the next three years.
Amkor Technology, one of the world's largest providers of outsourced semiconductor packaging, design, and test services, is also eager to implement the construction of a factory at Yen Phong II-C Industrial Park in the northern province of Bac Ninh.
The investor will pump $1.6 billion into the factory and disbursement will be completed in 2035. The first phase of the project will focus on the production, assembly, and testing of semiconductor materials for the world's leading semiconductor and electronic manufacturing companies. The semiconductor market value in Vietnam is set to grow by $1.65 billion over the 2020-2025 period, as per a report published in May by British market research firm Technavio. The growing use of the Internet of Things is driving semiconductor market growth in Vietnam and increasing adoption of smart home technology will be the key trend in the near future, the report said.
Responding to the opportunity to attract global semiconductor manufacturers, Do Nhat Hoang, director general of the Foreign Investment Agency under the Ministry of Planning and Investment (MPI), said, "During meetings with foreign investors, we see that many semiconductor manufacturers have plans to invest billions of US dollars in Vietnam. Offering tariff incentives is one of the largest competitive advantages we have."
However, in the long term, these incentives face the risk of falling behind because of the application of a global consumption tax in 2023.
Danang's public capital disbursement rate nears 78%
The central city of Danang had disbursed around VND5 trillion of public investment in the year to November, or 77.8% of the total, and equal to 86.9% of the year-ago figure, according to the Danang Statistics Office.
The city has taken measures to speed up the construction of some projects. Of them, two projects to build an organ and stem cell transplantation center at the Danang Hospital and Software Park No.2 have each disbursed over 60% of the allocated capital.
Meanwhile, several projects had to suspend construction due to site clearance obstacles, such as a project to upgrade Vo Duy Ninh Street, and the first phase of a resettlement project near the Khe Can drainage system area.
Besides, some projects with a large amount of capital allocated have yet to get off the ground, as their construction procedures remain incomplete, or some had their designs adjusted multiple times.
Samsung to raise total investment in Vietnam to $20 billion
Samsung Electronics vice chairman Han Jong-hee said the company would raise total investment in Vietnam to $20 billion, focusing on artificial intelligence and big data.
The announcement was made at a meeting between Han Jong-hee, Samsung Electronics vice chairman and CEO, and Vietnamese State President Nguyen Xuan Phuc on the morning of December 6, on the sideline of the president's official three-day visit to South Korea.
State President Nguyen Xuan Phuc appreciates the expansion plan of Samsung to pour an additional $2 billion into Vietnam. He proposed the conglomerate pay more attention to supporting industries and smart technologies, contributing to enabling Vietnam to be a manufacturing hub and seize new opportunities. He invited Samsung to join the upcoming innovation exhibition in Vietnam.
Jong-hee said that the group's R&D centre in Hanoi would be completed soon and put into operation to research more about smartphones and computers.
Last year, the export turnover of Samsung Electronics Vietnam was $65.5 billion, significantly contributing to the economy and enabling Vietnam to be a worldwide smartphone manufacturing hub.
Vietnam-Korea trade turnover touches $80.5 billion
Bilateral trade turnover between Vietnam and South Korea reached $80.5 billion in the first eleven months of this year, exceeding the figure for all of 2021.
The bilateral export turnover reached $22.5 billion, up 13.4 per cent on year, while import value was $58 billion, up 15 per cent.
The trade gap for the first eleven months was $35.5 billion, according to the statistics published by the Ministry of Industry and Trade. With this, South Korea becomes the third-largest trading partner of Vietnam, following the United States and China.
The two countries expect that the trade turnover between Vietnam and Korea will reach $90 billion for the whole year.
Computers, mobile phones, spare parts, and related component rank at the top of groups with billion-dollar export value.
The two countries expect to reach a $100 billion trade turnover in 2023 and $150 billion in 2030.
Petrol and oil imports increased until end of June 2023
Due to the fluctuations in the global energy market that could last until next year, the Ministry of Industry and Trade (MoIT) is making efforts to ensure the supply of petroleum products in the domestic market.
The MoIT is directing domestic oil refineries to increase production capacity and state-owned enterprises to increase imports until at least June 2023. The ministry continues to review and promptly update incurred costs (if any) into a formula for calculating the base price of fuel.
In addition, it will continue to inspect, supervise, and handle violations in compliance with the regulations – especially in terms of speculation and the hoarding of products. The ministry has also studied solutions to manage the difficulties in relation to petroleum business capital for specific cases.
Petroleum will be allocated monthly or quarterly and adjusted regularly based on data from the management software. The MoIT also suggested that it is necessary to separate the relative output between imports and purchases from domestic refineries. Enterprises that do not have enough capacity will be allowed to combine the figures and import.
Nearly 12,000 firms established in November
November saw 11,943 new enterprises established nationwide with total pledged capital of VND104.49 trillion, rising by 0.3% in number but down 30.3% in capital year-on-year, according to the General Statistics Office.
The new market entrants registered to employ 74,000 workers, falling by 3.4% over the same period in 2021.
In particular, the number of newly-established firms in November in the Red River Delta rose by 8.4% over a year ago.
Meanwhile, the southeastern region had a slight increase of 2.4%.
Between January and November, 137,764 new businesses were established, while 56,935 resumed operations after a hiatus.
Still, some 132,000 enterprises had pulled out of the market in the year to November, with 70,000 firms suspending operations.
The rest halted their operations pending dissolution or completion of procedures for disbandment.
Vietnam's tourism expects 100 million domestic tourists this year
Vietnam's tourism sector has made an impressive comeback and beaten 2019's record with 11.3 million more domestic visitors than in the pre-Covid year.
The country recorded around 96.3 million domestic tourists from January to November, with November alone seeing 4.5 million, the Vietnam National Administration of Tourism reported.
The industry gained strong momentum in the first half of the year, with about 26.1 million tourists in the first quarter and 34.7 million in the second quarter. The figures dwindled gradually in the second half, down to 26 million in the third quarter, while October and November saw only 9.5 million visitors.
Still, with such rapid growth, the tourism authority hopes to welcome the 100th million domestic traveler this year, way higher than its expectation of 60 million in 2022.
Meanwhile, international arrivals remain low, with only 2.95 million in 11 months.
Many banks reduce lending interest rates
Many commercial banks said that in the past time, they have managed to provide capital with reduced lending interest rates for some businesses during the peak season in business at the end of the year.
The Joint Stock Commercial Bank for Foreign Trade of Vietnam (Vietcombank) pioneered in reducing interest rates by reducing interest rates for loans in Vietnamese dong for existing corporate and individual customers - with a 1 percent reduction for Vietnamese dong loans in the last two months of 2022, applying from November 1, 2022, to December 31, 2022.
Mr. Nguyen Viet Cuong, Deputy General Director of Vietcombank, said that approximately 175,000 customers enjoyed the reduced interest rates of more than VND500,000 billion, accounting for nearly 50 percent of the existing loan balance at Vietcombank. However, Vietcombank's policy of reducing interest rates does not apply to securities loans, real estate business loans, and mortgage loans of valuable papers.
Similarly, the Vietnam Bank for Agriculture and Rural Development Agribank has also announced a reduction of interest rates to support customers to restore and develop production and business from November 1 to December 31, 2022. Specifically, with outstanding loans arising in December 2022, Agribank will reduce the interest rate up to 20 percent compared to the applicable interest rate.
In addition, corporate and individual customers with outstanding loans affected by the Covid-19 epidemic may have their debt repayment terms rescheduled, interest exemption or reduction, and keep the same debt group. Those asking for loans for petroleum business are also eligible for the policy of reduced interest rates.
Agribank estimates that about VND2,000 billion was saved to help reduce interest rates for 2.2 million customers.
Private commercial banks such as ACB have also announced that from December 6, 2022, to January 31, 2023, individuals and businesses that currently have loans and have transactions at the Asia Commercial Bank (ACB) will enjoy a reduction in interest rates of 1 percent a year. ACB is preparing a credit line of VND4,000 billion with a preferential interest rate reduced by 1 percent a year to disburse loans.
Recently, HDBank also announced that from November 1 to December 31, 2022, it will reduce lending interest rates up to 3.5 percent a year for individual and corporate customers with the interest rate reduction amounting to VND120 billion.
Source: VNA/SGT/VNS/VOV/Dtinews/SGGP/VGP/Hanoitimes