VIETNAM BUSINESS NEWS DECEMBER 8
Business association helps connect Vietnamese, Malaysian firms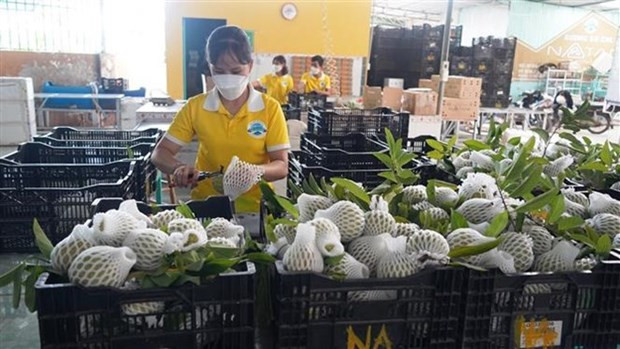 The VMBIZ and the MCCM will further promote trade and investment between the two countries in the coming time, especially in food and agricultural sectors. - Illustrative image (Photo: VNA)
The Vietnam – Malaysia Business Association (VMBIZ) and the Malay Chamber Of Commerce Malaysia (MCCM) signed a memorandum of understanding (MoU) on cooperation at a ceremony in Kuala Lumpur on December 7.

In her remarks, VMBIZ Vice President Nguyen Thi Thanh Van said the MoU marks an impressive milestone in the association's operation, opening potential cooperation opportunities between Vietnamese businesses operating in Malaysia and enterprises of the two countries.

The association plans to organise a Week of Vietnamese High-Quality Goods in Malaysia on the occasion of the 50th founding anniversary of the bilateral diplomatic relations, she said.

MCCM President Soh Thian Lai expressed his delight at impressive results in trade and investment promotion activities between Vietnam and Malaysia in 2022, saying that his agency will strengthen coordination with the VMBIZ to further promote trade and investment between the two countries in the coming time, especially in food and agricultural sectors.

Standing Vice Chairman and Secretary General of the Business Association of Overseas Vietnamese (BAOOV) Peter Hong affirmed the VMBIZ has been contributing to improving the efficiency of the implementation of the project 'Mobilissing overseas Vietnamese to introduce, consume, and develop distribution channels for domestic products abroad in the 2020-2024 period' (Project 1797).

On the occasion, the VMBIZ and eight individuals were presented with certificates of merit in recognition of their contributions to implementing Project 1797.
EVFTA opens great opportunities for investment attraction in Vietnam
The EU-Vietnam Free Trade Agreement (EVFTA) contributes to attracting European businesses and financiers to Vietnam, thereby expanding investment and business ties while creating a wealth of opportunities for local firms to step up co-operation and absorb technology transfer, according to economic experts.
As the first FTA signed between the nation and the EU in terms of outward investment, there are high hopes for the EVFTA regarding trade and investment promotion moving forward.
The EVFTA outlines commitments on both trade and investment which will contribute to attracting European businesses and investors.
At a recent seminar on utilising benefits from EU imports and investments under the terms of the deal conducted by Industry and Trade Magazine, Nguyen Anh Duong, head of General Research Department under the Central Institute for Economic Management (CIEM) outlined that newly-registered investment from the EU into the Vietnamese market has increased significantly in recent times. As a result, this increase is reflected not only in the total capital but also in the average size of projects.
Sharing this perspective on the Vietnamese market, as well as future opportunities for trade investment co-operation between Germany and Vietnam, Dao Thu Trang, head of Market Development Strategy Consulting section of the German Chambers of Industry and Commerce in Vietnam, believes that the country has a strong potential investment environment due to its strategic geographical location, developed economy, stable political society, young dynamic, and flexible population.
Since March 15 there have been 12 large and small projects put forward by German enterprises that have applied for investment licenses in the nation.
From a business perspective, Dinh Van Hien, president of the Board of Directors and general director of DKNEC Group Joint Stock Company, said that before the EVFTA, the import tax placed on CKD and IKD of enterprises from the EU was very high, from 5% to 10 %, with equipment up to 12% to 15%.
Since the enforcement of the trade deal, the import tax placed on equipment has been slashed from 10.2% to 1%. Currently, the modern machinery and equipment CKD import tax has been reduced to 0%, Hien assessed.
It is therefore hoped that through the benefits of the EVFTA, enterprises will both be provided with, as well as updated on applications and solutions to improve production efficiency, thereby lowering investment costs and improving domestic production capacity.
Moving forward, the implementation of the EVFTA will enter a new phase along with the multilateral co-operation policies of EU nations witnessing changes.
In order to strengthen linkages between both sides, as well as helping businesses to make full use of the potential that exists in terms of trade and investment co-operation with the EU, it is necessary for intervention and support from ministries and sectors.
Do Huu Hung of the Europe - America Market Department under the Ministry of Industry and Trade (MoIT) affirmed that the EU is a vital region, meaning that the Ministry of Industry and Trade will actively work with importers, as well as major distribution channels in Europe, to launch a wide range of events which promote Vietnamese goods to EU countries, especially Vietnam Week events.
Rubber exports hit nearly US$3 billion during 11-month period
Vietnam exported roughly 1.86 million tonnes of rubber worth US$2.93 billion during the 11-month period, representing a rise of 9.1% in volume and 3% in value compared to the same period from last year, according to the Agro Processing and Market Development Authority.
November alone witnessed the country export roughly 240,000 tonnes of rubber worth US$328 million, up 7.3% in volume and 4.6% in value over the previous month.
The average export price witnessed a decline of 2.6% to US$1,366 per tonne from October and down 19.3% compared to November last year.
During the reviewed period, China, India, and the Republic of Korea became the largest consumers of Vietnamese rubber products, duly accounting for 69.5%, 7.1%, and 2.6% of the market share, respectively.
The strongest export growth was recorded in the Russian market with an increase of 44.4% compared to the same period last year, while the rubber export value in Spain experienced the largest decrease.
Meanwhile, Vietnam imported 2.03 million tonnes worth US$2.93 billion during the 11-month period, with Cambodia accounting for 47.9% of market share, followed by the Republic of Korea with 10.5% and China with 9.4%.
Compared to the same period from last year, the import value of rubber from these three markets experienced respective rises of 15.3%, 13.4%, and 50%.
Vietnamese agencies cooperate in cattle breeding with Nigerian partners
The Institute for Africa and Middle East Studies (IAMES) and the Vietnam - Africa Economic Cooperation Alliance (VAECA) have signed a cooperation agreement on livestock farming development in Nigeria at a webinar with the Nigeria - Vietnam Chamber of Commerce and Industry (NVCCI) and Nigeria's EkitiKete Livestock Development Co., Ltd.
Chairman of NVCCI Oye Akinsemoyin said the Nigeria-Vietnam Investment Facilitation Memorandum of Agreement (MOA) will provide a necessary foundation for further cooperation between the two countries in the future.
Assoc.Prof. Dr. Le Phuoc Minh, Director of IAMES, said that he has high expectations for cooperation with African countries, especially in agriculture, adding that the partnership with Nigeria is one of the promising projects.
Dr. Le Quy Kha, who represents VAECA, said IAMES and VAECA and their livestock partners in Vietnam will immediately map out specific action plan to carry out the agreement in Nigeria.
Specifically, Vietnamese agricultural and economic experts will be sent to Nigeria for implementing the cooperation project, Kha said.
The IAMES is a research agency under the Vietnam Academy of Social Sciences. Besides researching tasks, it has engaged in technology transfer and economic cooperation activities between Vietnam and African and Middle Eastern countries.
The VAECA is an organisation of the Vietnam Union of Science and Technology Associations (VUSTA). It groups economic and technical experts specialising in many fields, with the aim of supporting economic development in African countries.
Ministry wants lowest environmental protection tax on fuels in 2023
The Ministry of Finance has sought to keep the environmental protection tax on fuels at the lowest levels, proposing the Government submit a draft resolution to this effect to the National Assembly's Standing Committee.
The ministry prepared the resolution, which maintains the environmental protection tax rates for oil products for the year 2023 at the floor levels of the current tax bracket.
This is the second revision of the environmental protection tax rates for gasoline, oil and grease in 2023 proposed recently by the Ministry of Finance.
The tax on gasoline would be reduced from VND4,000 dong per liter to the floor level at VND1,000 per liter, jet fuel from VND3,000 to VND1,000 per liter, diesel oil from VND2,000 to VND500 per liter, heavy oil fuel from VND2,000 to VND300 per liter, grease from VND2,000 to VND300 per kilogram, and kerosene from VND1,000 to VND300 per liter.
The resolution was proposed to be valid from January 1, 2023.
Techconnect and Innovation Vietnam 2022 opens in HCM City
Techconnect and Innovation Vietnam 2022 kicked off in Ho Chi Minh City on December 7, featuring an array of activities like technological consulting sessions, forums and seminars.
In his opening remarks, Minister of Science and Technology Huynh Thanh Dat said through the event, his ministry hopes to promote the application, transfer and renovation of technology in businesses in the Southeastern and Southwestern regions.
New technologies and products will be introduced in order to boost technological demand and supply connectivity between localities and economic zones, and domestic and foreign partners, he added.
The minister stressed that the Government has issued policies with new regulations, established organisations, and launched programmes and activities to push ahead with innovations.
Within the framework of Techconnect and Innovation Vietnam 2022, to last until December 10, there will be two international exhibitions with 250 booths, one on equipment and technology in agro-forestry-fishery (Vietnam Growtech 2022) and another on food, beverages and food processing technology (Vietnam Foodtech 2022).
Over 300 domestic, foreign firms join Food & Hotel Vietnam 2022
More than 300 domestic and foreign businesses are showcasing their products and services at the Food & Hotel Vietnam 2022 at the Saigon Exhibition & Convention Centre in Ho Chi Minh City from December 7-9.
Along with exhibition stalls, including 22 of foreign companies, the 11th edition of the expo also includes a lot of sidelines events, including the Vietnam Culinary Challenge, and the ASIA Food & Beverage Summit 2022.
Participating in the expo for the first time, the organiser of the EU pavilion held a ceremony to launch the pavilion with the chair of EU Ambassador to Vietnam Giorgio Aliberti.
Giorgio Aliberti said that the expo is the right opportunity to showcase the rich potential of European-Vietnamese food fusion. During the three-day event, visitors are given a chance to learn about the growing variety of European products in Vietnam.
Binh Duong attracts more than 3 billion USD in FDI this year
The southern province of Binh Duong has so far this year attracted over 3 billion USD in foreign direct investment (FDI), taking the lead in the Southeast region, according to Nguyen Tam Duong, chief of the Office of the provincial People's Committee.
Binh Duong has estimated its gross regional domestic product (GRDP) growth at 8.01% and GRDP per capital at 170 million VND (7,100 USD), he said at a press conference on the local socio-economic situation in 2022.
The locality's index of industrial production is expected to expand 8.9% while its total retail sales of goods and services increased by 16.8%.
Its budget revenue is estimated at 61.9 trillion VND, equal to 103% of the estimate and budget expenditure is forecast to reach 18.5 trillion VND.
Binh Duong's total import and export turnover hit nearly 61.5 billion USD, of which, export reached 35.7 billion USD, up 9% year-on-year, resulting in a trade surplus of 10 billion USD. Total social investment capital reached over 154.5 trillion VND, up 12.9% year-on-year.
This year, the province has fulfilled 29 out of 34 socio-economic development targets.
US paper: macroeconomic outlook of Vietnam bright
The macroeconomic outlook of Vietnam is bright as the country has witnessed strong domestic consumption, received foreign direct investments and maintained a surplus in trade balance with other countries, wrote an article recently published on the US's seekingalpha.com.
Vietnam's real GDP growth is forecasted to exceed 8% in 2022.
In a time when other major world economies are curtailing fiscal and monetary policy support in an effort to contain inflation, Vietnam is in a position to support its growth. In January 2022, Vietnam passed a fiscal stimulus package of 15.4 billion USD at almost 4% of its GDP to support its 8 percent growth target for the year. The stimulus is generally viewed as a positive for the country's GDP growth trajectory for the year, it said.
Vietnam's currency and interest rates also appear relatively stable compared to other countries. A sharp recovery in personal consumption along with strong export growth contributed to the country's impressive Q3 GDP growth of 13.67%. Vietnam's strong macroeconomic position is expected to lift its population out of poverty as more than half of the Vietnamese population is projected to join the global middle class by 2035.
Agro-forestry-fishery exports in 11 months outpace last year's record
Agro-forestry-fishery exports stood at over 49 billion USD in the first 11 months of 2022, higher than last year's record of 48.6 billion USD, the Ministry of Agriculture and Rural Development said.
The 11-month export rose nearly 12% year on year while imports increased 7% to some 41 billion USD, resulting in a surplus of nearly 8 billion USD – up 48%.
That made up a total trade of over 90 billion USD, rising nearly 10% year on year.
Between January and November, key agricultural products brought home more than 20 billion USD, up 7%.
Bamboo Airways launches first direct flight from Hanoi to Tianjin
Vietnamese carrier Bamboo Airways has launched the first direct flight route between Hanoi and Tianjin, with flights running between Noi Bai International Airport in the Vietnamese capital and China's Tianjin Binhai International Airport.
The first flights on the Hanoi - Tianjin route carried hundreds of passengers on two flights coded QH9732 and QH9733 with a flight time of three hours.
According to insiders, the direct flights are expected to contribute to meeting the passengers' travel demand and accelerating economic recovery and bilateral exchange across multiple fields between the two countries.
Moving forward, Bamboo Airways plans to launch round-trip flights from Hanoi to Tianjin with a frequency of one flight per week every Tuesday.
Hoang Ngoc Thach, deputy chief commercial officer of Bamboo Airways, expressed his hope that return flights will also help to enhance tourism exchanges, thereby further tightening the linkages between the two cities, as well as paving the way for operating regular air routes between the two countries in the near future.
With direct flights going to one of China's major cities, Bamboo Airways has proved its efforts in connecting the country with key Asian markets after launching a series of flights to Japan, the Republic of Korea, Taiwan (China), Thailand, and Singapore recently.
HCM City sets 2023 growth target of 7.5-8%
Ho Chi Minh City People's Committee has proposed a growth target of 7.5-8% for its Gross Regional Domestic Product (GRDP) in 2023.
At the meeting of the municipal People's Council on December 7, Vice Chairwoman of the city People's Committee Phan Thi Thang said that the city could have both opportunities and challenges in socio-economic development next year but more difficulties and challenges are expected and it's hard to predict them.
The city will continue to focus on administrative reform, increase the efficiency of public services, and improve the business environment, she said.
Thang added that the city authorities will continue to remove bottlenecks, make use of resources, mobilise various investment capital sources, as well as accelerate the implementation of key infrastructure projects, traffic and urban development ones.
The city also expects to create a breakthrough in digital transformation and a knowledge-based economy in association with exploiting the potential of science and technology, Thang said.
Among the 17 key indicators for socio-economic development for 2023, the municipal People's Committee also set a target to attract 4.5-5 million foreign tourists next year for a revenue of 120 trillion VND (about 5.03 billion USD).
In 2022, despite difficulties and challenges, HCM City reached a GRDP of about 9.03%, surpassing the approved target of 6-6.5%. Its Index of Industrial Production (IIP) so far this year is estimated to increase by 14.2%.
So far this year, the city's total export turnover is estimated at 49.5 billion USD, up 10.3%, and its total import turnover, at 66.2 billion USD, up 10%.
Ministry urged to remove difficulty in VAT refund for wood companies

The Ministry of Agriculture and Rural Development has sent a document to the Ministry of Finance about removing difficulties in the refund of value added tax to wood processing and export companies.
The agriculture ministry said that timber harvested from domestic forests was the main and important source of supply which accounted for 74 per cent of the raw material demand and played an important role in promoting wood exports.
It said wood exports reached US$16.3 billion in 2021, representing a rise of 19.8 per cent against 2020, which contributed significantly to improving the daily life and income of poor people living in remote areas and promoting socio-economic development.
However, the tax management agencies were asking for the verification of the timber origin of forest owners that are households or individuals by commune-level people's committees for the refund of VAT, which caused a lot of difficulties for wood processing and export companies as the time for processing the refund was prolonged.
Bancassurance market heats up with deals worth trillions of dong

The Vietnamese bancassurance market is heating up with a notable exclusive bancassurance agreement signed between LienVietPostBank and Dai-ichi Life Insurance Company of Vietnam (Dai-ichi Life Vietnam).
The LienVietPostBank and Dai-ichi Life Vietnam 15-year deal was particularly noticed by the market as it was a combination of two well-known brands in the banking and insurance sectors, and also saw the involvement of strong international consulting institutions.
Aviation pressured to turn into regional freight centre
Vietnam has the potential to become a new logistics centre for the continent alongside Singapore, Bangkok, and Kuala Lumpur, if sectors such as aviation are utilised suitably.
Tran Tuan Anh, general director of ITL Group, said Vietnam's aviation market is developing fastest among its regional peers. Vietnam's logistics industry has a scale of about $40-42 billion and a double-digit growth rate. Air carriers are paying close attention to the country.
Michael Carson, regional sales director at Boeing, said, "Vietnam has an East Asian big air transport market in the Comprehensive and Progressive Agreement for Trans-Pacific Partnership, but has challenges in terms of capacity. The country would need a total of 2,800 cargo planes by 2041 to work at full capacity."
According to data from ITL Group, Vietnam is becoming a concern for international air cargo carriers. ITL's data collected until November showed that the supply load in Ho Chi Minh City from passenger and cargo aircraft is divided by a ratio of 60-40. In Hanoi, it is 30-70, which is deemed a good sign.
However, Vietnam can only become a regional hub when it improves its internal problems regarding infrastructure, airport overload, and lack of parking, take-off, and landing capacity.
Vietjet Air Cargo plans to increase the number of cargo planes to 400 in the next 10 years, said Do Xuan Quang, the company's deputy general director. Vietjet became the first enterprise to convert passenger aircraft to cargo aircraft. Currently, Vietjet is using an Airbus A330 wide-body aircraft that can load 22-25 tonnes per day.
A survey by the Institute of Economic Research and Development under the National Economics University said that more than 80 per cent of employees in logistics enterprises are trained through daily work, and less than 7 per cent by foreign experts.
The bottlenecks in infrastructure and human resources make it increasingly difficult to regain market share from international airlines. According to the Vietnam Logistics Business Association, the three domestic airlines Vietnam Airlines, Vietjet, and Jetstar Pacific only account for about 12 per cent of Vietnam's international freight market share. The rest is covered by 64 international air cargo carriers such as UPS, FedEx, DHL, Cathay Cargo, and Airbridge Cargo.
IPP Air Cargo has plans to become one of Vietnam's first cargo airlines, said Lars Winkelbauer, senior advisor to IPP Air Cargo in April.
Richard Szuflak, general director of DP World Vietnam assessed, that the country needs the vision and ability to closely combine ports, industrial zones, and customs.
Budget collection from real estate sector slows in H2
Though the tax revenue from the real estate industry has exceeded the year's goal, it has kept sliding since June.
According to General Department of Taxation data, revenue from housing and land in the year to November had accounted for 17.2% of the total tax collection, at over VND222.6 trillion, surpassing the full-year target by 36.9% and up 130.5% over the same period in 2021.
Of the total, tax collection from land use rights shot up 134.8% year-on-year to nearly VND183.7 trillion, while taxes on land rent soared 110.2% to around VND35.4 trillion.
The tax authority attributed the impressive results to the housing market being in full swing from late 2021 until the end of the first quarter of this year, coupled with the competent agencies' efforts to collect taxes and combat tax losses in real estate transfers.
However, budget revenue from the industry has ebbed away steadily since June, with a decrease in taxes from income generated by real estate transfers and a plunge in registration fee growth.
Registration fee growth stood at 78.4% in June. It tapered off to 72% in August, then plummeted to 56.4% in the next month, and was estimated to drop to 44.9% in November.
Meanwhile, the manufacturing sector in the year through November had contributed over VND666.5 trillion to the state budget, up 108.8% against the same period last year, thanks to the fast economic recovery as the country has adapted to the new normal.
Provinces set to launch price stabilization programs ahead of Tet
Many provinces and cities in Vietnam will launch price stabilization programs in in the lead up to the Lunar New Year 2023 holiday at a total cost of trillions of Vietnamese dong.
The Lunar New Year holiday is a special time for family reunion, which always drives up the demand for essential goods like food. The holiday will start in the fourth week of January next year.
The central highlands province of Dak Lak plans to stock up on essential goods worth over VND1.5 trillion as the demand is expected to rise 20% on this occasion.
In the province, 10 enterprises are stockpiling various consumer goods worth over VND420 billion, mainly focusing on fuels and foods such as pork, poultry, eggs, cooking oil, seasoning, processed foods, vegetables and fruits.
Previously, the Kon Tum Department of Industry and Trade sought the nod from the People's Committee to carry out a program to stabilize the market and encourage local people to prioritize domestic goods.
WinMart and Co.opmart in Kon Tum decided to participate in the program with a total volume of goods valued at around VND53.73 billion.
Currently, HCMC has nearly 11,000 selling points for the price stabilization program, of which 4,209 will provide customers with essential food products and 1,711 will sell milk and dairy products.
According to the city's plan, the volume of goods prepared for stabilizing the market could satisfy 25-43% of the market demand for the Lunar New Year 2023.
Binh Thuan Province estimated that the total value of essential items for this program would reach VND357 billion, including VND33 billion for instant foods, VND14 billion for food products and VND77.5 billion for processed foods.
HCMC wants 17 public-invested projects suspended
The HCMC People's Committee has proposed suspending 17 long-delayed public-invested projects to save over VND1,400 billion for more important ones.
On December 7, the HCMC People's Council began its eighth and year-end session to review and discuss key factors for the city's development.
As part of the document submitted to the meeting by the HCMC People's Committee, 17 projects are proposed to be suspended to save money for more important ones such as Thu Thiem 4 Bridge, Can Gio Bridge, Beltway 4, and Xuyen Tam Canal.
In particular, the committee wants to allocate VND2,170 billion to six projects at the district level and VND6,650 billion to dredge and upgrade Xuyen Tam Canal linking Binh Thanh and Go Vap Districts.
As for 17 suspended projects, there are 11 projects in Thu Duc City, three in Hoc Mon District, two in Tan Phu District and one in Binh Thanh District.
The suspended projects with over VND100 billion in investment include the expansion of Do Xuan Hop Street, land clearance and construction of Nguyen Duy Trinh Street, overpass construction in front of the new Mien Dong coach terminal and other small projects, mainly building schools.
Bamboo Capital to pour additional VND500 billion into BCG Energy
Bamboo Capital Group JSC, which trades its BCG shares on the Hochiminh Stock Exchange, has passed a plan to inject an extra VND500 billion to its subsidiary BCG Energy.
After the transaction, BCG's total capital contribution to BCG Energy will reach VND3,203 billion, or 320.3 million shares, a 71.18% stake in the latter.
The additional capital will be used to pay debts and invest in some projects, the local media reported.
Earlier in April, Bamboo Capital poured an additional VND800 billion into BCG Energy to contribute capital to Dong Thanh 1 and 2 Wind Power companies.
Between January and September, BCG posted over VND3.3 trillion in revenue and VND885 billion in after-tax profit, up 73.8% and 26% year-on-year, respectively.
HCMC supports small, medium enterprises in digital transformation
The Center for Statistics and Science and Technology Information of Ho Chi Minh City (CESTI – under the HCMC Department of Science and Technology) has just cooperated with Lien Minh Mechatronics Co. Ltd. to introduce 'AIoT Cloud – Solution for Small and Medium Enterprises (SME) in Digital Transformation'.
Accordingly, AIoT Cloud is a practical solution to help manufacturers monitor their machinery and plant statuses in real time, assign tasks for their workforce, and perform quality control processes via multiple channels.
Since production data are regularly updated to the system in real time, especially order processing history, enterprises can supervise the manufacturing situation of their plants, which means a boost in work performance.
AIoT Cloud is suitable for the budget of SMEs, and is developed on website as well as smart device platforms, so it is user-friendly to both workers and supervisors. The solution is now being implemented in over 1,000 manufacturers in the Asia-Pacific region.
HCMC needs over VND71 trillion for 2023 public investment plans
It is expected that in 2023 HCMC will have a demand for public investment capital of nearly VND16,500 billion (US$691 million) from the central budget and over VND55,200 billion (US$2.3 billion) from the city budget.
According to the statement that was made at the eighth session of the tenth tenure of the municipal People's Council opened on December 7, the central capital will be invested in works, including a project to clean up and renovate the environment of the Tham Luong Canal – Ben Cat – Nuoc Len Canal system with a total investment capital of VND300 billion (US$12.5 million), VND600-billion construction project of An Phu intersection, the National Highway 50 expansion in Binh Chanh District with VND184.4 billion.
In addition, the city will allocate projects using foreign assistance resources, including metro line 1 in dire need of nearly VND78 billion.
The municipal People's Committee also submitted a report on the 2023 public investment plan with the HCMC's State budget expenditure of more than VND55,200 billion to the People's Council of the city.
As of December 1, total public investment disbursement reached more than VND13,900 billion, accounting for 37.3 percent of the year's target, and is expected to reach over VND32,200 billion on December 31, gaining 86 percent of the total assigned capital.
PM urges banks' credit to run into key economic sectors
Banks are expected to focus their lending on key economic fields that serve as growth engines, including investment, export, and consumption.
Prime Minister Pham Minh Chinh gave the remarks during a Government meeting on December 6, discussing monetary-fiscal policies during the remainder of the year.
In a related move, the State Bank of Vietnam (SBV), on the previous day, expanded the credit growth target for 2022 from 14% to a maximum of 16% amid the rising demand for capital in the economy. An expansion of the credit room by 1.5-2 percentage points would result in around VND200 trillion ($8.36 billion) being pumped into the economy, in turn providing the much-needed capital for businesses and people looking to take advantage of a thriving economy.
This year, Vietnam's GDP growth is on track to hit 8% year on year, 1.5 percentage points higher than the target set by the National Assembly and remains among the world's fastest-growing economies amid a dim global outlook.
The prime minister, however, requested the banking sector to ensure liquidity and stability, especially in finding a balance to support growth and contain inflation at the same time.
Chinh also suggested banks continue providing loans to qualified real estate projects and buyers of social houses.
Looking back at the socio-economic performance in the past 11 months, Chinh said the global uncertainties continue to be a major challenge for Vietnam's economy, not to mention businesses and people continue to struggle with the Covid-19 impacts.
Chinh added that while the Government's recent measures to restore order in the capital market may have negatively impacted investors' sentiment, it would bring benefits in the long term to ensure the healthy development of all markets and the lawful rights of parties involved.
He referred to the positive signs on the stock market as the benchmark Vn-Index made an impressive recovery by gaining over 100 points last week. In addition, the setup of the Government's taskforces to address issues in the corporate bond and real estate markets is expected to improve the situation, he continued.
As part of long-term solutions, Chinh assigned Deputy Prime Minister Le Minh Khai to lead the efforts of amending multiple decrees overseeing the operation of the securities, bond, and real estate markets.
The Ministry of Construction and the Government's task force must continue summarizing issues and concerns in the real estate market and report to the prime minister to revise regulations if needed.
Chinh asked the Ministry of Industry and Trade to prevent a shortage of petrol products for domestic consumption, while the Ministry of Labor-Invalids and Social Affairs should closely monitor the labor market and avoid the risk of disruption of the labor supply chain.
Source: VNA/SGT/VNS/VOV/Dtinews/SGGP/VGP/Hanoitimes