VIETNAM BUSINESS NEWS FEBRUARY 4/2023
Strong figures for FDI in January
There was a sharp increase in the number and value of new foreign investments in Vietnam in January, signifying an increase in confidence for further ventures this year.
According to the Foreign Investment Agency (FIA), under the Ministry of Planning and Investment (MPI), close to $1.7 billion worth of foreign capital poured into Vietnam last month. While this figure was down 19.8 per cent on-year, partly due to the timing of the Lunar New Year, January still saw positive signs. Some 153 new foreign-invested projects, valued at $1.2 billion, were granted licences, up 48.5 per cent in number and 3.1 times in value compared to the same period last year.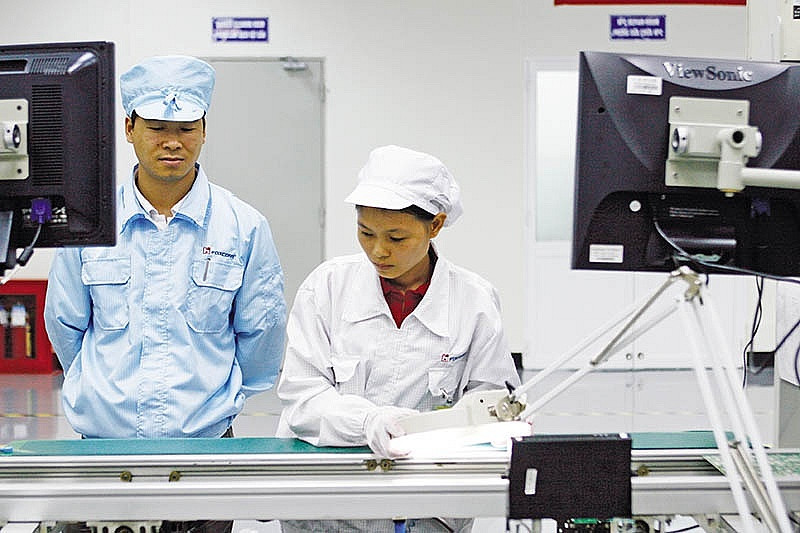 This confidence is also reflected in the amount of new projects that were granted investment registration certificates or signed an MoU in the first month of the year. Bac Giang People's Committee have granted several investment certificates and MoUs for a number of internationally funded projects with total registered capital of about $861 million.
One such group is Singapore's Ingrasys Ltd., partnering with Fulian Co., Ltd., for a precision technology factory. Another is China's Hainan Longi Green Energy Technology, who are set to manufacture solar panels with a capacity of 3,500 MW per year.
Also last month, Chinese electric vehicle manufacturer Yadea Group announced they would build a 23.3 hectare factory to manufacture and assemble electric motorcycles in Tan Hung Industrial Park in Bac Giang, starting from the second quarter of this year.
Based on the potential of the market and upcoming projects currently under or preparing MoUs, the FIA forecasts that Vietnam is likely to attract $36-38 billion of foreign direct investment (FDI) in 2023, up 30-37 per cent on-year.
The reopening of China's economy is also expected to have a positive impact on attracting FDI to Vietnam later this year. FIA deputy director Do Van Su said, "The withdrawal of capital from China by South Korean, Japanese, and Taiwanese speculators will accelerate after China reopens its economy."
Alongside the aforementioned opportunities, Vietnam also faces many challenges in attracting FDI this year. In a report on the socioeconomic situation at the government's regular meeting last month, a representative of the MPI explained that the tightening of monetary and fiscal policies, as well as risks posed by a global slowdown, have dampened sentiment. Rising interest rates and a strong appreciation of USD have also led to an increase in the cost of financing.
HCMC businesses need over 14,000 workers in Q1
Businesses in the textile-garment, plastics, wholesale, engineering and electronics sectors in HCMC are expected to hire over 14,300 people in the first quarter of this year, according to a survey by the HCMC Department of Labor, Invalids and Social Affairs.
Around 5,000 workers will be needed in the apparel industry, 2,200 in engineering and electronics, some 1,000 in wholesales, around 800 in plastics, and the rest in services.
According to Nguyen Van Lam, deputy director of HCMC's Department of Labor, Invalids and Social Affairs, 94% of enterprises in HCMC have resumed operations and 98% of laborers have come back to work after the Lunar New Year holiday (Tet).
All producers in the industrial zones have resumed production, with 49,000 of their 52,000 employees already back to work.
To connect the supply of and demand for labor, the city will coordinate with job placement centers to hold virtual and offline job bazaars in the service sector and for workers in the Southwest and Central Highlands regions.
The city will also launch occupational programs to support employees from Can Tho, Ben Tre, Long An, Phu Yen, Binh Dinh, Gia Lai and Kon Tum provinces to find jobs in HCMC.
This year, employees returned to work right after Tet and did not switch jobs due to difficulties facing some manufacturing companies, Lam added.
Viet Nam's airlines see 20 per cent increase in Tet Holiday travel

The number of passengers using Viet Nam's airlines over the Tet (Lunar New Year) Holiday was more than 20 per cent higher than two years ago, before the COVID-19 pandemic halted travel.
Flight occupancy rates in the days after Tet reached approximately 100 per cent on most routes, 10 per cent higher than in the same period in 2020.
During the peak travel season, from January 6 to January 29, airlines such as Vietnam Airlines, Pacific Airlines, and VASCO served 2.4 million passengers, corresponding to more than 14,500 flights on domestic and international networks.
Statistics from the Ministry of Transport (MoT) show that domestic airports welcomed more than 1.9 million passengers in seven days of the Lunar New Year, an increase of 58 per cent compared to last year.
Vietnamese airlines transported more than 967,000 passengers, up 60.7 per cent over the same period.
The number of flights taking off and landing at Vietnamese airports was about 13,000, up 39 per cent.
From January 20 to 21, Noi Bai Airport welcomed 24,900 and 20,700 international arrivals, respectively.
Data from the MoT's Civil Aviation Authority of Viet Nam showed that from December 19 last year to January 18 this year, Bamboo Airways continued to lead the entire domestic aviation industry in on-time performance (OTP) with 96.4 per cent.
Vietnam Airlines and Vietjet Air were at 95.9 per cent and 95 per cent, respectively. The industry's average OTP rate was 95.3 per cent.
A representative of the Viet Nam National Administration of Tourism assessed that this series of positive signals showed that tourism activities continued to maintain their recovery momentum and had completely overcome the difficulties of the past two pandemic years.
The tourism industry aims to welcome 110 million passengers this year, including 80 million passengers at airports.
HCM City's industrial production falls over 21% in January
Ho Chi Minh City's Index of Industrial Production (IIP) in January reduced by 21.4% compared to the previous month, according to the city's Department of Industry and Trade.
This year's week-long Lunar New Year (Tet) Festival that falls in January was blamed for the decreased production as the production time in the month was less than the previous month's.
Some industries in the city also saw lower production indexes, for example, the processing and manufacturing industry down 22%, electricity generation and distribution down 12.8%, water supply and waste treatment down 8.4%.
Besides, all 30/30 secondary industries decreased compared to the previous month and 15 out of the 30 industries dropped by over 20%.
To meet people's demand in the city in January 2023, especially during the Tet celebrations, the city's industry and trade sector coordinated with the business community to ensure the production, distribution, retail and supply of essential goods to the market.
Manufacturers and enterprises were required to stabilise prices and prepare raw materials, increase production, arrange warehouse systems, and meet market demand.
However, compared to the same period last year, the city's IIP in January 2023 also decreased by 15%. Of the 30 secondary industries, only four industries saw growth, including drink production, coke production, refined petroleum products, rubber/plastic products, and the exploitation, treatment and supply of water.
Nguyen Nguyen Phuong, Deputy Director of the municipal Department of Industry and Trade, said that since 2022, the city's industrial production has been restored in most industries thanks to the business community's efforts to expand production and business to offset the disruption period affected by the COVID-19 pandemic.
The department is implementing a programme to improve qualifications, management capacity, productivity, and product quality management for enterprises in supporting industries.
It also supported enterprises to supplement resources and improve competitiveness, he said, adding that solutions to stimulate investment in supporting industries in this period are also essential.
The municipal People's Committee also passed a plan to carry out the supporting industry development programme between 2022-2023 with assistance in supply-consumption connection, production management, and human resources training.
Vietnam attends Laos's Bolaven coffee festival
Vietnamese coffee businesses are attending Laos's Bolaven coffee 2023 festival which is underway from February 2-4 in the southern province of Champasak of Laos.
The event is not only an opportunity for coffee growers in Laos to intensify the popularisation of organic coffee products to international friends but also a chance for Vietnamese enterprises to expand their market in Laos.
Among the 50 booths displaying products from Laos, Thailand and Cambodia, Vietnam is represented with three booths introducing its products from three localities, namely Da Nang city, Dak Lak and Binh Phuoc.
Currently, Laos's coffee products have been exported to more than 20 countries. In 2022, the total export volume of coffee beans of Laos reached about 22,000 tonnes with a value of over 67 million USD.
Meanwhile, the General Department of Customs said Vietnam's coffee exports in 2022 were valued at nearly 4.06 billion USD, an increase of 32% over that in 2021.
Businesses should be development focus: PM
Businesses should be made the centre of innovations and a development focus of the industry and trade sector, Prime Minister Pham Minh Chinh said at a conference in Hanoi on February 3.
The event, held by the Ministry of Industry and Trade (MoIT), aimed to promote domestic production and consumption, and expand export markets in 2023.
Noting challenges to the sector this year, the PM said they should be turned into opportunities, contributing to building an economy of independence, self-reliance, and intensive, extensive and effective international integration.
The MoIT needs to coordinate with other ministries, agencies and localities to diversify markets, products and supply chains, while accelerating administrative reform, infrastructure construction and institutional building, and promoting the three growth engines of consumption, investment and export, he said.
The leader also stressed the importance of digital transformation, green economy, circular economy and climate change response, and urged the ministry to quickly complete the four master plans on electricity, energy, minerals and oil and gas infrastructure.
Solutions should be rolled out concertedly to recover and spur production, boost export, and strengthen external economic relations as well as bilateral and multilateral cooperation to maintain and expand markets, and maximise export potential, he continued.
Market diversification is needed to offset difficulties in traditional markets such as the US, China, the EU, Japan, the Republic of Korea (RoK) and ASEAN, he explained, suggesting expansion to Eastern Europe, the Middle East, South America, South Asia and Africa.

To stimulate the purchasing power at home, the PM urged the sector to launch more trade promotion programmes, and enhance goods distribution via digital platforms and e-commerce, with attention paid to rural and mountainous areas.
The ministry was also asked to step up market management and the fight against smuggling and trade fraud, and take specific solutions to mobilise and bring into full play resources, especially those from different economic sectors.
According to a report presented at the conference, last year, industrial production recovered in almost fields and localities, of which processing and manufacturing remained the main growth driver with a rate of 8.1%.
Export-import also hit a new record of over 732.5 billion USD in revenue, representing a 10-fold rise year-on-year. Trade surplus has been maintained for seven consecutive years, reaching 11.2 billion USD in 2022.
The total retail sales of goods and services increased by nearly 20%, exceeding the set target by 2.5 times.
Notably, Vietnam has been among the top five countries worldwide for e-commerce growth.
More aqua-product firms eligible to export to China
An additional 23 Vietnamese businesses are eligible to export aqua products to China, as approved by the Chinese General Administration of Customs.
The China Import Food Enterprise Registration system officially announced this, increasing the total number of qualified Vietnamese exporters to 800, said Vietnam's Ministry of Agriculture and Rural Development today in February 2.
This highlighted the efforts of the authorities and departments under the Ministry of Agriculture and Rural Development during the Tet holiday in connecting and negotiating with the Chinese authorities to promptly remove technical hurdles and expand the market share of Vietnam's agro-forestry-fishery products.
According to VASEP, China is now one of the Vietnam's major aqua-product buyers, as tra fish exports to the country made up 30% of the total export value and China is also one of the five biggest buyers of Vietnamese shrimp.
China's reopening its border gates on January 8 and relaxing its Covid-19 policy will create favorable conditions for Vietnamese enterprises to accelerate their exports to this country, making up for a drop in the number of orders from the G7 markets due to the economic downturn in these countries.
Vietnam's exports achieved just US$600 million in January, declining 31% over the same period last year. Many of Vietnam's key export products declined, such as tra fish exports, down by 50%, shrimp by 46% and tuna by 32%.
Buon Ma Thuot Coffee Festival 2023 to take place in March
The 8th Buon Ma Thuot Coffee Festival in 2023, themed "Buon Ma Thuot - Destination of coffee worldwide", will take place in Buon Ma Thuot city and several other localities of the Central Highlands province of Dak Lak on March 10 – 14, heard a press conference in Ho Chi Minh City on February 3.
According to H'Yim Kđoh, Vice Chairwoman of the provincial People's Committee, the festival aims to promote the Buon Ma Thuot coffee brand and develop Vietnam's specialty coffee, towards gradually turning Buon Ma Thuot into a global coffee centre.
This is one of the important activities to raise the value and affirm the position of Vietnamese coffee in the world market, as well as honour coffee growers, processors, and traders, she added.
With a scale larger than that of the previous editions, this year's festival will feature 18 official activities and some response activities of localities.
There will be some new activities such as a video-making contest to popularise Buon Ma Thuot coffee, a musical performance, a festival of light, photo exhibitions, and a contest to make fine art products from coffee trees.
Each resident and business in Dak Lak will be a media ambassador and at the same time a direct beneficiary through promotional and communication activities at the festival, the official said.
HOSE warns Vietnam Airlines over delisting risk
The Hochiminh Stock Exchange (HOSE) has written to Vietnam Airlines JSC warning that the carrier's HVN shares could be delisted from HOSE as the firm has made losses for three years in a row.
HOSE said that on June 1, 2022, it had upheld its decision to put HVN shares under watch as the airline's equity was minus VND2.16 trillion, based on VNA's Q1/2022 consolidated financial report and its negative after-tax profit shown in the 2021 and 2022 audited financial statements.
According to the national flag carrier's Q4/2022 consolidated financial report, VNA reported after-tax losses of VND2.585 trillion in the final quarter last year, up 2.3-fold against the same quarter in 2021.
In 2022, its after-tax profit was minus VND10.4 trillion; its undistributed after-tax profit as of December 31 last year was minus VND34 trillion, while its equity was minus VND10.1 trillion at that time. Up to now, VNA has reported financial losses for 12 consecutive quarters.
According to the prevailing regulations, the stock of a public company is delisted if it has incurred losses in business operations for three consecutive years, or its total accumulated losses exceed its charter capital, or its equity is negative as shown in its most recent audited financial report.
My An-Cao Lanh Expressway project gets extra VND1,400 billion
A map shows the direction of the My An-Cao Lanh Expressway project in Dong Thap Province – PHOTO: CIPM CUU LONG
The Ministry of Transport has proposed adding VND1,400 billion to the My An-Cao Lanh Expressway project in the Mekong Delta province of Dong Thap, bringing the total cost of the project to VND6,209 billion.
The additional capital will be used to cover the growing expenses of construction and ground clearance, which add up to VND788 billion and VND353 billion, respectively.
Some VND4,462 billion of the investment will be provided by the South Korean government's Economic Development Co-operation Fund, whereas the rest will come from the Vietnam side.
The My An-Cao Lanh Expressway project connects Dong Thap's districts of Thap Muoi and Cao Lanh with a total length of roughly 26 kilometers.
The four-lane expressway will allow a top speed of 80 kilometers per hour in the first phase.
The road will facilitate regional transportation, and connect key infrastructure projects in the region, including Ho Chi Minh Road, National Highway N2 and the North-South Expressway in western Vietnam.
Bustling rice, fruit markets in Mekong Delta
Farmers in the Mekong Delta this month feel encouraging and eager as their winter-spring rice and fruit yields are sold quickly at a high price.
Nguyen Thanh Hung, Director of Thuan Tien Cooperative (sited in Gao Giong Commune of Cao Lanh District in Dong Thap Province) informed that the prices of OM 18 rice and OM5451 rice are both at VND7,000 (US$0.3) per kilo, a rise of VND1,200 compared to the last crop.
With a total rice field area of 960ha, the Cooperative had an output of 624 tonnes of rice this crop, all of which were pre-bought by partner businesses in the province. This model has proved its effectiveness when businesses first provide farmers with high-yield rice seeds having a clear origin at reasonable prices, and farmers do not have to pay for them until the end of the crop.
The Ministry of Agriculture and Rural Development has asked all localities in the Mekong Delta to grow the winter-spring rice crop this year in places where fresh water is still available for at least 3 months. Farmers there are advised to sow seeds wisely to avoid the salinity period at the end of the crop.
In response, the Mekong Delta has already sow rice seeds on a surface of 1.5 million hectares, with an estimated yield of 10.7 million tonnes. Currently, high-quality fragrant rice varieties occupy about 80 percent of the production area in this region.
The good news is many rice export businesses and farmers have applied the above model, creating such a positive influence on the latter group since the offered price is normally VND200 (0.009) per kilo higher than market price.
In addition, after Tet holiday, rice export prices from Vietnam see an increase by around $10 per tonne compared to December 2022. Also, many rice exporters like Loc Troi Group JSC., Trung An Hi-tech Agriculture JSC. successfully sold 450,000 tonnes to EU, Malaysia, Singapore.
The Vietnam Food Association commented that in 2023, rice export activities of the country will witness many breakthroughs when major rice import markets such as EU, the Middle East, China, and the Philippines resume their connections.
As to the fruit market in the Mekong Delta, durian, jackfruit, dragon fruit, and pineapple are currently sold at high prices, making farmers truly exciting.
At present, the surface area of orchards in Tien Giang Province is over 82,000ha, mostly in the districts of Cai Be, Tan Phuoc, Cho Gao, Cai Lay, and Cai Lay Town. Its famous fruits are durian, pineapple, dragon fruit, jackfruit.
About 12,000ha of durian trees is fill with ripe fruits although this is not its season thanks to the province's ability to modify the trees. According to wholesaler Tran Vinh Thanh, durian can be sold quickly to China at a truly profitable price of VND130,000-190,000 ($5.5-8.1) per kilo.
Other fruits like jackfruit, dragon fruit also enjoy high prices of VND35,000 ($1.5) per kilo, a rise of VND10,000 ($0.43) compared to the time before Tet holiday because of scarcity at the beginning of the fruit season.
In Hau Giang Province, the price of pineapple is VND7,000 ($0.3) per kilo, bringing about high profits to farmers.
Fruit exporters in Vietnam explained that such lucrative fruit prices are because the Chinese market resume its import activities in the Lunar New Year period after a long time fighting the Covid-19 pandemic. Also, since farmers plant their crops in a scattering manner, the output is not harvested at a large amount at the same time, and thus can apply a higher price than normal.
Ngoc Hoi station proposed for expansion
Hanoi City has approved a proposal to expand the Ngoc Hoi station to integrate with the stations and depots of other railway routes, including the North-South high-speed railway.
In a written document issued by the Hanoi People's Committee to the Ministry of Planning and Investment, Hanoi approved the expansion of Ngoc Hoi station as proposed by the consultant.
The expansion of Ngoc Hoi station aims to integrate with other stations, depots of urban railways, national railways and high-speed railways and form a national railway system in the future.
Hanoi also gave the green light to the proposal to construct a backup station to connect with a new airport in Hanoi.
For the railroad directions passing through the city, Hanoi maintained the remaining plans as agreed with the Ministry of Transport, according to which the starting point of the North-South high-speed railway would be at Ngoc Hoi station in Hanoi and the endpoint at Thu Thiem station in HCMC.
Earlier, the depot at the start of the route was scheduled to be located at Thuong Tin in Hanoi City, 3.6-kilometer away from the Ngoc Hoi station to the south on an area of 85 hectares, according to the pre-feasibility study of the North-South high-speed railway project.
However, after reviewing the planning of railway stations' locations in the city, it was agreed that expanding the Ngoc Hoi station would be an optimal solution for the city's long-term development plan.
The 1,545-kilometer North-South high-speed railway going through 20 provinces and cities from Hanoi to HCMC will have investment capital of an estimated US$58.71 billion. Once put into service, its operating speed would be 320 kph at maximum.
Labor market recovers after Tet
Vietnam's post-Tet labor market is seen recovering in the first quarter of this year, with a surge in hiring demand in labor-intensive industries such as footwear, apparel, manufacturing and services.
Job placement centers in HCMC and Hanoi are striving to match job supply with demand. The capital city aims to provide employment assistance to some 162,000 people this year, up by 2,000 over last year, the Vietnam News Agency reported.
Hanoi City plans to hold 55 job bazaars in the first quarter to facilitate employment. It found jobs for 13,700 workers in January alone. Of the figure, over 1,000 people were employed during interviews at job bazaars, while some 9,500 others were hired through job placement centers.
The HCMC Center for Employment Services said hiring in the city would spike after the Lunar New Year holiday (Tet), as enterprises need to boost employment to expand production.
It estimated that businesses in the southern metropolis would recruit about 11,550 new employees in the first quarter, focusing on industries such as footwear, apparel, manufacturing and services.
The Ministry of Labor, War Invalids and Social Affairs forecast job vacancies would range from 350,000 to 400,000 in some localities during the first half of 2023.
Steel prices soar three consecutive times in January
Domestic steelmakers late last month announced to hike prices, the third spike of the month, reported the local media
Domestic steelmakers adjusted up steel prices by VND300,000 – VND700,000 a ton on January 30 to over VND16 million a ton, but the new level is still over VND2 million lower than its peak in May 2021.
Thai Nguyen increased construction steel prices by VND300,000 a ton. Accordingly, each ton of plain steel CB240 (D6-8) was priced at VND15.9 million, rolled steel (D10) at VND15.95 million and rebar steel (D10-14) in the range of VND16 million and VND16.15 million.
Steelmakers such as Hoa Phat, Viet Y, Viet Nhat and Tung Ho also announced their new steel prices, which are VND500,000 to VND600,000 a ton higher than before.
Specifically, prices of rebar CB300 (D10) and rolled steel of Hoa Phat have been adjusted up to VND15.45-15.54 million each ton. Meanwhile, each ton of Viet Y's rolled steel CB240 and rebar CB300 has risen to VND15.4-15.5 million.
Similarly, Viet Duc also increased the price of rolled steel CB240 by half a million dong a ton, while rebar steel CB300 D10 edged up by VND600,000, with each ton of these steel products amounting to VND15.2 million and VND15.5 million, respectively.
Viet Nhat steelmaker recorded the highest price hike at VND710,000 per ton for rebar CB300 D10 and rolled steel CB240, increasing to nearly VND15.6 million for each ton.
Air passenger volume reaches 10 million in January
Vietnam's airports served nearly 10 million passengers in January, a year-on-year increase of 149.3%, reported the Airports Corporation of Vietnam (ACV).
Of the total, there were 2.4 million foreigners and 7.6 million domestic passengers.
Particularly, in the periods before and after Tet (Lunar New Year) holiday, which fell between January 6 and 26, the volume of air passengers was estimated at roughly 6.6 million, including 1.6 million international passengers.
During the Tet holiday, which was celebrated from January 20 to 26, the figure recorded a sharp increase of up to 60% against the same period last year.
Lai Xuan Thanh, Chairman of ACV, said that the corporation's leaders directed the airports to fully observe the directions of the Government, the Ministry of Transport, and the Civil Aviation Authority of Vietnam on aviation safety and security.
Domestic airlines also added more night flights before, during and after the holidays to meet increasing passenger demand, while reducing pressure at the airports' terminals.
Technology and telecommunications businesses benefit from digital economy

Technology and telecommunications businesses are expected to continue to benefit from the growth of the digital economy.
Even under the attraction of the field of telecommunications technology, mergers and acquisitions activities in this industry have been promoted.
Analyst Chu Duc Toan from VNDirect Securities Joint Stock Company said the digital transformation revenue growth rate is expected to be up 18 per cent this year compared to last year and could double that of traditional IT services, showing great potential in the market.
Like the rest of the world, the Vietnamese economy is also undergoing digital transformation.
According to the National Digital Transformation Program to 2025, with a longer-term vision to 2030, Viet Nam's digital economy will account for 20 per cent of GDP by 2025.
Viet Nam has launched the "Make in Viet Nam 4.0" Program to prepare for the Fourth Industrial Revolution.
This programme will facilitate the development of new industries and encourage new policies, thinking and technologies in line with Industry 4.0 and ambitions towards the digital economy.
In the context of strong digital transformation, the Government, organisations and businesses in Viet Nam have actively received and participated in activities to catch up with the trend of the Fourth Industrial Revolution.
The government is promoting the development of the digital economy through a series of mechanisms and policies. These policies have recently been reinforced by the Prime Minister's Directive No 16/CT-TTg on strengthening the accessibility to the Fourth Industrial Revolution.
According to the e-Conomy SEA 2021 report by Google, Temasek and Bain, Viet Nam's digital economy is predicted to reach a value of US$52 billion by 2025, with a compound growth rate of 24 per cent and ranking third in Southeast Asia.
Viet Nam is also a pioneer in 5G technology. 5G network opens a new era for a series of technologies in Viet Nam, which is among the countries with the fastest internet growth globally.
According to Internet World Stats, internet subscribers have increased 343 times from 2000 to 2021.
The growth potential for fixed broadband internet in Viet Nam is still outstanding, with the coverage rate at about 21 subscribers/100 people, which is relatively low compared to the Southeast Asia average of 38 subscribers/100 people.
Viet Nam has become one of the pioneer countries to successfully set up phone calls on the 5G technology platform.
Cisco forecast that the number of 5G subscribers in Viet Nam will reach 6.3 million by 2025.
Moreover, the early deployment of 5G services could help Vietnamese mobile carriers increase revenue by $300 million annually starting in 2025.
Viet Nam may soon become one of the first Southeast Asian countries to launch a 5G network, with domestic telecommunications companies racing to develop the first national network (Viettel, Vinaphone, Mobifone).
With the advent of breakthrough 5G technology, technology firms face many opportunities to develop modern applications to diversify their products and services.
There is also a high demand in the data centre market in Viet Nam. The Vietnamese government's digitalisation trend has facilitated increased demand for data centres nationwide.
Moreover, converting enterprise data to the cloud platform drives the Vietnamese data market.
This has led to an increase in the application of data storage solutions, which will positively affect the market's growth.
In addition, the rising adoption of big data, the Internet of Things (IoT) and cloud-based technology solutions, among others, are expected to accelerate and drive market growth until 2026.
According to research and reporting firm Research And Markets (Ireland), Viet Nam's data centre market is forecast to grow at a compound rate of over 14.6 per cent until 2026.
With political and social stability, and few natural disasters like earthquakes, experts from VNDirect said that Viet Nam has the necessary characteristics to become a big data centre market in the region.
Toan said that mergers and acquisitions (M&A) activities are promoted under the attraction of the technology sector.
In recent years in Viet Nam, the M&A market in the technology sector has been growing rapidly, especially in enterprises that own or invest in advanced technology and have a large customer database.
The difficult global economy opens up opportunities for businesses with large amounts of cash; despite widespread uncertainty, technology M&A activities are continued and fueled by strong private capital flows.
Although conditions in capital markets have tightened in the first half of last year, many businesses still have large amounts of cash ready to be disbursed.
Among the listed technology companies in Viet Nam, for example, FPT Joint Stock Company is an enterprise with abundant cash, and has actively carried out many M&A deals in the past two years.
95% of workers in northern region return to work after Tet
As many as 95 percent of workers in Vietnam's northern region have returned to work following the 2023 Tet Lunar New Year holiday.
This year, many businesses allowed their staff to stay at home on the Friday of the holiday week, so they officially resumed operations on January 30.
In Hanoi, by January 27/1, 83 percent of companies that resumed operations after Tet reported around 94.67 percent of their staff had come back to work.
According to the Trade Union of Hanoi Industrial Parks and Export Processing Zones, no strikes happened after Tet in the locality.
By January 30, 99.6 percent of employees at businesses in the northern province of Bac Ninh's industrial parks had returned to work.
People who have not yet returned to work may well be seeking other jobs.
All of the 175,000 workers employed in 403 companies in the northern province of Bac Giang's industrial parks have returned to work.
The Vietnam General Confederation of Labour reported that the number of strikes sharply fell compared to last Tet.
The Ministry of Labour, Invalids and Social Affairs said that recruitment would continue rising in the coming time due to socio-economic improvements.
Businesses nationwide need to recruit some 377,700 workers in the first quarter of this year.
Some sectors are facing decreased orders, including textile, footwear and wood processing. This situation would last until the end of the first quarter of this year.
HCM City needs to recruit more workers s after Tet
As many as 499 businesses in HCM City need to recruit around 14,500 workers after the Tet Lunar New Year holiday, according to the municipal Department of Labour, Invalids and Social Affairs.
The department reported that of the figure, the garment and footwear sector accounts for roughly 5,000 workers, followed by companies which make electronic products and components with 2,200 and the wholesale industry with 1,000 people.

By January 27 around 42 percent of companies in HCM City had returned to work following the Tet Holiday as many businesses allowed their staff to stay at home on the Friday of the holiday week.
In February, HCM City will hold many employment fairs. The city's Employment Service Centre will organise a programme to offer career opportunities for people from different localities such as Can Tho, Ben Tre, Long An, Phu Yen, Binh Dinh, Gia Lai and Kon Tum.
The Ministry of Labour, Invalids and Social Affairs said that recruitment demand would continue rising in the coming time due to socio-economic improvements.
Businesses nationwide need to recruit some 377,700 workers in the first quarter of this year.
Source: VNA/SGT/VNS/VOV/Dtinews/SGGP/VGP/Hanoitimes