VIETNAM BUSINESS NEWS FEBRUARY 5/2023
Vietnam's airports serve more than 9.8 million passengers in January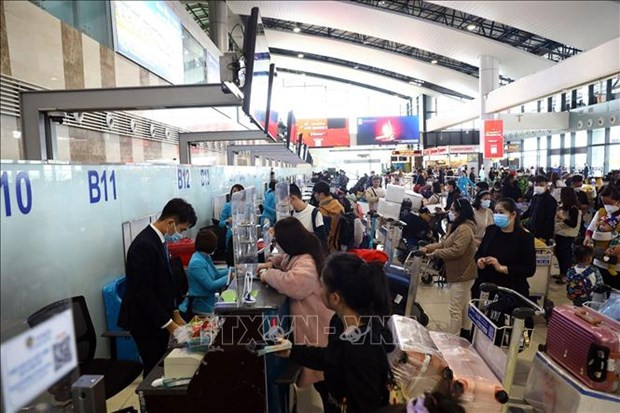 Noi Bai International Airport on January 16, one week before the celebration of Lunar New Year (Tet) festival. (Photo: VNA)
Airports across Vietnam handled more than 9.8 million passengers in January, an increase of 13.8% compared to the previous month, according to the Civil Aviation Authority of Vietnam (CAAV).
Of the total, the number of international passengers reached 2.3 million, a 10% rise month on month, while the number of domestic passengers was 7.5 million, an increase of 15% month on month.
Domestic airlines carried 4.85 million passengers, up 13.4% including 1.1 million international passengers and 3.75 million domestic ones.
About 112,000 tonnes of cargo were handled at the airports in the first month of 2023, up 11.6% compared to December 2022.
During the 7-day Lunar New Year (Tet) holiday, airports across the country served more than 1.9 million passengers, an increase of 58%, and more than 7,600 tonnes of cargo, down 11.6% compared to the same period of the Lunar New Year in 2022.
Particularly, Vietnamese airlines transported more than 967,000 passengers and 1,550 tonnes of cargo, an increase of 60.7% and 28.4% respectively compared to the same period last year.

Tan Son Nhat International Airport in Ho Chi Minh City saw 20,975 flights, an increase of about 26.5% over the same period in 2022, and 3,147,014 passengers, up 61%.

Noi Bai International Airport from January 19 to 29 (or the 28th day of the 12th lunar month to the 8th day of the first lunar month) saw 5,618 flights, an increase of 49% compared to the same period of last year. Nearly 900,000 passengers traversed the airport during the festive time, up 71%.
According to the CAAV, although the number of passengers increased during the Tet holiday, there were no congestions at airports, especially Noi Bai and Tan Son Nhat airports.
"Airports proactively prepared for the festive time and worked closely with airlines and ground service units to provide maximum support for passengers, especially large groups and last-minute guests," said the agency.
HCM City to carry out 44 power projects this year
HCM City Power Corporation (EVNHCMC) has announced a plan to implement 44 power projects this year.
The 16 key projects include 110KV and 220KV power projects that will enter operation this year.
This is part of the city's plan to boost public investment this year.
Bui Hai Thanh, deputy general director of EVNHCMC, has said that the firm would closely cooperate with concerned agencies to take drastic measures to ensure the projects were completed on time.
HCM City will also invest into 60 other power projects in the coming years.
Prime Minister Pham Minh Chinh previously urged HCM City to speed up the disbursement of public investment to further boost economic growth.
The city has established three teams to support projects allocated with large capital in 2022 and asked the municipal departments and grassroots authorities to promptly lift hindrances to disbursement.
HCM City topped the nation in terms of disbursement of public investment capital in January with nearly more than VND1.63 trillion (USD69.36 million).
Rare pangolins rescued in Ca Mau
A man in the southernmost province of Ca Mau has handed over two rare pangolins to the local Forest Protection Department.
According to the Ca Mau Forest Protection Board, the Javan pangolins were found by Le Hieu Huy from Ca Mau City's Ward 4 on January 22.
Initially, he took them home and later knew that they were pangolins. Huy then contacted local authorities for the handover.
They are the mother pangolin weighing around 2.5 kilos and its child.
The animals were carefully taken care of by the Ca Mau Forest Protection Board and were released back into the wild on Friday.
Vietnam sets 2023 export target of US$394 billion
Vietnam has set a target of exporting goods worth US$393-394 billion in 2023, up by US$22 billion or 6% against last year, said a trade official.
It would be challenging to reach this export target as the country's export sector has been facing issues such as high yet unsustainable export growth, and trade deficits with a number of key partners, said Phan Van Chinh, head of the Ministry of Industry and Trade's Agency of Foreign Trade, at a conference held yesterday, February 3, on domestic production and consumption promotion and export market expansion.
To achieve the export target, Chinh suggested the industry and trade authority adopt multiple measures simultaneously to facilitate exports, and search for more potential markets, as well as fulfil the export potential of sectors with considerable competitive advantages and enormous demand.
Besides, the trade official proposed greater efforts to promote trade in the domestic market, boost the distribution of commodities via e-commerce platforms to encourage domestic consumption and develop made-in-Vietnam products.
Addressing the meeting, Prime Minister Pham Minh Chinh said the trade authority should continue efforts to look for more export markets.
According to the Government leader, the country's exports are dependent on FDI firms; thus, measures should be taken to adjust the reliance. The trade authority needs to diversify export markets, products, and the supply chain and take measures to shift informal cross-border trade to formal.
The Cabinet leader added that more solutions need to be implemented so that local people would prioritizing consuming Vietnamese products.
HCMC's industrial production down 21% in January
The index of industrial production (IIP) of HCMC in January fell 21.4% against December last year and 15% against the same period last year, according to the city's Department of Industry and Trade.
The IIP fall resulted from the week-long Lunar New Year holiday in the final week of last month.
Output of HCMC-based processing and manufacturing sectors dropped 22% compared to December 2022, while power production and distribution plummeted 12.8%.
Still, beverage, coking coal and refined petroleum products were among the sectors that saw growth over the same period last year.
Digitalization to help Hanoi become smart city by 2025
The digitalization process is expected to help Hanoi realize its vision to become a smart and modern city by 2025, creating the foundation for rapid and sustainable economic development.
The view was shared in a resolution by the Hanoi Party Committee on promoting Hanoi's smart city by 2025, with a vision to 2030.
Accordingly, the city should be among the leading localities in terms of digital transformation.
Building a smart city holds a strategic meaning for Hanoi's long-term development, which requires strong efforts and a new mindset from the entire political system, it said.
By 2030, the city is envisioned to become a modern and smart city integrated into the network of smart urban cities in the region and the world; build comprehensive databases for priority economic sectors; and based on this, develop creative services for the benefit of the population and businesses.
Data should be seen as a new resource for socio-economic development, it noted.
Meanwhile, the resolution stressed the necessity for Hanoi to build adequate IT and digital infrastructure to help facilitate the digitalization process and build a smart city.
By 2025, 100% of administrative procedures should be provided online while the city completes an ecosystem of digital government.
The digital economy is expected to contribute up to 30% of the total regional gross domestic product (GDPR); Internet broadband coverage is expected to be 90%; and the rate of urban citizens with online payment accounts would exceed 50%.
Vice Director of the Hanoi Department of Information and Communications Nguyen Viet Hung said the city is in the preparation process for building a digital government, focusing on investing in infrastructure to develop databases for digitalization.
In 2022, Hanoi ranked second in Vietnam's 2022 e-Business Index with a score of 85.9, up 30.2 compared to 2021. The rate of adults using smartphones was estimated at 78% and households having access to broadband internet at 90%.
According to Hung, in 2023, Hanoi would launch the 3-level interconnected administrative processing solution system to ensure greater efficiency in dealing with citizens' requests on administrative procedures; e-document management, and a Party member management mobile app.
Resolution No. 18 also pointed out shortcomings in Hanoi's digitization process, such as the slow development of digital databases, the failure of the local apparatus to provide input in the decision-making process or the lack of skilled manpower for digital transformation.
Chairman of the Board of Directors of DTT Technology Company Nguyen The Trung stressed a greater focus on promoting innovative startups and the application of digital technologies among businesses.
In addition, Trung expected the process should serve the goals of sustainable development and the promotion of cultural values.
Chairman of Vietnam Internet Association Vu Hoang Lien added among solutions, Hanoi should give priority to education as the platform to train digital skills and contribute to the development of other sectors.
Vice Director of the Hanoi Department of Information and Communications Nguyen Viet Hung noted Hanoi's digital transformation is closely associated with the building of a civilized, modern, and cultured capital.
World's leading hotel groups to double down on investment in Vietnam
Accor Vietnam and IHG Hotels & Resorts – the world's leading hotel businesses operating in Vietnam announced that they intend to double the number of international-standard hotels in the Southeast Asian nation in the next five years.
Representatives of Accor and IHG said Vietnam is a very attractive country to invest in, and foreign investment has been quite robust over the past few years. There is huge potential for developing the hotel sector in the Southeast Asian nations.
Xavier Cappelut, Vice President of Operations of Accor Vietnam, said the firm has plans to welcome 41 more hotels and resorts in its chain in Vietnam within the next five years.
The hotel market received a great number of domestic visitors from the first half of 2022 due to the loosening of pandemic regulations, he said, adding that the demand has increased in both the resort and business segments.
The corporate market has returned with some vigour, so definitely both Ho Chi Minh City and Hanoi have relatively good corporate demand since August, 2022.
In recent years, people have been looking for more domestic opportunities to travel, but the fact that they now enjoy domestic hotels and destinations will have a lasting effect, he said.
According to Cappelut, one of the most important strategies for Accor is to focus on the domestic market because the firm gained a lot of traction from this market during the COVID-19 pandemic and increased the volume of direct business to the hotels by having targeted promotions in 2023.
In 2023, Accor expects more long haul business, and a higher percentage of North and South American businesses, Cappelut said, adding that the firm also expects a rise from the Indian market and the Republic of Korea (RoK).
Cappelut said the demand for meetings, incentives, conferences, and exhibitions (MICE) has gradually rebounded since the fourth quarter of 2022. Accor hopes for enquiries to ramp up month by month and to come back strongly by April and the back half of 2023.
Operating in Vietnam since 1992, Accor owns 40 hotels and resorts with many brands, including Sofitel, MGallery, Pullman, Novotel, Mövenpick, Mercure, and Ibis.
Vietnamese companies seeking opportunities in India's plastic market
Vietnamese companies together with about 1,800 ones from 79 countries around the world are participating in the 11th edition of the world's largest International Plastics Exhibition, Conference, and Convention - PLASTINDIA 2023 that is taking place at Pragati Maidan, New Delhi from February 1-5.
The main focus of PLASTINDIA 2023 is to innovate, sustain and develop as well as facilitate modern techniques that will help to maintain the development of the plastics industry in India and to work towards developing India as a preferred sourcing hub for plastics globally.
The five-day event is expected to provide an excellent opportunity for exhibitors to showcase their innovations in the entire plastics value chain.
Stavian Chemical, a leading plastics, chemicals, and petrochemicals company in Vietnam, is among exhibitiors.
Dinh Duc Thang, a representative of Stavian Chemical, briefed Vietnam Ambassador to India Nguyen Thanh Hai and Trade Counselor Bui Trung Thuong on his company's market development strategy in India.
The company will promote trade, import, and export activities with Indian partners and expects an import-export turnover to reach about 100 million USD in 2023 and increase to 200 million USD in the next few years. Then, it will study to open a factory or cooperate to open a plastic, chemical, and petrochemical factory in India, while seeking a big partner in India for the company's chemical and petrochemical projects in Vietnam.
Ambassador Hai highly appreciated the company's strategy and affirmed to support its business in India.
In 2022, Stavian Chemical was ranked 23rd among the 500 largest private enterprises in Vietnam. In 2021, Stavian Chemical ranked 22nd on the list of the 100 largest chemical distributors in the world by the Integrated Compliance Information System (ICIS).
Launched in 1990, the Plastindia series of exhibitions under the aegis of the Plastindia Foundation is closely followed in the industry and retains a permanent date in the corporate calendars globally. It provides investors and industrialists with a compelling doorway to global markets of commerce and success. This exhibition is supported by the Ministry of Chemicals & Fertilizers, Department of Chemicals & Petrochemicals, Government of India.
Antidumping duties on Chinese cold-rolled steel remain unchanged
The Ministry of Industry and Trade has decided to keep in place the antidumping duties on cold-rolled steel coil and sheet imports from China.
Vietnam would levy antidumping duties ranging from 4.43% to 25.22% on cold-rolled steel coil and sheet imports from China.
The duties, imposed in December 2020, aim to protect local steel production after considering the interests of local producers and steel importers from China.
In 2019, local steel manufacturers asked the authorities to launch an antidumping probe into cold-rolled steel from China.
Findings of the investigation showed that cold-rolled steel imported from the northern neighbor topped 272,000 tons in the period, making up 65.5% of the total cold-rolled steel imports into Vietnam, injuring local manufacturers as key indicators such as profit, inventory and market share were poor.
$27.76 billion of public investment capital allocated in first month of year
Accelerating the disbursement of public investment capital is one of the key political tasks in 2023.
By the end of January 2023, $27.76 billion of public investment capital for this year has been allocated, reaching 90.32 per cent of the target set by Prime Minister Pham Minh Chinh, according to a Ministry of Finance report.
The minister said that accelerating the disbursement of public investment capital is one of the key political tasks this year.
According to the Ministry of Planning and Investment, challenges are increasing both from outside and inside the economy, leading to an increase in pressure to manage economic growth, control inflation, and ensure macroeconomic stability.
Minister Dung said that the concentration of resources to accelerate the implementation of strategic and important infrastructure and public investment projects in 2023 will support domestic production and create a new growth engine for the economy.
Chairman of Ho Chi Minh City People's Committee Phan Van Mai said that the city has proposed solutions to promote public investment in 2023. In which, the investors are required to have plans to deploy immediately once the project receives the allocated capital. If these plans cannot be clarified by July, the city will transfer the capital to other projects.
To promote the allocation and disbursement of the state budget investment plan in 2023, the Ministry of Planning and Investment asked the prime minister direct ministries and both central and local agencies to urgently assign the entire state budget investment in 2023 in a particular and detailed way and to implement the proposed tasks and solutions to speed up the disbursement.
At the same time, it is necessary to strengthen discipline and strictly manage violations and delays in capital allocation, implementation, and disbursement. It is paramount to continue to inspect projects, pay attention to preparation work before investing, and disburse immediately after receiving the capital.
In addition, the Ministry of Planning and Investment also said that it is necessary to reform administrative procedures, apply IT to manage public investment, appraise projects carefully, and simplify the expenditure and withdrawal processes through the use of digital technology.
According to PM Chinh, the tasks of February are considerable, so ministries, branches, and localities need to boost production, create jobs, minimise the negative impacts from the outside economy, and take advantage of the achievements in 2022 and January 2023.
State budget revenue from import-export activities drops in January
State budget revenue from imports and exports totaled over VND24.8 trillion in January 2023, down 42.3% year-on-year, showed data of the General Department of Vietnam Customs.
The fall in January's State budget revenue is attributed to the week-long Lunar New Year holiday that fell in January, instead of February as more often seen in previous years.
The National Assembly assigned the General Department of Vietnam Customs to collect budget revenue of VND425 trillion from imports and exports in 2023, based on a growth rate of 6-6.5% in GDP, as well as increases of 8-9% in export turnover and 7-8% in import turnover.
A report from the General Department of Vietnam Customs showed that Vietnam's total export-import value in January was estimated at US$46.56 billion, down 17.3% month-on-month, and 25% year-on-year.
Of this, the export value amounted to US$25.08 billion, down 13.6%, while the import value stood at US$21.48 billion, dropping 21.3%. As a result, the country had a trade surplus of US$3.6 billion in the first month of 2023.
Vietnam's total import-export value set a record of over US$730 billion in 2022, up 9.2%, equivalent to US$61 billion, compared to the figure in 2021.
The export value reached US$371.3 billion last year, up 10.5% (or US$35.14 billion), while the import value reached US$358.9 billion, up 7.9% (or US$26.14 billion).
Vietnam's rice export forecast to enjoy another successful year
Vietnam's rice export is forecast to continue reaping successes this year as the world's rice prices remain high at least in the short term as global economic and political uncertainties have resulted in a high demand for rice reserves, according to experts.
Vietnam's rice export is forecast to continue reaping successes this year as the world's rice prices remain high at least in the short term as global economic and political uncertainties have resulted in a high demand for rice reserves, according to experts.
According to the Vietnam Food Association, by the middle of last month, Vietnam earned nearly 115 million USD from exporting more than 226,000 tonnes of rice, an increase of over 41% in terms of both volume and value compared to the same period last year.
The country exported ST24 and ST25 rice to the Middle East region with a record-high price of 1,000 USD per tonne, doubling the price of normal white rice.
Vietnamese rice further penetrated demanding markets like Japan and the EU.
According to experts, more than 80% of rice varieties in Vietnam are fragrant high-quality rice, which is an important factor that helps increase Vietnamese rice's value and accessibility to markets.
This year's rice prices are forecast to return its peak in 2019 thanks to periodical factors and increasing demand for rice reserves in countries, including such populous nations as China and India.
Moreover, Vietnamese rice exporters are taking advantage of free trade agreements.
Pham Thai Binh, General Director of Trung An Hi-tech Agriculture Joint Stocks Company, said that before the EU–Vietnam Free Trade Agreement (EVFTA) took effect, Vietnamese rice exported to the EU was taxed at high rates, from 5% to 45%, depending on countries.
As the result, it was difficult for Vietnamese rice to compete with those from Cambodia and Myanmar as the EU has exempted import taxes for those countries.
Meanwhile, although Thailand's rice is heavily taxed but its branding is strong and long-lasting, resulting in its high competitiveness, Binh said.
According to analysts from BIDV Securities Company (BSC), unfavourable weather conditions make major rice exporters like India and Pakistan reduce export volumes while major rice importers like China increase imports.
Vietnam and Thailand are expected to hold negotiations to discuss rising rice prices in the context of increasing prices of input materials.
Last year, Vietnam exported nearly 7.2 tonnes of rice, gaining 3.49 billion USD.
Exporters of medicine herbs must register before selling to Chinese market
The Plant Protection Department asked local administrations to notify enterprises that medicinal herbs export to the Chinese market must register according to the form and standards set by the Chinese government.
This is a move after the General Administration of Customs of China (GACC) requested the country's agencies to review the supervision of imported medicinal herbs. At the same time, it is required that exporting countries have to register for enterprises producing, processing and preserving medicinal herbs to export to the Chinese market.
Mr. Ngo Xuan Nam, Deputy Director of the Office of Notification and National Inquiry Point on Sanitation, Epidemiology and Quarantine (SPS Vietnam Office), said that the Plant Protection Department has sent an official dispatch to provincial departments of agriculture and rural development which will direct local responsible agencies to review and instruct exporting companies to complete dossiers on growing areas and herbal packaging establishments in their localities as preparation for export registration to the Chinese market.
According to Mr. Nam, in order not to interrupt the export of medicinal herbs to the Chinese market, local authorities need to receive documents and simultaneously carry out an evaluation of files of the growing areas and packing establishments which will be sent to the Plant Protection Department before April 15, 2023.
It is known that the groups of medicinal herbs exported to China that will have to apply for registration include anise, areca, red beans, cardamom, ginger, black sesame, turmeric, longan, dried chili, lotus, lingzhi, and agarwood.
Hanoi plans an outlet mall along airport highway
Hanoi is considering building an outlet mall on both sides of the Nhat Tan – Noi Bai Highway.
The outlet mall will cover an area of 811.57 hectares along the highway that connects the city to the Noi Bai International Airport. If built, it will be the first of its kind in Vietnam.
The municipal departments of Industry and Trade, and Planning and Architecture also proposed building the second outlet mall in Soc Son or Thanh Tri districts.
An outlet mall offering high-end products whose prices can be discounted by up to 33% will attract customers interested in buying old-fashioned, low-priced items.
According to the Hanoi Department of Industry and Trade, the outlet is a new type of shopping center in Vietnam.
There have been no regulatory documents on this type of business. The municipal department expects outlet malls to boost the city's socio-economic growth once they operate properly.
The construction of several outlet malls is one of the targets set by the Hanoi Party Committee in the Program 03-CTr/TU that focuses on urban planning and development in 2021-2025.
In 2022, Hanoi fundamentally accomplished the target of building several major shopping malls, including the Vin Ocean Park shopping center in Gia Lam District and the Vinsmart City shopping center in Nam Tu Liem District.
The city's authorities are taking measures to boost the construction of several other shopping malls, including the Aeon Mall Hoang Mai in Hoang Mai District and Lotte Mall in Tay Ho District.
Hanoi is also preparing to build a financial center in Dong Anh District, covering an area of 13 hectares. For the time being, the municipal authorities are compensating and resettling local residents living in the area of the building.
The construction of the Dng Anh financial center is scheduled to start in November 2023.
Businesses, farmers team up for sustainable growth
The link between enterprises and farmers has helped form large raw material areas of stable and long-term development, according to Deputy Minister of Agriculture and Rural Development Nguyen Quoc Tri.
Tri said businesses' thinking towards sustainable and responsible growth has resulted in such a link.
In 2022, the agricultural sector reeled in over 54 billion USD from the export of agro-forestry-fishery products, affirming its supporting role and contribution to the country's economic growth and food security.
Notably, many regions across the country have developed small-scale agricultural production models that promote indigenous cultural values and bring high economic gains. Firms in the sector, meanwhile, have focused on the quality of their products meeting requirements of such foreign markets as the US, EU, Republic of Korea, and Japan.
This year, experts anticipated prolonged difficulties facing the sector due to global inflation and stricter market standards. Vietnamese enterprises have been recommended to pay attention to standards, regulations, and intellectual property related to traceability of their goods serving shipments overseas.
In the past, Vietnam mainly exported raw agricultural products, therefore, tremendous room is available for it to work on deep processing and product diversification.
Businesses eagerly processing export orders
Right at the first working week of the new Lunar year, many companies, especially those in the food processing industry, are accelerating their production to fulfill their export orders.
A visit to Tan Quang Minh Manufacture and Trading Co. Ltd (sited in Vinh Loc Industrial Park in Binh Chanh District of Ho Chi Minh City) reveals a bustling working atmosphere. General Director of the company Nguyen Dang Hien shared that the employees are busy processing large orders from China, Japan, Thailand, and other neighboring nations. He commented that despite the fluctuating economic situation worldwide, the revenue of his company last year exceeded the target by 60 percent, which was quite promising.
General Director Nguyen Xuan Vu of Xuan Nguyen Group shared that his enterprise is operating all of its produce processing chains to prepare merchandise for both the local market and export orders, mainly to China. Its key products are health boost ones, which possess great competitive advantages thanks to domestic input materials. At present, his organization is financially and technically cooperating with 236 farms nationwide to raise bees for honey, to grow ginger, tuber fleeceflower, providing job for over 2,000 local residents.
Many foreign businesses said that they are planning to invest in Vietnam to enjoy its export advantages not only to China but also to the European and American markets. European Chamber of Commerce in Vietnam (EuroCham) informed that 41 percent of surveyed European companies are moving their factories to Vietnam, while 35 percent agreed that the country is in the top-5 ideal place for investment in the world.
The main reason for this is that new generations of free trade agreements signed by Vietnam provides chances for those businesses to cut taxes, save material costs thanks to import tax exemption, and increase the internal power of their supply chains. Therefore, the number of export orders placed to enterprises sited in Vietnam is likely to increase.
Chairman Alain Cany of EuroCham shared that activities of Foreign Direct Investment (FDI) companies in the country are smoother, and economic opportunities of Vietnam continue to surpass those of its neighboring competitors. As a result, many EuroCham's members consider this nation as a promising destination in their global investment strategy.
However, some FDI companies have pointed out legal barriers that still exist in Vietnam and are in need of elimination. In particular, there is a lack of clarity as to rules and regulations for administrative procedures, visa and work permit issuance. In addition, domestic businesses are facing a capital shortage to expand their manufacturing facilities and increase the material sources.
Chairman Nguyen Ngoc Hoa of HCMC Union of Business Association (HUBA) said that right now, the loans with preferential interest rates only answer the demands of companies with a wish to expand their factories or manufacturing chains. Those needing working capital for production activities have to pay an interest rate of 12 percent, which is extremely hard to earn profit and accumulate more capital.
Therefore, he proposed that loans should be more diverse and flexible to better support domestic businesses. HUBA is going to host various trade promotion activities to connect companies and their potential clients, in hope of increasing the number of orders to these enterprises.
In related news, Ngo Xuan Nam, Deputy Director of Viet Nam Sanitary and Phytosaniary Notification Authority and Enquiry Point (Vietnam SPS) informed that effective as of January 8, 2023, China cancels all Covid-19 monitoring and detection measures for food preserved via cold storage as well as that with cold storage imported from ports. This has provided a great chance for Vietnamese produce to enter the world's largest market.
Nevertheless, since this market is no longer an easy one, and thus export merchandise from Vietnam must satisfy China's requirements about food safety, quality, and sanitation, along with a more competitive price. This obviously calls for renovations in manufacturing chains and an increase in product quality.
Hunting for real estate investment opportunities after Tet
Although the market faced a standstill at the end of 2022, wealthy investors are still hunting for potential business opportunities after the Lunar New Year holiday.
The real estate market became stagnant from the second quarter of last year, with investors looking for quick profits leaving the game as the market saw a decreased liquidity and real estate gradually fell back to its actual value.
This, however, has also ushered in opportunities for investors with available cash and a long-term vision.
Dang Van Thanh, a resident of Di An city in the southern province of Binh Duong, has just bought a satisfactory piece of land during a spring trip with his family in Tay Ninh – a locality in the southeastern region.
The land has an area of ​​​​about 100 square metres and is located on a wide open road that is near schools and benefits from convenient transportation connections. The price offered by the landowner was around $52,170, equivalent to $520/sq.m, however, after negotiation the piece of land fetched nearly $43,480.
Without using financial leverage, Thanh and his wife did not hesitate to buy the land plot as a long-term investment.
In 2023, the process of adjustment and purification is expected to help institute a healthier, more transparent, and more sustainable investment and business environment.
Similarly, during a spring trip during the first days of Tet, Nguyen Van Hung, a veteran investor in Hanoi, decided to put money into buying a piece of land covering ​​90sq.m in Hung Yen province for $86,950.
Hung shared that as the land is located in a beautiful area with high potential, he paid a deposit right away and chose a good day to sign the contract.
Experts believe that 2022 saw many changes as it prepared for a new cycle in the real estate market. In 2023, the process of adjustment and purification is expected to help institute a healthier, more transparent, and more sustainable investment and business environment.
Therefore, investors with a long-term vision keep hunting for potential real estate purchases and are ready to put down money when they find suitable options.
Recognising this issue, Tran Khanh Quang, general director of Viet An Hoa Real Estate Investment Co., Ltd., said that the real estate market always has potential in the long-term thanks to the rapid pace of urbanisation, increasingly comprehensive infrastructure, and high housing demand.
As a result, if investors have available capital for 6-12 months, they can put money into real estate as it is deemed a durable and productive investment channel compared to many other options.
From the perspective of a business acting as a real estate distributor and developer, Nguyen Nam Hien, chairman of VPCORP and HKT GROUP, feels that the demand for housing is still huge this year, especially in the mid-range segment and in the satellite areas of Ho Chi Minh City.
Businesses should therefore study products carefully, change themselves, and set forth clear goals and plans. In addition to building houses for the rich, they also need to focus on creating a place to live for those with average earnings.
Source: VNA/SGT/VNS/VOV/Dtinews/SGGP/VGP/Hanoitimes