VIETNAM BUSINESS NEWS FEBRUARY 6/2023
Agro-forestry-fishery exports reach 3.7 bln USD in January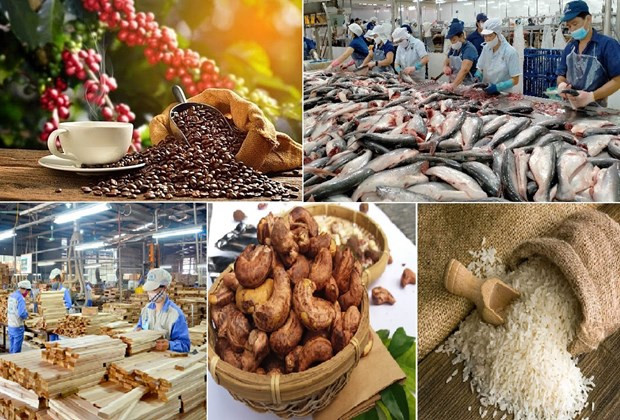 Vietnam's export of agro-forestry-aquatic products reeled in over 3.7 billion USD in January, down 23% against the same period last year, according to the Ministry of Agricultural and Rural Development.
Exports of key farm produce reached more than 1.7 billion USD, down nearly 13%, while the export of seafood, and timber and wood products was estimated to decrease 31% and 30% to 600 million USD and 1.1 billion USD, respectively.

The ministry said the fall in export value in the month due to lack of orders and long holidays.

Vietnam's export of agro-forestry-aquatic products hit a record revenue of over 53.22 billion USD in 2022, up 9.3%, including nearly 11 billion USD from aquatic products.
Disbursement of public investment to be accelerated in 2023

Viet Nam has been accelerating the disbursement of public investment since the beginning of this year after missing its target in 2022.
The National Assembly approved the public investment plan with a total capital of over VND700 trillion (US$29.85 billion) in 2023, VND140 trillion higher than the plan in 2022 and VND260 trillion higher than 2021.
At the Government's monthly meeting last Thursday, Prime Minister Pham Minh Chinh called for management to be enhanced to speed up the progress of major projects, especially key traffic works.
"The disbursement of public investment must be accelerated from the beginning of the year," he stressed, adding that the focus must be on the project preparation works and capital allocation.
Agencies and localities were also gearing up for the disbursement of public investment.
Ha Noi and HCM City - the country's economic locomotives - recorded the highest disbursement of public investment capital in January, with nearly VND2.7 trillion and more than VND1.63 trillion, respectively, according to the General Statistics Office.
In January, an estimated VND27 trillion from the State budget was disbursed, including VND4.2 trillion managed by the State, or 3.1 per cent of the annual plan and up 15.7 per cent compared to the same period last year.
The remainder was managed by local authorities, equivalent to 4.2 per cent of the annual plan and a rise of 1.2 per cent over 2022.
According to the Ministry of Finance report, public investment disbursement totalled VND529.28 trillion in 2022, meeting 80.63 per cent of the plan.
Thirteen ministries, centrally-run agencies and 20 localities recorded disbursement rates of over 90 per cent.
Durian prices hit record high as demand surges

Durian is being purchased by traders in Mekong Delta region for VND150,000-190,000(US$6.4-8.1) a kilogramme, three times higher than the same period last year and the highest level ever.
The reason for the high price of durian is that durian is still off-season and supply is low. Meanwhile, strong demand is coming from the Chinese market as well as domestic markets.
Huynh Tan Loc, director of the Ngu Hiep Durian Co-operative in Tien Giang Province's Cai Lay District, said the prices of the fruit have increased sharply since the beginning of this year.
The country's largest durian producing province has more than 17,000ha of the fruit, mostly in the Cai Lay, Cai Be and Chau Thanh districts and Cai Lay Town.
The orchards have an average yield of 20-25 tonnes per hectare and farmers harvesting now can earn VND1-1.5 billion ($43,000-64,000) per hectare, the highest of any speciality fruit, according to the provincial Department of Agriculture and Rural Development.
But their output is not large because it is the off-season, it said.
Tran Minh Kha, a trader from Can Tho City, said after a week of buying durian in Tien Giang, he still did not have enough quantity to meet demand as the price of his inventory continued to increase every few days.
Nguyen Thi Hanh, a trader from HCM City, said that she has had to pay a commission fee for brokers who can help her buy durian.
Every day, she can only buy about 16-17 tonnes of durian while the demand is up to hundreds of tonnes, Hanh said.
In 2022, durian export turnover was at nearly $400 million, and of that, $300 million to China.
According to the Viet Nam Fruit and Vegetable Association, Vietnamese durian has many competitive advantages in the Chinese market. Both Thailand and Philippine durian exports are seasonal, while Vietnamese durians have year-round exports.
In addition, the distance to transport durian from Vietnam to China only takes about one and a half days, which ensures fresh fruit and cheaper shipping costs than competitors' goods.
Currently, the price of Vietnamese durian sold in China is still much cheaper than Thailand and the Philippines durian, so it is popular with the majority of people in this country.
Agriculture should go in parallel with tourism development in south-central coastal region: Minister
Minister of Agriculture and Rural Development Le Minh Hoan has suggested the south-central coastal region combine agriculture with tourism development.

At a conference in Nha Trang city, Khanh Hoa province, on February 4, Hoan pointed out that the region boasts substantial potential and strengths in agricultural development, particularly in aquaculture and bird nest farming, noting the combination would bring about higher values for both sectors.
He asked the region to rearrange some production areas and create connectivity between cooperatives, stressing that changes in the mindset must be done first.
According to Nguyen Van Viet, Director of the ministry's Planning Department, the region is facing such issues as climate change and natural disasters which are developing complicatedly.
The combination of agriculture and tourism would help to raise incomes of local residents, he said, suggesting localities invest more in science, technology and infrastructure for agriculture and rural areas.
On this occasion, the ministry's delegation visited some production facilities in Khanh Hoa province.
Exports in 2023 and high demands from new generation FTAs
Amid green growth, the circular economy is becoming a global trend and is required as a positive solution to reduce greenhouse gas emissions and improve competitiveness towards the goal of carbon neutralisation and sustainable development, meaning the country must pay attention to the "greenness" of the production chain.
Since the beginning of the year when exporting goods to markets which have signed the EU-Vietnam Free Trade Agreement (EVFTA), Vietnamese enterprises no longer apply the Generalized System of Preferences, but must instead apply the preferential tariff regime according to the commitments under the EVFTA.
This year also marks the fifth year since the nation's implementation of the Comprehensive and Progressive Agreement for Trans-Pacific Partnership (CPTPP) with higher requirements on "green" standards for products and goods when exporting to these markets.
The enforcement of free trade agreements (FTAs) represents the implementation of commitments with a focus on the elimination and reduction of import tariffs on goods according to the "road map".
When the nation joins the FTA playground, it is seeking both to have more market opportunities and to affirm its compliance with vital competition in the inevitable existence of an "open" economy.
Tran Thanh Hai, deputy director of the Import-Export Department under the Ministry of Industry and Trade, said, "The competition for us to boost exports is actually a constant competition to be able to innovate ourselves and improve quality as well as best meet the needs of consumers."
However, with a business community made up of more than 96% small and medium-sized enterprises with limited potential, in order to promote technological innovation, investing in production to meet the standards of markets for high value is not easy, he explained.
At a recent trade promotion conference held with the overseas Vietnamese Trade Office system, Vietnamese Trade Counselor Nguyen Thi Hoang Thuy, in charge of the Vietnam Trade Office in Sweden (concurrently Denmark, Finland, Iceland, Norway, and Latvia), pointed out that Nordic countries are particularly interested in issues involving climate change and environmental protection.
The 2023 budget estimates of these countries feature budget estimates for green investment activities and support for environmental protection.
This will continue to influence Nordic consumption patterns, with increasing trends toward environmentally friendly and recycled green products that continue to be popular in Northern Europe, she said.
Thuy emphazised the need to understand the "European Green Agreement" which features a series of strategies launched to make the EU climate neutral by 2050.
Therefore, Vietnamese enterprises need to understand regulations, as well as market trends in order to ensure all requirements when they want to export to this highly lucrative market.
As one of the country's key export industries, when participating in the global supply chain, the Vietnamese leather and footwear industry needs compliance to meet the high standards of new generation FTAs such as the CPTPP and EVFTA, a factor which will bring both challenges and opportunities to local businesses and workers.
Phan Thi Thanh Xuan, vice chairwoman and general secretary of the Vietnam Leather - Footwear - Handbag Association, stated that the requirements, especially the ones for green production in supply chains, will be a big challenge, so leather and footwear businesses must update information regularly.
Specifically, the EU side has moved to raise the issue of compliance with safe goods standards when producing for exports to the EU market and this law is updated annually.
Furthermore, the German market will soon move to introduce a new law on increasing consultation in the supply chain for third parties. This is also one of the conditions that Vietnamese businesses must comply with, with a failure to respond resulting in failure for exports to this market.
From the actual operation of organic food exporters, it shows that they must focus on the production and processing of products without using chemicals such as chemical fertilizers, preservatives, pesticides, growth hormones, antibiotics, or genetically modified organisms.
Pham Minh Duc, vice chairman of the Vietnam Organic Association, believes that, along with the efforts of businesses to meet high standards of goods and market access, helping them to better understand markets is an important role of state management agencies.
Although the export potential of organic products is great, the ability of local businesses to access markets remains limited, he went on to say.
The country's import-export strategy to 2030 has set the target of ensuring sustainable export growth with an average export growth rate of 6% to 7% per year throughout the 2021 to 2030 period.
This year the Ministry of Industry and Trade has sets a target of export growth of approximately 6% compared to 2022, with this being a "modest" goal, but state management agencies insist that it will not easy to achieve this goal.
Amid difficulties and challenges relating to the global economic downturn, there is a need to ensure that standards are met, particularly due to the awareness of consumers in terms of attaching importance to environmental protection, green growth, and sustainable development.
Vietnamese official highlights Russia as an important tourism market of ASEAN
Russia represents an important tourism market of ASEAN and had always been a leading source of tourists to Vietnam before the COVID-19 pandemic broke out.
Vietnamese Deputy Minister of Culture, Sports and Tourism Doan Van Viet made the remarks during the second ASEAN- Russia Tourism Ministers Meeting, which was held in Yogyakarta, Indonesia, within the framework of the 2023 ASEAN Tourism Forum (ATF 2023).
The upgrade of the meeting between the bloc and Russia from the Tourism Consultation to the Ministers Meeting from 2022 can be seen as a solid foundation in which to further foster co-operation between the two sides in the time ahead, Deputy Minister Viet noted.
The Deputy Minister said that the Tourism Work Plan for the 2022 to 2024 period, which was adopted by the first ASEAN-Russia Tourism Ministers' Meeting, has paved the way for further co-operation activities on promoting, training human resources, as well as ensuring safe tourism and connection between the two sides.
Therefore, in order to effectively implement the plan, it is necessary for both sides to enhance linkages and regular exchanges from working groups as a way of reaching consensus on priority activities and find suitable resources for the implementation of joint projects and activities, he said.
According to the official, in the future it will be essential to strengthen collaboration activities to promote digital advertising to the Russian market, spread the image of ASEAN tourism in Russia, whilst continuing to organise Russian language training courses for tourism workers and tour guides within the ASEAN region.
He also suggested seeking to intensify engagement in tourism activities of ASEAN in general, with a particular focus on Vietnam this year, such as the Vietnam International Travel Mart (VITM) in Hanoi and the International Travel Expo in Ho Chi Minh City.
The second ASEAN-Russia Tourism Ministers Meeting was chaired by Indonesian Minister of Tourism and Creative Economy Sandiaga Salahuddin Uno and Russian Deputy Minister of Economic Development Vladimir Ilyichev.
At the event, the two sides noted that Southeast Asia is still a popular destination among Russian tourists despite the impacts of the COVID-19 pandemic, with a wish expressed to increase the number of visitors between ASEAN and Russia in the post-pandemic period, thereby contributing to speeding up the tourism recovery of both sides.
The meeting served to underline the importance of promoting sustainable and inclusive tourism between ASEAN and Russia under the ASEAN-Russia Tourism Work Plan for 2022 to 2024, as well as welcoming the activities identified in the recently adopted ASEAN Sustainable Tourism Development Framework.
Delegates highlighted a number of tourism-related outcomes achieved at the 17th East Asia Summit (EAS) on November 13, 2022, along with the role of tourism as one of the major contributors to economic growth, employment, social welfare, and the livelihoods of local communities. Specifically, the two sides will focus on implementing the EAS Leaders' Declaration on Economic Growth Through Tourism Recovery, adopted at the 16th EAS on October 27, 2021, and exploring the possibility of starting a dialogue on tourism between relevant agencies.
The meeting discussed measures aimed at stepping up efforts to implement programmes and activities under the ASEAN-Russia Tourism Work Plan for the 2022 to 2024 period, with greater emphasis placed on ensuring safety and comfort for tourists, as well as facilitating the movement of tourist flows between Russia and ASEAN countries.
The event served to reaffirm its commitments to implementing the agreed activities and tasked the ASEAN National Tourism Authorities and senior Russian officials with promoting the implementation of the work plan and augmenting further co-operation between the two sides.
Participants agreed that the global tourism outlook will be positive in 2023 and in the following years, affirming that digitalisation is one of the strategic priorities of the ASEAN Economic Community in 2023.
A great chance to invest in commercial property
Vietnam's commercial real estate sector is still in its infancy and is mostly focused on Ho Chi Minh City and Hanoi. However, industry analysts assert that the market area has a great deal of untapped potential.
Recent lending restrictions, investor outflow from corporate bonds, and increasing interest rates have made the residential real estate market less liquid. However, the commercial real estate market is still seen as having substantial growth potential.
According to a recent analysis by Cushman & Wakefield Vietnam, Vietnam's commercial real estate sector is still fairly young and mostly centred on Ho Chi Minh City and Hanoi. Vietnam ranks 15th in the world in terms of population (with almost 100 million people), and its urbanisation rate exceeds 40 per cent. Along with this, every year, a large number of migrants – particularly young people – arrive in major cities.
Meanwhile, only roughly 820,000 square metres of Class A office space is available in Ho Chi Minh City and Hanoi combined. This is much less than regional office markets such as Tokyo (about 10 million sq.m), Seoul (4.3 million sq.m), and Singapore (2.6 million sq.m).
Trang Bui, general manager of Cushman & Wakefield Vietnam said, "We can certainly see the increase in commercial demand from the new generation as they reach the age where they want to rent. They are willing to spend more money on enhancing their own experiences, including shopping, travel, healthcare, education, and supplementary services.
A total of 68 per cent of poll respondents from the Batdongsan website who were questioned about their plan to purchase real estate within the next year stated they would. The larger a consumer's real estate holdings, the greater their desire to purchase additional homes and land. Some 46 per cent of those who do not own any properties want to purchase real estate in 2023, compared with 79 per cent of those with two properties and up to 87 per cent of those with three or more homes.
Currently, several investors are concerned with choosing the optimal timing to invest in commercial properties.
Tran Khanh Quang, general director of Viet An Hoa Real Estate Investment, said that when investors observe the market rising, they fear missing out on possibilities and are thus compelled to participate. When the market declines and investors realise the future is bleak, they seek to protect their assets and sell as quickly as possible, resulting in a market decline.
According to Quang, if investors want to reduce risk, they should follow the market movement more closely until the second quarter of 2023. However, according to this expert, investors should not be timid if they have access to capital.
According to Trang, now is the optimal moment since most commercial properties have a finite lifespan regardless of how well they are maintained. When an asset's useful life expires, its value drops and it becomes outdated.
For instance, an outdated office building may not have a high-speed Internet connection or modern smart gadgets, so tech businesses and many other tenants will not choose to establish offices in these antiquated buildings, even if their locations are ideal.
In addition, in contrast to new urban development projects in other nations, the absence of preferential policies is one of the greatest hurdles to the growth of commercial real estate in Vietnam. Investors want additional assistance with legal and tax difficulties.
Ho Chi Minh City food enterprises hope expansion is key
With increasing costs and decreasing orders among the difficulties facing the food production industry in 2023, many enterprises in Ho Chi Minh City are choosing to expand the market.
In 2022, Ho Chi Minh City's industrial food production recorded a significant increase of 30.5 per cent on-year. However, the industry is facing many fresh challenges this year due to fluctuations in the global economy affecting export markets and a slowdown in economic growth.
Phan Van Co, marketing director of Vrice Group, said, "Since the beginning of the year, the cost of materials for rice production has increased considerably, by 3-5 per cent. While the price of rice has increased in many countries around the world, it has not increased as it has in the Vietnamese market, making it difficult for Vietnamese rice exporters to compete."
In 2023, industry and trade in Ho Chi Minh City will strive for an increase in the index of industrial production of 7.5 per cent; growth in the total retail sales of social consumer goods of 12 per cent; and a 10 per cent jump in exports, excluding crude oil, through the city's port.
The targets were set while taking such difficulties as the ease of accessing credit and the continued increase in the cost of raw materials into account. In addition, the prolonged disruption of the global supply chain has put great pressure on production activities, and poses more challenges to the food production industry and the larger economy in general.
Ho Chi Minh City food enterprises hope expansion is key
According to Van Co, if the price of rice continues to increase, the white rice business with popular rice destinations such as the Philippines, and Indonesia will be greatly affected as it suffers from high-level competition from India and Pakistan. "In 2022, we exported a lot of rice orders to Australia, New Zealand, Singapore, and the Middle East. In 2023, enterprises will increase production of jasmine rice, Japanese rice, and so on, while we will grow less white and glutinous rice," said Co.
Businesses also plan to reduce unnecessary costs, find new sources of raw materials, and create supply chains from factories to consumers to control prices.
According to Le Van May, chair of Lotus Group, escalating inflation, increasing interest rates, fluctuating raw material prices, and a reduction in orders are challenges for businesses from the very start of the year.
"We have learned from our experiences in the pandemic that in all situations, businesses need to stay optimistic and prepare response scenarios. We have found some new customers in Australia and South Korea, so export activities are still growing," said Le Van May. She asserted that expanding the market is an important factor for businesses to overcome difficulties.
Nguyen Hai Dang, director of Xlife International said, "We predict that the economy in 2023 will grow slowly, but this is the time for businesses to review and improve product quality. In 2021-2022, we focused on quantity, but now we tend to focus on improving product quality to retain customers."
Responding to this situation, Ly Kim Chi, president of the Food and Foodstuff Association, suggested, "the city needs to urge promotion and connect activities to promote the strength of the business community. Following that, it is necessary to organise many programmes to introduce goods to provinces and cities and connect with localities that have large raw material production areas."
Demand for housing in Hanoi forecast to rise in 2023
The scarce supply of new projects remains a key factor keeping demand for housing high in Hanoi's real estate market in 2023.
During the last months of 2022, transactions in the real estate market stayed in stark contrast to the previous boom period.
Experts suggested that this was due to several laws regulating the market not being completed, coupled with a sharp decline in liquidity as a result of the government's direction to restrict credit flows in high-risk fields and tighter regulations on corporate bond issuance.
The sharp drop in transaction volume and supply, coupled with the high demand for housing, means that prices continue to rise.
Data from the Vietnam Association of Realtors (VARS) showed in the fourth quarter of 2022, Hanoi has 31 new real estate projects with a total of 2,030 units. Among them, Eurowindow River Park is the only apartment building with a price of below VND30 million (US$1,279) per square meter, with nearly 40% of the units sold after being listed for two weeks.
Meanwhile, the average housing prices stay at around VND50 million ($2,132) per square meter. Given the increasingly limited land in the city's center, 70% of new supplies come from projects in the East and the West, including Highway 5 Residences, Hanoi Melody Residences, Imperial Smart City, Park 1, 2 – Eurowindow River Park, and the Zei.
In addition, detached house projects in districts of Thanh Xuan and Tay Ho with prices of up to VND400 million ($24,000) per square meter have failed to attract customers, with the exception being the Highway 5 Residences (Gia Lam District) thanks to competitive prices and the complete infrastructure in the surrounding areas.
Viet Nam's PMI edges up to 47.4 points in January
Viet Nam's Manufacturing Purchasing Managers' Index (PMI) edged up to 47.4 in January from 46.4 in December, according to S&P Global Market Intelligence.
However, January data signaled a further marked decline in manufacturing production, albeit one that was slightly softer than seen in December.
Lower new orders were often behind falling output, with some firms indicating that customers had sufficient stock holdings and so didn't need to purchase at present.
Total new orders were down for the third month running in January as demand conditions remained challenging. That said, there were some signs of improvement, particularly with regards to new export orders which rose for the first time in three months.
Andrew Harker, Economics Director at S&P Global Market Intelligence, said: "Although demand conditions for Vietnamese manufacturing firms remained challenging at the start of 2023, leading to further declines in output, new orders and employment, there were some more positive signs from the latest PMI survey. One of the main positives in January was a renewed expansion in new export orders, with the decline in total new business softening as a result."
The loosening of COVID-19 restrictions in Mainland China, plus signs that downturns in Europe and the US may be less severe than feared, provided optimism that growth in Viet Nam could be around the corner, he said.
Indeed, business confidence improved to a three-month high at the start of the year. S&P Global Market Intelligence is forecasting a rise in industrial production of 6.6 percent in 2023.
Ship owners struggle to retain seafarers
Due to a shortage of fishermen, ship owners had to find workers many months ago and had to provide cash advances to keep them.
About 1,700 residents in Binh Chau Commune in the Central Province of Quang Ngai's Binh Son District engage in marine activities. The number of fishing vessels in the commune is 483. Of these, 160 are specialized in offshore fishing. Although many commune inhabitants are fishermen, ship owners find it very difficult to retain seafarers for each long fishing trip after the Tet holiday ( the Lunar New Year).
Mr. Trinh Van Vinh, an owner of the ship QNg-95229 TS in Binh Chau commune, said that he is preparing for a fishing trip in the Hoang Sa waters in February. He said that it is difficult for him to find divers who must withstand underwater pressure. Those who are new to the profession can only dive for 2 hours while others who are long-experienced and healthy can stand for about 4 hours. He added that each ship will need divers to take turns and this is a dangerous job at sea.
He moaned that fewer divers agreed to work on fishing trips; therefore, he had to find a boatmates a few months before Tet; he even gave VND10 million-VND15 million advance to keep the boatmates.
Elsewhere in the commune, Mr. Tieu Viet Thuong, owner of the ship QNg-90575 TS, will depart a fishing trip on the 16th day in the first month of the lunar calendar with 15 crew members. The ship owners said he told boatmates about the trip months ago because many difficult laborers had shifted to other jobs on shore.
If in the past there were few boats, many fishermen had to beg the ship owner to let them work, now more people buy vessels whereas there is a shortage of seafaring workers. Subsequently, ship owners must meet laborers' requirements; for instance, ship owners spend VND10 million-VND15 million in advance for experienced divers and VND5 million-VND7 million for fishermen who know how to do gill nets, seine nets, and draw nets. If the fishing trip fails to catch a lot of fish making good money, fishermen will not work for that owner.
Mr. Phung Ba Vuong, Vice Chairman of Binh Chau Commune People's Committee, said that local authorities can't throw the book at fishermen who canceled working for ship owners because their hiring agreements were made between laborers and ship owners. He disclosed that many ship owners in Binh Chau Commune have to hire laborers from neighboring provinces such as Quang Tri, Quang Binh, Phu Yen, and Khanh Hoa for long fishing trips.
Roughly 600 workers engage in fishing jobs with 111 ships in Binh Thanh Commune in Binh Son District where the Dung Quat Economic Zone with many companies and factories is located.
Mr. Le Tan Khanh, Vice Chairman of Binh Thanh Commune People's Committee said that every year, about 10-15 fishermen stopped working at sea to apply for jobs at enterprises in the Dung Quat Economic Zone. They can work near their houses and develop the family economy at the same time to earn a more stable income. In addition to the number of fishermen quitting jobs, most young residents now go to work in companies and few of them are interested in being fishermen.
Mr. Nguyen Van Muoi, Director of Quang Ngai Provincial Fisheries Sub-Department, assessed that the province has more than 4,500 fishing boats and 38,000 people engaged in the marine industry. However, there has been a severe shortage of new young labor force in the industry, especially children of ship owners who just study to work in other occupations. Plus, low income from fishing jobs leads to many ship owners unable to retain workers, and many marine workers quit their jobs to work in industrial zones.
Many large enterprises asked to invest in Khanh Hoa Province
The Management Board of Van Phong Economic Zone in Khanh Hoa Province said it would work with investors who have project proposals in the Nam Van Phong area and industrial parks from February 7 to 15.
Accordingly, the Management Board of Van Phong Economic Zone will meet Dong Phuong Petroleum Joint Stock Company, Stanvian Chemical Company, Stavian Land Company, Trung Nam Group, Sonadezi Joint Stock Company, Becamex IDC Corporation, SSI Joint Stock Company, Sinnec Joint Stock Company, and Saigon Newport Corporation.
It will also work with Novaland Group, Dat Tam Investment Joint Stock Company, FPT Joint Stock Company, and Flamingo Holding Group Joint Stock Company on projects in the fields of urban and tourism and discuss with SunGroup on projects in the fields of tourism, services, airport, and seaport.
Through contact with investors, the Management Board of Van Phong Economic Zone will grasp and study the needs of investors in the zoning process of functional zones in Van Phong Economic Zone and industrial parks in Khanh Hoa Province.
Regarding investment promotion in Khanh Hoa Province, the provincial People's Committee has sent a document to the Minister of Planning and Investment on the organization of a conference to announce plans approved by Prime Minister, introduce, and promote investment attraction in key projects of the province by 2025, with a vision to 2030.
Plans expected to be announced at the conference include the planning of Khanh Hoa Province for the 2021-2030 period, with a vision to 2050; the adjustment of the master planning of Nha Trang City to 2040; the adjustment of the master planning on the construction of Van Phong Economic Zone to 2040, with a vision to 2050, and the master planning of Cam Lam new urban area to 2045.
Food prices rise slightly ahead of first full moon

The upcoming celebration of Ram Thang Gieng (the full moon of the first lunar month) marks a strong increase in demand for fresh food in the market, but prices have remained stable.
The first full moon of the lunar year falls on the 15th day of the first lunar month. On that day, Vietnamese prepare some dishes in honor of the gods, Buddha, and ancestors, and pray for the happiness, luck, and prosperity of their relatives.
In 2023, Ram Thang Gieng falls on January 4.
Given such meaning, demand for fresh and good quality food before and during the day tends to increase. In 2023, however, prices for raw and fresh foods are virtually unchanged from the pre-Tet period in traditional markets.
At traditional markets in Thanh Xuan, Dong Da, and Ba Dinh districts, chickens sell for VND150,000-170,000 ($6.40-$7.25) per kilo, pork for VND130,000-160,000 per kilo, and beef for VND240,000-330,000 per kilo.
According to a vendor at Thanh Cong market in Ba Dinh district, fish prices have hardly changed, while shrimp prices have dropped to VND350,000-400,000 per kilo, down from VND450,000-500,000 pre-Tet.
Not only meat products, market prices of vegetables and fruits have also changed a little. Fruit vendor Nguyen Thi Huong at Kim Lien market said prices of some commodities have even fallen sharply from pre-Tet levels and consumption has increased slightly.
For example, dragon fruit sells for between VND45,000 and VND50,000 a kilo, oranges for between VND50,000 and VND60,000 a kilo, and apples for between VND100,000 and VND120,000 a kilo.
During the first days of the lunar year, home delivery of prepared meals has also become busier, as caterers can provide well-cooked dishes for people who have little time or skill to prepare dishes.
The value of a table of food made ranges from VND1.2 million to VND1.8 million. Customers can call or text the business for home delivery.
Nguyen Ngoc, an owner of a homemade food table store in Cau Giay's Trung Hoa District, says the number of orders has increased a lot ahead of Ram Thang Gieng.
In some supermarkets, vegetarian food is sold at prices ranging from VND30,000 to VND100,000 a piece.
Vu Thi Lien Ha, an owner of Co Hong vegetarian restaurant, says the price ranges from VND800,000 to VND1 million for a standard meal and VND1.5 million to VND2 million for each high-end meal.
Hanoi Railway Transport makes profit after two years of losses
Hanoi Railway Transport JSC, a subsidiary of the Vietnam Railway Corporation (VNR), reported an after-tax profit of VND4.3 billion (US$184,804) after two consecutive years of losses due to the impact of the Covid-19 pandemic.
In its financial report for the fourth quarter (Q4) of 2022, Hanoi Railway Transport JSC (Haraco) said its consolidated revenue in 2022 totaled more than VND2.3 trillion, up 49% compared to the previous year.
Thanks to high travel demand, its revenue was VND566 billion in Q4/2022.
2021's loss amounted to more than VND121 billion.
In early 2022, Haraco's general meeting of shareholders approved a business plan with an expected loss of more than VND101 billion.
According to the company representative, as transportation recovered after the pandemic, they have put in place many solutions to reduce costs and boost business lines, such as promoting freight transport to offset losses from passenger transportation, operating passenger train schedules following market demand, and offering package transportation products.
Besides, the company has also cooperated with travel agencies to offer tourism products by rail at reasonable prices.
This year, Haraco aims to reach a total revenue of nearly VND2.2 trillion, a year-on-year increase of 10%.
Of the figure, freight forwarding will generate VND1.1 trillion, passenger transport over VND1 trillion, and other services over VND216 billion.
Source: VNA/SGT/VNS/VOV/Dtinews/SGGP/VGP/Hanoitimes