VIETNAM BUSINESS NEWS FEBRUARY 7/2023
Vietnam sets 2023 export target of US$394 billion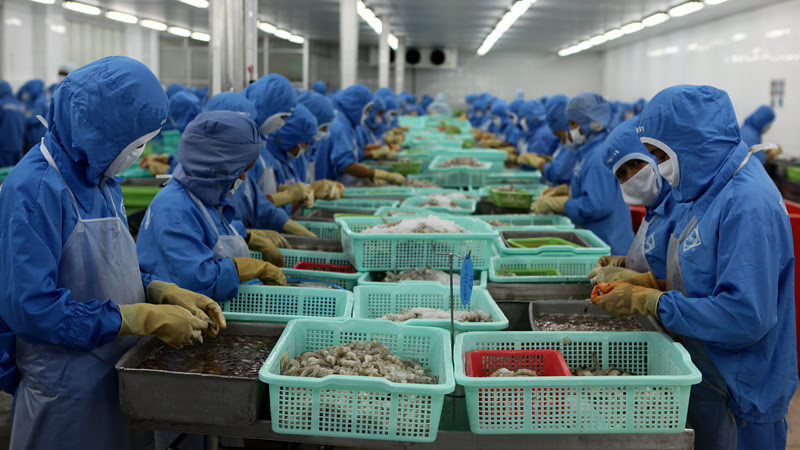 It would be challenging to reach this export target as the country's export sector has been facing issues such as high yet unsustainable export growth, and trade deficits with a number of key partners, said Phan Van Chinh, head of the Ministry of Industry and Trade's Agency of Foreign Trade, at a conference held yesterday, February 3, on domestic production and consumption promotion and export market expansion.
To achieve the export target, Chinh suggested the industry and trade authority adopt multiple measures simultaneously to facilitate exports, and search for more potential markets, as well as fulfil the export potential of sectors with considerable competitive advantages and enormous demand.
Besides, the trade official proposed greater efforts to promote trade in the domestic market, boost the distribution of commodities via e-commerce platforms to encourage domestic consumption and develop made-in-Vietnam products.
Addressing the meeting, Prime Minister Pham Minh Chinh said the trade authority should continue efforts to look for more export markets.
According to the Government leader, the country's exports are dependent on FDI firms; thus, measures should be taken to adjust the reliance. The trade authority needs to diversify export markets, products, and the supply chain and take measures to shift informal cross-border trade to formal.
The Cabinet leader added that more solutions need to be implemented so that local people would prioritizing consuming Vietnamese products.
Dragon fruit prices triple after China resumed border trading
Red-fleshed dragon fruit is being sold at around VND38,000 per kg and white-fleshed dragon fruit VND25,000 per kg, triple the price from the same period last year, after China eased trade restrictions related to COVID-19.
At farms in Cho Gao District in Tien Giang Province, the price of red-fleshed dragon fruit is VND38,000 per kg (for type 1 – the best quality); VND28,000-32,000 (for type 2); and VND23,000-25,000 (for type 3).
In Binh Thuan Province, the price of white-fleshed dragon fruit is between VND18,000-25,000 per kg, also triple from the same period last year.
A leader of the Thuan Tien Cooperative in Binh Thuan Province's Ham Thuan Bac District said China is Viet Nam's main export market, accounting for 90 per cent of dragon fruit exports, so when it resumed border trading, it helped increase prices.
Since January, Chinese customs has no longer required goods to be tested for COVID-19 at border gates with Viet Nam and it has also lifted all other pandemic measures.
Last year, China tightened the preventive measures for people, vehicles and goods packaging, causing customs clearance to become much slower than normal at border gates. This also caused a sharp decrease in agricultural prices, including dragon fruits, and farmers faced huge losses.
Nguyen Quoc Thinh, chairman of the Dragon Fruit Association of Long An Province, said in addition to the Chinese market, it was important to step up promotion to diversify export markets.
He added it was also vital to develop the domestic market through supermarket chains to reduce dependence on China.
Viet Nam's exports to China reached $119.3 billion last year, up 8 per cent year-on-year, while imports increased 4.5 per cent to $58.4 billion.
Viet Nam grows around 1.4 million tonnes of dragon fruit a year, more than 60 per cent of it in the second half of the year.
F&B cooperatives seize new opportunities amid economic difficulties
After the Lunar New Year holiday, many cooperatives, especially those in the food and beverage (F&B) sector, have accelerated their production to fulfil domestic and export orders.
Ly Hong Tien, Director of Hau Giang Xanh Cooperative in Hau Giang province, told vnbusiness.vn that thanks to the links her cooperative has established with distributors, it was completing many orders of processed that lat fish to serve local demand and that for exports.
According to experts, though economic difficulties would continue in 2023, there remained untapped business opportunities for small firms and cooperatives in the F&B industry.
Experts said that when an economy was unstable, investors intended to return to industries with high demand as the F&B sector is an essential industry.
A recent report by iPOS.vn said that Vietnam had around 338,600 restaurants and coffee shops by the end of last year. Last year, the F&B market was worth around 610 trillion VND (26 billion USD).
It also showed that domestic people still favoured independent shops and restaurants. This was also the primary model that cooperatives and small businesses in the industry were developing.
According to representatives of cooperatives with food and beverage outlets, many consumers preferred this model because the prices of services, food and drinks here were affordable for most Vietnamese people.
They said that many cooperatives in rural areas had also invested in beverage shops and restaurants to meet people's needs instead of high-priced chain stores, which were concentrated mainly in first-class urban areas.
Large enterprises with facilities and factories in urban areas might face difficulties opening food and beverage shops in the countryside because of the high cost of transporting goods. However, this is an advantage for cooperatives as most of them have raw materials available. Experts said that with a focus on investing in machinery and promoting links with others, cooperatives could diversify their products and reduce costs.
Do Duy Thanh, F&B director of Horeca Business School, was quoted by vnbusiness.vn as saying that customers became pickier in choosing restaurants to suit their tastes. Currently, the newly-established food and beverage stores opened by cooperatives have also tended to develop and shape in their way, creating a distinctive feature.
For example, many cooperatives have opened coffee shops that provide customers with coffee produced by themselves. Besides enjoying coffee, customers could also experience the roasting and grinding coffee stages meeting OCOP standards, Thanh said, outlining a cooperative that had opened a coffee shop associated with a factory producing brocade goods.
Despite their efforts in gradually identifying the needs of the market, in order for these cooperatives to effectively grasp business opportunities amid the difficult economic conditions, experts said they still needed more support from the State management agency.
Meanwhile, experts said most cooperatives in the F&B field had not yet paid attention to applying labour standards that were described as a must for cooperatives besides environmental protection if they wanted to meet the demand of markets, especially strict export outlets.
Cooperatives must make long-term plans to gradually improve labour standards and be ready for more stringent and specific requirements in the future. For example, experts suggested that they should invest in human resource management technology, paying insurance and bonuses for employees to create stability in work and affirm the cooperative model's role.
Traveloka wants to expand operations in Vietnam
On February 5, a representative of Traveloka Company expressed their desire to expand operations in the Vietnamese market, during a working session with Deputy Minister of Culture, Sports and Tourism Doan Van Viet, on the sidelines of the 2023 ASEAN Tourism Forum (ATF) in Jakarta.
At the meeting, the two sides spoke about Vietnam's tourism situation and the activities Traveloka has been implementing in Vietnam.
Traveloka's representative said that the company is always ready to cooperate with the Vietnam National Administration of Tourism (VNAT), in training tourism industry staff through online digital platforms. Besides, Traveloka wishes to develop a plan to sign a cooperation agreement with the VNAT.
The Deputy Minister suggested that Traveloka continue to coordinate with the VNAT in promotional activities and put Vietnam's tourism images on Traveloka's platforms.
At the meeting, Deputy Director General of the VNAT Ha Van Sieu said, that the two sides will continue to promote coordination in promotion activities, and digital transformation. At the same time, Traveloka continues to participate in upcoming fairs and seminars on Vietnam's tourism industry.
Previously, on February 3, on the sidelines of the 2023 ASEAN Tourism Forum in Indonesia, the Vietnamese delegation had bilateral meetings with the Indian delegation.
At the meeting, the two delegations shared their common interest in enhancing cooperation and promoting the exchange of tourists. At the same time, the two sides shared information on the policy of opening up to restore tourism, including outstanding types of tourism, with great potential for the people and tourists of both countries, including Buddhist tourism.
$8 billion to be pumped into Vietnam's Central Coast
Nearly US$8 billion will be pumped into Vietnam's Central Coast region to support the socio-economic development of the region towards sustainability and climate adaptation.
The value was announced at a signing ceremony held on February 5 between the Ministry of Planning and Investment and international partners.
Accordingly, the local authorities granted investment certificates and approved investment policies and investment cooperation for domestic and international investors.
Among the investment deals, seven development partners are committed to providing a total capital of more than US$1.7 billion in 45 projects. The partners included the Asian Development Bank (ADB), the French Development Agency (AFD), the International Fund for Agricultural Development (IFAD), the Japan International Cooperation Agency (JICA), the Export-Import Bank of Korea (KEXIM), the Korea International Cooperation Agency (KOICA), and the World Bank.
The local authorities also granted 16 investment certificates totaling $5.6 billion and five MOUs on investment cooperation with a capital of nearly US$700 million at the event.
At the ceremony, Quang Ngai provincial authorities licensed a logistics project worth $17 million to SIS Quang Ngai, and approved the investment policy in Hoa Phat Dung Quat high-grade rolled steel mill project, with a capital of VND3.2 trillion ($133 million).
A signing ceremony of MOU on investment cooperation was also held between the provincial authority and the VSIP II Quang Ngai Industrial - Urban and Service Park project, with an estimated investment of $270 million.
At the event, Thanh Hoa Province licensed a project worth VND2.4 trillion ($100 million) in Nghi Son Economic Zone.
Meanwhile, Ninh Thuan authorities approved an investment policy for a new urban area project along Dinh River costing VND1.7 trillion ($70 million).
Minister of Industry and Trade Nguyen Hong Dien also handed over a decision approving the investment policy for a project to build a combined gas turbine thermal power plant using liquefied natural gas (LNG) with a total investment of $2.1 billion in Ninh Thuan.
Wrapping up the conference, Prime Minister Pham Minh Chinh asked ministries and 14 localities in the region to urgently develop programs and action plans focusing on refining institutions, regional planning, and policies on regional linkage; restructuring the economy; and promoting marine economy, digital transformation, developing circular economy, tourism, forest economy, and agriculture.
He highlighted three drivers of growth which are consumption, investment and export, urbanization, and investment in regional socio-economic infrastructure, especially the road system linking to the ports, the East-West economic corridor, and connecting to the Central Highlands.
Regarding investment promotion, the Prime Minister requested to instill the concept of "cooperation and development" in attracting investment, ensuring "equality, mutual development, mutual benefit, and social responsibility".
The Central Coast region includes 14 cities and provinces namely Thanh Hoa, Nghe An, Ha Tinh, Quang Binh, Quang Tri, Thua Thien-Hue, Danang, Quang Nam, Quang Ngai, Binh Dinh, Phu Yen, Khanh Hoa, Ninh Thuan, and Binh Thuan.
HCM City's retail market enjoys growth in January
Ho Chi Minh City recorded a year-on-year rise of 5.7% in total retail sales of goods and consumer service revenue in January, according to its Department of Industry and Trade.
Retail sales approximated VND56.89 trillion (US$2.4 billion), accounting for 62.8% of the total and increasing 4.6% month on month.
The three groups of commodities posting the highest year-on-year revenue growth comprised grain food 12.3%, foodstuff 12.4%, and automobiles and other vehicles 12.9%, data showed.
Consumption demand surged as January saw the year-end shopping season and the Lunar New Year (Tet) holiday, the department said.
It added trading and service activities in the country's largest metropolis have guaranteed supply and demand around the longest annual holiday.
Nguyen Nguyen Phuong, Deputy Director of the Industry and Trade Department, cited estimations by local distributors and retailers that the consumption demand on the Tet occasion grew by some 5% from a year earlier. In particular, the purchasing power via modern distribution channels rose about 10 - 15%.
Jeju Air to resume more air routes to Vietnam this April
The Republic of Korea's largest low-cost airline Jeju Air unveiled on February 6 that it will resume additional air routes to Vietnam, starting in April 2023, after a three-year hiatus caused by the COVID-19 pandemic.
Jeju Air plans to reopen flights from Incheon to Hanoi and Ho Chi Minh City of Vietnam as from April 20, the airline said in its announcement.
Last June, the budget airline re-operated flights from Incheon to Da Nang and Nha Trang, and from Busan to Da Nang in central Vietnam.
By the end of 2019, Jeju Air had operated eight air routes to five cities in Vietnam including Da Nang, Hanoi, Ho Chi Minh City, Nha Trang and Phu Quoc. However, most of the routes were suspended in early 2020 due to subsequent COVID-19 outbreaks.
Jeju Air also plans to resume flights from Incheon to the Lao capital Vientiane from April 20.
Vietnam likely to achieve US$1 trillion from foreign trade by 2025
The import-export turnover of the Vietnamese economy is anticipated to hit a new record high of 2025, providing that businesses continue to make full use of new generation free trade agreements (FTAs), among other factors, says Prof. & Dr. Nguyen Thuong Lang, an expert of the International Business & Economics Institute.
Despite the impact of the protracted Russia-Ukraine conflict, global market fluctuations, and rising inflation risks internationally, the national economy recorded an impressive trade performance in 2022, with the import-export turnover reaching more than US$730 billion, thereby breaking the US$600 billion record set in 2021 and representing an annual rise of 10%. The trade sector has high hopes of raising the annual trade figure to new heights ahead this year and moving forward, in which the US$1 trillion trade is an ambitious target set for 2025.
This plan can be realised providing that domestic businesses continue to make full use of FTAs, especially new-generation FTAs such as the EU – Vietnam Free Trade Agreement (EVFTA), the Regional Comprehensive Economic Partnership (RCEP), and the Comprehensive and Progressive Agreement for Trans-Pacific Partnership (CPTPP), according to Dr. Lang from the International Business & Economics Institute under Hanoi-based National Economic University.
He says that new generation FTAs generate large markets for Vietnamese exports by offering taxes to be cut to almost 0%, reducing costs, and simplifying procedures. At the same time, these FTAs also help the country to take advantage of abundant capital and high technology from transnational corporations, as well as developing supply chains.
Despite having higher requirements, new generation FTAs still have the potential to bring about good prospects, meaning they can be considered as tools to overcome fluctuations in the world economic market and the evolution of the COVID-19 pandemic, elaborates Dr. Lang.
In contrast, new generation FTAs present certain challenges with high requirements in terms of rules of origin, environmental factors, labour standards, along with a number of technical and non-technical barriers. Indeed, all FTAs require building a strict and scientific value chain in order to optimise the various benefits and ensure long-term partnerships. This represents a major challenge in terms of building a supply chain from the very first stage of research, development, and innovation, up to the last stage of after-sales service.
To competently implement FTAs, Dr. Lang suggests that management agencies pay attention to the development of businesses by introducing solutions to encourage innovation, as well as investing in key products and services whilst developing supporting industries and promoting start-ups.
At present, an urgent requirement is to improve the business environment and upgrade the infrastructure for export to maximise cost savings, according to the expert.
Vietnam-Laos trade records impressive growth in 2022
Two-way trade revenue between Vietnam and Laos in 2022 grew 24% from the previous year to reach some 1.7 billion USD, beyond expectations of their leaders at the 44th meeting of the Vietnam – Laos Inter-Governmental Committee on Bilateral Cooperation earlier last year.
Vietnam exported 656.4 million USD worth of goods to the neighbouring country in 2022, up 10.4%, mainly oil and gas, fertilizers, steel, machinery and accessories, and means of transport.
Meanwhile, Vietnam's imports were valued at 1.04 billion USD, a year-on-year rise of 34.6%, with main items including wood and wood products, fertilizers, rubber and corn.
According to the Vietnam Trade Office in Laos, the two countries' industry and trade sectors coordinated in organising a range of trade promotion activities during the year, including a business forum in April, a conference on trade connectivity in farm produce, food and consumer goods in May, a trade fair in Vientiane in August, and a trade forum in November, among others.
In December alone, the two-way trade stood at 211 million USD, up 60% from the previous month.
Hanoi boosts tourism promotion
Hanoi will continue to intensify tourism promotion on foreign TV channels, mobile apps, and social media as stated in the local government's project on developing investment, trade, and tourism in the coming time.
Accordingly, the city continues to strengthen communication activities, such as broadcasting advertisements on CNN and other international media, websites, and social networking platforms (Youtube, Facebook) with the message "Hanoi - Come to love" and "Hanoi - A safe and attractive tourist destination."
By 2023, the capital city expects to advertise itself as an attractive tourist destination in the region and the world, while boosting promotion in major markets through national and international tourism fairs, including Southeast Asia, Japan, Europe, and North America, among others.
Under the plan, Hanoi also looks to develop MICE (meeting, incentive, convention, and exhibition) and progressively adopt the application of information technology in tourism management and implement smart tourism. The municipal authorities will support businesses and take note of their opinions.
Besides, the municipal authorities coordinate with embassies and representative agencies of Vietnam abroad for Hanoi's tourism promotion.
The city also focuses on the sustainable development of tourism, restructuring the tourism industry in terms of infrastructure, environment, business, and products to effectively exploit tangible and intangible values, making Hanoi's tourism a leading economic sector.
According to the municipal Department of Tourism, in 2023, Hanoi targets to welcome about 22 million visitors, an increase of 17.6% year-on-year, including 3 million foreign arrivals and 19 million domestic visitors. It is expected that the total revenue from tourists in 2023 will reach about VND77 trillion (nearly US$3.3 billion), a rise of 28.2% compared to 2022.
To achieve the above-mentioned goal, Hanoi focuses on improving the quality of tourism products and tourism destinations associated with heritage relics, craft villages in the districts, including pottery villages in Bat Trang (Gia Lam district), Huong Son (My Duc district), and the outlying districts of Thach That-Quoc Oai and Son Tay-Ba Vi.
In 2016, Hanoi signed a US$1 million deal with CNN to broadcast the city's stories on the channel. The program was subsequently extended for 2019-2024.
Accordingly, CNN will broadcast 30- or 60-second promotional clips and 30-minute programs covering various aspects of the city, from the history, lifestyle, and people to the architecture and technological development, as part of the advertising campaign on Hanoi.
This campaign proved effective as it helped increase CNN viewers' awareness of Hanoi by 86% in 2017, and 91% in 2018, according to BDRC Continental, one of the UK's largest independent research consulting firms.
Viettel remains top valuable telecoms brand in Southeast Asia: Brand Finance
Viettel retained its position as the most valuable telecoms brand in Southeast Asia, with brand value rising to US$8.902 billion, according to the latest Brand Finance Global 500.
The Military Industry-Telecoms Group's brand value increased by US$144 million compared to the previous year. This is the 8th consecutive year of Viettel's brand value growth.
Viettel is the only telecoms brand of the Southeast Asia region in the list.
Viettel earned pre-tax profits of VND43.1 trillion (US$1.8 billion) in 2022, the highest growth recorded since 2017.
The profits rose 3 percent from 2021. The group's consolidated revenues increased by 6.1 percent to VND163 trillion.
The company remained the largest mobile service provider in Viet Nam, with a market share of 54 percent.
Last year, Viettel's outbound investment for the first time reached nearly US$3 billion. Meanwhile, it remitted home nearly US$500 million, the highest amount in the last five years. By the end of last year, it had repatriated nearly 70 percent of its total investment abroad.
Expy contractor voices concern over material shortage
An expressway that links Quang Ngai and Binh Dinh provinces in central Vietnam needs some 13.9 million cubic meters of building materials such as sand and rocks, but the local mines cannot satisfy the demand, said the project's contractor.
Ho Minh Hoang, chairman of Deo Ca Group, the general contractor of the project, recently said the material shortage might affect the pace of construction and that the issue had been reported to authorities but it had remained unsolved.
The Quang Ngai-Hoai Nhon expressway is one of the 12 sub-projects of phase two of the big-ticket North-South expressway project to be developed in the 2021-2025 period.
A consortium comprising three contractors – Deo Ca Traffic Infrastructure Investment JSC, Deo Ca Group and Dacinco Construction Investment – started work on the first package of the Quang Ngai-Hoai Nhon expressway on January 1 this year.
The consortium then mobilized 50 pieces of equipment and hundreds of employees to implement the construction package at five locations.
However, the consortium has been grappling with the lack of building materials. It has surveyed 34 soil mines, 19 quarries and 12 sand mines in the region, but their reserves are insufficient. Meanwhile, authorities have yet to approve four other mines containing some 1.2 million cubic meters of material for mining.
Regarding commercial mines, the owners showed signs of hoarding materials, news site vnexpress.vn reported.
The lack of building materials has plagued many infrastructure projects in the country. The Ministry of Transport, in coordination with the Ministry of Natural Resources and Environment, has been weighing using sea sand and will release their evaluation results by the end of this year.
In the next two years, river sand will still serve as a major source for backfilling. The two ministries asked localities through which the expressway will pass to increase the capacity of the licensed mines.
HCMC's Tet retail sales at five-year high
Total revenue from retail sales of goods and services during the Lunar New Year (Tet) holiday reached a five-year high of around VND57 trillion, data of the HCMC Department of Industry and Trade showed.
Consumption grew strongly during the period from January 14 (the 23rd of the 12th lunar month) to January 18 (the 27th of the 12th lunar month), the department told a press conference on February 2.
Prices of consumer goods shot up shortly before the short of the Tet holiday, which lasted from January 20 to 26.
Many stores in the city were not as busy as in previous years as many customers chose online shopping.
Most businesses in HCMC have returned to normal operations after Tet, with over 95% of factory employees getting back to work.
The business community is facing lots of difficulties, including a sharp fall in orders from customers and tough access to new loans.
Nearly 4,000 business establishments to use e-invoices from cash registers
As many as 3,943 business establishments are set to roll out e-invoices generated from cash registers by March 2023, including 1,850 businesses and 2,093 business households.
The information was revealed by Dang Ngoc Minh, deputy general director of the General Department of Taxation (GDT) at a meeting co-organised by the Ministry of Finance (MoF) and the Ministry of Public Security (MoPS) on the matter in Hanoi on February 3.
Of these, 805 have registered to use e-invoices created from cash registers and got approvals from the tax authorities. Of their over 85.38 million e-invoices, 544 from cash registers have been sent to the tax authorities' system.
As of January 31, the tax authorities had received and processed more than 2.8 billion e-invoices, including 753.46 million coded e-invoices with the tax authorities' confirmation code.
According to Minister of Finance Ho Duc Phoc, the rollout of e-invoices generated from cash registers aims to prevent revenue losses and improve compliance.
The MoF targets connect all e-invoices generated from cash registers to the tax authorities' data system, he said, adding that Hanoi, Hai Phong and Ho Chi Minh City will be piloted, with focus on key areas such as restaurant and hotel business, supermarket, and jewelry trading.
Banks plan to pay cash dividends for first time in three years

Some banks have announced plans to pay cash dividends to shareholders for the first time in three years.
Accordingly, TPBank is due to pay a cash dividend at a rate of 25 per cent instead of a stock dividend like in previous years. This means that shareholders will receive VND2,500 (US$0.11) per owned share.
The payment is expected in the first quarter of 2023. The source is from undistributed profits as of 2021 after disbursing funds according to the audited financial statements.
This is the first bank to consult shareholders on cash dividend payments this year.
TPBank said that accumulated to the end of 2022, the remaining profit and surplus from funds reached more than VND13.36 trillion. Of which, the undistributed profit until 2021 after distributing to funds was nearly VND5.5 trillion.
Last year, TPBank also recorded a 30 per cent growth in profit before tax to nearly VNDD7.9 trillion, thanks to an increase in fee income and the recovery of customers whose debts were extended during the pandemic, so risk provisions were reduced.
Previously, Vietnam International Commercial Joint Stock Bank (VIB) said that if it is approved by the general meeting of shareholders and approved by the State Bank, it can pay a cash dividend of up to 35 per cent of the charter capital, meaning that shareholders owning one VIB share can receive VND3,500 in dividends. According to VIB's representative, the payment rate could be higher if irregular revenues were recorded in 2022.
In 2022, VIB recorded a profit before tax of more than VND10.58 trillion, an increase of 32 per cent over the previous year.
Similarly, Vietnam Prosperity Commercial Joint Stock Bank (VPBank) and Asia Commercial Joint Stock Bank (ACB) also plan to pay cash dividends this year.
Service sector to account for 60 percent of HCM City workers
Enterprises and organisations in HCM City will need to employ between 280,000-320,000 people in 2023 with nearly 60 percent of the number expected to join in nine key service industries, according to the Human Resources Forecast and Labour Market Information (Falmi) Centre.
Trade industry was announced to have the highest labour demand, accounting for 15.22 percent of the city's needs. In addition, some other service industries including banking and finance, real estate, tourism, and post and telecommunication make up 5.93 percent, 5.91 percent, 5.66 percent, and 5.45 percent of the city's labour demand, respectively.
Meanwhile, enterprises in four key industries are estimated to employ about 20.30 percent of the city's workforce this year, including 6.99 percent for information technology, 4.91 percent in mechanical engineering, 4.62 percent for the chemical - pharmaceuticals, and 3.78 percent for the food processing industry.
Falmi has forecasted that this year, the labour market in HCM City may follow two scenarios based on the development of the global economy.
In the first scenario, the global economy slows down and badly affects export firms, the city will need between 280,000-300,000 workers in 2023.
In the second scenario, if the global economy develops positively and local firms have more orders from overseas, the city may need between 300,000-320,000 labourers this year.
Hanoi plans to have 3,000 cooperatives by 2030
Hanoi targets to set up more than 3,000 cooperatives by 2030, including 250 hi-tech agricultural cooperatives.
The goal is included in an action program on innovation and development of collective economic efficiency in the new period, which was released on February 2.
More specifically, Hanoi strives to establish about 100 new cooperative groups and 100 cooperatives annually by 2030, increasing the total number of cooperatives by 2025 and 2030 to nearly 2,500 and over 3,000, respectively. By 2045, the city would have about 450 to 500 new cooperative groups and seven to 10 cooperative unions.
To achieve this goal, Hanoi will continue to promote the dissemination of the 2012 Law on Cooperatives and improve the capacity of cooperative resources, adopt preferential policies, and apply scientific and technological advances for the development of cooperatives.
The city will also encourage enterprises' investment and product consumption for the cooperatives; support cooperative models linking production, processing, and consumption of agricultural, forestry, and fishery products in value chains and models with the application of high technology in concentrated commodity production areas.
According to the Hanoi People's Committee, the city now has 1,393 cooperative groups, 1,254 of them engaged in agriculture and most of the rest in handicraft production. Cooperative groups address many difficulties that the family economy cannot, such as shortages of capital, supply of tools, techniques, production expertise, and market competitiveness.
By the end of 2022, the city had a total of 2,374 cooperatives, an increase of 143% compared to the number of the previous five years, forming up to 20 cooperative unions. Of those, eight operate in agriculture, and 11 others are in non-agriculture sectors.
Hanoi creates favorable conditions for expansion of gas stations
Hanoi will create optimal conditions for companies to expand their gas station networks throughout the city.
Vice Chairman of the Hanoi People's Committee Nguyen Manh Quyen made the commitment at a meeting with Petrolimex Hanoi on February 2.
Petrolimex Hanoi, a member of the country's largest petrol distributor Petrolimex, is responsible for distributing petrol and gas to filling stations in the north and also owns a large network of 116 stations in Hanoi, Vinh Phuc, and Bac Ninh.
Duc Giang Oil Depot, located in Long Bien District, remains the country's largest of its kind in Vietnam and holds a strategic role for petrol distribution in the North with a storage capacity of 82,000 cubic meters.
In 2022, Petrolimex Hanoi distributed a total of 1.28 million cubic meters of petrol, averaging around 110,000 tons per month.
This resulted in revenues of VND27.2 billion (US$1.16 billion) and tax amounts of VND2.72 billion ($116,000).
AeroExpo Hanoi & Vietnam Aviation Forum 2023 scheduled for March

The AeroExpo Hanoi & Vietnam Aviation Forum 2023 will take place from March 21-23, according to the Hanoi Department of Industry and Trade.
The event was expected to develop a premium network of sustainable manufacturing, supply and consumption channels in the aviation industry, said Tran Thi Phuong Lan, Acting Director of the department, at a press conference in Ha Noi on Monday.
The fair and forum would connect domestic and international units and businesses in aviation and support industries, enabling Vietnamese businesses to participate in the global network, she added.
There would be 120 booths of businesses from 15 countries, displaying products and technologies in the aviation sector.
Major aviation companies like Airbus, Boeing, Safran, Thales, Mitsubishi and Parker and about 50 foreign firms were expected to join the event to seek development partners in the Southeast Asian nation, she said.
Organisers will step up communications, build a database and support the participating enterprises, she said, suggesting domestic companies make careful preparations to utilise opportunities to be generated by the event.
SBV pumps more money into banking system post Tet
The State Bank of Vietnam (SBV) has injected more money into the banking system since the Lunar New Year (Tet) holiday ended more than 10 days ago.
The central bank on February 3 bought over VND2.4 trillion worth of seven-day valuable papers with an annual coupon rate of 6%, while draining VND15 trillion from the banking system by selling Treasury bills with a seven-day tenure and a coupon rate of 5.79% a year.
The net withdrawals amounted to nearly VND12.6 trillion. That, coupled with the SBV's injections from January 27 to February 2, brought the total net injection to over VND65.8 trillion.
From January 27 to February 2, the central bank purchased valuable papers valued at over VND78.4 trillion with a seven-day term and an annual coupon of 6%.
Meanwhile, interbank interest rates have edged up since the end of Tet, a clear indication that the banking system still has liquidity problems.
Data from the SBV showed that overnight rates rose from 6.13% on January 27 to 6.26% on February 2.
Vinfast and US Bank partner to provide car rental and loan solutions in US
As Vietnam's first global EV maker, VinFast has unveiled that it has selected the US Bank as its priority partner to provide long-term loan and leasing solutions in the United States for customers
By becoming a partner of VinFast, the US Bank will officially supply a long-term loan and rental solution for VinFast's EV models. As a result, transactions will be made at VinFast stores or through the company's website.
Le Thi Thu Thuy, vice chairwoman of Vingroup and Global CEO of VinFast, unveiled that VinFast has been constantly looking for optimal solutions for its customers, with the ultimate goal of making electric cars accessible to everyone.
She added that the partnership that exists with the US Bank is aimed at helping customers gain entry to competitive lending and rental rates in the most convenient manner, as well as offering top-notch customer service.
The co-operation agreement was announced amid VinFast preparing to launch additional stores in California, as well as in other locations throughout the US.
Hai Duong targets 400 million USD in FDI in 2023
The northern province of Hai Duong has set a target to attract 400 million USD in foreign direct investment (FDI) in 2023, according to Vice Director of the provincial Department of Planning and Investment Nguyen Duy Hung.
The locality licensed five new FDI projects worth 15.8 million USD in January. Meanwhile, 5.6 million USD was added to three existing projects.
Hung said that the locality will speed up work on the province's master plan in the 2021 – 2030 period, with a vision of 2050 as a basis for building priority criteria to attract investment projects, especially planning of a key industrial zone for large-scale, modern and environmentally friendly investment projects.
It will focus on maximising resources to develop synchronous and modern socio-economic infrastructure networks and accelerate the construction of infrastructure of industrial parks such as Dai An, Tan Truong, Phuc Dien, An Phat 1, Kim Thanh, and Gia Loc, and other industrial zones and clusters in the area.
The locality will renew investment promotion methods with priority given to investors in the Republic of Korea (RoK), Japan, the US and Europe; speed up administrative reform; and optimise communication channels to approach investors, Hung added.
Last year, as many as 368.1 million USD in FDI was poured into Hai Duong, up 15.3% year-on-year.
The locality is home to 498 foreign-invested projects with a total investment of over 9.2 billion USD from 26 countries and territories. The projects have created jobs for over 220,000 direct workers and thousands of indirect labouers.
Bac Lieu eyes 1 billion USD in shrimp exports
The southern coastal province of Bac Lieu aims to raise shrimp export revenue to 1 billion USD this year, against last year's 853 million USD.
To realise the goal, the province will expand the areas of high-tech farming and create favourable condition for enterprises and households to boost their production towards sustainable development.
The linkage between farmers and enterprises will be strengthened in line with large-scale production.
Phan Van Sau, director of the provincial Industry and Trade Department, said a lot of local aquatic processing factories have been upgraded to increase their capacity.
To turn Bac Lieu into a shrimp farming centre, the locality is actively supporting businesses in renovating technology to diversify processed products and updating information on market demand and technical barriers. Trade promotion will be strengthened along with training courses for farmers.
The province counts 188 shrimp fry facilities, of which 159 specialise in tiger prawn and 29 in white-leg shrimp. Besides, there are 33 aquatic processing factories for export with a combined capacity of some 125,000 tonnes each year.
China, the Republic of Korea, the US, the EU and Japan are major importers of Bac Lieu's shrimp.
Vietnamese products trying to make inroads into Russian market
There remains plenty of room for Vietnamese commodities such as products such as farm produce, food, apparel and footwear to enter the Russian market as Russia is seeking to promote cooperation with friendly countries, including Vietnam, according to the Vietnam Chamber of Commerce and Industry.
However, Vietnamese exports to this market have experienced a downward trend in recent times, especially in the categories of computers, electronic products, mobile phones, garments and textiles, footwear, machinery, equipment, tools and spare parts, according to Duong Hoang Minh, Vietnamese Trade Counselor in Russia.
Minh therefore proposed that the Ministry of Industry and Trade and relevant agencies convene an intergovernmental meeting in an attempt to remove hurdles in terms of payment methods and transportation of goods in order to boost trade exchanges between the two sides.
The trade official pointed out that Russian supermarkets and businesses are keen to promote trade and investment ties with Vietnam, and that the number of Russian companies attending trade fairs and exhibitions and seeking business opportunities in Vietnam has increased significantly recently.
Amid unpredictable developments relating to the Russia-Ukraine conflict, local businesses are advised to closely monitor the market situation to ensure they can take proper response measures in a timely manner, and at the same time gain greater insights into partners before signing a contract.
Management agencies have been encouraged to support localities, craft associations, and businesses to attend exhibitions in Russia this year to further promote exports to the Russian market.
At present, the Vietnam Trade Promotion Agency and the European - American Market Department has co-ordinated to connect Vietnamese businesses with Leroy Merlin East Company in order to introduce their goods to the Leroy Merlin retail supermarket chain in Russia.
Hanoi-Quang Ninh railway project under reconsideration
The Ministry of Transport is going to reconsider the Yen Vien - Pha Lai - Ha Long - Cai Lan railway project in 2024 after it has been suspended for nearly 20 years due to investment problems.
The VND7,665 billion (USD326.30 million)-government invested 131-km project started in May 2005, running from Yen Vien Station in Hanoi through Bac Ninh, Hai Duong provinces, and ending at Cai Lan Port in Quang Ninh Province.
About 43 kilometres of the 131 km rail track was planned to be newly built while the remaining 88 kilometres would be upgraded from the existing Kep - Ha Long railway line.
The project was expected to become a key component in the development of the northern economy, particularly in connecting two corridors and an economic belt between Vietnam and China.
Although scheduled to be put into operation in 2011, only a third of the project had been completed and the transport ministry explained this was due to a shortage in investment.
Many of the constructions are now covered in moss and badly deteriorated. Local residents have complained about their lives being badly affected by the sluggish project.
The ministry recently asked the Railway Project Management Board to look into the project again and make a new construction plan for approval in 2024.
Source: VNA/SGT/VNS/VOV/Dtinews/SGGP/VGP/Hanoitimes