VIETNAM BUSINESS NEWS HEADLINES OCTOBER 20
Vietnamese supporting industries lag far behind Thailand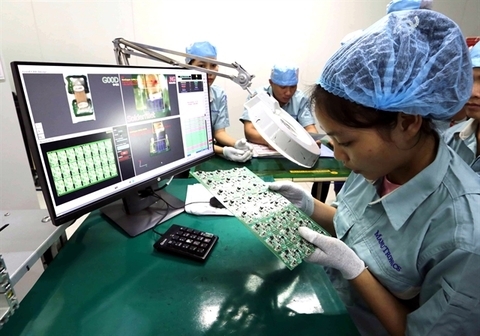 Compared with Thailand, Vietnamese supporting industries are still in a nascent stage. The localization ratio of the Thai automotive industry is roughly 60-70% compared with 7-10% in Vietnam, stated Vu Trong Tai, general manager of Reed Tradex Vietnam.
Tai told the Saigon Times that the supporting industries in Vietnam have made impressive progress over the last few years. The country has seen more small and medium enterprises (SMEs) participating in the global supply chain, and the localization ratio has increased. Many local companies can now supply high-quality products to Samsung, Intel and other giants.
However, there is still much room for development to fill existing gaps. The number of SMEs qualified to serve the global supply chain is limited, modest in scale and lacks collaboration, resulting in low supply capability. In addition, the lack of proper investment in the latest technology hinders competitiveness in terms of quality and cost.
Meanwhile, a large number of SMEs among the three million enterprises in Thailand with a relatively large scale and using the latest technologies can provide a full range of parts for most industries, Tai said.
The Thai government has developed a clear strategy and policy to provide support and make it so transparent that enterprises can make long-term plans.
Beside this, infrastructure in Thailand has been developed to support higher speed transactions with lower logistics costs. SMEs now have easy access to business promotion opportunities and databases, according to Tai.
Speaking of changes in exhibitions for supporting industries, Tai said that the number of participants from supporting industries continues to grow every year, especially this year.
"We see that our industrialists today, in both the public and private sectors, have become more sophisticated and knowledgeable and are demanding to see more advanced technologies and to acquire a wider business network," he said.
"And this is what we have been striving to offer at our exhibitions," he added.
Most Vietnamese enterprises in the supporting industries recognize the importance of face-to-face business transactions, and participating in exhibitions can bring great opportunities for branding, networking, expanding businesses and learning new market trends.
As for the demand for machines among supporting industries in Vietnam, Tai said that "exhibitions are an amazing tool if you want to check the temperature of a market or monitor demand for a particular product."
The signs of higher machinery demand within the Vietnamese industry could be seen at the Vietnam Manufacturing Expo, which Reed Tradex organized in August. The exhibition displayed the latest machinery and technologies for the manufacturing and supporting industries and attracted over 11,000 attendees, marking a 40% increase over the last edition, according to Tai.
Tien Giang wants another tollgate for Cai Lay bypass
Another tollgate is expected to be built on a bypass around Cai Lay Town in the southern province of Tien Giang to recover capital for a controversial build-operate-transfer (BOT) road infrastructure project there.
BOT is a format widely used for the construction of roads and bridges with developers awarded the right to collect toll fees for a certain period of time to recoup their capital.
In this case, National Highway No.1 Tien Giang Investment built a 12-kilometer road bypassing Cai Lay Town and renovated a 26.5-kilometer section of National Highway 1, which runs through Cai Lay Town in the province.
This company is a consortium between Bac Ai Construction Investment Consultation JSC and Transport Construction and Investment Trading JSC No.1.
In August 2017, the investor set up a tollgate on the highway to recover its capital, but after toll collection started, drivers staged strong protests, repeatedly paralyzing the tollgate's operation.
Drivers reasoned that the investor had built the bypass, so it only had the right to collect fees from vehicles that used this road section. It was illogical to charge vehicles running on the highway, they argued, and the toll fees at the time were too high, almost the same as the fee for using the 40-kilometer HCMC-Trung Luong Expressway.
Following the protests, the Government ordered the tollgate be suspended, and the Ministry of Transport was told to put forward feasible solutions to break the stalemate.
Tran Van Bon, director of the provincial Transport Department, told the Saigon Times today, October 14, that the Ministry of Transport has floated two solutions to resume fee collection at the BOT Cai Lay Tollgate.
He said the first solution is to collect fees on the highway, where road users in 41 communes, wards and towns near the existing tollgate will enjoy toll reductions and exemptions.
The other option is to build another tollgate on the bypass and collect toll fees on both roads. If either of the tollgates recovers the initial investment, that station will be demolished.
Local authorities are in favor of the second option, and they are seeking feedback from the ministry, which will then report the result to the prime minister for approval, according to the director.
The ministry noted in a report that the project has a post-audited total investment of more than VND1.38 trillion, including some VND680 billion for the bypass and VND380 billion for the renovated national road.
New direction for Vietnamese tourism
The combination of tourism and the stage is expected to open a new path for Vietnamese tourism during its development towards stable and sustainable growth.
Currently, the strong development of the tourism industry has made the number of visitors in many countries, including Vietnam, constantly increase. This situation is praiseworthy, but also requires frequent innovation from the tourism industry in finding new destinations and making unique experiences to attract tourists, thereby helping boost the sector's growth towards stable and sustainable development.
The combination of tourism and theatre has been considered a new direction for a range of travel businesses, promising to bring about positive effects. Under this combination, two benefits can be seen immediately. Firstly, a dynamic and modern stage model based on crystallising the characteristics of the national culture would contribute effectively in promoting tourism of each country. Meanwhile, through tourism, theatre genres would be expanded to a large number of the audience, and artists would have more space to be creative.
In fact, over the past years, many art forms, including the stage, have contributed significantly to the success of the tourism industry in many countries. In some countries, the stage has been chosen as the key to serve tourists, reflected in the art performances that are the main theme of the tours. Evidence for that can be seen through the fact that many tourists buy tours to enjoy ballet in Russia, Noh drama in Japan, Peking opera in China or Cabaret performances in Thailand.
In Vietnam, in the design of tours, besides the linking with historical monuments and scenic spots, some travel businesses have added enjoying the traditional theatre arts, such as cai luong (reformed opera) and don ca tai tu (Southern amateur music) in the Mekong Delta, tuong (classical) drama in Binh Dinh, ca kich (traditional royal theatre) in Hue, bai choi (singing while playing cards) singing in Quang Nam, xoan (spring) singing in Phu Tho and quan ho (love duet singing) in Bac Ninh, in their tours. Recently, the two unique art programmes that have attracted the attention of many domestic and foreign tourists are the Tinh hoa Bac Bo (Quintessence of Tonkin) in Hanoi and the Ky uc Hoi An (Hoi An Memories) show in Quang Nam.
The common feature of these two programmes is the use of scene design and stage lighting which is elaborately choreographed with the combination of both traditional and modern arts, under the effective support of sound and lighting that impress the audience. Through these shows, visitors not only enjoy a variety of unique traditional arts but also have the opportunity to understand and love the destinations' culture.
The new direction is expected to soon bring about high efficiency in practice, contributing to promoting the strong development of the tourism and theatre, thereby making a positive contribution in promoting the image of the Vietnamese country and the people to the world.
However, it must be acknowledged frankly that, at present, the travel agencies' introduction of art performances on their tours is still largely in a spontaneous and fragmented manner with a range of limitations, resulting in a quite monotonous and unattractive content. From such a situation, there must be a methodical strategy to make the combination of tourism and theatre more effective.
For the tourism industry, experts have suggested to proactively "order" the art units and tourism agencies in enhancing the integration of artistic enjoyment activities in organising their tours. On the artists' side, there is a need to constantly innovate thinking to build high-quality art programmes imbued with national identities, while being able to adapt to all conditions to perform well in serving the public with different audience types.
JLL: Hanoi retail occupancy down, HCMC up
Hanoi's retail market recorded negative absorption during the third quarter of 2019, according to a quarterly report from JLL.
The report noted that the occupancy rate in the quarter fell to 90.3 per cent as a number of shopping centers began renovations or changed strategies for their tenant mix, in addition to a few anchor tenants leaving, such as Auchan at the Mipec Riverside Shopping Center.
Retail space that had focused on building brand images and had adopted good leasing strategies still posted strong performance with high occupancy rates, while other malls were struggling to retain tenants. AEON Mall, Vincom Metropolis, and Vincom Tran Duy Hung, for example, all performed well and had less than 5 per cent vacant space for lease.
Total supply in Hanoi's retail space remained stable in the third quarter with no new openings. Thanh Xuan and Hai Ba Trung districts held their first and second positions in terms of total retail space, with two VincomMega Malls in Royal City and Times City, respectively.
Hoan Kiem district, despite being in the heart of Hanoi, was far behind in terms of retail supply, and this trend is expected to continue in the future as new malls tend to require large development sites.
Hanoi's retail market is likely to expand as there are new completions expected to come on stream in the fourth quarter of 2019 and next year. New malls are expected to bring in new concepts to establish themselves in consumer minds, and existing malls need to keep up with market trends to maintain stable performance.
Meanwhile, positive demand continued to be seen in Ho Chi Minh City's retail market, with the overall occupancy rate being some 89 per cent. Performance at several centers that concluded tenant reshuffling and applied more flexible lease terms steadily improved.
The results recorded at these centers encourages others to begin their repositioning strategies and tenant reshuffling activities. International affordable / mid-end brands and local chain stores in the food and beverages (F&B), beauty and healthcare, fast fashion, and entertainment sectors posted solid performance and are preferred by most landlords as major drivers of footfall.
In an effort to induce customer spending, many tenants have started to cooperate with popular fintech apps such as Momo, Grab Pay by Moca, Vnpay, and others, to provide attractive promotions via e-wallet payments.
In the fourth quarter of this year, Crescent Mall Phase 2 will be put into operation, adding about 25,000 sq m gross floor area (GFA) to total stock. Other projects in the pipeline have been postponed because of slower than expected construction progress.
The F&B, fast fashion, and lifestyle sectors will continue to be key demand drivers in the market. International brands will still eye Vietnam's market, thanks to its young demographic and the rise of its middle-income population.
VEPR: Huge trade surplus with US may be problematic
Vietnam is at risk of being listed as a currency manipulator by the US in the near future, according to a quarterly report released by the Vietnam Institute for Economic and Policy Research (VEPR) last week.
The report noted that the trade balance in the third quarter was estimated at a surplus for Vietnam of $4.3 billion, of which the domestic economic sector posted a deficit of $4.9 billion and the FDI sector (including crude oil) a surplus of $9.16 billion. In the first eight months of this year, Vietnam's exports to the US increased by 27 per cent in value over the same period last year, exceeding $39 billion.
According to VEPR, becoming one of the seven largest export partners of the US in the third quarter, along with increasing foreign exchange reserves of more than $71 billion, puts Vietnam at risk of being accused of currency manipulation.
It therefore recommends that the State Bank of Vietnam (SBV) be careful in operating monetary policy, both flexibly and objectively. Vietnam should focus on fiscal, monetary, and exchange rate policies to tackle the instability found in the world economy, adjusting exchange rates flexibly and keeping interest rates stable.
The report also noted that economic growth in Vietnam reached 7.31 per cent in the third quarter and 6.98 per cent in the first nine months of 2019. Trade turnover in the third quarter was $71.76 billion, up 10.86 per cent compared to the same period of 2018. In the first nine months, trade turnover was estimated at $188.42 billion, up 8.9 per cent. China is still the largest import market for Vietnam, reaching $55.5 billion, up 17.3 per cent.
Commenting on the positive points of the macroeconomy in the first nine months, Economist Can Van Luc said exports and improved competitiveness have been bright spots for Vietnam. "In particular, there has been a positive shift in investment capital flows, reducing dependence on bank credit," he added.
Dr. Pham The Anh, VEPR's Chief Economist, said the reason for growth in the first nine months is the same as for the same period last year - higher growth in industry is, offsetting the decline of the agricultural sector, while the mining sector soared.
He added, however, that the growth figure may be equal but the quality of growth and the prospects for growth are poorer due to growth depending on resource exploitation and Vietnam recently suffering from environmental pollution, such as air pollution. "The worsening growth prospects is also due to an increase in the average inventory index from 2018 to 17.2 per cent, posing a risk of temporary production stagnation and enterprises scaling back production," he added.
TikTok launches TikTok Trends program
TikTok, a leading destination for short-form mobile videos, last week announced the launch of TikTok Trends in Vietnam, a regional program dedicated to driving awareness among brands and the industry when it comes to making the most out of TikTok as a creative advertising platform.
As a preferred platform for expression among the creative young audience, specifically Gen Z and Millennials, TikTok provides brands with the opportunity to engage them in a dynamic, mobile-first format.
TikTok Trends aims to help marketers learn more about the short-form video industry in general and TikTok in particular, with the objective of empowering brands to make strategic business decisions through a wide array of initiatives: TikTok Trends Events, TikTok Trends Newsletter, TikTok Trends Entertainment Marketing White Paper, and TikTok Creator Academy.
At the launch event, TikTok also hosted a panel discussion featuring industry experts from the Novaon Group, Viettel Telecom, PepsiCo Vietnam, Maybelline-L'Oreal Vietnam, the Anymind Group, and the Mobile Marketing Association Vietnam (MMA), offering valuable insights on the short-video space, the latest short-video trends, and how TikTok has played a role in redefining advertising in today's digital world.
"Fueled by the rise of mobile as the key device for today's media consumption, short-form videos have become an essential format either for entertainment, learning new tips, or keeping up with news and trends," said Ms. Diem Hoang, Head of Marketing at TikTok in Vietnam.
"Short-form video consumption has increased steadily in Vietnam and across Southeast Asia, especially among Gen Z, 98 per cent of whom own a smartphone. By offering valuable insights on the latest trends in the short-video space, TikTok Trends can equip and empower marketers in today's digital world, inspiring their next marketing campaign and helping them make strategic and impactful business decisions."
According to a recent study by Wyzowl, 2019 has witnessed a rapid rise in videos through digital marketing methods, with 87 per cent of companies using videos for marketing purposes. In Vietnam as well as elsewhere in the world, TikTok provides easy-to-use video capturing and editing tools directly from the smartphone, allowing the creation of diversified content that is unique and interactive.
With diversified content and a fast-growing digital community of over 12 million monthly active users, TikTok continues to receive an overwhelming response in Vietnam. In 2019, TikTok launched #HelloVietnam - a program to promote Vietnam's tourism. Through two campaigns - #HelloDanang and #HelloNinhBinh - the program has become one of the best performing programs of TikTok by far, garnering over 314 million views.
As part of the TikTok Trends program, TikTok also launched the TikTok Trends Creator Academy - a program that offers a series of workshops to empower creators to develop and create compelling brand content and stories on TikTok, made possible by TikTok's strategic partnerships with MCNs and a robust creator network across Southeast Asia.
Tapping into Vietnam's dynamic creative market as a net contributor, TikTok believes TikTok Creator Academy will play a significant role in facilitating the growth of the overall creative industry in Vietnam. The initiative will serve as an offline ecosystem facilitating the development of creators and a platform for Vietnamese talent to join TikTok as a promotional platform to boost their careers.
Over 150 RoK enterprises set to attend Korea-Vietnam Business Summit
The Chu Lai Complex in the central province of Quang Nam will play host to the Korea-Vietnam Business Summit on November 9, which is expected to attract more than 150 businesses from the Republic of Korea.
The event, jointly held by the Vietnam Chamber of Commerce and Industry (VCCI), the RoK's Government's Presidential Committee on New Southern Policy, the Korea Trade-Investment Promotion Agency (KOTRA), and other relevant units, aims to further boost economic relations between Vietnam and the Republic of Korea (RoK).
It will also bring over 500 delegates together, including representatives from various government offices, economists, and business leaders of both nations.
Delegates are expected to discuss major topics such as the future of the Vietnam-RoK economic co-operation strategy, the development plan for the central region, co-operation investment opportunities for the Tam Ky smart city project, smart cities in the RoK, and other investment opportunities in Vietnam.
During the event, business representatives will be given a platform to share their experience and successful lessons in business co-operation.
In addition, the summit will provide a venue for enterprises to seek investment opportunities in such fields as smart cities, high technology, green technologies, energy, and startups.
Dragon Capital no longer a major shareholder of PV Power

A group of investment funds run by Dragon Capital has sold a total of 1.27 million shares in PetroVietnam Power Corporation (POW), reducing their ownership from 5.05 per cent to 4.99 per cent in the firm.
Accordingly, Dragon Capital is no longer a major shareholder of POW.
The sellers were Wareham Group Limited (317,430 shares), Quena Ltd (300,000 shares), KB Viet Nam Focus Balanced Fund (255,000 shares), Norges Bank (170,000 shares), DC Developing Markets Strategies PLC (160,000 shares) and Amersham Industries Limited (70,000 shares).
Currently, the Viet Nam Oil and Gas Group (PVN) is the largest shareholder of POW, holding 79.94 per cent of the capital, followed by Dragon Capital Group which owns 117 million shares (4.99 per cent).
POW is also included in the portfolio of some big exchange-traded funds (ETFs) such as VNM ETF, FTSE Viet Nam ETF and iShare MSCI Frontier 100 ETF.
On the stock market, POW hit a peak of VND17,500 (US$0.7) on February 18 then continuously declined, down by 27 per cent since then. It closed Friday at VND12,750 per share.
In the first six months of this year, PV Power recorded revenue of VND18.3 trillion, an increase of 2.8 per cent year-on-year. Post-tax profit rose by 28 per cent to VND1.7 trillion.
Bac Giang opens consulting and assistance centre for businesses

The Business Association of Bac Giang Province has launched the Bac Giang Enterprise Consulting and Assistance Centre.
The centre provide services relating to business establishment, restructuring, production expansion and other business activities.
It will deploy projects and programmes supported by central and local administrations along with domestic and foreign organisations to develop businesses in the province, especially small and medium-sized enterprises.
The centre will coordinate with training facilities to open courses in the fields of corporate governance, human resource development and technology, and legal mechanisms and policies relating to corporate operation.
At the same time, it provides consulting services for domestic and foreign investment projects in Bac Giang to help investors to carry out administrative procedures.
Speaking at the launch event, Vice Chairman of the People's Committee of Bac Giang Province Duong Van Thai affirmed the role and contributions of businesses to the socio-economic development of the Province.
He also appreciated the Business Association's efforts to establish the centre.
Viet Nam, China boost tea and coffee production co-operation

Viet Nam wants to promote co-operation in production and consumption of tea and coffee with China, said Minister of Agriculture and Rural Development (MARD) Nguyen Xuan Cuong at forum held in Ha Noi on Monday.
The forum, attended by Chinese Minister of Agriculture Han Changfu, Government officials and representatives of businesses of the two countries, aimed to boost consumption, helping businesses strengthen connection in production and supplying raw materials for processing.
Cuong said Viet Nam and China are the two major agricultural product exporters. "The two sides have similar culture of enjoying tea and coffee, so it's a great opportunity for businesses to co-operate in production, processing and trading of tea and coffee, not only serving people of the two countries but also exporting to the global market with a population of 7.7 billion people."
"China is a big importer of Vietnamese agricultural products, however, the potential is very large, so it's necessary to increase the supply of agricultural products for the global agricultural chain," Cuong said.
Cuong said China is also a nation progressing in science and technology, especially in regard to seedlings. "The two sides need to further co-operate in this field, as well as dealing with climate change, natural disasters and agricultural product processing."
Chinese Minister of Agriculture Han Changfu said tea has become a valuable asset. China and Viet Nam are countries with a tradition of growing tea in large volumes.
"We play important roles in the world tea market and China is a big market for Viet Nam's tea exports. Tea and coffee of Viet Nam hold an important position in the Chinese market," Han said.
"Many Vietnamese giants such as Vinacoffee have been well received by Chinese people. I hope there will be large market for Viet Nam's tea and coffee industry in China," he added.
Nguyen Thiet Cuong, deputy director of the Minh Tien Coffee Import Export Co., Ltd, said people only think about coffee drinks, but in fact the nature of coffee trees can offer a lot of products.
"It's necessary to find processing methods to gain higher value from coffee trees, in which technology is the most important thing. Processing technology must be improved and innovated to exploit the value of coffee," Cuong said.
A MARD report shows that Viet Nam's tea growing area was about 125,000ha with a capacity of nearly 90 tonnes per hectare and output of more than one million tonnes of fresh buds. Up to now, it can produce various kinds of tea to serve the diverse consumption needs of customers around the world.
Viet Nam's tea products have been exported to 61 countries and territories, ranking fifth in the world in terms of export value and second in terms of output.
In 2018, the country's tea export volume reached 128,000 tonnes, worth US$219 million.
As for coffee, the country has 688,400ha of coffee in 2018, up 30 per cent compared with 2008, marking an output of nearly 1.62 million tonnes.
Viet Nam has exported coffee to more than 80 countries and territories, ranking second in the world and first in term of Robusta coffee exportation. Last year, the country earned $3.5 billion from export of 1.88 million tonnes, up 20 per cent in volume compared with 2017. 
Viet Nam-Singapore IPs lure more than $8.52b

Nine Viet Nam-Singapore industrial parks (VSIPs) nationwide have to date attracted 553 foreign-invested projects with capital totalling more than US$8.52 billion.
Over the past nine months, the inflow of foreign direct investment into VSIPs saw a significant increase of 80 per cent to $696.2 million or nearly doubling the yearly target, the online newspaper congthuong.vn cited the VSIP management board as saying.
According to the board, two out of three VSIPs in the southern province of Binh Duong reported full occupancy, attracting a combined capital of $8.2 billion.
During the period, VSIPs had also lured more than VND760 billion ($32.6 million) from domestic investors, bringing the domestic investment capital registered to these parks thus far to above $9.82 trillion ($423 million).
In the remaining months of this year, the board will concentrate on solving investors' difficulties in a timely manner in order to facilitate their operations in addition to speeding up investment promotion to attract more investment capital, deputy head of the board Nguyen Thanh Trung told the newspaper. — 
HCM City welcomes British investment in long-term projects

HCM City authorities will create favourable conditions for investors who want to make long-term investments in the city, especially those from the UK, an official said on Monday.
Speaking at a dialogue between the British Business Group Viet Nam (BBGV) and city officials, Pham Thiet Hoa, director of HCM City's Investment and Trade Promotion Centre (ITPC), said: "The UK has always been one of the city's most important partners in many fields such as education, banking and finance, hotels, real estate, and trade and services."
The UK business community is growing fast in both scale and quality of projects, showing huge potential for investment cooperation between the UK and the city, according to Hoa.
He said the city government wanted feedback from the British business community so that it could propose solutions to facilitate investment.
Kenneth Atkinson, a member of the board of directors at BBGV, said the UK government wanted to enhance trade ties with Viet Nam, particularly HCM City, and deepen the relationship between the two countries.
UK investors, he said, have been impressed with HCM City's dynamism and its development potential.
Since May, ITPC and BBGV have been addressing a list of 33 questions related to issues such as labour and social insurance laws, real estate and construction, and taxes, among others.
ITPC has been working with 16 departments and agencies to respond to all the questions and recommendations from businesses, according to Hoa.
The conference focused on solving 13 outstanding issues and answering additional questions raised by the businesses.
The roundtable discussed problems related to administrative procedures for enterprises and investors in HCM City.
With more than 500 members, the BBGV works closely with the British Consulate General and the UK Department of International Trade to promote two-way trade and investment between the UK and Viet Nam.
As of September, the UK is HCM City's biggest trade partner, with two-way trade reaching US$761 million last year.
The UK ranks 11th among 106 countries and territories investing in the city, with 153 projects worth over $600 million.
HCM City and the British Consulate General are also working on a project to develop a smart ticket system for the city's public transport network.
The city's ITPC has organised 188 direct dialogue meetings and conferences with trade promotion organisations and business associations, answering more than 784 questions from enterprises and disseminating new policies. — VNS
Binh Duong province gears up for Horasis Asia Meeting
The southern province of Binh Duong is making meticulous preparations for the Horasis Asia Meeting which will take place in its Thu Dau Mot city on November 24-26.
According to the provincial People's Committee, decoration, letters of invitation and meeting halls are in preparation. Particularly, as communication work has been paid due attention, the Department of Information and Communications is building a portal to popularise the event.
Following the success of the meeting in Binh the province in 2018, this year's event is expected to attract about 400 high-ranking guests from 60 countries and territories worldwide, and 350 Vietnamese delegates.
It will include four plenary meetings and 35 dialogues with the participation of world leading speakers. The sessions will focus on international and regional economic issues and new technological development trends.
Founded in 2005, the Horasis Asia Meeting is an international investment promotion organisation with an aim of connecting investors who are multinational groups.
The Horasis Asia Meeting is a chance for Binh Duong to introduce its potential and cooperation opportunities. It also helps local enterprises to meet and connect with partners and leaders of Asian leading businesses.
In the framework of the meeting this year, Binh Duong province will launch the World Trade Centre in Binh Duong New City (WTC BDNC) project, and organise a ceremony to officially announce the centre as a member of the World Trade Centres Association (WTCA).
The centre, which will connect its member businesses with more than 1 million enterprises worldwide, is expected to develop Binh Duong province into a dynamic locality with professional services and high-quality human resources, as well as an attractive destination for real estate projects./.
WeWork's fate uncertain after IPO fail
One of the biggest US-based coworking space operators has pulled out of its initial public offering in the United States, causing widespread surprise. VIR's Ngoc Huong takes an insight on the company's development strategy in the Vietnamese market and its impact on the country's startup community.
WeWork has become one of the most high-profile startups in the world in less than a decade, after turning a single rented floor in New York City into a $47 billion global business. However, the company, which was about to begin its roadshow to get public investors interested in buying its shares, postponed its initial public offering (IPO) on the US stock market a few weeks ago in a highly unusual move after investors raised concerns about its business model and leadership structure. Experts suspected that the abrupt drop in WeWork's valuation, to just a third of the $47 billion, had something to do with it.
It is no secret that WeWork is, for now at least, a money-losing business. Last year, losses jumped to $1.9 billion on revenue of $1.8 billion, thus for every dollar WeWork made, it was spending two. The company argued that this is explained by the huge investment needed to secure economies of scale. Representatives said that mature locations are profitable, with revenues doubled during the first half of 2019 over the same period in 2018, to $1.5 billion. However, net losses also rose, if more modestly, to $905 million.
Explaining why loss-making companies can attract investors, Cao Minh Duc, a senior at the due diligence department of consulting firm PwC Vietnam, said that all these companies claim that their business models will work somehow, someday, and that is when the profits will flow.
"WeWork is not an exception. In fact, many firms in Vietnam are also suffering loss-making periods, but investors keep pouring their cash into these models," Duc told VIR.
It is nothing new to see startups burning cash that has been bestowed upon them by investors, and yet the future development strategy of WeWork in Vietnam's market remains uncertain after it had to postpone its IPO.
Despite WeWork Southeast Asia's spokeperson, confirming to VIR that it was business as usual, the company's development plan was not disclosed.
"The fundamentals of our business remain strong in Vietnam and we are committed to continued success. As we enter our next phase, we're confident in our ability to continue delivering an unparalleled experience for all our members," she said. However, she declined to release anything on the future plans which WeWork had for expanding in Vietnam.
Meanwhile, an expert specialised in the coworking business, revealed that WeWork has mapped out some other locations which will be developing its coworking space in Vietnam in the time to come.
"No one knows the future of those locations. After the failure of the IPO, we are not sure if WeWork will keep on with its investment strategy in Vietnam. However, there is one thing that can be sure, WeWork may have to restructure its business in key markets, including Vietnam," the source said.
In March, WeWork opened its first Vietnamese location in Ho Chi Minh City's District 4, which was claimed to add to the company's rapidly growing presence in Southeast Asia. A few months later, WeWork leased two other space offices in the heart of the city.
According to Turochas T. Fuad, managing director of WeWork Southeast Asia, the foreign inflows have been pouring into Vietnam.
"We are keen on the expanding middle class and Ho Chi Minh City's efforts to become a smart city by 2020," Fuad said, adding that WeWork saw immense business potential to develop in Vietnam.
Fuad did not reveal the capital which WeWork plans to invest in Vietnam but disclosed that the firm had reserved a sum of $500 million to pour into Southeast Asia and South Korea.
At the end of 2018, Hanoi and Ho Chi Minh City had 45 coworking spaces operated by 20 companies. Domestic providers include Toong, UP, CirCO, Dreamplex, Start Co-working Campus, Saigon Hub, VSV Corner (former Hatch! Nest), 5Desire, and HubIT.
From the foreign side, the Vietnamese coworking business saw participation by the WeWork, the UK's Regus, Singapore's KLOUD, South Korea's CEO Suite, and Atlas from Hong Kong.
According to Nguyen Hoa Binh, founder and chairman of NextTech group, the WeWork case represents a harsh wake-up call for young companies that are nowhere near profitability.
"The startup ecosystem will become a playground for financial companies instead of technology entrepreneurs, who eventually should be the core players of the game. If companies, particularly tech startups, spend most of the time and capital on attracting financial investors rather than improving their technology, in the end they will gain nothing but failure," Binh said.
Looking on the bright side, Justin Hall, partner at Golden Gate Ventures, a Singapore-based early stage venture capital firm, told VIR that the fallout from WeWork will have no significant effect on Vietnam's startup ecosystem.
"There is an extraordinary number of opportunities available to Vietnamese entrepreneurs, across a diverse range of verticals such as social commerce, logistics, and fintech," Hall emphasised.
Pham Nam Long, CEO of Abivin, a startup that provides AI-powered supply chain optimisation, believed that Vietnam is at a special threshold of change, and even though the public market is now more sensitive to capital, the vibrant startup scene in Vietnam still attracts many foreign investors.
"In the case of Vietnam's investment climate, authorised agencies need to be aware of some dirty business tactics to prevent invisible hands from distorting the market. They should also regulate policies to protect the rights and benefits of both local firms and investors alike," said Long.
Jio Health & Bao Viet Phu My partner in digital healthcare and health insurance
Jio Health Vietnam and Bao Viet Phu My, a subsidiary of Bao Viet Insurance, recently announced the introduction of Jio Premium 360, a healthcare package combining digital health and health insurance, under a cooperative agreement between two parties.
Customers using Jio Premium 360 will be entitled to many healthcare benefits at home and in hospital. Children from 15 days old to adults that are 60 years old can take out the package and renew it until 65 years of age. Benefits will depend on age.
Customers receive free initial testing and general physical examinations. Based on the results of these, a Jio Health doctor will explain the medical condition (if any) or indicate how the patient can take appropriate care.
Depending on personal needs or the doctor's recommendations, customers of Jio Premium 360 can book an examination at specific specialists at Jio Health, such as general eye examinations, skin advice, cancer consultation, nutrition advice, and pre-marriage advice.
Jio Health owns a team of nearly 100 highly-qualified doctors with study and work experience at leading universities and hospitals in Vietnam. The majority graduated in specialities such as resident physician, Masters, Ph.D., Specialist I, and Specialist II. Taking blood and samples, changing bandages, etc. may also be conducted at home by the professional nurses at Jio Health.
Cooperating with Bao Viet Phu My, Jio Health wishes to increase the benefits available. In case of mandatory hospitalization or inpatient treatment at qualified medical facilities, patients will receive compensation from Bao Viet.
The joining of the two in digital healthcare and health insurance in Vietnam gives society a 360-degree comprehensive protection and healthcare solution, from which customers can easily access doctors as well as medical solutions anytime, anywhere, from home to hospital, more conveniently than ever.
Jio Premium 360 increases the initiative in each patient's examination, diversifies the customer experience, and quickly and promptly provides healthcare solutions if necessary. And above all, it raises awareness in society about prevention being better than cure, to minimize any health risks that may arise.
"Created to improve the healthcare experience, Jio Premium 360 continues to demonstrate Jio Health's strong commitment to the Vietnamese people," said Mr. Nguyen Hoai Nam, CEO of Jio Health Vietnam.
"Jio Health always strives to bring helpful products, examination services, and utilities, minimizing costs for users through technology applications. Combining with Bao Viet Phu My is an opportunity for Jio Health to continue perfecting the products and ecosystem we are providing."
Jio Premium 360 was officially introduced to the market in September. The home-visit booking service applied in Ho Chi Minh City will be expanded in the near future.
Cofounder of U.S. mattress retailer joins Vua Nem
Vua Nem, a Vietnamese firm specializing in mattress distribution and sleep solutions, has announced that Craig Schmeizer, a cofounder of Resident Home, U.S.-based leading mattress and bed frame provider, had become a member of the board of Vua Nem.
However, Vua Nem did not reveal the size of the investment Schmeizer had made or his ownership stake in the company.
Schmeizer stated that he had used the investment fund Mekong Capital for the investment in Vua Nem.
Resident Home has developed four mattress brands, Nectar Sleep, Dreamcloud Sleep, Awara and Level Sleep, as well as the Wovenly rug brand and the Bundle and Cloverlane furniture brands.
After three years of operations, Resident Home has distributed its products through 1,500 outlets, generating revenue of some US$400 million. It has been named the fastest growing ecommerce firm in North America by Internet Commerce and Digital Commerce 360.
Nguyen Vu Nghia, chairman of Vua Nem, noted that Schmeizer is experienced in digital marketing and business development, so he could help Vua Nem access customers through online channels to reach its growth targets.
Schmeizer will be an important asset in helping Vua Nem formulate and execute its development strategies, accelerating Vua Nem's growth rate by five to seven times, Nghia added.
After 12 years of development, Vua Nem has become a fast-growing mattress retailer in Vietnam. It has developed a distribution network of 59 stores in 19 cities and provinces and expects to have more than 300 stores by 2023.
Schmeizer said Vua Nem has accounted for only 1% of Vietnam's mattress market, adding that he will help raise the company's market share to 3%-5%, even 10%, in the coming years.
Viettien launches R&D center
Viettien Garment Corporation has inaugurated a research and development center for the textile and apparel industry in HCMC, called Duong Long R&D, to enhance its competitiveness in the global fashion market.
The center covers an area of 3,000 square meters within the space of the corporation in Tan Binh District. It comprises many functional zones for creative design, sample sewing and media production, meeting the requirements of the fashion industry in terms of original design manufacturing and original brand manufacturing.
Rooms in the center designated for organizing workshops, meetings and fashion shows received significant funding, on par with that received by international fashion centers, to unleash the creativity in designers and produce a wide selection of products to meet the market demand.
In particular, the R&D center includes a 500-square-meter catwalk and a showroom covering 300 square meters that are equipped with a modern sound and lighting system. New fashion collections will be released monthly and later displayed on catwalk shows and featured at the showroom.
The launch of the R&D center is part of Viettien's plan to develop its value chain and enhance its competitiveness in the local market and for export.
Many local apparel firms have only manufactured products using materials and designs chosen by foreign buyers, creating low added value.
Vu Duc Giang, board chairman of Viettien and chairman of the Vietnam Textile and Apparel Association, said that Viettien will introduce its designs to foreign fashion brands to enhance its value chain through the Duong Long R&D center. The chairman expected Viettien to become a design center for multiple brands in the years to come.
On the same day, Viettien also launched an ecommerce website at estore.viettien.com.vn, offering custom-made products on the platform and Viettien House stores.
Viettien has made its presence felt across the country with a network of over 1,390 local stores and authorized dealers. Also, it has exported products to Southeast Asian countries and seeks to tap more Asian markets. Currently, it operates 20 stores in Laos and six others in Myanmar.