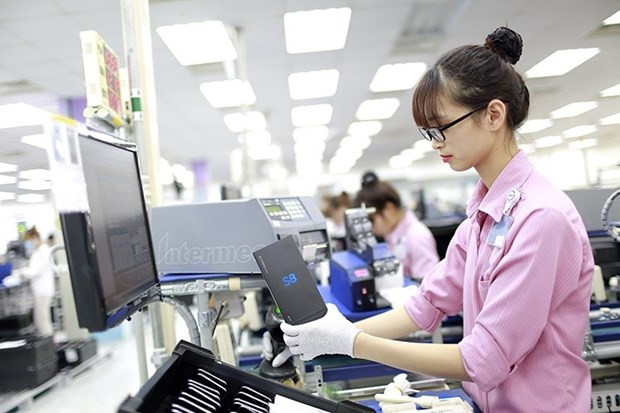 Representatives of more than 50 US companies will visit Vietnam from March 21-22 to discuss investment and business opportunities under an annual programme hosted by the US-ASEAN Business Council.
Vu Tu Thanh, the council's representative in Vietnam, said the body has organised these events for three decades, adding that this is the biggest ever mission in the country.
Streaming giant Netflix, planning to open an office in Vietnam, and many other companies that already have business or production facilities in Vietnam such as Apple, Coca-Cola and PepsiCo as well as those intending to expand their operations in the Southeast Asian nation are among the participants.
According to Thanh, some companies are interested in Vietnam as a manufacturing hub and provider of services, with its economic growth topping 8% last year.
Among them is SpaceX which is looking to sell its satellite internet services to Vietnam and other countries in the region.
The mission will also include semiconductors companies, pharmaceutical giants Pfizer and Johnson & Johnson, medical device maker Abbott, financial firms Visa and Citibank, internet and cloud companies Meta and Amazon Web Services, he said.
Vietnam Airlines promotes country's image at MATTA Fair 2023
National flag carrier Vietnam Airlines is participating in the Malaysian Association of Tour and Travel Agents (MATTA) Fair 2023, now underway in Kuala Lumpur from March 17 to 19, aiming to promote Vietnam's image to international friends as well as introduce its new products.
Hoang Minh Tri, head of the Representative Office of Vietnam Airlines in Malaysia, said that after the COVID-19 pandemic was controlled and life gradually returned to normal, the travel demand of Malaysian people has increased, even higher than in the pre-pandemic period.
Da Nang, Nha Trang, Da Lat, Phu Quoc, and Ho Chi Minh City are the most sought-after destinations by Malaysia's tourists.
By attending the fair, Vietnam Airlines hopes to bring more foreign visitors to Vietnam through attractive product packages with direct flights from Kuala Lumpur, he said.
Organised by the Malaysian Association of Tour and Travel Agents, the fair attracts the participation of nearly 5,000 tour and travel agencies, hotels and resorts, airline and cruise operators and other travel-related service providers and organisations with 1,400 pavilions.
It is expected to draw 250,000 visitors and generate 400 million RM (89.1 million USD).
PM asks state-run groups, corporations to contribute to building self-reliant economy
State-run groups and corporations must operate effectively to contribute to building an independent and self-reliant economy, Prime Minister Pham Minh Chinh requested on March 18.
Chairing a conference on solutions to innovate the operation of the Committee for Management of State Capital at Enterprises (CMSC) and effectively promote investment resources of State groups and corporations, the Government leader said the CMSC and the 19 groups and corporations it manages must make effective contributions to ensuring macroeconomic stability and major balances, controlling inflation, and promoting growth.
Attention should be paid to three growth drivers of domestic consumption, investment and export, he said, adding groups and corporations should uphold the responsibility and role of their heads in promoting investment and expanding investment in innovation and creativity, with focus on emerging industries, and major and key projects; and continue to restructure enterprises and transform management models to adapt to new conditions and the situation of the country.
The PM pointed out that the activities of the committee and the 19 croups and corporations still have many limitations and difficulties, and they have failed to bring into play the 63% of capital resources and the 65% of assets of State-owned enterprises nationwide which they are holding.
He asked ministries, sectors and localities to promptly remove bottlenecks in investment of enterprises, speed up the formulation of strategies and master plans for the development of sectors and fields, and associate the development strategies of State-owned enterprises with the development of these sectors and fields in order to make the most of the important resources of the country.
It is necessary to supervise the exercise of rights, functions and duties of the CMSC to avoid causing corruption, other negative phenomenon, and loss of capital and property of the State, the Government leader emphasised.
As of 2022, the 19 groups and corporations managed by the CMSC had guaranteed about 87% of electricity, 50% of petrol for retail sale, 100% of dry gas, 70% of liquefied petroleum gas, 70% of fertilisers, 45% of mobile subscriptions, 49% of domestic air passenger transport, 16% of sea freight management, and 100% of railway transportation.
Technicians, managers trained for operating Ho Chi Minh City's Metro Line No1
Nearly 30 technicians and managers attended a training class on March 18 as a preparation for the operation of urban railway Metro Line No1 (Ben Thanh-Suoi Tien) in Ho Chi Minh City.
According to Akira Hosomi, operation and maintenance specialist of NJPT Contractors Consortium, Ho Chi Minh City's Metro line No. 1 using Japanese technologies is the first project in Vietnam that Japanese experts have transferred the know-how to Vietnamese operators.
The first generation of trainees will act as the core human resources to support the development of the future urban railway system in Vietnam in general and in Ho Chi Minh City in particular, he said.
He said that the trainees will be equipped with sufficient knowledge, skills to safely and effectively operate and exploit the metro line as well as prepare for the next step of the project.
According to the Urban Railway Management Board, work on Metro Line No1 has been completed by 94.38%.
Metro Line No. 1, nearly 20km long, has a total investment of over 43.7 trillion VND (1.9 billion USD). It consists of 14 stations, three underground and 11 elevated, and runs through District 1, Binh Thanh district, Thu Duc City, and neighbouring Binh Duong province.
The train on this line can run at speeds of up to 110km per hour on the elevated section and 80km underground.
The project was initially scheduled for completion in late 2021 to run commercially in 2022, but then delays hit due to the pandemic and procedural problems.
Vietnam, China boost cooperation in SOE reform, development
Vietnam's Committee for Management of State Capital at Enterprises (CMSC) and the State-owned Assets Supervision and Administration Commission of the State Council of China (SASAC) held a conference on reform and development of State-owned enterprises (SOEs) in Beijing on March 18.
CMSC Chairman Nguyen Hoang Anh, SASAC Chairman Zhang Yuzhuo, and Vietnamese Ambassador Pham Sao Mai attended the event.
Representatives from the SASAC and the CMSC introduced the situation of state asset management and supervision, and SOE reform and development in their respective country.
Meanwhile, representatives from the two sides' SOEs shared experience in production and business activities and development strategies.
A memorandum of understanding on enhancing exchanges and cooperation in State-owned assets and State-run enterprises between the two agencies was signed on the occasion of General Secretary of the Communist Party of Vietnam Nguyen Phu Trong's official visit to China in October 2022.
Vietnam attracts foreign investment to build sustainable future
A recent article published on the UK site internationalbanker.com has assessed Vietnam's efforts to lure foreign trade and investment serving the building of a sustainable future.
The article said Vietnam is looking to shift away from heavy industry and becoming more selective in the sectors it promotes for foreign investment. "Building upon its status as a manufacturing hub for global brands, it is orienting itself towards technology, embracing more technical industries."
The author said that the Vietnamese government has made a concerted effort to attract investment through a variety of incentives. In ASEAN, the country ranks behind only Indonesia and Singapore in terms of international trade relationships.
One of the most promising recent developments has been its strategic partnership with the Republic of Korea, which has already brought in nearly 18 billion USD in investment from Samsung alone.
Japan is a long-standing trading partner of Vietnam, and in the past decade, Japanese corporates have relocated production to the country en masse. Meanwhile, the EU is a major partner for Vietnam – the country's third largest export market and its fifth largest partner for imports.
The article noted that international companies, prompted by government regulation and industry-wide ESG (Environmental, Social, and Governance) commitments, are increasingly applying sustainability standards across borders through their supply chains. Vietnam is raising its own ESG standards accordingly to maintain their valuable trade relationships.
The author said international interest in financing Southeast Asia's energy transition is certainly there. The challenge for ASEAN nations, including Vietnam, is upgrading and optimizing their existing infrastructure which will be a costly and time consuming endeavour.
Quang Tri province calls for investment in 80 projects
The central province of Quang Tri is calling for investment in 80 key projects in a wide range of fields under an investment attraction plan for the 2023-2025 period, with a vision until 2030.
The investment portfolio includes four projects in energy development, 14 in agricultural production and processing, 14 in industrial manufacturing, 22 in infrastructure development, and 30 in education, healthcare and tourism.
The plan highlights Quang Tri's advantages as an important hub of many transport links and as the starting point of the east-west economic corridor linking Laos, Thailand and Myanmar with seaports in central Vietnam.
In recent years, Quang Tri's investment attraction has seen positive results from many large investment projects, helping to create jobs for local people, increase the province's revenue, and shift its economic structure.
However, investment attraction efficiency has yet to meet expectations as there are only a few projects with advanced technologies and strong spill-over effects.
Therefore, the province has identified a range of measures to enhance its investment climate, including stepping up administrative reform and raising the awareness of local officials on improving the business environment.
Quang Tri aims to become an energy centre of Vietnam's central region as well as a logistics hub of regional countries by 2030.
Quang Ninh advised to focus on three pillars in tourism development
The northern coastal province of Quang Ninh was advised to focus on the three pillars of natural resources, historical and revolutionary relic sites, and culture in order to bolster local tourism.
Minister of Culture, Sports, and Tourism Nguyen Van Hung made the suggestion at the province's tourism development conference held in Ha Long city on March 17.
He said Quang Ninh should develop special travel products that could not be found anywhere else, increase the popularisation of its image, open overseas representative offices, and apply itself to tackling difficulties in tourism development such as manpower shortages and environmental pollution.
The conference was also a chance for other localities nationwide to learn local tourism development lessons, including making constant reforms and capitalising on local natural and cultural resources, the official noted, adding that Quang Ninh has continually been one of the best performers nationwide in attracting domestic and international visitors.
In his remarks, Secretary of the provincial Party Committee Nguyen Xuan Ky emphasised that Quang Ninh welcomes and pledges to provide the best possible conditions for domestic and foreign businesses to promote operations here to ensure safety and a full experience for tourists.
Over the past years, it has been working hard to switch to green and sustainable development based on the pillars of nature, humans, and culture in combination with optimising cooperation and integration trends, and new technologies of the Fourth Industrial Revolution.
In 2022, Quang Ninh adopted the policy of safely and flexibly adapting to and effectively controlling the COVID-19 pandemic; making use of all mechanisms to recover tourism; and recovering and developing tourism manpower. As a result, it attracted 11.6 million tourist arrivals, including 304,000 international visitors, and earned 28 trillion VND (nearly 1.2 billion USD) in tourism revenue. The sector contributed to 6% of the gross regional domestic product (GRDP) last year, Ky noted.
For 2023, the province looks to establish itself as a premier destination in Vietnam and welcome 15 million tourist arrivals, 500,000 higher than pre-pandemic period in 2019, and gain some 32.4 trillion VND in revenue, according to the Vice Chairwoman of its People's Committee Nguyen Thi Hanh.
Vietnam's February automobile sales race back
Members of the Vietnam Automobile Manufacturers' Association (VAMA) sold 23,040 automobiles of all kinds in February, a month-on-month rise of 33%.
The growth helped the Vietnamese auto market regain momentum after a sales reduction of 51% in the first month of the year. February marked the first time in many months that the numbers of passenger, commercial and special purpose vehicles sold experienced sharp increases.
Of the month's total sales, there were 16,970 passenger cars, 5,760 commercial, and 300 special-purpose vehicles, up 21%, 81%, and 188% from January, respectively.
Concerning their origins, 12,432 were domestically assembled and 10,608 imported, increasing by 54% and 15% month-on-month.
In the first two months, the VAMA's sales stood at 40,354 units, an annual reduction of 25%. The sales of passenger cars decreased by 28%; commercial vehicles by 10%, and special purpose vehicles by 47%.
In the period, the sales of domestically assembled and imported cars reached 20,518 and 19,836 units, down 38% and 3%, respectively, against last year.
Apart from the VAMA's members, Vietnam's automotive market also witnessed operations of other car manufacturers including Audi, Jaguar, Land Rover, Mercedes-Benz, Nissan, Subaru, Volkswagen, and Volvo. However, they did not make their sales figures public.
Third Vietnam Connect Forum 2023 held in Da Nang
The third Vietnam Connect Forum 2023, themed "Breakthroughs for central Vietnam, green and digital transition in sustainable economic growth strategies", was held in the central city of Da Nang on March 17.
The event was co-hosted by the Vietnamese Ministry of Foreign Affairs, the municipal People's Committee, and the Vietnam Economic Times magazine.
Speaking at the event, Deputy Prime Minister Tran Luu Quang hailed localities and businesses in the central and Central Highlands regions for issuing strategies and action plans on green growth and digital transformation and seeking eco-friendly development models.
The Vietnamese government supports effective cooperation with like-minded countries, international organisations, and business communities at home and abroad in the process of fulfilling sustainable development, green growth, and digital transformation goals, he said.
Deputy Foreign Minister Ha Kim Ngoc said with geographical advantages and an ideal climate for the development of green energy, the central and Central Highlands regions are attractive investment destinations for foreign investors.
Stefanie Stallmeister, Operations Manager of the World Bank (WB) in Vietnam, said it is time for the central and Central Highlands regions to adapt to climate change and reduce carbon emissions.
The WB always wishes to support the central region in its development for coming years, she added.
In recent years, Vietnam's digital economy has grown by about 38% on average per year. In 2022, the value of its economy reached around 23 billion USD. These results have made Vietnam the second fastest-growing digital economy in the world, behind India. It is also the fastest-growing e-commerce market in Southeast Asia. According to Google and Temasek, the value of Vietnam's digital economy could reach 49 billion USD by 2025 and 120-200 billion USD by 2030.
The forum focused its discussions on issues related to green transformation and digital technology such as trends, models, and solutions worldwide, and arising issues in cities and provinces of the central and Central Highlands regions.
Workshop discusses growing 1 million ha of high-quality rice
The Ministry of Agriculture and Rural Development (MARD) held a workshop in the Mekong Delta city of Can Tho on March 17 to collect feedback on a scheme on sustainably developing 1 million ha of high-quality rice in tandem with green growth in the Mekong Delta.
So far, 12 out of 13 localities in the region have registered for the scheme, with a target of having 719,000ha of high-quality rice by 2025 and over 1 million ha by 2030.
An Giang province has the largest registered area for high-quality rice cultivation, with 150,000ha by 2025 and 200,000ha by 2030.
Speaking at the event, Deputy Minister of Agriculture and Rural Development Tran Thanh Nam said the MARD partnered with the World Bank and relevant agencies to finalise and submit the scheme to the Prime Minister for approval.
Guo Li, the senior economist from the World Bank, said through the project, farmers' income is expected to increase by about 20% as production costs decrease while productivity and quality improve. Efforts will be made to mitigate environmental pollution and restore the rural ecosystem.
Delegates at the event discussed building specific criteria for each intensive farming area, providing training on the carbon market and certification, developing legal frameworks related to the issuance of low-carbon credits, and funding for infrastructure such as roads, electricity, embankments, inland waterways, irrigation, and pumping stations.
Vietnam, Canada step up cooperation in performance audit
The State Audit Office of Vietnam (SAV) and Canadian Audit and Accountability Foundation (CAAF) held a conference in Hanoi on March 17 to review their partnership so far.
Addressing the event, Auditor General Ngo Van Tuan stated CAAF has always provided SAV with strong support and valuable technical assistance, helping the latter strengthen its audit capacity through the side' cooperation programmes for 2012-2017 and 2018-2025.
CAAF has sponsored Vietnamese auditors to study in Canada, he said. In terms of performance audit, the official noted that SAV has also been aided by the foundation in organising seminars and training courses, developing a set of basic training documents, and issuing related standards and procedures.
According to a report on the cooperation outcomes, their partnership began in 2008. In the 2018-2023 period, the two sides are set to strengthen training in the field of performance audit; and improve audit capacity regarding such priority topics as those related to the UN Sustainable Development Goals, gender equality, environment, climate change, resources exploitation, and information technology.
At the conference, they discussed and agreed on a plan for joint works during 2023-2025, including further training for SAV personnel in performance audit and the periodical organisation of CAAF's working trips to Vietnam to run training courses.
Speaking at the conference, Canadian Ambassador to Vietnam Shawn Steil affirmed that Canada is very pleased to continue working with SAV to effectively promote transparency and contribute to cooperation between the two countries.
CAAF Vice President Caroline Jorgensen affirmed that her foundation wishes to further promote the cooperation between the two agencies serving experience exchange and capacity building.
CAAF vows to give the highest priority to the coming collaboration period in a bid to help SAV realise the objectives of its development strategy for 2021-2030 on performance audit, she stated.
Ministry carries out solutions to effectively exploit domestic market
Measures have been taken to effectively exploit the domestic market with a population of nearly 100 million to fulfil the goal of an increase of 8-9% in retail sales of goods and services, according to the Ministry of Industry and Trade (MoIT).
Since the beginning of this year, the ministry has strived to enhance connectivity and ensured a balance between the supply and demand of essential goods, contributing to keeping inflation under 4.5%.
The sales of goods, especially agricultural products in the harvest season, were facilitated, along with the establishment of a linkage between supply and demand in the online environment, based on new platforms.
In the coming time, the MoIT will continue to accelerate the amendment and completion of a number of legal documents on domestic market development.
It will also speed up the implementation of a strategy for developing domestic trade until 2030, with a vision to 2045, as well as related programmes such as a project on developing the domestic market in association with the campaign "Vietnamese people prioritise Vietnamese goods" in the 2021-2025 period.
Domestic trade promotion activities will be integrated with consumer stimulus programmes.
The ministry will support enterprises, especially small and medium ones, production facilities of craft villages, farmer households and co-operatives in trade promotion activities; building and protecting brands for domestic wholesale and retail distribution chains; and popularising typical products of Vietnam.
Priority will be given to the development of modern commercial and digital platforms, and e-commerce and non-cash payment methods encouraged.
The MoIT will focus on applying digital technology to trace goods origin in commercial infrastructure systems such as supermarkets and markets, as well as developing new retail methods to meet the requirements of consumers.
It will also encourages the expansion of green distribution system and green consumption, sustainable development and circular economy in the field of commerce. The sustainable connection between production, distribution, and consumption will be boosted along with the presence of environmental-friendly products at commercial centres and supermarkets.
Under a draft project on restructuring the industry until 2030, the MoIT sets the goal of restructuring the domestic market towards fast and sustainable development. Accordingly, the models of sharing economy, night, tourism, green, circular and digital economy will be prioritised for development. The added value of domestic trade will increase by an average of 9-9.5% per year.
Land prices in the southern provinces fall sharply
Land plot prices in HCM City and neighbouring provinces such as Binh Duong, Dong Nai and Long An decreased by 10-25 per cent compared to early this year due to the central bank's tight monetary policy for real estate lending.
Many investors borrowed money to invest in property in previous years, hoping to make profits, but instead suffered losses as tightened credit drove up interest rates and hit liquidity.
In 2021, Tran Van Nam from HCM City bought a land plot for VND5 billion (US$208,000) in the southern province of Dong Nai, hoping to resell it within a year for a profit of hundreds of millions of dong.
But in late 2022, when bank interest rates went up, he had to sell it for a loss of over VND800 million.
At that time, many brokers told him that land plot prices had kept increasing from 2016 to 2021 and it will keep increasing in coming years, and so he bought the land plot hoping for a profit. But he was shocked that he was forced to sell it at a loss, Nam said.
Like Nam, Nguyen Thi Hue, an investor in Binh Duong Province, said that in 2021, she decided to use her savings and borrowed money from bank to buy a 2,000 square metre land plot in Long An Province for VND10 billion ($416,000).
Some months later, many brokers contacted her and asked if she wanted to sell the land plot at VND12 billion.
But Hue did not do so because she believed that land price would increase further in the future.
However, this year, contrary to her prediction, land prices have fallen sharply, while interest rates have increased from 9 per cent to over 15 per cent. Hue is nervous as she cannot sell the land to pay debts.
Now, she is calling to sell her land for only VND8 billion, but she still cannot find buyers.
Many investors in land have suffered similar losses.
Loan interest rates increased sharply, raising the costs of many investors who borrow money to buy land. They are then willing to accept a 10-20 per cent loss to sell as soon as possible. This leads to lower land prices, experts said.
Land in Long An, Binh Duong and Dong Nai provinces could see prices fall by 10-15 per cent in the next 12 months, and in farther localities such as Tay Ninh and Dak Nong, the decline could be more than 20 per cent, experts added.
The real estate market has cooled down for the last eight months, especially in the third and fourth quarters of 2022. Investors using financial leverage are most vulnerable to low liquidity, rising interest rates and credit control, especially when these appear at the same time.
Luong Dinh Thuy Van, CEO of investment consultancy Mogin Holdings, said most short-term investors, who hope of getting a huge profit in six to 12 months, racked up losses in 2022.
Taiwanese investors' demand for industrial property expected to be high: Savills

Investors from Taiwan (China) are particularly keen on Viet Nam's industrial, office and retail real estate, motivated by the country's progress in improving the legal framework and substantial investment in key infrastructure, property consultancy Savills Viet Nam said.
This year, Taiwan has been the second largest foreign investor in Viet Nam with US$407.1 million, according to the Foreign Investment Agency.
Cumulatively, the island was the fourth largest foreign investor in Viet Nam as of mid-2022.
Its investments are mostly in manufacturing, construction and real estate.
There is a long history of Taiwanese investment into Viet Nam dating back over 30 years and covering manufacturing as well as real estate, Neil MacGregor, Savills managing director, said.
In the early days, the key driver was low-cost labour and this saw many large manufacturers from the garment and footwear industries establish a strong presence, he said.
Today, while these investors continue to expand their presence in Viet Nam, there are also increasingly hi-tech investors from Taiwan moving production to Viet Nam, he said.
In real estate, some of the most successful projects in Viet Nam are by Taiwanese investors, including Phu My Hung, Royal Centre and Nikko Hotel in HCM City, he added.
Su Ngoc Khuong, senior director of investment at Savills, said the country's real estate market offers tremendous opportunities for foreign investors.
"The strengths of Taiwanese investors are their strong financial resources, business and product development experience, customer base, and low financial costs."
Savills data shows that manufacturing, industrial and family office investors are bullish on the Vietnamese market, a positive for the industrial and commercial real estate segments.
The country currently has 406 industrial parks.
Green logistics remain a taxing endeavour
Vietnam's logistics businesses are advancing on a green path connected with digital transformation, but are also in a highly energy-intensive and polluting industry, raising concerns about the long-term sustainability and financial viability of the sector, experts have said.
On the last day of February, five Vietnamese firms – Ratraco, Vietnam Airlines, T&Y SuperPort, the Vietnam Shippers' Council, and the Vietnam Coffee Cocoa Association – joined the World Logistics Passport initiative, which aims to facilitate global trade access by reducing fees and providing support to overcome related barriers (see quotes).
The scheme, established by the United Arab Emirates, now accounts for 47 per cent of global trade with 121 partners, covering 48 countries and 15 major trade routes.
The WLP may go some way to facing head-on sustainability in this country's logistics firms. According to the Vietnam Logistics Report 2022 from the Ministry of Industry and Trade, only 31 per cent of surveyed businesses use sustainable power in warehouse operations; 26.8 per cent of logistics enterprises lack a green strategy; and 35.2 per cent of enterprises lack environmental controls.
Being a key sector in the growth of international commerce and global supply chains, logistics has never seen such significant transformation. The government released Decision No.876/QD-TTg last year on action to restructure the green energy industry and cut carbon and methane emissions from the transportation system. Particular emphasis was placed on the transition to green energy.
Several green policies in the logistics chain are also being adopted, and certain businesses are developing innovative and more ecologically friendly transportation techniques.
Saigon Newport Corporation fulfils its environmental conservation goals by implementing fuel-saving techniques and using clean fuel that conforms to international standards. Currently, 80 per cent of freight transportation from Cai Mep-Thi Vai port and the surrounding region to Saigon Newport is conducted by barges rather than vehicles.
In the northern border ports and the Mekong Delta, the increased use of barges as opposed to vehicles has led to a decrease in carbon emissions. Along with the e-customs application, the implementation of e-port and e-office technologies decreases the time required for cargo trucks to access the port from six minutes to two minutes per container.
However, a few standouts do not alter the reality that Vietnam's green logistics growth remains in its infancy. Setting higher standards incurs more expenses, and change will not happen overnight.
Bee Logistics has a plan to reduce paper use by 80 per cent using iCloud-stored software. Yet Dinh Huu Thanh, chairman of the company, said it would require "a pretty lengthy period of time" to do it.
Trinh Thi Thu Huong, deputy dean of the School of Economics and International Business at the Foreign Trade University, said Vietnam needs a forerunner for the initial stage of green logistics growth, while the majority of enterprises are still contemplating investing in a green logistics development plan.
"The process of building green logistics can only be carried out if the state espouses supportive laws and firms execute them intelligently," she added. "Vietnam combines the top-down and bottom-up green logistics concepts, two of the most prevalent around the globe."
HCMC promotes development of two key urban areas
The Management Boards for the Urban Development Areas of Thu Thiem and Northwest will be established to assist the Ho Chi Minh City People's Committee in managing investment and development activities in these two important areas.
Chairman of Ho Chi Minh City People's Committee Phan Van Mai has just signed a decision to establish the Thu Thiem Urban Development Area Management Board by rearranging the Thu Thiem Construction and Investment Consultancy Service Center under the Thu Thiem Investment & Construction Authority. The board is a public non-business unitunder the People's Committee with its headquarter in District 1.
The board has the function of helping the People's Committee of Ho Chi Minh City manage urban development investment in the Thu Thiem urban area, including managing and supervising the process of urban development investment according to planning and plans, ensuring the synchronous connection and management of the framework technical infrastructure system and directly manage projects using state budget capital assigned by the municipal People's Committee in addition to other tasks.
At the same time, the board is responsible for coordinating with relevant agencies to develop a five-year plan for the Thu Thiem urban development area.
Last but not least, the board must organize investment promotion activities and propose preferential policies and specific mechanisms for construction activities in this area.
It will be an investor of projects using state budget capital and supervise the implementation of projects to make them complete on schedule.
Chairman of the Ho Chi Minh City People's Committee Phan Van Mai has also signed a decision to establish the Northwest Urban Development Area Management Board by rearranging the Construction Investment Consulting and Service Center under the Investment and Construction .
This board is headquartered at No. 404 Provincial Road 8, Hamlet No. 2, Tan An Hoi Commune in Cu Chi District.
Source: VNA/SGT/VNS/VOV/Dtinews/SGGP/VGP/Hanoitimes