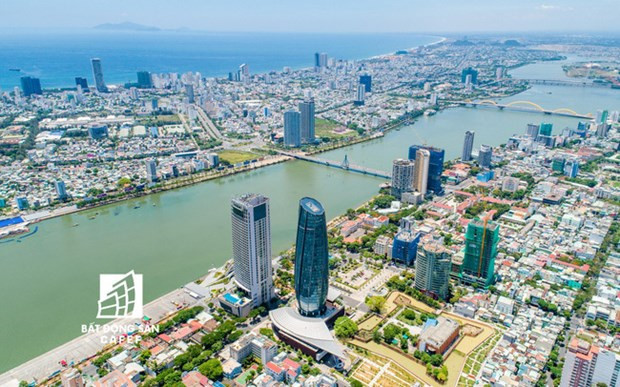 The central beach city of Da Nang is taking measures to revive the foreign direct investment (FDI) flow with a view to attracting 7 billion USD in this capital by 2030.
In the first two months of this year, Da Nang licenced 16 new FDI projects with a total registered capital of 2.55 million USD, a decrease of 53.6% in value year-on-year.
To date, the city has lured 965 FDI projects with a total registered capital of over 4.065 billion USD, mostly in industry and real estate. Japan is the city's biggest investor with more than 900 million USD, followed by Singapore, the US and the Republic of Korea.
However, the FDI inflow into the city has experienced a downward trend in recent time due to the impact of COVID-19 pandemic.
Particularly, during 2020-2021, most FDI enterprises in the locality suffered losses and were forced to lay off employees. Notably, 57 FDI projects were terminated from 2018-2022.
According to the municipal Department of Planning and Investment, although the total new FDI capital into Da Nang in 2022 decreased, the capital contribution and share purchases increased with a total value of more than 58 million USD, soaring 509.3% from 2021.
Tran Thi Thanh Tam, Director of the department, said the city will focus on completing infrastructure projects in the development of high-tech industry, information technology and logistics. It is accelerating the completion and upgrading the technical infrastructure of such industrial zones as Hoa Nhon, Hoa Ninh and Hoa Cam - phase II, Da Nang hi-tech support industrial park, and expanding the hi-tech park. At the same time, it will step up investment promotion in more diverse and practical forms in order to lure more investors.

Vice Chairman of the municipal People's Committee Ho Ky Minh shared that the locality is preparing a land fund for industrial development, supporting industries, high technology, and information technology to welcome capital flows shifted to Vietnam. It will also focus on developing high-quality human resources while removing difficulties and obstacles to create the best conditions for investors in the locality.

Da Nang aims to attract 7 billion USD of FDI by 2030, with 3 billion USD during 2021-2025 and the rest in 2026-2030.
IFC helps boost lending for Vietnam's smaller businesses
The Saigon-Hanoi Commercial Joint Stock Bank (SHB) has teamed up with the International Finance Corporation (IFC) to increase access to finance for small and medium enterprises (SMEs) in Vietnam.
As part of the agreement signed on March 20, IFC is providing a 40 million USD loan to SHB, which is the first step towards a total financing package of 120 million USD. This funding will help SHB support local businesses and enhance their participation in the global supply chain. The investment from IFC is expected to more than double the number of SME loans and outstanding loan volumes for women-owned businesses by 2025.
Furthermore, more than one third of the funding will be solely targeted at women-owned SMEs, with support from the Women Entrepreneurs Opportunity Facility (WEOF) and the Women Entrepreneurs Finance Initiative (We-Fi), through a performance-based incentive programme which encourages financial institutions to provide financing to women-owned small businesses.
This is particularly important, as SMEs generate 40% of Việt Nam's gross domestic product (GDP) and 50% of jobs, yet 62% of total SME financing needs go unmet. An IFC study estimates that Vietnam's financing gap for SMEs is approximately 21.7 billion USD.

Ngo Thu Ha, the CEO of SHB, believes that with timely support policies, solutions, and capital flows such as this package from IFC, SMEs will be able to unlock their potential, expand production, and pursue sustainable development.
"With support from IFC and international lenders, SHB will be able to further strengthen its solid foundation and buffer, grow stably and sustainably, and comply with international standards," Ha said.
IFC's Global Director of Goldman Sachs 10,000 Women, Charlotte Keenan, stated: "We are pleased to continue to empower female entrepreneurs to accelerate growth and recharge their businesses through access to capital. We look forward to supporting SHB as it expands lending to women-owned businesses in Vietnam."
Moreover, approximately one-fifth of the financing package will be on-lent to SMEs participating in supply chains. This complements IFC's ongoing advisory support to help SHB scale up its Supply Chain Finance (SCF) business, a new segment in the local market which offers efficient and lower-cost financing solutions to suppliers participating in supply chains.
"It's vital that smaller businesses and especially those owned by women are supported and able to access the funding they need to grow and expand their businesses. Our new partnership with SHB will help the bank strengthen its core business of serving smaller enterprises and allow those businesses to benefit from financing to link in with global supply chains, a move that will ultimately contribute to economic growth and job creation in Vietnam," said Thomas Jacobs, IFC Country Manager for Vietnam, Cambodia, and Laos.
IFC is also working with international lenders to mobilise a 50 million USD financing package to further improve SHB's capacity in SME lending. Additionally, a 75 million USD trade guarantee line under IFC's Global Trade Finance Programme (GTFP) is expected to be provided to SHB in the coming months. IFC will also advise SHB to improve its risk management and environmental, social, and governance (ESG) standards.
Petrol prices revised down from March 21 afternoon
Petrol prices were reduced in the latest adjustment from 3pm on March 21 by the Ministry of Industry and Trade, and the Ministry of Finance.
The retail price of RON 95-V was cut from 24,740 VND (1.05 USD) per litre to 23,960 VND; the price of RON 95-III was reduced from 23,810 VND per litre to 23,030 while the price of E5 RON 92 were decreased from 22,800 VND per litre to 22,020 VND.
The price of diesel was reduced from 21,706 VND to 20,560 VND per litre and that of kerosene was down from 20,710 VND to 19,460 VND per litre.
Meanwhile, the price of mazut 180CST was also decreased by 800 VND to 14,479 VND per kg.
The two ministries determined to extract 300 VND per litre from the prices of petrol, diesel and kerosene for the petrol price stabilistion fund.
Imported cars should be included in registration fee reduction scheme
The 50 per cent registration fee reduction scheme, previously proposed by the Government for cars made and assembled in Viet Nam, should apply to imported vehicles as well, according to the Vehicles Importers Vietnam Association (VIVA).
VIVA, and all of its 12 members, have filed a petition to the Ministry of Industry and Trade, the Ministry of Finance and the central Government.
The petition said the difficulties experienced by the automobile industry due to a severe decline in demand were not limited to Vietnamese car makers. VIVA said orders have been low since November last year, severely affecting car importers.
VIVA members have been even more affected as inventory remained high while demand showed no sign of improving in the foreseeable future, said the association.
Viet Nam imported 12,842 cars in January this year, three times the number recorded during the same period last year. From October to December last year, the number of imported cars also jumped to more than 77,000 vehicles, from 25,700 vehicles during the same period in 2021.
In addition, scandals and arrests of many government officials from the Department of Vehicle Registration in the last two months delivered yet another blow to the domestic car market, putting great financial pressure on VIVA.
The association welcomed the Government's initiative in supporting businesses but stressed the importance of fairness, saying the reduction in registration fees should also be applied to imported vehicles.
VIVA said domestic cars have benefited from the last two registration fee reductions of 50 per cent, while imported cars sat on the sidelines. The association warned this could be viewed as a violation of Clause III.4 of the General Agreement on Tariffs and Trade (GATT), which Viet Nam ratified.
Under GATT, Clause III.4 stipulates that members must not apply internal taxes or other internal charges, laws, regulations, and requirements affecting imported or domestic products to afford protection to domestic production.
Vietnam, South Africa explore cooperation potential
A working delegation led by Vietnamese Ambassador to South Africa Hoang Van Loi paid a working trip to KwaZulu-Natal (KZN) province from March 16-20, as part of Vietnam's economic diplomacy programme for this year.
During the trip, the delegation held working sessions with the Trade and Investment KwaZulu-Natal (TIKZN), the management board of the Richards Bay Coal Terminal and the railway transport conglomerate Transnet.
Loi informed TIKZN CEO Neville Matjie about plans for the upcoming visit by Vietnamese Minister of Industry and Trade Nguyen Hong Dien, including a B2B matching event in the province. Both sides agreed to successfully hold activities during the visit.
Matjie expressed his interest in learning from Vietnam's experience in several sectors. He said KwaZulu-Natal province wants to draw more tourists from Vietnam and acquire its experience in developing tourism models based on business households and small enterprises which have been successful in tourism hubs like Hanoi, Hoi An and Ha Long Bay.
In apparel, he wished to study Vietnam's ways in attracting foreign direct investment and outsourcing contracts with some of the world's largest fashion labels.
The host also sought Vietnam's experience in rapidly increasing the proportion of renewable energy in the national energy structure within a short period of time, as well as methods for attracting investment and managing renewable energy projects. He called on Vietnam to invest in wind and solar power in the province.
Located in the southeast of the country, KwaZulu-Natal province is known for its stunning beaches, safari parks, lush green hills, and vast sugarcane and banana plantations, and an extensive network of seaports, making it an ideal destination for Vietnamese investors and businesses to access the South African market, he said.
Loi said in the near future, the Vietnamese Embassy will work with the Vietnam Trade Office in South Africa to arrange trips to the country by delegations of trade, tourism and investment promotion officials.
Visiting Richards Bay Terminal – the biggest coal export terminal in South Africa, the Vietnamese delegation talked with its management board and representatives of Transnet to learn about logistics infrastructure and supply chain from mines to terminal.
Loi said mining will be a cooperation field that the two countries' industry and trade ministries aim to step up in the coming time, including importing coal from South Africa to diversify material sources for thermal power plants and industrial production in Vietnam.
Talking with the Vietnam News Agency following the working session, CEO of the Richards Bay Coal Terminal Alan Waller described Vietnam as a developing market of South Africa.
Both countries hold the potential in coal import-export, he said, adding that South Africa's coal quality is good and the terminal could provide effective services that Vietnam need.
Railway sector sets plans to avoid losses this year
The railway sector is striving to escape losses and divest capital in many companies in 2023, the Committee for Management of State Capital at Enterprises said about the Project on Restructuring Việt Nam Railways (VNR) from 2021 to 2025.
The project has identified and evaluated the achievements and limitations on the basis of a comprehensive assessment. The restructuring of VNR in 2016-2020 includes the production and business performance, the level of safety, security and defence, development and investment, science and technology and digital transformation.
It also sets out goals and plans for the restructuring of the corporation in 2021-2025, aiming at innovation, improved corporate governance, effective exploitation of resources, and enhanced labour productivity.
Additionally, VNR tries to achieve and exceed the targets assigned by competent authorities, fulfil the obligation to pay the State budget, ensure enough jobs, and improve the living standards of workers.
The project stated: "In 2023, the company needs to get out of the current state of loss and gradually make a profit to offset the accumulated losses of previous years."
Last year, the corporation's production and business activities began to recover after the COVID-19 pandemic. Accordingly, VNR's consolidated revenue reached more than VNĐ7.7 trillion (US$326.4 million), up 113.8 per cent over last year. However, VNR still recorded a loss of about VNĐ130 billion.
Regarding the plan of organising and restructuring, VNR said that the corporation and its subsidiaries need to focus on the main business and handle inefficient subsidiaries and projects decisively.
With this goal, VNR proposes to divest and restructure its corporations and affiliated companies.
Specifically, the State continues to own 100 per cent of the charter capital of Việt Nam Railway, as well as at least 65 per cent of five corporations, between 50 and 65 per cent of 20 corporations, and less than 50 per cent of 16 corporations, while selling its entire stake in 13.
It also suggests merging Hà Nội Railway Transport Joint Stock Company and Sài Gòn Railway Transport Joint Stock Company into a Transport Joint Stock Company.
VNR will keep the current organisational model of 12 railway operating branches. In addition, a centre for science, technology and services will be established.
Ultimately, Việt Nam Railway is a single-member limited liability company with 100 per cent charter capital held by the State during 2022-2025 and continues to maintain the key business of management and exploitation of national railway infrastructure and operation of national railroads.
The implementation of the restructuring scheme as proposed will minimise costs in production and business activities, and increase efficiency in corporate governance.
EuroCham proposes IP infringement prosecutions
The European Chamber of Commerce in Vietnam (EuroCham) has proposed strong enforcement measures to fight against serious copyright infringement. The threat to Intellectual Property Rights (IPR) has caused significant damage to creators, as well as negatively impacted sales from legitimate consumers.

"The Supreme People's Court should issue an official guideline on criminal IPR prosecutions to provide timely guidance to all enforcement authorities," said Gabor Fluit, chairman of EuroCham.
"The authorities should consider imposing stronger sanctions for copyright infringement and, eventually, establish specialised IPR courts in Vietnam and work with EuroCham's Intellectual Property Rights Sector Committee members to discuss challenges and exchange experiences among different authorities," he added.
Given the disruption of supply chains caused by China's strict COVID-19 lockdowns, there has been an increase in counterfeit goods coming from Vietnam, involving highly organised networks across several provinces.
Copyrights are registered with the Copyright Office of Vietnam, with several challenging requirements for IP owners. These include the need to include documents like the passport or national ID card of the author/creator and employment contracts which may contain personal information, trade secrets, and confidential information.
A declaration also needs to be signed by the author/creator. This can be difficult to obtain as they may have left the company's employment or are deceased. No alternatives to copyright registrations are currently accepted to show proof of copyright ownership by IP owners.
AeroExpo Hanoi & Vietnam Aviation Forum opens
Fifty foreign businesses and many major airlines in the world are participating in the AeroExpo Hanoi & Vietnam Aviation Forum 2023, which opened in the Vietnamese capital city on March 21.
The three-day event is jointly held by the Hanoi Department of Industry and Trade and France's Advanced Business Events (ABE) company.
Acting director of the department Tran Thi Phuong Lan said that the expo is a chance to connect more than 160 business partners in order to develop the aviation industry of Hanoi city, and speed up the restructuring process of industries associated with digital transformation.
It also gathers a large number of prestigious experts, speakers, and leaders of aviation firms, airlines and producers from inside and outside the country who come to exchange and share new development opportunities and new initiatives to serve the development of the sector.
Stephane Castet, CEO of ABE, said that the event will help businesses grasp opportunities in the Vietnamese market in the post-COVID-19 recovery process.
He expressed his hope that Vietnam will become an aviation centre in the coming years.
The expo comprises more than 120 booths from 10 countries, including 70 domestic ones.
HCMC weighs proposal to extend metro line to two neighboring provinces
The HCMC People's Committee will meet with relevant departments and agencies this week to consider a proposal to lengthen Metro Line No. 1 to two neighboring provinces, Binh Duong and Dong Nai.
In 2022, Dong Nai and Binh Duong asked the prime minister for approval to extend the Ben Thanh-Suoi Tien urban railway to Bien Hoa City in Dong Nai and Binh Duong's Di An City.
Under Binh Duong's proposal, the metro line will run to Binh Thang Ward, Di An City, in which phase one will include a 1.8-kilometer section from Suoi Tien Theme Park Station to Binh Thang Station. The project will be invested by Binh Duong and managed by the HCMC Management Authority for Urban Railways.
Phases two and three of the project, with a total length of 25 kilometers starting from Di An to a station at the center of Binh Duong New City, will be connected with the future Bau Bang-Thi Vai-Cai Mep railway.
Dong Nai proposed that the rail line be extended to Bien Hoa 1 Industrial Park only due to concerns over land clearance difficulties and little space for construction of utility services.
Dong Nai prefers building a transit depot in Di An City, which is two kilometers north of Suoi Tien Theme Park Station, from which there will be two metro lines, with one running to Binh Duong and the other to Dong Nai.
For the metro line to Dong Nai, one option would be to travel across Tan Van Island to Vung Tau T-junction, and the other running along the Cai River to the center of Bien Hoa City.
According to the HCMC portal, the policy of extending the Ben Thanh-Suoi Tien metro line has been included by the Government into the planning scheme. Once put into service, these metro lines will facilitate the transit of residents between HCMC and Dong Nai, Binh Duong provinces, contributing to reducing traffic congestion on the roads of northeastern HCMC.
The 19.7-kilometer metro line connects the landmark Ben Thanh Market and the Suoi Tien Theme Park in Thu Duc City, which is under the jurisdiction of HCMC. There will be three underground and 11 elevated stations along the railway.
Binh Dinh joins QTSC Chain
Prime Minister Pham Minh Chinh has added the Information and Communication Technology Center of Binh Dinh Province (ICTBD) to the list of official members of Quang Trung Software City (QTSC), the provincial government said today, March 20.
The prime minister told the ministries of Planning-Investment, Finance, and Information-Communication to jointly allocate an adequate amount of capital to serve the development of infrastructure at the Information and Communication Technology Center, in line with prevailing regulations.
Founded in 2017, ICTBD includes the the Information and Communication Technology Center building, covering 1,102 square meters, and the 54-ha Quang Trung-Binh Dinh Software City in the province's Quy Nhon City.
Tran Kim Kha, director of the provincial Department of Information and Communications, was quoted by Thanh Nien newspaper as saying that the largest benefit that QTSC members gain is incentives offered to information and technology complexes, such as the QTSC Chain.
QTSC members can also share with each other the infrastructure system of, learn experiences from QTSC, and make the most of QTSC's brand prestige, as well as encourage more ICT investors to come to their localities, Kha said.
The participation of this central province in the QTSC Chain is expected to pave the way for businesses currently operating in the Quang Trung-Binh Dinh Software City to advance further and attract more ICT investors at home and overseas to invest in the software city.
Mong Cai int'l border gate facilitates Vietnam's exports to China
The Mong Cai international border gate in the northern province of Quang Ninh is becoming a customs clearance gateway for agro-fisheries products between Vietnam and China.
Head of the Mong Cai international border gate management board Tran Bich Ngoc said from January 1-March 18, the total volume of goods through the gate topped 286,700 tonnes, up 154.8% annually.
At present, agro-fisheries products are undergoing customs clearance in all border gates and unofficial openings in Mong Cai city. In two months of this year, over 150,000 tonnes of local goods were exported, up 324.5% year-on-year.
The city has roads, waterway and seaports linking with inter-regional and international economic corridors,
Chairman of the municipal People's Committee Ho Quang Huy said the city is accelerating the first-stage construction of Van Ninh general port which is expected to be completed in the fourth quarter of 2024. The port will serve as a transshipment point for agricultural products from the south to the north, then to China.
At the same time, the city is also speeding up the construction of an inter-agency checkpoint station linked to a commercial service area at Bac Luan II border gate, he said, adding that several key projects conducive for agro-fisheries export will be launched.
At present, domestic firms are fully tapping digital and information technology, and superior features of e-commerce platforms to increase marketing. They also keep improving the quality of goods from farming to processing and packaging to meet requirements and boost export to China.
Brand building for farm produce exported to China needed: experts
Vietnamese producers need to pay special heed to ensuring food safety and transparency of production information; building brands and well managing growing area codes for products exported to China, said Nguyen Nhu Tiep, Director of the Agro-Forestry-Fisheries Quality Assurance Department under the Ministry of Agriculture and Rural Development (MARD).
China is now the largest importer of Vietnam's vegetables and fruits, and ranks second in importing agro-forestry-fishery products from the Southeast Asian nation. It is seen as a "huge market" for regional and global farm produce, and one of the most demanding markets with strict requirements on quality, price, brand, and distribution forms for imported goods. This requires Vietnamese exporters to ensure the quality and brand of their products to be able to earn a sustainable foothold in the market.
To maintain and promote exports to China, Vietnamese enterprises should strictly comply with the General Administration of China Customs of China (GACC)'s Decree 248 on the Registration and Administration of Overseas Producers of Imported Food, which will take effect on January 1, 2022, and Decree 249 on the Administrative Measures on Import and Export Food Safety, Tiep said.
Deputy General Director of Dong Giao Food Export JSC (DOVECO) Pham Ngoc Thanh underlined the necessity to promote and introduce products to Chinese customers through joining trade fairs in the country, saying this is the fastest way for Chinese consumers to access Vietnamese farm produce.
Thanh suggested ministries and sectors continue to create favourable conditions for Vietnamese businesses to attend trade promotion programmes for Vietnamese farm produce, especially in potential markets.
Huynh Tan Dat, Deputy Director of the MARD's Plant Protection Department, said producers need to ensure strict compliance with instructions from production, harvesting, preliminary processing and processing as well as packaging, transportation and distribution, adding that this is a prerequisite for expanding exports.
He requested businesses, organisations and individuals to cooperate more closely with the Departments of Agriculture and Rural Development; and keep close watch on China's new regulations.
According to Le Thanh Hoa, Director of the Vietnam Sanitary and Phytosanitary Notification Authority and Enquiry Point (SPS Vietnam Office), Vietnam earned over 53 billion USD from exporting agro-forestry-fishery products in 2022, including over 14 billion USD from the Chinese market.
Vietnam has exported 16 farm produce to China, including banana, durian, mangosteen, black jelly, rice bran, rice, sweet potato, watermelon, dragon fruit, mango, jackfruit, longan, lychee, rambutan, chili, and passion fruit. The MARD has been negotiating with Chinese authorities for opening the door for other products such as avocado, pomelo, pineapple, custard apple, and cardamom.
Railway, seaport networks need to be arteries of economy: Deputy PM
The railway network connecting economic hubs and seaports needs to be designed as the key arteries of the economy, Deputy Prime Minister Trần Hồng Hà said at a meeting with the transport ministry and relevant departments yesterday.
The discussion focused on the planning, policies, solutions and resources to implement the railway and seaport planning for the 2021-30 period, with a vision to 2050.
A report by the Ministry of Transport said that the goal is that by 2030, the network of seaports in Việt Nam can handle up to 1.4 trillion tons of goods and 10.3 million passengers.
Around 33,600ha of land and 606,000ha of water surface are expected to be used to develop this network. The demand for investment by 2030 is about VNĐ313 trillion (US$13.2 million).
This funding is expected to be mobilised from the private sector, among other sources. The State budget capital is focused on public maritime infrastructure and key economic areas.
Deputy PM Hà also proposed an overall review of the general, specialised and inland waterway ports for renovation, utilising the transportation potential of the dense river network across the country.
The roadmap also needs to be supported by in-depth studies for synchronised implementation of detailed plans.
Suggesting selecting one railway route to focus on, the deputy PM asked the Ministry of Transport to work closely with the Ministry of Natural Resources and Environment for land use at intersections and stations.
The deputy PM also asked the transport ministry to focus on several key railway and seaports projects in the 2023-25 plan, while carefully reviewing and estimating investment resources, economic efficiency and the role of the State in the projects to be deployed in the following phase.
The railway network investment and development projects to 2023 are expected to make breakthroughs on the main routes of great demand, utilising its strengths in transporting a large volume of goods and passengers through medium and long distances.
The total demand for capital for the railway network by 2030 is estimated at about VNĐ240 trillion ($10.1 million), using the State budget as well as other sources.
After the master plans for the railway and seaport networks are approved by the Prime Minister, the transport ministry will actively implement the project, conducting evaluation after the first year, completing regulations and detailed plans, and allocating capital sources for the medium-term.
Vietnam boasts high potential to become new global production hub: expert
Vietnam has high potential to become a new production hub of the world in the context of the current transition of the supply chain, said Dr. Ho Quoc Tuan, a senior lecturer at Bristol University in the UK.
Speaking to Vietnam News Agency (VNA) correspondents in the UK, Dr. Tuan said that the COVID-19 pandemic and US-China trade tension are major factors prompting the shift in the global supply chain, mostly from China to other countries in the region.
He said the urgent need to diversify the global supply chain has created good chances for Vietnam to become one of the new production hubs of the world.
Vietnam is one of the countries that are most mentioned for the capacity of joining the global supply chain. Statistics showed that many big firms, including top US companies such as Intel and Apple, have moved their production to Vietnam. The country has also been listed as a competitor of China and India in these countries' reports thanks to its advantages in low-cost labourers and attractive incentives for foreign investors.

However, Dr. Tuan underlined that Vietnam should take timely moves to optimise its potential and opportunities.
He recommended that the country should improve the quality of human resources, infrastructure including internet and transport, and speeding up economic digital transformation and technology application.
Tuan asserted that in order to overcome competitors in the region, Vietnam should accelerate infrastructure development and digital economy, while designing suitable policies to encourage investment in human resources development.
At the same time, Vietnam need a comprehensive industrial development strategy, ensuring that not only foreign businesses but also domestic firms access preferential policies, enabling both economic sectors can invest in production at low cost, he said.
The strategy should focus on a number of spearhead industries, while boosting agriculture development.
The expert warn that India is also emerging as a good choice to replace China, with a high possibility of becoming a growth pole in South Asia. If Vietnam fails to become a growth pole in the region, it will miss the chance to other countries near India, he stressed.
He emphasised that it is the time for Vietnam to quickly reform and make a breakthrough in growth by launching a comprehensive industrial strategy with specific, ambitious and feasible targets.
Vietnam's economy likely to boom in H2: expert
Vietnam's economy is likely to strongly recover in the second quarter of 2023, said Tim Leelahaphan, Economist for Thailand and Vietnam at Standard Chartered.
In an interview granted to Lao Dong Newspaper, Leelahaphan said Vietnam had experienced a difficult year in 2022, with foreign exchange reserves decreasing remarkably, along with difficulties related to real estate and bond markets, and liquidity problem.
However, the economic situation has gradually improved in the first quarter of 2023, he said, pointing to the recovery of the Vietnam dong and citing Standard Chartered's forecast that the country's GDP growth could reach 7.2% this year and 6.7% in 2024.
Although Vietnam's economy still faces some macro risks such as inflation, public debt and confidence on economic recovery, the prospect of recovery is positive in the second half of 2023, he said.
Leelahaphan said there are at least five challenges facing Vietnam related to economic growth, inflation, foreign reserves, monetary policy and real estate market.
Vietnam's inflation rate is anticipated to rise from 3.15% last year to 4 - 4.5% in 2023, he said, adding that factors that may impact inflation this year include increasing tuition fees and import inflation.
He, however, noted that Vietnam has experience in inflation control and it will be the top priority in the country's policy management.
According to the expert, Vietnam will continue to be an important link in the global supply chain and an attractive destination chosen by many businesses.
He said the most important thing now is to speed up the disbursement of public investment to support the economy, adding that strengthening investment in infrastructure development is the key to supporting economic growth.
Action taken to boost the generation of e-invoices from cash registers

Ha Noi, HCM City and Hai Phong are getting ready to promote the implementation of e-invoices generated from cash registers, part of the effort to tighten tax management in the retail industry.
These are the first three localities selected for the pilot roll-out of e-invoices generated from cash registers in the first stage which started on December 15.
Chairman of Ha Noi People's Committee Tran Sy Thanh on Wednesday issued a directive on the generation of e-invoices from cash registers throughout the city.
Implementing e-invoices from cash registers was identified as one of the key tasks in the digital transformation of the municipal Department of Taxation this year, the department's Deputy Director Nguyen Anh Dung said.
The department organised conferences to provide training and create opportunities for exchange between the tax management agency, solution providers and tax-payers.
"The most important factor for the successful implementation of e-invoices generated from cash registers is the consent of taxpayers and local residents," Dung said, adding that many taxpayers were still hesitant to switch to this method.
More than 6,800 retail establishments were subject to this programme by February 13.
It was necessary to increase communication to raise taxpayers' awareness of e-invoices generated from cash registers, he said.
He added that generating e-invoices from cash registers was convenient for taxpayers. It also supports tax authorities in having a database of goods and services transactions to serve tax management and combat fraud and tax evasion.
Still, many taxpayers were are hesitant to register for the generation of e-invoices from cash registers.
In HCM City, for example, the number of taxpayers registering to switch to the generation of e-invoices from cash registers remains modest, with only 278 taxpayers successfully registering as of February 26.
It is estimated that 266 enterprises and more than 5,268 business households are subject to the implementation.
One of the reasons for the hesitation is that generating e-invoices from cash registers has not been made compulsory. Existing regulations still allow taxpayers to use different forms of e-invoices at the same time.
In addition, business households are still worried about the cost to upgrade the software system for the generation of e-invoices from cash registers, especially retail chains.
HCM City plans that all taxpayers subject to this programme in the first phase would be successfully registered by March 15 and by October 31 for the second phase.
Deputy Director of HCM City Department of Taxation Nguyen Tien Dung said that the city would issue a directive on enhancing coordination to implement the generation of e-invoices from cash registers in the southern city.
Rule revival a hitch for foreign firms
The expiration of a resolution that assisted enterprises through the worst of the pandemic has created a knock-on effect on foreign investment activities in Vietnam, with representative offices among the entities affected as the old rules come back into play.
According to Andrea Godfrey, partner of Global Mobility Services at KPMG in Vietnam, before Resolution No.105/NQ-CP expired at the end of 2022, the consultancy noted that compliance with work permits was better than before.
Now, the Vietnamese government is looking to refine the previous legislation, Decree No.152/2020/ND-CP, which is now back in the frame, to better accommodate the current hiring needs of foreign-invested enterprises and representative offices.
"Thanks to Decree 152, some issues and irregularities in the issuance of permits were taken away. I think it's beneficial to Vietnam that work permits are being issued to people only where there is a need for foreign talent and that talent can then enhance the Vietnamese workforce. So the focus was right. However, some of the clauses in Decree 152 do not reflect the qualifications needed to undertake roles in the current business environment," Godfrey said.
In September 2021, the Vietnamese government issued Resolution 105 to support businesses affected by the pandemic, by easing regulations for issuing and extending certification for work permits. This resolution was a welcome adjustment to the stricter Decree No.152/2020/ND-CP, which went into effect in February 2021.
The difficulties lie with Decree 152 now back in place. Foreign workers are now required to have a bachelor or higher degree relevant to their job position; previously issued work permits are no longer accepted as an affirmation of work experience; and, expatriates must fly to Vietnam to get their passport notarised, which causes extra cost and time. This also lengthens the application process while by law, they must apply for a work permit no later than 15 days before commencement of work in the country.
Although it is overall the right direction, KPMG assessed that some of the specific clauses of Decree 152 are creating difficulties in the current environment.
Giang noted that another challenge that the expiration of Resolution 105 might pose is that expatriates with a work permit issued by a certain province are no longer allowed to be sent to work in another province. The current rules now require the company to apply for a separate work permit in the other province.
Godfrey added that for provincial authorities that are not used to the process, and it can be difficult to get proper advice as to how to apply for a new permit in another province, as it is an entirely new requirement and no official guidance has been given.
Regardless, Godfrey emphasised that the government has been listening to various representations and is looking at amending Decree 152 this year.
The experts assessed that compliance is also getting better across all businesses. While the laws are being refined, interpretation and practice now require attention.
Vietnamese produce exporters eye high-quality markets worldwide

At a forum in HCM City on Wednesday, experts discussed the growing interest in Vietnamese fruit and vegetables among high-quality markets around the world.
From Asia to Europe and the Middle East to North America, potential buyers are looking for top-notch products, which has prompted domestic exporters to ramp up their efforts to meet these rigorous standards.
Le Thanh Hoa, deputy director of the Agro Processing and Market Development Authority (Agrotrade), said that over the recent years, fruits and vegetables have been among the groups with export revenue of over US$3 billion each year. The figure reached $3.37 billion in 2022.
Last year, many kinds of fruits, such as passion fruit, durian and banana, were allowed to be exported to China through official channels. At the same time, Vietnamese pomelo was exported to the US, limes and pomelos to New Zealand and fresh longan to Japan.
In the first two months of this year, export of fruits and vegetables hit $592 million, up 17.8 per cent compared to the same period in 2022. China remained the major market of Viet Nam, consuming 57.5 per cent of the country's total fruit and vegetable exports.
Hoa also highlighted the advantages Vietnamese fruits and vegetables enjoy on other markets, especially those under free trade agreements (FTA).
Jos Leeters, director of Bureau Leeters, underlined that Viet Nam is eyeing great opportunities in the EU, where the market scale is 62 billion EUR ($66.05 billion), or 43 per cent of the world's total fruit and vegetable trade value.
He noted that the EU-Vietnam FTA is bringing 94 per cent of all tax lines to zero, making Viet Nam more competitive than Thailand and China.
Nguyen Minh Phuong, director of the Asia-Africa Market Department under the Ministry of Industry and Trade, said that due to low supply and high demand, the Middle East and North Africa are also promising markets for Vietnamese farm produce.
Experts, however, underscored that the major challenge for Vietnamese fruits and vegetables is the increasing requirements in the international market, especially those in origin traceability and food safety.
Pham Minh Thang from Agrotrade said Vietnamese firms had faced a lack of information on market demands and access to distribution channels in imported countries.
Meanwhile, exporting fresh vegetables to other markets is encountering obstacles due to transportation difficulties, while the rate of processed products remains modest.
To promote fruit and vegetable exports, Thang advised producers and exporters to actively renovate their farming techniques to increase their product quality while strengthening processing and trade promotion activities, diversifying trading activities on digital platforms, and applying information technology in the sale of farm produce.
Ha Nam pledges to facilitate operation of Taiwanese investors
The northern province of Ha Nam wishes that businesses from Taiwan (China) will pour more investments in the locality, a provincial official said on March 21, pledging to facilitate their operation.
At a working session with a delegation of Taiwanese firms who came to learn about the local investment environment, Chairman of the provincial People's Committee Truong Quoc Huy said over the past years, even during the COVID-19 pandemic, Ha Nam maintained a high growth rate, as compared with other localities in the Red River Delta and in the country.
Ha Nam is in the top 10 localities nationwide in terms of foreign direct investment (FDI) attraction, he added, briefing the participants on its advantages in geography and transport infrastructure.
The province will work to ensure infrastructure, provide essential services for investors, speed up administrative procedures, support enterprises in personnel training and housing for workers, and create the best possible conditions for them to expand operation, Huy noted.
Nguyen Tuan Hai, Chairman of Alphanam Group, stressed that Taiwan firms are interested in production and businesses in cities and provinces around Hanoi, including Ha Nam.
The participating enterprises have strengths in industrial park infrastructure construction, real estate and commerce, for which Ha Nam has great demand, especially housing for workers and foreign experts, and infrastructure development at industrial parks and urban areas, he stressed.
The business delegates expressed their wish that local leaders will help them with investment procedures.
Ha Nam is home to eight industrial parks which have been put into operation, and plans to build four others. It is calling for investments in environmentally friendly manufacturing and support industries, high-tech agriculture, tourism, services, health care, education, personnel training and social housing.
Source: VNA/SGT/VNS/VOV/Dtinews/SGGP/VGP/Hanoitimes