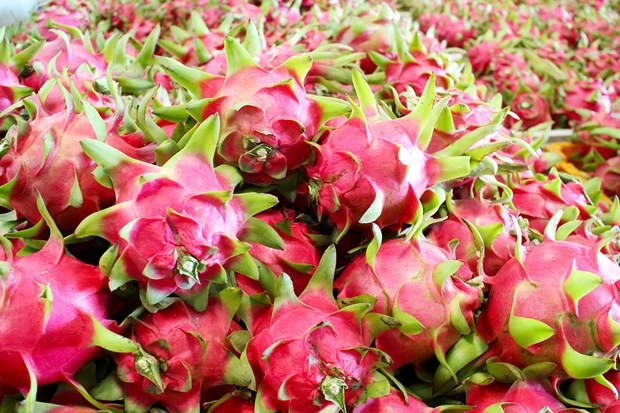 Export turnover of Vietnamese dragon fruit is expected to top 1 billion USD in 2023.
The Ministry of Agriculture and Rural Development has announced that the country's total export value of dragon fruit so far this year topped 47 million USD, a fall of 48.7% compared to the same period las year.
The fruit has been exported to more than 40 countries and territories with China, India, the US, Thailand and the Netherlands being the biggest importers.
However, in the first two months of 2023, its export saw a slump in some markets such as the Republic of Korea (RoK) and Japan with decreases of 25.9% and 35.4%, respectively year-on-year.
However, the export of the fruit is expected to bounce back as China - the biggest importer with 70% from Vietnam - has reopened its door.
Export turnover of the fruit is expected to top 1 billion USD in 2023.
Pepper exports likely to reach US$2 billion by 2025
The Vietnamese pepper industry aims to rake in approximately US$2 billion from exporting between 400,000 tonnes and 500,000 tonnes of pepper by 2025, according to details given by the Vietnam Pepper and Spices Association (VPSA).
In the first two months of the year, the country exported 40,814 tonnes of the product worth US$128.6 million, up 33% in volume and down 9% in value compared to the same period from last year.
China has surpassed the United States to become the country's largest pepper export market with 10,209 tonnes, representing an 8.6 fold-rise on-year.
The Chinese market share as part of the nation's total pepper exports also increased to 25% compared to about 4% from the same period last year.
February alone witnessed the pepper export volume to the Chinese market record its highest level since June 2020, with 8,485 tonnes, representing an increase of 392.2% over January and accounting for 30.1% of the total export market share.
Last year, although the nation exported only 20,498 tonnes of pepper to the northern neighbour, a drop of 46.4% compared to 2021 due to the impact of the "zero-COVID" policy, China's reopening from the beginning of this year has helped pepper exports to this market to rebound.
However, Hoang Thi Lien, president of the Vietnam Pepper and Spices Association (VPSA), pointed out that the average export price of pepper stood at about US$3,177 per tonne, down 31.4% on-year.
Most notably, the export price of pepper in February alone hit the lowest level over the past year, hovering at around US$3,006 per tonne.
Lien analysed that the pepper industry is anticipated to face numerous challenges over the course of the year due to the economic downturn, geopolitical tensions, and fluctuations occurring at Silicon Valley Bank (SVB) or Credit Suisse, factors which had led to tightened spending and a general decline in consumption globally.
Experts have therefore advised local enterprises to diversify export markets, especially niche markets moving forward to avoid risks when there is turmoil in the major consumption markets.
Fruit and vegetable exports skyrocket by 53.1% in February
Vietnam's fruit and vegetable exports in February recorded a surge of 53.1% to about US$324 million compared to February 2022, according to statistics compiled by the General Department of Vietnam Customs.
Fruit and vegetable exports during the first two months of the year increased by 12.4% to about US$565.95 million against the same period from last year.
Most notably, local fruit and vegetable exports to China during the reviewed period edged up 25.3% to US$320.5 million against the same period last year, accounting for 56.7% of the country's total export value.
The increase in export value to the Chinese market can be considered to be the main factor behind the rise of fruit and vegetable exports amid a sharp decline in several key export products.
Furthermore, the northern neighbour's removal of its "Zero-COVID" policy has helped Vietnamese fruit and vegetable exports to regain its growth momentum.
Simultaneously, local fruit and vegetable exports to other foreign markets also experienced an upward trajectory, with exports to the Republic of Korea, Japan, and the Netherlands all increasing by 12.4%, 17%, and 69.9% to US$27 million, US$23.3 million, and US$19.8 million, respectively.
Dang Phuc Nguyen, general secretary of the Vietnam Fruit and Vegetable Association, predicted that this year will be an optimistic period for Vietnamese fruit and vegetable exports thanks to positive growth in terms of durian fruit.
Providing that durian export turnover reaches US$1 billion this year, the fruit is anticipated to raise the sector's total export turnover to about US$4 billion, he added.
Vietnamese exports to Thailand, Singapore surge in two-month period
Vietnam recorded a high export turnover from Thailand and Singapore during the first two months of the year, according to details given by the General Department of Customs.
Throughout the reviewed period, despite the total bilateral trade turnover dropping slightly by 6%, mainly due to a decrease in import turnover from the Thai market, Vietnamese exports to Thailand reached US$1.2 billion, up 12.4% over the same period from last year.
Furthermore, two-way trade turnover between Vietnam and Singapore increased, with the total import and export turnover between the two countries hitting US$1.49 billion, up 16.5% on-year.
Of the figure, Vietnamese export turnover to the island city state reached US$677.7 million, a year-on-year rise of 8.8%.
In general, the country's overall export turnover to ASEAN stood at US$4.96 billion, accounting for about 10% of the nation's total export turnover.
Thailand and Singapore represent the country's two key markets in the ASEAN region, with the bloc being the nation's fourth largest export market.
In trade relations with the ASEAN market area the country boasts plenty of advantages such as close geographical distance, as well as similar tastes and cultures.
In ASEAN there is the Agreement on Trade in Goods (ATIGA), whilst Vietnam and a number of ASEAN member states have bilateral agreements which aims to facilitate trade.
According to details given by the Ministry of Industry and Trade, the country has many opportunities to expand the export of agricultural products and food to the bloc. However, most agricultural products and foodstuffs imported into ASEAN member states require Halal certifications which is also considered to be the new standard of quality and hygiene.
In line with this, domestic enterprises should actively participate in trade promotion activities, seek partners, and expand exports to ASEAN, the Ministry of Industry and Trade also recommends that they pay close attention to trade remedies in regional countries.
Regarding activities to promote exports to the bloc, Vu Ba Phu, director of the Trade Promotion Department under the Ministry of Industry and Trade, said that the Department will continue to co-ordinate efforts with localities and industry associations in a bid to strengthen trade promotion activities in the time ahead.
The Ministry of Industry and Trade is also continuing to closely monitor developments in the global market, thereby advising and proposing co-operation frameworks and solutions to simultaneously develop traditional markets and diversify export markets. In addition, it will also continue to help businesses take advantage of signed free trade agreements (FTAs) to effectively exploit markets and further boost exports, Phu added.
Digital transformation – a catalyst for green and sustainable models
Digital transformation is considered a catalyst for many businesses to transform and adapt to green and sustainable models. Recently, dual transformation (green and digital) has been mentioned by the European Union and is an important future trend.
Deputy Minister of Planning and Investment Tran Quoc Phuong made the statement at a conference on digital transformation – Faster, Smarter, and Greener held in Hanoi on March 21.
The National Digital Transformation Programme for 2025, with a vision to 2030, emphasised three main focus points, including digital government, digital economy, and digital society.
According to the Ministry of Information and Communications, in 2022, the total revenue of Vietnam's IT and telecommunications (ICT) industry reached about 148 billion USD, and the digital economy reached 14.26% of GDP.
To achieve the goal that, by 2025, the digital economy will account for 20% of GDP under its rapid development scenario. Vietnam needs to maintain average annual digital economic growth of about 20%, more than three times the projected GDP growth.
Phuong said that after some decades of rapid growth, Vietnam has been struggling with major challenges affecting its economic development, which have slowed growth. The economy based on cheap labour and natural resources is not a competitive advantage anymore, there is a risk of falling into the middle-income trap, and the population is aging.
In October 2021, Prime Minister Pham Minh Chinh issued Decision No 1658/QD-TTg approving the National Strategy on Green Growth for the 2021-30 period, with a vision to 2050, which highlighted increasing green growth with investment into advanced technology, digital transformation, smart and sustainable infrastructure, all as an impetus for private investment to play an increasingly important role in the green economy.
Denis Brunetti, chairman of Ericsson in Vietnam, Laos, Cambodia, and Myanmar said each country and market has its own way and plan, and Vietnam is highly appreciated as one of the most dynamic and attractive destinations in the world thanks to a rapidly growing digital economy and a strategy focused on digital transformation across the country.
He also acknowledged the importance of 5G-enabled digital transformation as a key factor in improving labour productivity and efficiency in all industries, especially in manufacturing, logistics, agriculture, and energy.
Urs KLOETI, Factory Manager, Nestle Vietnam Ltd said Nestle's approach on digital transformation within operations in Vietnam and globally is, to translate this external view of technology trends into meaningful opportunity areas, which are well understood and against which we are able to identify savings and/or growth opportunities.
He added they have built some organisational networks from existing teams around each of these focus areas and now in each market to co-ordinate the identification of pain points and to match them with the most appropriate application. New technologies are also identified in most cases bottom up from the factories/markets and these are then escalated through the teams.
At the forum, the delegates focused on discussing the trend of digital transformation and the three pillars of a sustainable economy – manufacturing, banking, and e-commerce. They highlighted the importance of 5G for economic growth and innovation, policy mechanisms to promote rapid growth and sustainable development, and practical lessons from digital transformation pioneers.
The event opened up new and practical information flows about dual transformation trends – digital and green – in the fields of manufacturing, finance and banking, and e-commerce and logistics.
This is the second year that Vietnam Investment Review has organised the Conference on Digital Transformation to create opportunities for representatives of state management agencies, policymakers, experts, and both local and international tech enterprises to meet and exchange information.
Business Innovation Zone 2023 project launched
The Business Innovation Zone 2023 project was launched on March 21, under the theme "Sync-up the power of human-tech-media".
The project, initiated by the RX Tradex Vietnam company, is a core programme and part of a series of activities ahead of the Vietnam Manufacturing Expo (VME) and international electronics show NEPCON Vietnam in August and September 2023, General Director of RX Tradex Vietnam Vu Trong Tai told the launch in Ho Chi Minh City.
Apart from training workshops and programmes for business managers and leaders, the 2023 project will also give enterprises a chance to seek potential partners via trips to factories in Thailand and Vietnam, he noted.
Pham Trung Hung, Consulting Director of the PNA Consulting company – a strategic partner of the project, said humans are always the first and foremost factor substantially affecting the operations of business models. Therefore, the 2023 project's focus on the three factors of human resources, technology, and media is highly essential for enterprises.
Speaking at the launch, some experts pointed out that the shift of many global supply chains is creating opportunities for Vietnam and mitigating the impact of a demand decline in such markets as the US and Europe.
However, to seize the opportunity, practical programmes are necessary for firms in the manufacturing, supporting, and electronics industries of Vietnam to access new technical and technological trends and directly meet potential partners from around the globe.
Given this, the factory trips under the 2023 project will bring about opportunities for both visitors and exhibitors at the VME and NEPCON Vietnam to learn about new and high-tech infrastructure and production processes.
Measures sought to promote circular economy in livestock industry
A forum discussing opportunities and challenges in developing a circular economy in the livestock industry was held on March 21 by the Ministry of Agriculture and Rural Development (MARD)'s Department of Livestock Production and the Australian Centre for International Agricultural Research (ACIAR)'s Agribusiness advisory group.
Vo Trong Thanh from the department said the development of livestock production in accordance with the circular economic model helps reduce input materials and minimise discharges; and optimally treat livestock waste serving plant cultivation, aquaculture and forestry.
Nguyen Giang Thu, Director of the MARD's Department of Science, Technology and Environment, said Vietnam has developed and applied models such as garden-pond-livestock pen (VAC); shrimp-rice and rice-fish rotary farming; production of organic fertilisers from agricultural discharges; 4F (farm-food-feed-fertiliser) bio-safe breeding; green cycle at dairy farms; and aquaculture with water circulation technology.
However, the circular economic development in Vietnam is not commensurate with the potential as the rate of collection and recycling of agricultural by-products remains low, she said, stressing the need to promote the role and effectiveness of models, and perfect mechanisms to boost production and support the development of circular economic models in various fields.
Nguyen Anh Phong, Director of the Institute of Policy and Strategy for Agriculture and Rural Development (IPSARD)'s Information Centre, said it is necessary to build a legal corridor and standardise the circular economy in the agricultural sector so as to encourage and give incentives to enterprises and production cooperatives to apply technology in developing circular economy.
He also emphasised the necessity to promote cooperation in research, application and domestic and international technology transfer; speed up digitisation; build database systems; and analyse data on circular economy.
Chairman of the Livestock Association of Dong Nai province Nguyen Tri Cong said to develop a sustainable and safe livestock industry, livestock establishments must pay attention to issues related to feeding and environmental sanitation, while distribution units of products must also join this scheme.
Workshop discusses fairness, transparency of Vietnam's stock market
The State Securities Commission of Vietnam (SSC) and the Japan International Cooperation Agency (JICA) on March 21 co-organised a workshop to end a four-year project on capacity building for the improvement of the Vietnamese stock market's fairness and transparency.
SSC Vice Chairman Pham Hong Son said the project has met an urgent need to improve the capacity of the commission and the Vietnam stock sector in the management, supervision and operation of the market.
He noted that with the support and cooperation from JICA, the SSC has basically met the set targets, hence improving the fairness, transparency, and protection of investors against market fluctuations.
The number of newly opened investor accounts doubled, while foreign investors net bought strongly in the year-end months, reflecting the growing attraction of Vietnam's stock market at home and abroad, said Son.
The official said the outcomes have contributed to the realisation of the Government's stock market strategy development for 2011-2020 and other socio-economic growth plans.
Chief Representative of the JICA Vietnam Office Shimizu Akira said JICA has implemented the technical assistance project based on the proposal of the Government of Vietnam.
He assessed that the country's stock market has experienced a strong growth after Vietnam opened its door, with its capitalisation value exceeding 180 billion USD by the end of 2020.
The interest of foreign investors, including those from Japan, in Vietnam is also increasing, Shimizu stressed.
The SSC, with support from JICA, is about to embark on a new capacity building project to promote the efficiency of the market in April.
Blockchain-based origin tracing system iTrace247 debuts
The blockchain-based origin tracing system iTrace247 made its debut at a seminar in Hanoi on March 21, which was held to review the Support of Regional Economic Cooperation in Asia (SRECA) project.
The system enables firms to market their images and trademarks in both domestic and foreign markets while giving consumers an insight into the farming, processing, transportation and distribution process of products.
The iTrace247 origin tracing stamps have been piloted at home since March 2021 for vegetables and fruits from the provinces of Hai Duong, Son La, and Bac Giang. To meet export demand, the tracing stamps could display information in languages requested by customers, thus fulfilling transparency requirements of import markets.
Previously, Thanh Ha lychees from the northern province of Hai Duong were labeled with iTrace247 origin tracing stamps in English and Japanese languages, which were successfully exported to Singapore and Japan. Based on these initial successes, iTrace247 has upgraded its version with a blockchain-based feature to meet demand of stringent markets.
Speaking at the event, Director of the Vietnamese Ministry of Industry and Trade's Vietnam Trade Promotion Agency (VIETRADE) Vu Ba Phu said 2023 is a core year to successfully realise the 2021-2025 economic development plan, in which the digitalisation of trade promotion activities, wider adoption of information technology and digital transformation are important contents of the digital government building policy.
A representative of the German Agency for International Cooperation (GIZ) said Vietnam's exports are expected to grow by 6% this year, thus opening up new business expectations for enterprises.
Participants reviewed the SRECA project, a joint effort between VIETRADE and GIZ from 2019-2022. The project aims to improve the capacity of trade promotion and support organisations, cooperatives, and small and medium-sized enterprises, and help them take advantage of opportunities from the ASEAN-China agreement to successfully export farm produce to China.
VietCycle partners with Europe pioneer to build plastic recycling plant

VietCycle and ALBA signed an agreement to build the largest recycling plant for PET and HDPE plastics in Viet Nam, which will cost more than US$50 million, on Wednesday.
The recycling plant, which has a capacity of 48,000 tonnes a year, is expected to be operational in 2024.
The project is designed to use cutting-edge German technology to produce rPET plastic that meets international standards set by the European Union (EU) and embraced by many multinational corporations, said Hoang Duc Vuong, chairman of VietCycle.
The cooperation between ALBA and VietCycle provides a necessary solution to solve plastic waste problems in Viet Nam.
According to the World Bank (WB), Viet Nam is one of the biggest contributors to marine pollution.
HVN offers to pay 50% registration fee for buyers

Honda Vietnam (HVN) is cooperating with automobile dealers to launch a promotion programme to pay 50 per cent of registration fees, along with many attractive gifts from Honda Automobile Dealers, for customers who buy a Honda CR-V or Honda City VIN2023.
The promotion aims to increase opportunities to own and experience Honda automobile products and partially support the cost of car buying for customers after the Lunar New Year.
Customers who sign a contract to buy a Honda CR-V or Honda City VIN2023 and complete 100 per cent of the payment procedure from March 3 to 31 will be given 50 per cent of the registration fee (excluding VAT, if any) and receive numerous special gifts from Honda Automobile Dealers.
EV charging operator EBOOST receives foreign funding

Viet Nam's electrical vehicle (EV) charging operator EBOOST has announced an investment from the Singapore-based Southeast Asia Clean Energy Facility (SEACEF), which is managed by Clime Capital, to expand its network in Viet Nam.
SEACEF's investment in EBOOST, whose value has not been disclosed, will fund the deployment of EV charging installations in Viet Nam and provide safe and affordable EV charging services to Viet Nam's early EV adopters.
EVs are becoming more popular in Viet Nam as they help accelerate the decarbonisation of Viet Nam's transportation sector, which accounts for 25 per cent of the country's CO2 emissions, according to a World Bank report.
However, the absence of EV charging infrastructure is cited as a critical factor holding back the pace of EV deployment in Viet Nam and elsewhere in Southeast Asia.
EBOOST, founded in 2020, is the first operator in Viet Nam to provide charging services for EV vehicles of all brands. By the end of 2022, it will operate more than 700 charging points across Viet Nam and plan to double this number this year.
In July last year, the Vietnamese Government approved an action plan to reduce carbon emissions in transportation as part of the country's wider strategy to achieve net-zero emissions by 2050. The strategy is committed to gradually reducing the manufacture, assembly and import of fossil-fuelled vehicles.
By 2050, all transport will run on electricity or another form of green energy, such as hydrogen power.
To realise its goals, a substantial investment is required in all parts of the transport ecosystem, including a network of electric vehicle charging stations.
Hanoi hotels see modest post-pandemic foreign tourist numbers
Hotels in Hanoi Old Quarter have witnessed a modest number of foreign tourists a year after the Covid-19 pandemic.
Hanoi's tourism sector has been reopened to serve foreign visitors from March 15 last year. However, to date, many local hotels, including those in Hanoi Old Quarter, have only attracted a small number of customers.
Ma May Street is home to around 20 hotels, but most of them have failed to lure tourists. A hotel owner said that he had to reduce the staff due to the lack of guests.
Lots of hotels in Hanoi have offered discounts of 20-50 percent to attract customers. Meanwhile, some hotels have not even bothered to reopen yet.
According to many hotel owners, Vietnam's 30-day visas are among the factors keeping foreign travellers away.
Not only hotels but also food services are struggling with the business slump.
In the first two months of this year, Vietnam welcomed 1.8 million foreign visitors, up 36.6 percent on-year, but down 40 percent on 2019 when the country was not affected by Covid-19.
Opportunities opening up for suppliers of food ingredients
The food industry, which has an average growth rate of 10 per cent per year in Vietnam, is opening up development opportunities for domestic raw material processing enterprises.
Asia Ingredients Group (AIG), one of the pioneering Vietnamese enterprises in processing and the food ingredient industry, achieved outstanding business performance in 2022, according to a report released last week.
Despite the difficulties in rising raw material prices due to the energy crisis and inflation, AIG achieved its highest revenues ever at $560 million, and profit before tax up to $41 million.
AIG currently owns a series of subsidiaries that are well-known suppliers of raw materials in the market such as Vinamilk, Masan Consumer, Unilever, Nestlé, and Trung Nguyen. The increased demand for products from these groups has contributed to the growth of AIG in recent years.
The success of AIG could motivate domestic businesses to boldly enter a field that has a lot of potential for development, but currently lacks supply partners.
According to Assoc. Prof. Dr. Le Nguyen Doan Duy of the Vietnam Association of Food Science and Technology, Vietnam has a rich supply of agricultural products and food with guaranteed quality, suitable for the development of the food material processing industry, but its potential has not been fully exploited as processing enterprises still have to import more than 90 per cent of raw materials.
Statistics from the General Department of Vietnam Customs show that by the end of 2022, Vietnam spent more than $13.2 billion to import seafood, vegetables, and food processing materials.
Le Nguyen Doan Duy, director of business development at AIG, said in addition to the lack of standard processing facilities, Vietnam's agricultural production areas are still quite fragmented, small, and lacking sustainable links, causing many difficulties for production and processing enterprises.
One of the top typical ingredients that AIG brings to the market is coconut, grown in the raw material areas of Ben Tre and Tra Vinh in the south, which accounts for 40 per cent of the total coconut production in the country.
It has also invested in a cassava starch processing plant, turning this food crop into a material of high economic value such as tapioca starch and glucose syrup. Its cassava material area is concentrated in four districts of Anh Son, Con Cuong, Tuong Duong, and Ky Son in the central province of Nghe An.
According to statistics from the Ministry of Industry and Trade, Vietnam currently has over 8,500 industrial-scale agricultural product processing enterprises with a total capacity of about 120 million tonnes of raw materials per year.
After the trend of foreign-invested enterprises buying back shares and pouring capital into food businesses in Vietnam in 2016-2021, the opportunity to step into a large and potential playground is still open to Vietnamese businesses.
During the launch ceremony of its first two product lines in the Vietnamese market in November, Japanese dairy group Morinaga shared that the continuous growth of the dairy industry and food processing in Vietnam in recent years has been an important factor in the company's decisions.
Nevertheless, difficulties stem from the pressure of input prices because 60 per cent of the raw materials for powdered milk production are imported.
The supply of raw materials has increased in price by 60-70 per cent since the second half of last year due to the high price of animal feed, along with the increase in freight costs, milk production costs will increase by about 50-60 per cent.
Big appetite still apparent in real estate
The Vietnamese real estate market is proving attractive to foreign investors and funds despite the turmoil that domestic real estate investors are grappling with over projects lacking legitimacy, capital, and liquidity.
According to the 2023 Asia-Pacific Investor Intentions Survey released by CBRE Research in January, for the first time, Ho Chi Minh City and Hanoi made it to the top 10 for cross-border investment. Placing third overall, Ho Chi Minh City is even more attractive than Australia.
Foreign investors interested in the residential property market in Vietnam are mostly from Asian markets such as Hong Kong, Singapore, China, South Korea, and Japan.
With an urbanisation rate of 42 per cent, in the eyes of investors, Vietnam still has a long way to go and has a growing middle-class population, which makes it an attractive destination for capital.
Singaporean investors have started the year with a wave of activity, including several large-scale deals.
Keppel Land, a developer with a portfolio of more than 20 projects and total registered capital of $3.5 billion worldwide, signed an MoU with Khang Dien Group on February 10 to collaborate on the development of residential projects as well as sustainable urban developments in Ho Chi Minh City.
Keppel Land CEO Louis Lim confirmed the company was committed to expanding its presence in Vietnam, a key market where it sees long-term growth potential.
Sembcorp Development of Singapore earlier in February also signed an MoU with Becamex IDC on cooperation to develop five green, smart, and sustainable industrial parks in Vietnam within the next three years, at a total investment of roughly $1 billion. The parks aim to meet green, smart, and sustainable standards, using Industry 4.0 tech for infrastructure development and management.
In the report "Vietnam Real Estate: Perspectives from China and Southeast Asian Countries" by PropertyGuru Group, Vietnam's open economic policy and integration into global supply chains have made growth possible. Therefore, a resilient supply chain is key to Vietnam's economic strength and increasing the attractiveness of real estate to foreign investors.
If Vietnam's transport infrastructure of seaports, highways, high-speed railways and airports is expanded and completed, real estate in Vietnam will be a more attractive destination for foreign capital, the report said.
Overwhelmed Yen Bai-Lao Cai expy needs expansion
The Yen Bai-Lao Cai road section, part of the Noi Bai-Lao Cai expressway in northern Vietnam, needs expanding to cope with a rising traffic volume that poses a risk of traffic congestion and accidents, according to the Ministry of Transport.
The ministry has written to the People's Committee of Lao Cai Province, through which the expressway section passes, about the route expansion, the local media reported.
The 264-kilometer Noi Bai-Lao Cai expressway was put into service in 2014, traveling through five northern localities comprising Hanoi City, and Vinh Phuc, Phu Tho, Yen Bai and Lao Cai provinces. The expressway includes the four-lane Noi Bai-Yen Bai section and the two-lane Yen Bai-Lao Cai.
The expressway has seen an upsurge in traffic volume after years of being put into use.
The Transport Ministry, therefore, asked the provincial government of Lao Cai to closely coordinate with the Commission for the Management of State Capital at Enterprises to study and implement the route expansion plan to satisfy transport demand and ensure traffic safety on the entire route.
Earlier, the Vietnam Expressway Corporation (VEC), the investor and operator of the Noi Bai-Lao Cai expressway, had sought the Transport Ministry's nod to allow it to widen the Yen Bai-Lao Cai section.
VEC, in its proposal, said it would mobilize capital from legal sources to widen this 83-kilometer section to four lanes, with a speed limit of 100 kilometers per hour.
The expansion project would require VND8.7 trillion. Of which expanding the Yen Bai-Lao Cai section would cost some VND5.6 trillion, while more than VND3 trillion would be needed for road surface roughening and building three bridges on the Noi Bai-Yen Bai section.
Binh Duong, Binh Phuoc join hands to develop expy
Binh Duong Province is teaming up with neighboring Binh Phuoc Province to start the HCMC-Thu Dau Mot-Chon Thanh expressway project and some main routes linking the two provinces.
The expressway project is seen as a key traffic project helping boost socio-economic development in the two provinces and the key southern economic zone, the Binh Duong government said on March 2.
The road is set to start at the Go Dua intersection in HCMC's Thu Duc City, run across Phu Giao District in Binh Duong Province and end at the intersection between the Becamex Binh Phuoc industrial zone and National Highway 14 in Binh Phuoc Province's Chon Thanh Town.
Under Binh Duong Province's proposal, the first phase of the expressway will stretch 45.6 kilometers, from Khanh Van Bridge in the province to Binh Phuoc Province, with a total cost of VND17.3 trillion. The project will be implemented under the public-private partnership format and be completed in 2026.
The expressway will be widened to six lanes from four in the second phase of the project, while tunnels and overpasses will be constructed, the local media reported.
Binh Duong also proposed the two provinces continue to enhance cooperation in other main road projects such as Ho Chi Minh Road, National Highway 13 and Bac Tan Uyen-Phu Giao-Bau Bang expressway.
Tran Tue Hien, chairwoman of Binh Phuoc Province, said that the province would work closely with Binh Duong to execute key traffic projects.
EU requires Vietnamese exports to meet green standards
The EU will require Vietnamese exports to meet the environmental requirements of the European Green Deal, the European Union's flagship strategy aiming to make the continent carbon neutral by 2050.
The Ministry of Industry and Trade highlighted this requirement in the context that the number of Vietnamese goods exported through overseas distribution networks is increasing.
In recent years, Vietnamese agricultural products such as lychee, dragon fruit, bananas, and fish sauce have been sold in large supermarkets in France, Australia, the United States, Japan, and Thailand.
As the EU is a major market for Vietnamese exports, the approval of this sustainability-oriented policy will create new challenges and opportunities for Vietnamese businesses, according to the Ministry of Industry and Trade.
Nguyen Thi Hoang Thuy, Vietnamese Trade Counselor in Sweden, said the European Green Agreement will have an impact on the export of Vietnamese products to the EU, including textiles and garments, and footwear.
Thuy added that, in particular, the EU will require textile products to be manufactured using environmentally friendly materials and processes, as well as eco-labels on product packaging.
The eco-labeling regulation will also affect Vietnamese packaging producers and those using packaging for export products, she said, adding that agribusinesses must shift their production processes toward reducing waste and the use of harmful chemicals.
Thuy said that in order to export to the EU in general and the Nordic countries in particular, Vietnamese businesses must be well aware of the changes that the new European growth strategy will bring and asked them to be prepared to adapt to the challenges and maintain competitiveness in the EU market.
According to Deputy Minister of Industry and Trade Do Thang Hai, in recent years, in order for Vietnamese products to penetrate the international retail system, a series of Vietnamese Products Weeks have been held in Japan and Europe.
Through this activity, Vietnamese goods have been sold in hundreds of supermarkets in AEON's distribution network in Japan.
At a recent meeting in February, AEON TOPVALU Vietnam general director Shiotani Yuichiro said that from 2022, the Japanese retailer will source bananas from Vietnam instead of the Philippines. Vietnamese bananas have received good responses from customers, who said the taste of this Vietnamese fruit is better than those from other countries.
He added that this is because Vietnamese bananas are grown according to a circular manufacturing system in which the producer applies an integrated model of aquaculture and livestock farming, and then uses the fertilizer from the model to fertilize the banana trees.
With this closed model, the amount of waste is almost zero, meeting AEON's environmentally friendly manufacturing standards, Shiotani Yuichiro underlined, adding that the Japanese retailer will increase the import volume of Vietnamese bananas into its distribution system.
Statistics from Vietnam's General Department of Customs showed that, in 2022, trade turnover between Vietnam and the EU reached $61.3 billion, of which the value of Vietnam's exports to the EU hit $46.06 billion, while imports from the EU amounted to $15.26 billion.
Hanoi to complete 22 social housing projects by 2025
Hanoi targets to complete 22 social housing projects with a combined area of 1.2 million square meters of housing floors by 2025, and 28 others with two million square meters after the period.
Under the plan, Hanoi is working urgently to meet its social housing targets. This includes completing the necessary procedures to approve investment policies, organizing tenders to select investors, and carrying out detailed planning for various social housing zones.
In line with such effort, the city plans to identify additional areas suitable for independent social housing developments along Ring Road No.4 project and in other areas. The approved detailed planning will serve as a foundation for district-level People's Committees to formulate project investment policies to select investors according to regulations.
In addition, the city will allocate funds from the budget and the City Development Investment Fund for social housing development, including planning adjustment, site clearance, and infrastructure investment in these projects.
Additionally, the city is expected to encourage investment in social housing projects in industrial zones and industrial production establishments.
It would also review existing land plots within commercial housing projects and urban areas to add to the city's social housing fund.
In the period 2021-2025, an estimated capital of VND12.5 trillion (US$527 million) will be required for social housing investment and development. Out of this amount, about VND283 billion ($12 million) will be sourced from the State budget.
In the previous period of 2016-2020, Hanoi completed 25 social housing projects with a total floor area of over 1.2 million square meters. However, the results of social housing development fell short of the set targets outlined in the program and plan, achieving only 20.2% of the plan.
Vietnam e-commerce can reach US$32 billion
Despite the current global economic depression, which are negatively affecting various giant economies, Vietnam is forecast to see promising growth.
In 2022, the e-commerce market of Vietnam had a revenue of $14 billion, and is expected to reach $32 billion in 2025.
e-Conomy SEA report on the digital economy of ASEAN by Google also predicts that Vietnam will enter the top-3 nations attracting the most investors in e-commerce.
In Vietnam, e-commerce has surpassed conventional retail channels such as supermarkets and convenience stores.
AIA Insurance Inc, SBI Holdings, and Alibaba are typical renowned corporations that have poured much money in Vietnam's e-commerce platforms such as Tiki, Lazada, and Sendo.
Source: VNA/SGT/VNS/VOV/Dtinews/SGGP/VGP/Hanoitimes