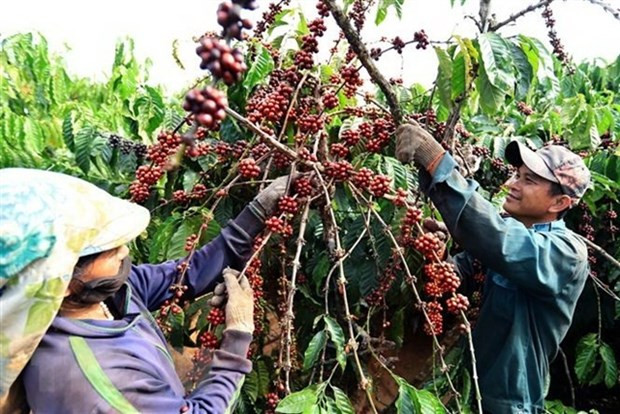 Vietnam exported 7,420 tonnes of coffee worth 18.77 million USD to the Netherlands in the first two months of the year, up 93.1% in volume and 105.7% in value year on year, according to the General Department of Vietnam Customs.
The average export price of Vietnamese coffee to the market also rose by 5.7% to 2,517 USD per tonne from one year ago.
In February alone, the country shipped 4,100 tonnes of coffee for 10.11 million USD to the Netherlands, up 110.3% in volume and 136.6% in value compared to February 2022.
Last year, the major suppliers of coffee to the Netherlands were mainly from the intra-EU market, including Belgium, Germany, France, Finland, and Italy. Meanwhile, Dutch coffee imports from non-EU markets also enjoyed double-digit growth, with Vietnam becoming the second largest foreign supplier.
Experts have advised Vietnamese enterprises to boost coffee exports to the Netherlands which is considered the gateway into the European market.
They also recommended that Vietnamese firms study consumer demand, logistics services, and distribution systems to further penetrate the Dutch and European markets.
Hanoi looks to build trademarks for OCOP products
Relevant departments and sectors of Hanoi have paid special heed to promoting trade promotion activities for products of the One Commune One Product (OCOP) programme, with the goal of building trademarks for such products and increasing consumers' awareness of them.
According to the municipal Department of Industry and Trade, Hanoi leads the country in OCOP products, with nearly 1,700 ranked products from 426 enterprises, cooperatives, and business households in the capital. As many as 80 showrooms for introducing and selling OCOP products have been established in districts and towns, helping widely promote products to consumers and tourists.
Acting Director of the municipal Department of Industry and Trade Tran Thi Phuong Lan said the agency has coordinated with the city's Centre for Investment, Trade and Tourism Promotion and the municipal Department of Agriculture and Rural Development to organise activities to introduce agricultural products of not only Hanoi but also other localities.
A series of programmes such as fruit and farm produce festivals, trade and agriculture promotion fairs, and programmes to introduce OCOP products and specialties were organised in 2022, contributing to promoting the products to locals as well as tourists, she said.
OCOP products have established their position in Hanoi's clean food market and become more popular among consumers, said Nguyen Thi Hoi, Director of Phu Thien Tan Food Co., Ltd.
The city plans to build five pilot centres for the design, innovation and promotion of OCOP products in combination with tourism development in Gia Lam, Thuong Tin, Phu Xuyen and Chuong My districts, and Son Tay town.
According to Vice Director of the municipal Centre for Investment, Trade and Tourism Promotion Nguyen Thi Mai Anh, it is necessary to promote the sale of OCOP products through e-commerce platforms, online sales channels, and direct interactive sales (livestream).
The centre has coordinated with the Ministry of Industry and Trade's E-commerce and Digital Economy Agency to deploy a programme to help farmers sell OCOP products on major e-commerce platforms such as Tiki, Lazada, Sendo, she said.
Hanoi has recognised more than 2,140 OCOP products with more than 800 active trade villages, helping to boost economic development in rural areas while generating jobs for local labourers.
The city aims to have an additional 2,000 OCOP products rated three stars and above by 2025.
The OCOP programme, initiated by the MARD in 2008, is based on Japan's "One Village, One Product" programme and Thailand's "One Tambon, One Product". It is an economic development programme for rural areas and also to help implement the national target programme on new-style rural area building.
OCOP products are made based on the combination of local resources, traditional culture, and advanced technology. The programme looks to provide farmers with a chance to come together to form cooperatives, enabling them to create goods with higher quality and better design and packaging that meet higher standards and market demand.
Property market stays hopeful as interest rates dip
There have been positive signs for the property market's recovery, said industry experts and economists.
In an earlier development, for the first time in the last two years, the central bank decided to cut policy interest rates by 1 percentage point, bringing the discount rate from 4.5% to 3.5%, overnight rate for inter-bank from 7% to 6% annually.
According to the central bank, average inter-bank overnight rates have fallen by as much as 0.8%, to 2.7% on March 20, marking the first dip under 3% since the end of August last year.
Economist Can Van Luc, a member of the national finance and monetary council, said a dip in interest rates would likely result in much-needed improvements in the property market.
Luc said it might translate into lower prices as investors gained access to lower-interest loans while giving them a financial boost to finish ongoing projects or start new projects.
In addition, a lower rate might give buyers more confidence to make purchases and improve market attitude in general as many potential buyers were sitting on the fence waiting for prices to drop further.
"Since the beginning of the year, interest rates have dropped by 1-2 percentage points with commercial banks introducing additional credit packages. It can be expected that rates may further decline in the near future," he said.
However, Luc remained cautiously optimistic about the effect of lower rates on the market, saying not all businesses might benefit the same. Established developers with many previously successful projects and competent financial management would likely receive better offers from banks and buyers.
In light of the corporate bond market, property developers were able to issue 20 trillion VND worth in bonds since March 5 when numerous policy changes took place to stabilise the market, a marked improvement over 2022 after a number of violations and high-profile arrests put the market to a halt.
According to a report by VNDirect, corporate bonds from property developers for the entire year of 2022 were recorded at 62 trillion VND, a 79% decline compared to the previous year.
Dinh Minh Tuan, director of batdongsan.com.vn Southern office, said, among other measures, extending bond terms allowed developers more time to address issues and secure financial resources.
"With the return of confidence in the market, developers may issue new bonds to help finance their existing ones," he added.
Bondholders who want to cash out after maturity still have that option while those who wish to continue holding onto them can avoid sell-out and losses of assets, according to the director.
In a recent decree, the central government has ordered local authorities to work around the clock to review and resolve ongoing legal issues with property projects under their jurisdictions in an attempt to support developers and protect buyers' rights and interests.
Binh Dinh introduces economic, trade potential to Belgian businesses
The central coastal province of Binh Dinh introduced its economic and investment potential to Belgian businesses at a hybrid conference in Brussels on March 24.
The event, part of activities to celebrate the 50th anniversary of the diplomatic relations between Vietnam and Belgium, offered a chance to connect Belgian firms and their Vietnamese peers.
Addressing the event, Vietnamese Ambassador Nguyen Van Thao said that economic and trade cooperation has been one of the bright spots in the Vietnam- Belgium partnership over the past 50 years.
Belgium is an important trade partner of Vietnam in Europe, especially in areas of Belgium's strengths and Vietnam's demand such as agriculture, new energy development, logistics, port infrastructure, chemicals and pharmaceuticals. Meanwhile, Vietnam is a major trading partner of Belgium and Europe in Asia. Moreover, Vietnamese and Belgian products are complementary, he said.
After the Vietnam-EU Free Trade Agreement (EVFTA) came into effect in August 2020, despite the impacts of the COVID-19 pandemic and geopolitical fluctuations, two-way trade has still expanded, reaching 3.9 billion EUR in 2021 and over 6 billion EUR last year, representing a year-on-year surge of 60%, noted the diplomat.
The ambassador highlighted advantages of Binh Dinh, including geographic location, infrastructure system, tourism and renewable energy potential.
He pledged that the Vietnamese Embassy in Belgium will support the strengthening of cooperation among Vietnamese localities and those in Belgium and the EU.
First Vice President of the Belgian Senate and President of the Belgian-Vietnamese Alliance (BVA) Andries Gryffroy underlined that Binh Dinh is a "golden gate" to Southeast Asia.
He said that in September, a delegation comprising businesses from the Flanders region will visit Vietnam.
The BVA will continue to serve as a bridge connecting the two markets, he stated.
Speaking to Vietnam News Agency correspondents in Brussels, Emiel Neyrinck from the Union of Independent Entrepreneurs (UNIZO) of Belgium, said that he realises the great potential of Binh Dinh in economy and tourism, and will introduce it to UNIZO members.
Meanwhile, Senior Area Manager for Asia-Pacific of the Wallonia Export and Investment Agency Isabelle Pollet said that Wallonia has many strong firms in the fields of pharmaceuticals, biotechnology and renewable energy that can cooperate with the Vietnamese side.
Significant efforts needed to realise 4.3-billion-USD shrimp exports
Amid difficulties in export markets, significant efforts are required for Vietnam to meet its goal of 4.3 billion USD in shrimp export revenue this year, said Truong Dinh Hoe, General Secretary of the Vietnam Association of Seafood Exporters and Producers (VASEP).
He attributed the obstacles to global fluctuations over armed conflicts, climate change, tightening food safety requirements by importing countries, and high inflation in the US.
Data from the Vietnam Directorate of Fisheries under the Ministry of Agriculture and Rural Development (MARD) showed the total brackish water shrimp farming area was 747,000 hectares last year, with total output exceeding 1 million tonnes, up 8.5% year-on-year.
Currently, the country houses 2,294 hectares of shrimp breeding area, which turned out 159.5 billion shrimplets in 2022, an annual increase of 10%.
This year, Vietnam aims to expand its shrimp farming area to 750,000 hectares for more than 1 million tonnes in output and 4.3 billion USD in export revenue.
Trinh Trung Phi, a technical director at the Vietnamese shrimp company Viet Uc, highlighted the importance of sustainable technological solutions in the growth of the sector.
MARD Deputy Minister Phung Duc Tien said that in order to reach the target, shrimp farm communities should connect with each other and with associations engaging in the production chain to ensure the smooth operation of the whole chain. They should work to strengthen food safety inspection and thus enhance the quality of the products for domestic consumption and export.
In addition, it is necessary to strictly implement regulations in farming conditions, farming registration, and quality of animal feed, and improve the weather forecast accuracy to prevent risks for farmers, he said.
He advised businesses and farmers to build suitable plans and prepare conditions to become proactive in production amid extreme weather and environmental conditions such as drought, saltwater intrusion, and shrimp diseases, as well as a hike of input material costs. They should connect to each other in the production chain to cut costs while applying high production standards such as VietGAP, GlobalGAP, and ASC, he added.
Vietnam Airlines resumes direct flights between Da Nang and Japan's Narita
A ceremony to welcome the first direct flight from Narita airport in Tokyo (Japan) to Da Nang after a long suspension due to the COVID-19 pandemic was held by the national carrier Vietnam Airlines in the central beach city on March 26.
The nearly 180 Japanese passengers on the Vietnam Airlines flight were greeted with art performance and gifts from the city.
Deputy Director of Da Nang Department of Tourism Nguyen Xuan Binh said that Japan is considered a key market of the city's tourism with stable growth. The locality received more than 183,000 Japanese arrivals in 2019, an increase of nearly 200% compared to 2015 (92,000 arrivals).
Since Vietnam reopened to international tourism in March 2022, the city has welcomed about 27,000 Japanese visitors. The resumption of regular flights from Narita to Da Nang is expected to make a positive contribution to attracting Japanese tourists back to Da Nang and vice versa in the coming time.
According to the airline, in the initial phase, starting from March 26, 2023 to June 30, 2023, the Narita - Da Nang route will operate four flights a week on Tuesdays, Wednesday, Saturday and Sunday.
From July 1 onward, Vietnam Airlines plans to operate daily flights with a frequency of seven flights a week in an attempt to boost tourism and trade exchange between Japan and the central region of Vietnam.
FPT software opens new office in Seoul
FPT Software, a leading Vietnamese IT service provider, has announced the inauguration of its latest office in Seoul, the Republic of Korea, and its 64th globally.
With this new office, FPT Software is the first Vietnamese IT company to open a second office in the Korean market in an effort to strengthen the company's presence in the market and become a world-class, billion-dollar company.
Located in Seoul's new R&D hub for many leading enterprises, including LG, this new office allows FPT Software to work closer with its existing customers and further expand its Korean presence.
"Our business philosophy is to stay closer to our customers, which can allow us to reach and serve our customers better. FPT will continuously open new offices around the world. FPT Software's second office in the RoK helps us expand our global network further and strengthen our ability to connect and accompany customers despite time and geography," FPT Corporation Chairman Truong Gia Binh said.
Setting its first footprint in the RoK in 2016, FPT Software has provided IT solutions and services to more than 20 customers; some notable partners include LG Electronics, LG CNS, Shinhan Bank, and Shinsegae I&C. Its clientele includes companies from various industries, such as automotive, finance, healthcare, and more.
Tea export value to China skyrockets
The export value of Vietnamese tea to China in the first two months of this year quadrupled from the same period last year, according to the General Department of Vietnam Customs.
China imported 426 tonnes of tea from Vietnam in the two months, representing rises of 121% in volume and 411.2% in value.
The average tea export price in February alone surged by over 10% to more than 1,641 USD per tonne.
China's reopening of its border after the COVID-19 pandemic is the main factor behind the strong growth of tea exports to this huge market, reported the Ministry of Industry and Trade.
Tea exports to Pakistan also enjoyed an upward trend, reaching 5,300 tonnes worth 9.4 million USD, up 5.8% in volume year on year.
Although Taiwan (China) is Vietnam's second largest tea consumer, tea exports to this market declined slightly over the two-month period. Statistics show Vietnam shipped 1,500 tonnes worth 2.4 million USD to the market, down 8.1% in volume but up 3.8% in value year on year.
Statistics also indicate that while tea exports to Russia, Indonesia, and the United States saw sharp falls, exports to other markets such as Iraq, China, and Saudi Arabia increased significantly.
Overall, Vietnam exported 13,600 tonnes of tea worth 22.6 million USD in the reviewed period, down 7.9% in volume and 3.1% in value compared to last year's corresponding period, but the average export price of the product picked up 5.2% to more than 1,643 USD per tonne.
Binh Duong advised to switch to smart industrial – urban – service model
Deputy Prime Minister Le Minh Khai has suggested the southern industrial hub of Binh Duong switch to the smart industrial – urban – service model as part of efforts to build a new ecosystem that meets demand of new investors and workers.
During an event held by the provincial People's Committee on March 25, Deputy PM Khai hailed the success of the province's industrial – urban – service model and urged Binh Duong to continue pursuing rapid, harmonious, inclusive and sustainable development, leaving no one behind.
Chairman of the provincial People's Committee Vo Van Minh said industry – trade - services now account for nearly 97% of the local economy.
At present, Binh Duong is home to 29 concentrated industrial parks with a total land area of nearly 13,000 ha and an average occupancy rate of over 90%. During the 1997-2022 period, its gross domestic product expanded by 10.86% annually.
On the occasion, the provincial People's Committee handed over investment certificates to nearly 10 domestic and foreign companies.
Representatives from Vietnam's Becamex IDC Corporation and the investor of the Vietnam-Singapore Industrial Park (VSIP) joint venture signed deals with nine provinces - Tay Ninh, Binh Thuan, Thai Binh, Nam Dinh, Ha Tinh, Binh Phuoc, Khanh Hoa, Thua Thien Hue and Thanh Hoa - to build VSIPs in the near future.
They also inked contracts with big corporations to develop key transport works.
From an initial project in Binh Duong, VSIP has developed into a chain of 13 industrial park - service - urban areas occupying over 11,000ha in nine cities and provinces. So far, they have drawn 18 billion USD from 880 enterprises from 30 countries and territories, generating jobs for 295,000 workers.
Cashew firms enhance processing to add value to products
Long Son JSC, one of Vietnam's leading cashew nut processors and exporters, is stepping up intensive processing to boost exports of processed nuts.
It produces a number of items such as roasted and salted cashew with and without the skin, spicy cashew, cheese cashew, and sesame cashew.
The company said processed nuts only account for a small portion of its total cashew exports, and so it would focus on deep processing to gradually increase the proportion of high-value processed products.
Hoang Son 1 JSC has sold large volumes of highly processed cashew nuts to the EU market.
Another firm that has also succeeded in exporting processed cashew nut products is Long An Food Processing Export JSC (Lafooco).
Its cashew nuts can be seen on shelves in supermarkets in China, Hong Kong, Canada, Japan, and Europe.
Besides exporting through traditional channels, Lafooco also sells the nuts abroad through e-commerce platform Amazon and has received positive feedback from customers.
It has said it will continue to research and develop a variety of cashew-based instant products, snacks and foods.
According to insiders, in recent years, local cashew processing firms have invested in modern machinery and equipment for intensive processing.
Highly processed products offer high value and thus better profit margins. They also open up opportunities for Vietnamese cashew businesses to export under their own brands, thereby raising the country's profile in the international market, they said.
Vietnam has been the world's largest cashew exporter for years, but mainly of semi-processed items of low value, they added.
Vietnam's cashew industry faces increasingly fierce competition from other countries, including some emerging ones.
Ivory Coast, for instance, for long the world's biggest supplier of raw cashew, has started processing the nuts for export.
Speaking at the 12th Vinacas Golden Cashew Rendezvous in Ho Chi Minh City recently, Adama Coulibaly, General Director of Ivory Coast's Cashew and Cotton Council, said last year his country exported 36,807 tonnes of processed cashew nuts to markets such as the US, EU and Australia in addition to exporting 719,900 tonnes of raw nuts.
According to the Vietnam Cashew Association (Vinacas), though this volume is very low compared to Vietnam's 500,000 tonnes, it shows that Ivory Coast is eyeing higher market segments.
There is a possibility that hitherto raw cashew suppliers to Vietnamese firms would become their competitors in the near future, it added.
Besides, cashew also has to compete with other nuts.
Vu Thai Son, Chairman and General Director of Long Son JSC, the output of nuts such as almond is skyrocketing and exceeds demand.
Ta Quang Huyen, Chairman of Hoang Son 1 JSC, said the price of cashew nuts has decreased significantly in the world market compared to two years ago, but that of other nuts such as almond and walnut have fallen below even cashew.
So other nuts are preferred by international roasters and retailers and consumers over cashew nuts, he said.
Bob Baurer, President of the Association of Food Industries, a trade association with more than 1000 member companies involved in imports of food products into the US and Canada, said Vietnam is the biggest exporter of cashew kernel to the US.
But with the US tending to apply stringent food safety regulations, Vietnamese exporters need to improve food safety and quality.
Nguyen Minh Hoa, Vinacas's Vice Chairman, said last year was a challenging one for the cashew industry, with exports falling from 2021, but 2023 could be even worse due to low demand amid global inflation.
To cope, local cashew processors need to carefully study markets and make appropriate plans for the import of raw nuts at competitive prices, he said.
They also need to further diversify their products and make them environment-friendly to meet the increasing requirements of consumers.
Growing competitive pressure for Vietnamese fruits
China that consumes most of Vietnamese dragon fruit and durian has expanded the area of land under fruit cultivation moving towards self-sufficiency in fruit supply, a move that causes a great concern for growers and exporters of these fruits.

Currently China has 67,000 hectares of land under dragon fruit cultivation with an anticipated output of approximately 1.6 million tonnes, making it the largest grower of the fruit in the world.
As a consequence, the export of Vietnamese dragon fruit has declined considerably over the past three years. Statistics show the export turnover of the fruit only fetched US$663 million in 2022, down 37% compared to the previous year and 50% compared to 2019's figure, due to China's tightened quarantine for imports. Notably, dragon fruit has no longer been among export items that brings in more than US$1 billion each every year.
In addition to dragon fruit, China is also able to grow other tropical fruits, including durian - a Vietnamese fruit that was recently licensed by Chinese authorities to be officially shipped to their market.
It has successfully piloted durian growing in southern localities with an area of 2,000 hectares, and it is expected that between 45,000 - 75,000 tonnes will be marketed next year. Furthermore, China plans to develop durian farms in Laos, with a total area amounting to tens of thousands of hectares.
Nguyen Thi Thanh Thuc, director of Bagico Investment JSC, pointed out Vietnam reveals a competitive weakness in logistics, referring to the China - Laos - Thailand train route that makes it easier for durians grown in Thailand and Laos to be transported to China. In addition, Vietnam's farming techniques to ensure the uniformity of the product are rather weak.
Sharing the perspective, Phan Viet Ha, deputy director of the Tay Nguyen Agricultural and Forestry Science Institute, said until now Vietnam has not mastered the techniques of growing and caring for durian. Furthermore, processing and preservation infrastructure is not consistent, not to mention market risks.
"Currently the market mainly relies on China, and there will be a lot of problems if we develop farming on a large scale," stressed Ha.
The fact is that up to 80-90% of Vietnamese durian output is exported to China, while the area that has been granted a planting area code for official use is less than 5%. This means the Vietnamese durian has to solve problems in terms of quality, technology, brand, and market to improve its competitive advantage.
According to the Vietnam Fruit & Vegetables Association, China's plan to increase the area under dragon fruit and durian cultivation will not immediately affect the export of these two types of fruit, and it is the time for Vietnamese farmers and businesses to sharpen the competitive edge of their products.
Le Anh Trung, chairman of the Board of Directors of BIV Vietnam JSC, underlined the need to accelerate digital transformation for raw material areas to meet traceability for export companies.
Dang Kim Son, former director of the Institute of Policy and Strategy for Agriculture - Rural Development, suggested that Vietnam focus on building complete specialized farming areas closely linked to the entire value chain, alongside building brands and meeting food safety requirements.
It's worth remembering that Vietnamese farmers recently suffered a great loss when the selling price of dragon fruit dropped sharply to just VND2,000-3,000 per kilogram. At that time, China did not have demand for importing the product as it was entering the harvesting season of dragon fruit locally.
Businesses have no choice but to seek new outlets and gradually reduce dependence on a single market so that their products are no longer forced to suffer price squeezing or lose market share in the future.
VinFast marks presence in West of France

Automaker VinFast, a member of Vietnamese conglomerate Vingroup, officially announced the opening of its VinFast store in Rennes on March 25, marking its presence in the West of France.
According to the firm, its next stores in France are expected soon in Montpellier, Aix-En-Provence, and other major cities.
Located in a prime location with many other auto brands, VinFast Rennes is hoped to help VinFast increase its brand presence and quickly reach prospective customers. This is VinFast's first store in the West of France, furthering its expansion rollout in European markets.
VinFast Rennes will focus on showcasing products and in-car smart features while providing one-on-one assistance through professional and well-trained product experts. In addition, the VinFast store will link the brand and its customers, bringing personalised services and peace of mind experiences throughout the electric vehicle ownership journey.
VinFast Rennes combines modern space with design highlights inspired by the beauty of Vietnam's natural wonders. The store will display two electric SUV models, the VF 8 and VF 9. Later, the VF 6 and VF 7 will also be presented here, allowing customers to directly experience VinFast's complete electric vehicle lineup directly. Customers can explore the products at 3 Rue des Mesliers, Rennes.
Before this event, VinFast established its presence in Paris, Cologne, Berlin, Frankfurt, Munich, Hamburg, Oberhausen, Amsterdam, The Hague, and Rotterdam. VinFast Rennes is VinFast's third store in France. After Rennes, the following stores will open in Montpellier, Aix-En-Provence, and other major cities to expand the retail and service network, building connections and trust with French customers.
Coming up, VinFast will organise large-scale test-drive events in France, Germany, and the Netherlands to approach and convince its consumers with hands-on experiences with VinFast's products and services.
Established in 2017, VinFast owns a state-of-the-art automotive manufacturing complex with globally leading scalability that boasts up to 90% automation in the northern port city of Hai Phong.
Belgian firms keen to explore investment opportunities in Binh Dinh
The Vietnamese Embassy in Belgium is willing to promote cooperation between Vietnamese localities, including Binh Dinh, and those from Belgium as well as the EU, and help Belgian firms to gain greater insights into investment policies in Vietnam.
Vietnamese Ambassador to Belgium Nguyen Van Thao made the statement at a seminar held on March 24 to boost trade and investment promotion activities in Binh Dinh, a southern central province of Vietnam.
Thao emphasised that Belgium is Vietnam's important trading partner in the EU, especially in areas of agriculture, energy, logistics, port infrastructure, chemicals, and pharmaceuticals manufacturing.
Vietnam also makes up a major trading partner for Belgium and Europe in Asia, he said, adding that products of Vietnam and Belgium can be viewed as complementary as opposed to competitive.
Thanks to the enforcement of the EU-Vietnam Free Trade Agreement (EVFTA) in August, 2020, the two-way trade turnover reached EUR3.9 billion in 2021 and exceeded EUR6 billion last year, despite the adverse impact of the COVID-19 pandemic and geopolitical fluctuations.
The Vietnamese diplomat went on to highlight Binh Dinh's advantages such as favourable location and complete infrastructure, including Quy Nhon seaport, saying the locality holds great potential for tourism development and renewable energy development.
Andries Gryffroy, first vice president of the Belgian Senate, for his part emphasised that Binh Dinh is considered as an ideal gateway to Vietnam, noting that the seminar has helped to strengthen connectivity among businesses, and offer more insights into the untapped potential of Binh Dinh province.
Gryffroy revealed that a delegation made up of firms from the Flanders of Belgium would visit Vietnam this September to seek investment opportunities.
He stressed that the EVFTA has created a wealth of opportunities to boost exports between the two sides, and that the Belgian Vietnamese Alliance will continue to serve as a bridge for the two markets and support companies seeking to develop their businesses.
Meanwhile, Emiel Neyrinck, representative of the Belgian Association of Entrepreneurs and Small and Medium Enterprises (UNIZO), said that Binh Dinh has a great potential for economic and tourism development, and he would move to introduce these opportunities to UNIZO businesses.
Isabelle Pollet, senior area manager of the Wallonia Export & Investment Agency, introduced some fields for bilateral cooperation and said John Cockerill Company recently signed a co-operation agreement with Vietnam to deploy a renewable energy project in the coming months.
National inflation for 2023 projected to be between 3.9% - 4.8%
The Ministry of Finance has developed several scenarios to gauge Vietnamese inflation this year, with the ultimate figure likely to be kept at between 3.9% and 4.8%.
The scenarios have been developed based on numerous calculations and forecasts of price fluctuations of groups of commodities that make up a large proportion of the consumer price index (CPI) basket of goods, including petroleum, food, electricity, construction materials, education, health care, and rental house rentals.
At a meeting of the national pricing committee held on March 24, the Ministry of Finance acknowledged that the global market has been badly affected by the ongoing Russia-Ukraine military conflict, a tight monetary policy, and rising inflation in many economies.
Amid this context, domestic commodity prices during the first months of the year remained relatively stable. Due to the impact of international prices, the prices of some petroleum products such as petrol, oil, and liquefied gas fluctuated correspondingly, while construction material prices increased in the first quarter.
Vietnam was not among the main countries recording high inflation, with its CPI in February inching up by 4.31% compared to the same period in 2021. However, the Ministry of Finance pointed out that the pressure to increase prices in April and the second quarter remains a possibility amid global uncertainties, particularly as many domestic essential goods heavily rely on world prices. Therefore, it forecast that the country's inflation for the year would be kept at between 3.9% and 4.8%.
On the other hand, it assumed that if the CPI in the remaining nine months of the year rises at the same rate compared to that seen in the previous months, the average inflation target of 4.5% for the whole year can be achieved.
According to Nguyen Thi Huong, director general of the General Statistics Office (GSO), prices of a range of commodities decreased in the first quarter but remained high compared to the same period from last year.
Amid a high level of uncertainties globally, Huong suggested that relevant agencies strive to keep a tight grip on market fluctuations and produce a suitable roadmap for increasing prices of groups of commodities such as health care, education, and electricity.
Addressing the meeting, Deputy Prime Minister Le Minh Khai, who is head of the national pricing committee, requested that competent agencies closely monitor the world economy and inflationary pressure, promptly warn of risks that may impact the Vietnamese market and take appropriate response measures in a bid to ensure goods supply and stabilise domestic prices.
"Whatever we do, we must stay ready to take prompt response measures if the worst-case scenario happens, to ensure the market law of supply and demand and stabilize market prices, especially of essential commodities like food, petrol and oil," Deputy PM Khai said.
With regard to the monetary policy, the Deputy PM requested that the State Bank adopt a flexible management policy aimed at helping to control inflation and keep the value of the Vietnamese currency at a reasonable level, so as not to affect production and the business activities of enterprises.
He also requested that relevant ministries and sectors carefully study and evaluate influential factors if they want to hike the prices of electricity, educational services, medical examinations, and treatments, with proposals to be submitted to competent authorities for consideration and adjustments.
Source: VNA/SGT/VNS/VOV/Dtinews/SGGP/VGP/Hanoitimes