VIETNAM BUSINESS NEWS MARCH 28/2023
PM orders close coordination to remove obstables to property market
Prime Minister Pham Minh Chinh has just signed a document requesting more efforts to promote the development of and remove obstacles to the real estate market.
He asked ministries, agencies and People's Committees of provinces and centrally-run cities to strictly follow the Government's resolution dated March 11, 2023 on several measures to solve difficulties for and promote the safe, healthy and sustainable development of the market.
The Ministry of Construction (MoC), the Ministry of Finance (MoF), and the State Bank of Vietnam (SBV) must coordinate closely with each other and with relevant agencies to help businesses overcome difficulties and make the market revive.
Real estate enterprises must adjust the product structure and market segments as well as offer more reasonable prices; pay special attention to the development of social housing and houses for workers that are suitable to people's income. Competent authorities need to review housing and real estate projects to work with enterprises on measures to handle legal problems, especially in projects with corporate bonds and bank loans, and capital mobilised from buyers, the Government leader stressed.
He also urged the MoC to soon complete a project on building at least one million social housing apartments for low-income earners and workers in industrial parks in the 2021-2030 period.
The MoF was asked to carry out harmonious, reasonable and effective measures to support enterprises to restructure bond debts, interest rates, payment terms and conditions in accordance with regulations.
PM Chinh also urged the central bank to soon implement the credit programme worth around 120 trillion VND (5.1 billion USD) to assist commercial banks in providing perferential loans for investors and buyers of projects building social housing and houses for workers, and reconstructing old apartment buildings.
Local People's Committees were required to soon approve master plans, as well as land use plans and housing development plans and programmes for five years and annually; and organise meetings with each enterprise to help them deal with difficulties.
Deputy PM urges hastened procedures for cancelled IDA loans
Deputy Prime Minister Tran Luu Quang has signed a dispatch on the cancellation of World Bank (WB) loans due to the unusability, and the re-allocation and use of the cancelled International Development Association (IDA) loans in the 2022 - 2023 fiscal year.
The dispatch noted the WB's IDA loans, with preferential borrowing conditions and interest rates, for programmes and projects of ministries, agencies, and localities form an important source of public investment that helps promote economic growth. However, some IDA loan agreements have had to be cancelled as projects encounter difficulties or are unable to disburse all the capital.
It cited the WB as saying that the IDA capital committed for Vietnam that is no longer needed and will be cancelled in the 2022 - 2023 fiscal year is about 296 million USD, some 85.14 million USD of which has had cancellation procedures implemented.
Another 59.81 million USD has been sent to the Finance Ministry by other ministries, agencies, and localities to carry out cancellation procedures. Meanwhile, the remainder planned to be scrapped has yet to be informed to the Ministry of Finance and the Ministry of Planning and Investment.
To accelerate cancellation procedures to re-allocate the scrapped IDA capital to new projects, Deputy PM Quang assigned several tasks to ministries, central agencies, and localities.
The Finance Ministry was also asked to work with others to report results of task implementation to the PM by March 31.
Vietnam's industrial, logistics property growing as more FDI expected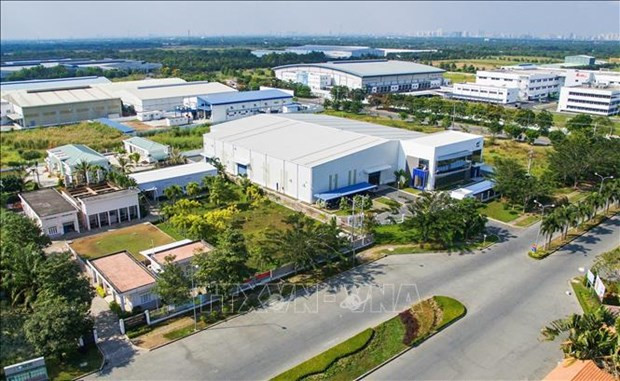 Increasing foreign investment is expected to come to industrial, logistics properties in Vietnam, pushing the growth of the sector. according to insiders.
The largest-ever US business mission to Vietnam including 52 businesses visited Vietnam from March 21-23 to learn about the local market and seek investment opportunities. Most of the firms in the mission have business and production activities in Vietnam.
Major groups around the world also have production expansion plans in Vietnam in the coming time.
According to CBRE Vietnam, the rent of industrial real estate and occupancy rates are very good across all regions of the country.
Vietnam's industrial real estate sector has great potential for developing more projects related to data centres, cold storages, and logistics, according to John Campbell, Associate Director, Head of Industrial Services at Savills Vietnam.

He forecast that the demand for industrial land will remain high this year. A remarkable point is the increasing trend of investment in specialised products such as ready-built warehouses (RBW), ready-built factories (RBF), logistics facilities, and data centres.
Main opportunities in the logistics industry include last-mile logistics services and the implementation of a logistics 4.0 system, said Campbell.
Moreover, investors can take advantage of the lack of cold storages in Vietnam to develop new projects, and increase supply for the market, he said, adding that the construction of built-to-suit warehouses to meet special technical requirements is also an attraction for investors.
Hanoi hosts nearly 1 million foreigners in three months
Some 978,700 foreigners landed in Hanoi in the first three months, 5.9 times higher than the same period last year, said the municipal Department of Tourism.
The number was part of the 5.9 million visitors coming to the capital city between January and March, a two-fold increase year-on-year.
Hanoi now houses 3,756 lodging facilities totaling 70,218 rooms. The average occupancy rate of the local 1-5 star hotels was estimated at 56.5% in the three months, up 37.2% year-on-year.
Hanoi aims to welcome 22 million tourists this year, earning 77 trillion VND (3.27 billion USD), increasing by 17.6% and 28.2% against 2022, respectively.
Vietjet offers 50% off SkyBoss and SkyBoss Business tickets
Vietjet offers the greatest party of 2 million zero dong Eco tickets to fly across its flight network and opportunities to experience SkyBoss, SkyBoss Business with a 50% off promotion, together with many attractive gifts and accumulating unlimited SkyJoy loyalty points.
During the week from March 28 to April 4, 2023, travelholics are offered more than 2 million zero dong tickets at www.vietjetair.com and Vietjet Air mobile app to fly in all Vietjet's flight network, enjoy the unlimited travel journeys on Vietjet's 100 routes flying across Vietnam and to Australia, India, Japan, the Republic of Korea, Taiwan and Hong Kong (China), and all over the Asia Pacific.
The flight time is flexible and comfortable from now until December 12, 2023.
Especially, with the 50% discount, the price of SkyBoss, SkyBoss Business tickets is from 2.3 million VND each domestic flight and from 4.5 million VND each international flight. From now until May 5, 2023, customers can apply the promotional codes ALL50SBB and ALL50SB when booking SkyBoss Business and SkyBoss tickets to enjoy 50% off in price.
or the routes connecting Australia (Melbourne, Sydney, Brisbane) with Vietnam, customers can use AUS50SBB and AUS50SB promotional codes for two ticket classes SkyBoss Business and SkyBoss respectively. The flight period is applied from now until December 12, 2023.
Green jobs needed in various industries: ManpowerGroup
Vietnam is heading toward green growth with various industries involved, generating great demand for green jobs and green skills in the labour market, according to the recruitment, staffing and outsourcing company ManpowerGroup Vietnam.
Since 2022, ManpowerGroup Vietnam has helped employers find talent for hundreds of green jobs in both full-time and staffing positions.
So far, the highest demand for green jobs is from the manufacturing (48%), energy (34%), agriculture (11%), and technology (4%) sectors, among others.
Andree Mangels, General Manager at ManpowerGroup Vietnam, said, "from our recruitment and staffing experience, we see that more and more companies have placed significance on 'green' practices in their operation, especially in talent acquisition. We have been actively partnering with both local and multinational corporations nationwide in promoting green job opportunities."
In recent years, Vietnam has established strong cooperation on green growth with many countries, including Singapore, the Republic of Korea, Switzerland, Denmark, and the Netherlands, and with international organisations.
The approved National Strategy for Green Growth for the 2021-2030 period, with a vision toward 2050, created more favourable conditions for businesses nationwide to achieve sustainable development.
As countries go green, job opportunities emerge. The average job in the US, UK and Australia, for example, uses roughly two to three times more green skills than the average job globally, according to the LinkedIn Global Green Skills Report.
APAC countries are also actively involved in green growth and green recruitment. Nevertheless, despite the great need for green talent and green skills in various industries, the current supply is falling short of demand, according to ManpowerGroup Vietnam's recruitment data.
VPBank sells 15% stake to Japan's SMBC for 1.5 bln USD
Vietnamese lender VPBank on March 27 signed an agreement to sell its 15% stake to Japan's Sumitomo Mitsui Banking Corporation (SMBC) through a private placement.
With this deal, SMBC, a subsidiary of Sumitomo Mitsui Financial Group, Inc (SMFG), has officially become a foreign strategic investor of the Vietnamese bank.
The investment from SMBC will help VPBank raise 35.9 trillion VND (approximately 1.5 billion USD) of Tier 1 capital (equal to 30,160 VND per share), increasing its equity to approximately 140 trillion VND from 103.5 trillion VND.
Tuna exporters aiming for smaller markets
Domestic tuna exporters are targeting promising small markets to get out of current difficulties amid economic fluctuations in big importing countries.
Data from the General Department of Vietnam Customs showed tuna export revenue dropped 13% in February with no signs of improvement in March. Total tuna export value in the first three months of this year is estimated at 160 million USD.
According to the Vietnam Seafood Producers and Exporters (VASEP), the price of Vietnamese tuna is higher than that of other suppliers in major markets such as European countries and the US, but the increasing prices of material tuna are slowing down the flow of orders from importers, affecting Vietnam's tuna exports to these markets.
Nguyen Ha, an expert from VASEP, forecast that Vietnam will continue to see a sharp drop in tuna export in the coming months.
Among the Comprehensive and Progressive Agreement for Trans-Pacific Partnership (CPTPP) members, although strong growth was seen in the Japanese and Mexican markets in February at 28% and 194%, respectively, the increase was not enough to make up for the fall in the largest tuna consumption market of Canada where an 81% reduction was recorded in the month.
In this context, exporters are exploring smaller markets. Ha said that the value of tuna export to European markets in February rose 59% year on year to nearly 14 million USD, and is expected to top 33 million USD in the first quarter of 2023.
Strong growth was also recorded in potential small markets such as the Republic of Korea (525%), the UK (182%), Australia (104%), Finland (654%), and Algeria (363%).
VASEP General Secretary Truong Dinh Hoe said that amid high inflation, consumers tend to choose products with lower prices. Meanwhile, input cost remains one of the barriers of the tuna sector.
However, he showed optimistic in exports to markets that share free trade agreements (FTA) with Vietnam. VASEP predicted that market demand will generally recover in the second half of 2023, leading to the recovery of the domestic tuna sector.
Vietnam has high tuna reserve at about 600,000 tonnes, mostly in Binh Dinh, Phu Yen and Khanh Hoa provinces.
Inadequate regulations hinder green credit growth
Green credit growth in Viet Nam has remained limited due to the lack of a clear legal framework, according to industry insiders.
Data from the State Bank of Viet Nam (SBV)'s Credit Department for Economic Sectors showed as of December 31, 2022, the outstanding loans for green projects increased by 12.96 per cent against the end of 2021 to more than VND500 trillion, accounting for more than 4.2 per cent of the total outstanding loans of the whole economy. The loans mainly focused on green agriculture, renewable energy, and clean energy.
Nguyen Thi Phuong, Deputy General Director of Agribank, said though Agribank has set aside a large amount of capital for green credit, it is not easy to disburse.
In many areas around the country, it is easy to find out a clean agricultural model or a commodity production model, but it is very difficult to find out a green model, which has to meet many criteria and certifications, Phuong explained.
In recent years, green credit in Viet Nam has grown strongly, but banking expert Can Van Luc said green outstanding loans are still modest compared to the total outstanding loans of the whole banking system.
To promote green credit, Phuong said it is necessary to have an effective coordination policy to help projects obtain green certifications.
The Viet Nam Business Forum's Banking Working Group (BWG) recommends Viet Nam needs a roadmap to quickly apply green energy and an appropriate green financial framework for projects that can get bank loans through actions such as the development of the transitional financial instruments, the preparation of environmental-social-governance (ESG) reports and the investment portfolio transformation.
Commercial banks hope the Government will promote the development of green credit by issuing more detailed guidance on the definition of 'green' and assessment criteria.
To promote green credit, some banks have recently built a sustainable loan framework with a green credit appraisal process. For example, State-owned BIDV, which topped the market in green credit with a total committed capital of more than US$2.68 billion by the end of 2022, last month issued the sustainable loan framework to ease the green loans.
State-owned Agribank has also issued a series of documents on promoting green credit growth, and environmental and social risk management in credit granting activities.
Besides State-owned banks, some private banks have also joined the green credit segment, but the disbursement amount was not much as they are still concerned about long repayment period, large investment costs and high market risks of green projects, including renewable energy ones.
VinFast hands over first 27 VF 9 cars to customers
Vietnamese electric vehicle (EV) maker VinFast, a subsidiary automaker of conglomerate Vingroup, held a series of ceremonies on May 27 in Hanoi, Da Nang, and Ho Chi Minh City to deliver its first batch of 27 VF 9 EVs to customers.
After the handover ceremony took place in the three major cities, VinFast will deliver the EVs nationwide according to the order number of the deposit, with customers able to pick up their EVs either at the store or at home.
Along with the six-seat design, VinFast VF 9 also has a seven-seat option which is expected to be delivered to customers in the near future.
Danang-Narita regular flights resume
Danang City and Narita in Japan have resumed regular flights after a three-year hiatus due to the impact of Covid-19.
The city's authorities held a ceremony to welcome guests on board the flight from Narita to the Danang International Airport on March 26.
The flight, operated by the national flag carrier, Vietnam Airlines, brought around 180 Japanese guests to the central coastal city.
From now until June 30, the flights between Narita and Danang will be operated at a frequency of four weekly flights.
From July 1, the carrier will increase its weekly flights to seven to boost tourism and trade between Japan and central Vietnam.
According to the Danang Tourism Department, the city considers Japan an important tourism source market to promote local tourism. The resumption of flights between Narita and Danang will create favorable conditions for guests to travel between Japan and Danang.
Since Vietnam's reopening to international tourists in March 2022, Danang has welcomed around 27,000 visitors from Japan.
VN needs VND312 trillion for seaport infrastructure investment
The total investment demand for seaport system in Vietnam by 2030 will have reached more than VND312 trillion (US$13.27 billion), informed the Transport Ministry yesterday.
The Ministry of Transport said that according to the recently finished detailed planning of seaports, wharfs, floating wharfs, waters in the 2021-2030 period and a vision to 2050, the total demand of investment in the Vietnamese seaport systems will be at VND312 trillion in 2030, including over VND70 trillion ($2.98 billion) in public maritime infrastructure.
Particularly, in 2025, in the Southern region, the water routes to and from Cai Mep – Thi Vai Port will be upgraded to serve ships of up to 200,000 tonnes offload, while the ones for large tonnage ships into Hau River will be improved to serve ships of up to 20,000 tonnes offload.
In the Central region, many water routes will be prioritized for upgrades, such as the ones to and from Nghi Son Port in Thanh Hoa Province, the Quy Nhon ones to serve ships of up to 50,000 tonnes.
In 2030, the Transport Ministry plans to continue investing in major maritime projects, calling upon the investments in ports around Cai Mep Ha area and Tran De Port of Soc Trang Province.
Vietnam and Australia boost cooperation in education, agrifood
The Australian Trade and Investment Commission (Austrade) is collaborating with businesses and government in Hanoi, Hue, and Danang to deliver the "Vietnam- Australia: Unlocking Opportunities in Education and Agrifood" roadshow series starting on March 27 in Hanoi with the participation of over 400 Australian and Vietnamese businesses, organizations, associations and institutions.
The program aims to celebrate the 50th anniversary of the diplomatic relationship between Vietnam and Australia.
At the kick-off event in Hanoi, Andrew Goledzinowski - Australia's Ambassador to Vietnam shared that the program will deepen engagement and expand opportunities for Australian and Vietnamese partners in the agrifood and education sector and discuss commercial partnerships.
The first phase of the program is launched in Hanoi - Hue - Danang from March 27 to March 31 that connects more than 400 Australian and Vietnamese businesses, organizations, associations, and institutions.
In the education session, Vietnamese institutions are introduced to Australian expertise and excellence in education and training from 22 leading Australian universities and academic institutions.
In the agrifood session, Australian and Vietnamese businesses will explore opportunities to increase trade.
The high-end products from Australia such as dairy, seafood, wine, fresh horticultural produce and quality meats also support the enrichment of Vietnam's reputation as a global food and culinary destination further bolstering Vietnam's attraction to international tourists.
Austrade will deliver other similar roadshows in two major cities of Ho Chi Minh City and Can Tho, and Nha Trang City in the southern province of Khanh Hoa in September this year.
Vietnam and Australia enjoy a strong, expansive, and enduring agricultural and educational trade partnership that continues to flourish across all domains. Both nations are forging ever-deeper linkages in agricultural trade and investment, education partnerships, Agri-Tech, Ed-Tech, and research.
The country has been one of Australia's fastest-growing trading partners in recent years and the two-way trade between Australia and Vietnam in 2022 grew around 27 percent on the previous year to around A$23.5 billion, elevating Australia to be Vietnam's 7th largest trading partner with Vietnam now Australia's 10th largest trading partner.
The two-way trade in agriculture, fisheries, and forestry products surpass the impressive milestone of A$6 billion for the first time in 2022.
Downward trend in FDI persists
According to the Ministry of Planning and Investment's Foreign Investment Agency (FIA), foreign direct investment (FDI) stood at $5.45 billion in the first quarter of 2023, equivalent to just 61 per cent on-year. The reason is said to be the lack of billion-dollar projects, with the $1.32 billion Lego investment making up 41 per cent of FDI in the first quarter last year.
Over 520 new projects were granted investment registration certificates in the same period with the total registered capital of over $3 billion, down 5.9 per cent on-year. The adjusted capital of almost 230 ongoing projects stood at about $1.2 billion, down 70 per cent on-year. There were approximately 600 capital contributions and share purchases as of March 20, equivalent to $1.25 billion, showing a decrease of over 23 per cent for the same period last year.
In addition to the decrease in FDI, the country's disbursed capital also saw a slight decline of 2.2 per cent to $4.3 billion.
The FIA census also indicated that FDI was seen in 17 out of the 21 economic sectors in the first quarter. Of those, processing and manufacturing took the lead with $4 billion, capturing 73 per cent of total FDI, but saw a 25 per cent drop compared to the same period in 2022. Real estate ranked second with $766 million, making up 14 per cent of the total, but witnessed a decrease of over 71 per cent on-year. This was followed by wholesale and retail, and logistics and warehouses, with $276 million and $151 million respectively.
Singapore was the top foreign investor in Vietnam with close to $1.7 billion, accounting for 31 per cent of FDI into the country in the first quarter, but representing a decrease of over 26 per cent on-year. China came second with $552 million and Taiwan third with $477 million, followed by South Korea, Hong Kong, and the Netherlands.
Foreign-invested projects still choose cities and provinces that have more advantageous infrastructural development, human resources, and clear administrative procedures, like Bac Giang, Dong Nai, Bac Ninh, Ho Chi Minh City, and Haiphong.
US extends duty evasion probe into plywood from Vietnam for sixth time
The US Department of Commerce (DOC) recently unveiled an extension of the deadline for issuing its final conclusion on a trade remedy duty evasion probe into hardwood plywood imported from the Vietnamese market.
This marks the sixth time that the DOC has announced the extension, with the final conclusion being issued on May 2, 2023.
Earlier on July 25, 2022, the DOC announced the preliminary conclusion of the case, saying that plywood from Vietnam using materials from China should be subject to the same anti-dumping and anti-subsidy duties applied to the northern neighbour. If the materials are produced in Vietnam or other countries, the products will be exempt from any duties.
The provisional tax rate may be up to 378.26%, applicable to shipments imported into the US from June 17, 2020.
However, the DOC has allowed Vietnamese enterprises to co-operate in the investigation process in order to self-certify that they do not use Chinese materials.
The number of enterprises participating in the self-certification accounted for about 80% of Vietnamese export turnover during the investigation period.
Currently, the US applies an anti-dumping duty of 183.36% and an anti-subsidy tax ranging from 22.98% to 194.90% on the product from China.
Statistics compiled by the US Customs and Border Protection indicate that the export turnover of plywood using Vietnamese hardwood materials to the US continuously increased from US$112.3 million in 2018 to US$226.4 million in 2019, US$248.5 million in 2020, and US$356.7 million in 2021.
Material-related issues cause major traffic projects behind schedule nationwide
Many key national traffic projects nationwide are now behind schedule due to a serious lack of material for ground filling. It is critical for localities to quickly solve the problem to keep up with the assigned progress.
Phan Thiet – Dau Giay Expressway project is allocated 2.1 million cubic meters of ground filling materials for all sections. However, because of the Covid-19 pandemic, adverse weather, and material scarcity, this project is seriously behind schedule. It now needs 620,000m3 to serve the construction of parallel roads, collector roads for residential areas, approach roads to overpasses.
Similarly, Ring Road No.3 – HCMC (passing HCMC, the provinces of Binh Duong, Dong Nai, and Long An) requires 1.6 million m3 of soil and 7.2 million m3 of sand for ground filling; 4.4 million m3 of stones and 1.5 million m3 of sand for construction. Sadly, the available amount can only satisfy half of this request.
The first stage of Bien Hoa – Vung Tau Expressway project, with a total initial capital of over VND6 trillion (US$255 million) from state budget, is trying to finish its land clearance task now and will need ground filling material as well.
Aware of such a high demand from various projects, Dong Nai Province has planned to use its 12 quarries with a reserve of 204 million m3 and some soil quarries, but the situation does not seem at all brighten.
The Mekong Delta is now launching eight expressway construction projects and five road expansion, improvement ones (the Can Tho – Ca Mau Section of the North-South Expressway, Cao Lanh – An Huu Expressway, My An – Cao Lanh Expressway) with a total investment amount of VND112.6 trillion ($4.8 billion).
By 2025, these projects will have asked for more than 47.8 million m3 of sand. Although the Transport Ministry has already asked that the provinces of An Giang, Dong Thap, and Vinh Long increase the exploitation capacity of local sand quarries to distribute sufficient sand for these major projects, the potential of material insufficiency is rather high.
To urgently address this issue, the Transport Ministry proposed that the Government direct the Natural Resources and Environment Ministry to provide instruction to localities on the procedures to mine minerals for construction materials to serve traffic projects. Simultaneously, it is necessary to research the feasibility of using sea sand for ground filling tasks.
Particularly, the sand supply for Ring Road No.3 project is severely scarce, so the provinces of An Giang, Dong Thap, Vinh Long should consider increasing the exploitation of current quarries as well as opening new ones to answer that need.
Meanwhile, the People's Committees of related cities and provinces must actively prepare necessary procedures within their power for material mine exploitation in order to give to material mining contractors when needed to keep up with the assigned construction progress by the Government.
Classifying key traffic projects, especially expressway construction ones, are of national top-priority, Deputy Prime Minister Tran Hong Ha has lately requested that any provinces owning sand quarries actively increase the exploitation capacity by 50 percent and soil, stone quarries by 200 percent.
The quarries that are temporarily closed should be reviewed to resume operation with strict monitoring on environment impacts so as to supply materials for key projects, including the North-South Expressway. New quarries should have an environment impact report prepared before being exploited, and must close immediately after those projects finish.
As to studying the feasibility of using sea sand to replace normal sand in traffic projects, the Deputy Prime Minister directed that there must be careful evaluation on whether the quality of the former for expressway construction is the same as the latter or not. The Transport Ministry is asked to cooperate with the Construction Ministry to review and re-evaluate the standard design of expressways.
Hanoi to establish 10 industrial clusters this year
To further attract investment in the manufacturing and processing sectors, Hanoi plans to establish 5 to 10 industrial clusters by 2023.
The objectives were mentioned in the Plan, No. 97 of the City, on the Management and Investment of Industrial Clusters in 2023.
This year, the city's focus will be on the improvement of the technical infrastructure of the industrial clusters operating in the area. This includes improving internal transportation, sidewalks, trees, water supply and drainage, sewage treatment, waste management, electricity, public lighting, internal communication, operators, protective fencing and other works serving industrial cluster operation.
All of these improvements must meet the requirements set forth in Decree No. 68/2017/ND-CP, issued by the Government, regarding managing and developing industrial clusters.
In addition, the city will complete the necessary procedures for the start of construction of technical infrastructure for 10-20 industrial clusters that are part of the 2018-2020 plan.
It is imperative that 100% of new and existing industrial clusters, including craft village industrial clusters, have sewage treatment plants meeting relevant national standards or technical regulations.
The Municipal People's Committee has emphasized the importance of effective management of industrial clusters by district and township people's committees, especially in the supervision and handling of cases of illegal land use and construction in accordance with approved regulations and plans.
In addition, to ensure the timely and proper completion of technical infrastructure construction in industrial clusters according to approved plans and schedules, the committee is responsible for leading and cooperating with relevant departments and agencies and overseeing the implementation of solutions.
New industrial clusters will have to update and revise their construction plans, master plans and land use plans to ensure their smooth implementation, the committee said.
District and township People's Committees are required to expedite the approval of 1/500 detailed plans and land clearance to meet the set timetable for starting industrial clusters in their areas. They must also develop plans for the completion of infrastructure within and outside the fences of industrial clusters, with the use of district budgets or requests for investment from the municipal people's committee for city-level construction projects.
They must also evaluate the progress of ongoing clusters and report to the City People's Committee for appropriate measures under current regulations.
The Hanoi Export Processing and Industrial Zones Authority (HIZA), the city's operator of industrial parks in the city, has attracted $360 million in investment capital to the city's industrial parks in 2022, an increase of 20% from the previous year. This includes 10 new projects worth $35m and another $324m in 18 ongoing projects. Among the major investors are Meiko Vietnam Electronics, Shunyun Hanoi Vietnam, Nidec Sankyo, TMC Vietnam Medical Equipment, and HTMP. Hanoi has 10 industrial parks covering 1,300 hectares. Nine are operational and almost fully occupied, while the Hanoi South Supporting Industrial Park is under construction. These parks generated $8.1 billion in revenue in 2022, increasing 4.1% compared to the previous year, with combined exports estimated at $5.1 billion and imports valued at $4.3 billion.
Hanoi aims to attract $400 million in foreign direct investment to its industrial parks and production zones in 2023, an increase of 20 per cent compared to the previous year.
HIZA reported that there are 711 valid projects in the industrial parks, of which 307 are from foreign investors with registered capital of $6.3 billion, and 404 from domestic sources. The projects are worth VND19 trillion ($803.5 million) and provide jobs for nearly 166,000 people.
ATR 72-500 plane to be auctioned again
The Hanoi Justice Department's Property Auction Centre will hold an auction for an ATR 72-500 plane at a starting price of VND136.6 billion (USD5.6 million), excluding taxes and fees.
The Vietnam Aircraft Leasing Joint Stock Company (VALC) has authorised the department to conduct the auction.
The plane was made in 2010 and has 68 seats.
People who want to join the auction have to deposit VND6.8 billion (289,361). They can directly check the plane at Tan Son Nhat International Airport in HCM City from March 24 to April 4.
The auction will be organised in Hanoi on April 10.
This plane has been auctioned eight times but failed to find a buyer. The first time was 2016 with a starting price of VND215 billion. In 2018, it was auctioned again at the price of VND189 billion.
The plane was hired by national flag carrier Vietnam Airlines to run on routes to airports that cannot receive Airbus 320 aircraft, including Con Dao, Kien Giang, Ca Mau, and Dien Bien.
However, after that Vietnam Airlines stopped leasing the plane as part of its plan to renew its fleet. This was intended to help the national flag carrier save costs, ensure stable operations, improve service quality, and successfully compete with other airlines.
The national flag carrier sold all of its ATR 72-500s in 2021.
Source: VNA/SGT/VNS/VOV/Dtinews/SGGP/VGP/Hanoitimes