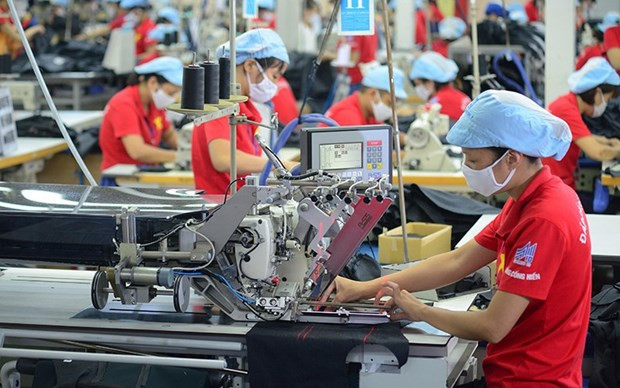 Although Vietnam always eyes to attract investors from US and Europe, intra-ASEAN investors are so important to the country, especially since foreign direct investment (FDI) is slowing down globally due to the COVID-19 pandemic's impacts and geopolitical conflicts.
Among the 10 biggest investors in Vietnam, eight are from Asia.
Assessing Vietnam's investment partners, many economic experts said that FDI into Vietnam mainly comes from Northeast Asian countries and more recently China.
Joonsuk Park, head of International Subsidiary Banking and Wholesale Banking at HSBC Vietnam, said that FDI flows into Vietnam play a quintessential role and contributes to the growth story of the country.
"Foreign Direct Investments have been one of the key catalysts spurring and transforming Vietnam into one of the most open economies in the region," he said.
A study by HSBC showed FDI investors or those regional and global multinational companies operating in Vietnam effectively contribute to over 80% of the total exports out of Vietnam and more than 25% of local investments. Of those multinational companies, the intra-Asian multinational companies compose the bulk.
The value of attracting the intra-Asian multinationals also translates into Vietnam stepping up not only in the value-add ladder in terms of export products but also concurrently in expanding the depth and breadth of the domestic consumption market.
"These top intra-Asian investors continue to maintain their focus on Vietnam," the HSBC official said.
The annual investment inflows remain steady. Already coming into 2023, HSBC has witnessed interest from several global intra-Asian multinationals engaging across a wide array of sectors including retail, semiconductors, electronics, mobile parts, plastics, renewables, and logistics, looking to either expand or invest newly into the country.
"Replenishing the FDI flow back into Vietnam is of critical importance for both export and the domestic consumption market growth. And the intra-Asian flow cannot be underestimated. The intra-Asian investors have a keen understanding of the Vietnamese market from both a cultural and business practice perspective. The geographical proximity allows for the ease of travel for those Head Office decision makers," said Joonsuk Park.
He added that many of the Asian markets themselves are export-oriented and hence understand the innate advantage of leveraging Vietnam's rich free trade agreement platform. The growing middle income and wealth story in Vietnam also underpins their efforts to further penetrate the local domestic consumption market.
Vietravel Airlines runs first charter flight from Daegu to Khanh Hoa
Vietravel Airlines, which began operations in late 2020, welcomed its first charter flight from the Republic of Korea (RoK)'s Daegu city to the south central province of Khanh Hoa at Cam Ranh international airport on March 28.
It was one of the activities in the airline's expansion plans for 2023, aiming at preparing for the official launch of regular flights connecting Vietnam and the RoK to boost tourism and trade during the upcoming summer season.
From March 28 to May 7, the carrier will work with its partner in the RoK to officially launch a series of 11 charter flights on the Daegu - Cam Ranh route, with a frequency of one flight every five days, and will increase the number of flights according to market demand. It is expected to carry over 2,200 Korean passengers during this period.
At present, Vietravel Airlines is operating five domestic routes connecting the capital city of Hanoi and the southern largest economic hub of Ho Chi Minh City with major tourist destinations such as Da Nang, Phu Quoc, and Quy Nhon. For international markets, the airline operates direct routes between Hanoi - Bangkok (Thailand) and Ho Chi Minh City - Bangkok (Thailand), with 14 flights per week during peak hours.
Green jobs needed in various industries: ManpowerGroup
Việt Nam is heading toward green growth with various industries involved, generating great demand for green jobs and green skills in the labour market, according to the recruitment, staffing and outsourcing company ManpowerGroup Vietnam.
Since 2022, ManpowerGroup Vietnam has helped employers find talent for hundreds of green jobs in both full-time and staffing positions.
So far, the highest demand for green jobs is from the manufacturing (48 per cent), energy (34 per cent), agriculture (11 per cent), and technology (4 per cent) sectors, among others.
Andree Mangels, General Manager at ManpowerGroup Vietnam, said, "from our recruitment and staffing experience, we see that more and more companies have placed significance on 'green' practices in their operation, especially in talent acquisition. We have been actively partnering with both local and multinational corporations nationwide in promoting green job opportunities."
In recent years, Việt Nam has established strong cooperation on green growth with many countries, including Singapore, South Korea, Switzerland, Denmark, and the Netherlands, and with international organisations.
The approved National Strategy for Green Growth for the 2021-2030 period, with a vision toward 2050, created more favourable conditions for businesses nationwide to achieve sustainable development.
As countries go green, job opportunities emerge. The average job in the US, UK and Australia, for example, uses roughly two to three times more green skills than the average job globally, according to the LinkedIn Global Green Skills Report.
APAC countries are also actively involved in green growth and green recruitment. Nevertheless, despite the great need for green talent and green skills in various industries, the current supply is falling short of demand, according to ManpowerGroup Vietnam's recruitment data.
Bamboo Airways to issue nearly one billion shares

Bamboo Airways has revealed plans to raise nearly VND10 trillion (US$424.1 million) by issuing 996.2 million shares.
The move, to be announced at an Extraordinary General Meeting of Shareholders held on April 10th, would raise the airline's charter capital from the current VND18.5 trillion to VND28.5 trillion.
The proposed share issuance is slated to take place this year, and there will be no restrictions on the transfer of the newly issued shares.
According to Bamboo Airways' Nguyen Ngoc Trong, the share issuance is to continue their restructuring of organisation and debt and to have more capital for operation and development.
Nguyen Manh Quan, the airline's General Director, said they had found a new investor to replace the old shareholders, former Chairman Trinh Van Quyet and other related shareholders.
Bamboo Airways is in the negotiation phase with a new investor. However, Quan did not reveal any further details.
It carries out the procedures for transferring shares from old shareholders to new investors.
In addition to paying the share purchase price, the new investor has also agreed to be responsible for the payment of principal and interest on previous loans used by the old shareholders.
At the same time, the new investor also supported former Chairman Trinh Van Quyet with a separate amount of money that will be paid into the trading account of Quyet blocked by the Investigation Police Agency.
Bamboo Airways has called for support from several large investors to help the company overcome the current crisis.
For example, Him Lam Joint Stock Company has lent Bamboo Airways VND8 trillion.
On March 17, FLC's Board of Directors approved using its 155 million shares at Bamboo Airways to pay for loans at OCB's Thang Long Branch.
Established on May 31, 2017, Bamboo Airways had an initial charter capital of VND700 billion, 100 per cent owned by FLC Group.
After that, the airline increased its charter capital to VND2.2 trillion, VND7 trillion and VND10.5 trillion and finally, VND18.5 trillion in September 2021. FLC also gradually reduced its ownership to 21.7 per cent.
12 start-ups in clean energy and circular economy compete in Green Tech Incubator

Twelve start-ups working in the areas of clean energy and circular economy in Viet Nam has successfully completed their training in the Green Tech Incubator programme in the Demo Day.
The incubator was established as part of the Digital Transformation Centre Project, a German Government-funded initiative being implemented by GIZ and the National Innovation Center (NIC) of the Ministry of Planning and Investment. Its purpose is to support start-ups in overcoming barriers to business development and tackle the challenges of Viet Nam's circular economy.
As urban populations are expected to grow to 66 per cent of the global population by 2050, cities are increasingly facing socio-economic and environmental challenges. Resource over-exploitation, increased industrialisation and urbanisation, and energy-intensive lifestyles have led to an increase in greenhouse gas emissions and negative consequences for the environment and people. Therefore, transitioning towards a circular economy is essential for achieving more sustainable development.
Viet Nam has recognised the importance of investing in circular economy and renewable energy as part of its development strategy for 2021-30. The Green Tech Incubator, which focuses on the circular economy and energy challenges in Viet Nam, was established to identify talents with innovative and practical solutions, supporting start-ups at the pre-seed and seed stage.
The 12 start-ups were selected from hundreds of applications, surpassing more than 40 potential start-ups and underwent four months of intensive training and support. At the Demo Day, each start-up shared an overview of their business and presented their holistic and sustainable approach to balancing social, economic, and environmental development. The top six start-ups were selected and granted funding ranging from US$1,000 to$ 5,000/start-up, along with continued mentoring from prominent companies like SAP and AWS.
Through the Green Tech Incubator, start-ups were given the opportunity to connect with global organisations, investors and corporations. This programme fostered an encouraging environment for start-ups to generate positive changes and address the energy-related challenges present in Viet Nam.
Quang Ninh province's tourism reboots impressively
The northern province of Quang Ninh, home to UNESCO-recognised Ha Long Bay, welcomed about 1.7 million visitors and earned some 3 trillion VND (126.56 million USD) from tourism services in February.
In the first two months of this year, the figures stood at 3.35 million tourists, doubling that in the same period last year, and more than 6.5 trillion VND, respectively.
Apart from spiritual tourism, which often sees a boom every spring, cruise services showed a strong recovery after the COVID-19 pandemic.
The province has sketched out a project on sustainable tourism development by 2025 with a vision towards 2030, which sets the target of serving about 15.5 million holidaymakers every year from now till 2025, of whom at least 5 million are foreigners.
By 2030, the number of tourists to Quang Ninh is projected to reach at least 25.4 million, including 8.6 million foreigners. The sector is expected to contribute 11% to the locality's gross regional domestic product (GRDP).
Quang Ninh aims to welcome 15 million visitors this year, including 2 million foreign arrivals, and rake in 32.4 trillion VND from the industry.
To that end, it will organise nearly 200 cultural and tourism events, notably the Carnival Ha Long, a trade fair and the Tran Quoc Nghien Temple festival slated for April.
US magazine Travel Leisure has recently named Ha Long Bay among the four idyllic seaside places across Asia to watch sunrise and sunset.
According to the magazine, UNESCO World Heritage site Ha Long Bay, with more than 2,000 limestone islands, is a tourism mecca in Asia.
It recommends that the best way to avoid the bustle is to dodge the day trips and do a two-night cruise. This will allow visitors to take in clusters of islands too far for day-trippers or overnighters to get to, and allow them to surrender to the rhythms of the sea and the sun.
"Once afloat you can watch both sunrise and sunset from the deck—its ascent over the Gulf of Tonkin and denouement behind the slew of islands, bays and iconic limestone outcrops. Then wait a while longer… because it's the blue hour, that twilight time between dusk and darkness, when the locals believe Ha Long Bay is at its most beautiful," the magazine said.
Other three places Travel Leisure recommends for sunset and sunrise watching in Asia are Romblon Island in Philippines, Kuakata Beach in Bangladesh, and Kenting National Park in Taiwan (China).
Lam Dong plan to extend bauxite exploitation
Around 21,170 hectares of land in the Central Highlands province of Lam Dong has been licensed for bauxite mining by the people's committee, including around 4,917 hectares of forest.
This is part of Lam Dong's bauxite exploitation planning approved by the provincial people's committee.
According to the plan, the communes of Loc Ngai, B'La, Loc Quang and Loc Tan communes and Loc Thang Town in Bao Lam District and some areas in Di Linh District and Bao Loc City would all be impacted by the mining.
However, according to the local Department of Agriculture and Rural Development, the forested area licensed for bauxite exploitation overlaps the land already leased by 12 companies. The area also includes 11 hectares of preventive forest which are banned for mineral mining by the Law on Forestry and Mineral Exploitation.
The department has asked the provincial people's committee to reconsider the planning to help protect the environment.
The Vietnamese National Coal and Mineral Industries Holding Limited has already sought government approval to raise the annual capacity of its two mining and processing complexes in the Central Highlands, Tan Rai in Lam Dong and Nhan Co in Dak Nong Province to 800,000 tonnes each.
Sóc Trăng identifies key tourism products to attract tourists
Sóc Trăng has identified key tourism products to attract tourists and develop its tourism by 2025.
The province will focus on spiritual tourism in the city of Sóc Trăng which is known as a home to many unique pagodas such as Bửu Sơn or Đất Sét (Clay) Pagoda, and Mahatup or Dơi (Bat) Pagoda.
The city is also home to the Pătum Wôngsa Som Rông Pagoda, one of the most beautiful and largest Khmer pagodas in the region. The highlight of the pagoda is a reclining Buddha statue which is 63m long and 22.5m high.
The province continues to preserve and renovate its relic site Giếng Tiên (Fairy Well) in Châu Thành District, which is believed to be created by a fairy and has existed more than 1,000 years ago. People often come there to pray for peace and prosperity.
In addition, community-based tourism and agricultural tourism will continue to be developed in Mỹ Phước and Phong Nẫm islets in Kế Sách District, Sáu Xom Stork Garden in Mỹ Xuyên District, and in Châu Thành and Cù Lao Dung districts.
The province will build tours to its historical sites such as the provincial Party Committee's military base located in Mỹ Phước melaleuca forest, where thousands of meetings of the Party Committee were held during war time.
It will promote marine ecotourism in Cù Lao Dung District, and the beaches of Mỏ Ó in Trần Đề District and Hồ Bể in Vĩnh Châu District.
According to Lý, Sóc Trăng is seeking more investment from different sources to develop infrastructure linking tourism sites, religious relics, and craft villages in the province.
The province is also enhancing linkages and cooperation with provinces and cities in the Cửu Long Delta and HCM City to create new tours and products to attract more visitors.
Accelerating digital transformation is one of Sóc Trăng's goals in tourism development.
The province now has its tourism portal at mysoctrang.vn and a mobile application called "Sóc Trăng Tourism" to promote its food, destinations and history.
Sóc Trăng targets to welcome 2.3 million visitors in 2023, including 64,000 foreign tourists. Tourism revenue is expected to reach more than VNĐ1 trillion (US$42.3 million).
China's Sunny Group plans US$2.5 billion investment in Vietnam
China's Sunny Group plans to invest up to $2.5 billion in the northern province of Thai Nguyen, which is expected to generate $5 billion in annual revenue and create jobs for 15,000 local people.
Sunny's President Ye Liaoning made the remarks during a recent meeting with Vietnam's Deputy Prime Minister Tran Luu Quang.
According to Ye Liaoning, Sunny Group was founded in 1984 and produces integrated optical components for various devices such as telephones, computers, robots, medical equipment and industrial production machines.
The company was listed on the Hong Kong Stock Exchange in June 2007 and has been included in the "Fortune China Top 500 Enterprises List" for six consecutive years, currently ranking 284th.
Sunny Group has invested a total of US$130 million in four projects in Vietnam, namely Sunny Opotech, Sunny Automotive, Sunny Infrared and Sunny Opotec. These projects produce infrared lenses for cars, mobile phone camera modules and surveillance cameras in industrial parks in Thai Nguyen, Vinh Phuc and Hanoi.
Deputy Prime Minister Tran Luu Quang warmly welcomed Sunny Group's decision to invest in Thai Nguyen, a locality with a strong track record in attracting high-tech projects, exemplified by search Samsung's $7 billion investment to build the world's largest mobile phone factory.
The Deputy Prime Minister expressed his hope that Sunny Group, with its experience and capabilities, will attract high-tech enterprises to invest in Vietnam, especially in Thai Nguyen, and help create an ecosystem for Sunny in Vietnam.
Quang also urged Sunny Group to create opportunities for Vietnamese enterprises to participate in the supply chain of auxiliary equipment, resulting in mutual benefits that will help promote the development of Vietnam's industry.
In light of the upcoming $2 billion project, he suggested that Sunny Group consider investing in a research and development center in Vietnam, saying such a center would allow the group to quickly apply technology and also provide favorable conditions for Vietnam to access new technology.
The Deputy Prime Minister asked the leaders of Thai Nguyen to create favorable conditions for the Sunny Group to invest in the area, and if any problems arise that go beyond the local authority, the Government and relevant ministries will ensure favorable conditions for the Group to successfully invest and do business in Vietnam.
During the meeting, Deputy Prime Minister Tran Luu Quang and representatives from several ministries and agencies witnessed the signing of a memorandum of understanding between the Thai Nguyen Provincial People's Committee and Sunny Group. The memorandum covers the implementation of an investment project in Thai Nguyen Province with a capital of approximately $2-2.5 billion.
VN exports of shark catfish fall sharply
Shark catfish exports fell by 61 per cent year-on-year in January to US$83.6 million, according to the Viet Nam Association of Seafood Exporters and Producers.
Exports to all major markets saw double-digit declines, VASEP said.
Shipment to the US, among Viet Nam's top three biggest buyers, decreased by 76 per cent in volume and 40 per cent in value (to below $10 million) from January 2022.
Though the rise in seafood prices is relatively modest, higher prices are still affecting its demand, Le Hang, director of VASEP's communication department, said.
But the food inflation rate is projected to fall this year.
Retailers are focusing on promoting affordable seafood items, and supermarkets are selling more frozen seafood due to the rising demand for home cooked meals.
Viet Nam expects to benefit from this shift in US demand for seafood and lower inflation.
Last year's shark catfish exports were the highest ever at $2.44 billion after growing by 45 per cent, with the US accounting for $537.2 million.
Affordable home buyers to get loans with lower rates
Affordable home buyers can access preferential loans at rates 1.5-2 percentage points lower than the market average as part of a credit package worth around VNĐ120 trillion (US$5.02 billion).
The State Bank of Việt Nam (SBV) raised the fund to promote social housing development through lending to buyers and developers.
At a national online conference held in February aiming to promote the development of the real estate market, the SBV Governor said that the central bank discussed with four State-owned commercial banks, namely Vietcombank, Vietinbank, BIDV and Agribank, ways to implement the package.
The Ministry of Construction said affordable home buyers and developers would be provided with preferential loans disbursed from the package. Priority would be given to homes for low-income earners and workers.
Senior expert of BIDV Cấn Văn Lực said that the credit package would boost the real estate market. The value of the package would be higher if other commercial banks joined in, he said.
Ngô Trí Long, former director of the Ministry of Finance's Market Price Research Institute, said that this was a good idea as the market was in a supply crunch of homes for low-income earners and workers.
The Ministry of Construction has proposed the Government arrange a credit package worth around VNĐ110 trillion ($4.6 billion) in the form of financing for commercial banks to refinance social housing projects and housing projects for workers. The VNĐ110 million package was similar to the VNĐ30 trillion package implemented in the 2013-16 period.
Regarding the Ministry of Construction's proposal, the central bank said it was necessary to have a package to boost social housing development to tackle the supply and demand imbalance. However, more consideration must be given to the capital source.
The Ministry of Construction later retracted the VNĐ110 trillion package proposal, opting for the implementation of the VNĐ120 trillion package by the State Bank of Việt Nam.
According to Lực, the VNĐ120 trillion package is a programme with banks' commitments to provide loans with interest rates 1.5-2 percentage points lower than the market rate. Accordingly, the lending rate of this package will be around 10 per cent.
Export prices of Vietnamese rice up nearly 10%
The export prices of Vietnamese rice in the first two months of 2023 rose by 9.8% year-on-year to 528.5 USD/tonne, according to the Ministry of Agriculture and Rural Development (MARD).
Vietnam exported 789,000 tonnes of the grain in the reviewed period, earning 417 million USD, down 18.8% in volume and 10.8% in value compared to the same period last year.
The Philippines is the largest importer of the food from Vietnam in January with over 129,000 tonnes worth 64.55 million USD, accounting for 34.6% of Vietnam's total export.
Vietnam recorded the highest increase price for rice exported to Taiwan (China) in January, with a surge of 54.6% year-on-year.
It is forecast to have favourable conditions for rice exports in 2023 as many countries such as the US and China, and those in Europe, are being affected by climate change and drought, which cause a shortage of rice supply.
Moreover, India - one of the largest rice exporters in the world, imposes a ban on broken rice exports and a 20-percent tax rate on white rice varieties.
Vietnam aims to export between 6.5 – 7 million tonnes of rice in 2023.
Its export is predicted to increase again as the demand in traditional markets such as Indonesia and Bangladesh has risen, and China – one of the largest importers of Vietnamese farm produce, has opened the market after the COVID-19 pandemic.
Vietnam to complete policies, laws for sustainable energy development
Experts discussed the implementation of policies and laws on energy development in the 2016-2021 period at a conference co-organised by the Vietnam Union of Science and Technology Associations (VUSTA) and the National Assembly (NA)'s Committee for Science, Technology and Environment (CSTE).
Chairman of the National Assembly (NA)'s Committee for Science, Technology and Environment Le Quang Huy said that in the 2016-2021 period, the energy industry had developed rapidly in all sectors and fields, achieving many remarkable results.
The energy industry's achievements are an important premise to conducting the Politburo's Resolution 55, issued on February 11, 2020, on Vietnam's energy orientations and development strategies to 2030.
However, Huy warned the energy industry still has some shortcomings, such as domestic energy supplies not meeting demand, the sector still lacking infrastructure, and technology levels in some areas needing improvement.
Huy suggested experts focus on discussing the current situation, completing policies and laws on energy development, and proposing specific solutions.
From there, the proposals can be submitted to the NA Standing Committee to solve the present difficulties and problems, and improve policies on energy development towards ensuring a fair energy transition and national energy security.
VUSTA Chairman Phan Xuan Dung said that to achieve green, sustainable economic development and climate change adaptation, Vietnam was promoting energy transformation with cooperation and support from partners.
The country has gradually reduced fossil fuels, prioritising renewable, new and clean energy.
Prime Minister Pham Minh Chinh announced at the 26th United Nations Climate Change Conference (COP26) that Vietnam would achieve the goal of becoming carbon neutral by 2050.
Assessing the actual implementation of policies and laws in energy planning in Vietnam, Associate Professor Truong Duy Nghia, Chairman of the Vietnam Thermal Science and Technology Association, said that the inter-sector relationship was not clear enough.
He said it is not clear that the development planning of one sector is influenced or affected by the others and vice versa.
Nghia suggested that it was necessary to confirm the work's starting and completion time in the planning.
In the vision stage, it is also necessary to have specific plans and avoid too much change.
With the same point of view, professor Tran Dinh Long from the Vietnam Electricity Association suggested that the power plan No 8 should be approved soon. Otherwise, it would affect the technology and financial supply chain.
The power plan No 8 should take into account clean and green energy transition.
Viet Nam enjoys trade surplus of over $2.8 billion in two months

Total import-export revenue is estimated at US$96.06 billion in the first two months of this year, down 13.2 per cent year on year, with a trade surplus of $2.82 billion, reported the General Statistics Office (GSO).
According to the office, the country has exported $49.44 billion worth of goods so far this year, down 10.4 per cent over the same period last year, with $37.92 billion coming from the foreign-invested sector, accounting for 76.7 per cent.
In February alone, total export revenue is estimated at $25.88 billion, up 9 per cent over January and 11 per cent year on year.
In the first two months of this year, eight kinds of products recorded exports of over $1 billion, accounting for more than 69.9 per cent of the total. Particularly, three enjoyed revenue of over $5 billion.
The manufacturing-processing sector contributed $44.38 billion to the country's total two-month export revenue, accounting for 89.8 per cent, while agro-forestry sector made up 6.9 per cent, fisheries 2 per cent and fuel and minerals 1.3 per cent.
In January and February, the country spent $46.62 billion on importing goods, down 16 per cent year on year, mostly on production materials.
In February, the figure dropped 6.7 per cent over the same period last year to $23.58 billion.
In the first two months of this year, imports of 13 groups of goods exceeded $1 billion, with two recording imports worth more than $5 billion.
So far this year, the US has remained the largest import market of Viet Nam with a revenue of $13.1 billion, while China has been the country's biggest exporter with a value of about $14.6 billion.
In the January-February period, Viet Nam's trade surplus with the EU is estimated at $4.8 billion, up 1.8 per cent.
Meanwhile, the country has suffered a trade deficit of $6.4 billion with China, $4.7 billion with the Republic of Korea, $1.5 billion with ASEAN countries, and $237.2 million with Japan.
To meet the target of about 6 per cent growth in export revenue this year, the Ministry of Industry and Trade has asked businesses to actively improve the competitiveness of their products, while expanding their export markets.
The ministry will strengthen the exploitation of potential markets, while switching to official export channels in association with the building of trademarks. The ministry will also renovate its trade promotion activities and develop digital infrastructure to increase distribution though e-commerce platforms.
Besides, the ministry will organise training courses for businesses and support them to make full use of free trade agreements.
Agro-forestry-aquatic exports up 5.7 per cent in February
Viet Nam earned over $3.4 billion from agro-forestry-aquatic product exports last month, a year-on-year increase of 5.7 per cent, the Ministry of Agriculture and Rural Development said.
The sector's import-export value in the first two months of this year was estimated at $11.99 billion, down 16.8 per cent from the same period last year. Its exports accounted for around $6.28 billion, a drop of 22.5 per cent.
After falling to second position among Viet Nam's agro-forestry-aquatic importers, China returned to the top spot in the first two months of the year with $1.27 billion or 20.2 per cent of the market share. It was followed by the US with some $1.19 billion; Japan, $563 million; and the Republic of Korea, $302 million.
Items that saw hikes in export revenues included tea, up 5.1 per cent; fruits and vegetables, 17.8 per cent; cassava and cassava products, 32.7 per cent; milk and dairy products, 10.2 per cent; and meat and by-products, 14.2 per cent.
Meanwhile, staples such as coffee, rubber, rice, cashew nuts, pepper, tra fish (pangasius), shrimp, wood and wooden products, and rattan and bamboo products experienced decreases.
To promote the consumption of farm produce, the ministry said it will step up market development, remove barriers and facilitate domestic sales and exports, while utilising free trade agreements (FTAs), especially the Comprehensive and Progressive Agreement for Trans-Pacific Partnership (CPTPP) and the EU-Viet Nam Free Trade Agreement (EVFTA).
The sector will also continue its coordination to support the protection of trademarks and geographical indications for Viet Nam's potential export items abroad. It proposed the Government build a decree on the management of Viet Nam's national agricultural product brands.
Representatives from the ministry will hold working sessions with China's Nanning and Yunnan customs forces to seek ways to promote trade and remove obstacles to agro-forestry-aquatic exports.
Construction of metro line No.2 expected to start in 2025
It is expected that in 2025, the Metro Line No. 2 project will start construction, said the Management Authority for Urban Railways (MAUR).
Currently, Metro line No. 1 Ben Thanh - Suoi Tien is basically completed and is being tested.
The Management Authority for Urban Railways of Ho Chi Minh City (MAUR) today announced that Asian Development Bank, the European Investment Bank, and Germany's third largest bank KfW which have financed metro projects in Vietnam held an assessment to review the progress of the implementation proposing solutions to promote the implementation of the Metro Line No. 2 Ben Thanh - Tham Luong.
The delegation met with representatives of the Departments of Planning and Investment, the Department of Finance, the MAUR and local consultants. The parties discussed and then concluded to make concerted efforts to finish the project goals this year.
Specifically, the goal is to complete the site clearance with a currently total workload of 86 percent. Relocation of technical infrastructure works including electricity, water supply and drainage will be carried out in the second quarter of 2023 and the clean site will be handed over to the main contractor in 2025.
Legal procedures for approving the adjustment of the project implementation time and procedures for arranging loan No. 03 from KfW (CS2B) will be completed in the first quarter of 2024.
Vietnamese, Japanese companies cooperate to farm beef cattle
Viet Nam Dairy Products Joint Stock Company (Vinamilk) and Japan's Sojitz Corporation on Wednesday started construction on a massive beef processing complex in Tam Dao, the northern province of Vinh Phuc.
Deputy Prime Minister Tran Luu Quang attended the groundbreaking ceremony of the project, which is part of activities to celebrate the 50th anniversary of diplomatic ties between Viet Nam and Japan.
Vinabeef Tam Dao covers an area of 75.6 hectares and consists of two zones: one for cattle farming that can accommodate 10,000 cows and a chilled meat processing plant with an annual capacity of 10,000 tons of products.
With a total investment of VND3 trillion (over US$126 million), this is the first cooperation project between Vietnamese and Japanese leading companies in high-tech agriculture, under an agreement worth US$500 million signed in late 2021.
The project is scheduled to come into operation in 2024, providing chilled beef that is processed in a closed and highly automated line, ensuring quality and nutrition.
Hanoi diversifies OCOP product promotion activities
Hanoi, which is taking the lead in the "One Commune, One Product" (OCOP) programme, has worked to diversify trade promotion activities and facilitate product sale.
According to the city's Coordinating Office for the New-Style Rural Area Building Programme, as of 2019, Hanoi had 1,649 OCOP products, including four rated five stars, 1,098 four-star and 534 three-star products.
The municipal Department of Agriculture and Rural Development, the Department of Industry and Trade and the Hanoi Promotion Agency have organised various events and fairs to promote such products, helping them win the trust of consumers.
The office has also coordinated with TikTok Vietnam to equip producers and other stakeholders with skills in putting up products for sale on the e-commerce platform.
Phuong Dinh Anh, deputy chief of the Central Coordination Office for New Rural Area Development, said ample room remains for Hanoi's OCOP products.
However, he pointed out that the products mainly come from traditional craft villages, and there are not many innovative products, along with other limitations in this regard.

Therefore, apart from standardising products in terms of packaging and quality, the city should pay more attention to innovation, training for stakeholders, connectivity in product sale, and supervision and inspection of product quality and reputation, he suggested.
The city plans to build five pilot centres for design, innovation and promotion of OCOP products in combination with tourism development in Gia Lam, Thuong Tin, Phu Xuyen and Chuong My districts, and Son Tay town.
The models are expected to bring together artisans, young designers, researchers and representatives from universities and international organsiations.
Hanoi aims to have an additional 2,000 OCOP products rated three stars and above by 2025.
The OCOP programme, initiated by the MARD in 2008, is based on Japan's "One Village, One Product" programme and Thailand's "One Tambon, One Product". It is an economic development programme for rural areas and also to help implement the national target programme on new-style rural area building.
OCOP products are made based on the combination of local resources, traditional culture, and advanced technology. The programme looks to provide farmers with a chance to come together to form cooperatives, enabling them to create goods with higher quality and better design and packaging that meet higher standards and market demand.
Trung Nguyen Legend Coffee opens representative office in RoK
Trung Nguyen Legend Corporation, part of the well-known Vietnamese coffee maker Trung Nguyen Group, officially opened its representative office in Gangnam district, the Republic of Korea (RoK)'s Seoul capital on March 28.
Speaking at the event, Vietnamese Ambassador to the RoK Nguyen Vu Tung said the opening of Trung Nguyen Legend's representative office in the RoK is evidence of the close friendship between the two nations.
Huynh Vang Cam Tu, Deputy General Director of Trung Nguyen Group, said over the past decade, Trung Nguyen Legend has spread the Vietnamese coffee culture in the RoK. In 2019, Trung Nguyen Legend officially built a local workforce in this important market, promoting business activities and brand promotion to affirm the value of Buon Ma Thuot robusta coffee beans in premium G7 coffee product lines.
According to her, the RoK is the second market that Trung Nguyen Group chose to open its representative office, behind China.
According to Nielsen ratings in 2020, Trung Nguyen Legend's G7 was among the top 5 most popular and purchased coffee brands through online channels. G7 coffee products such as G7 3in1, G7 pure black, G7 Cappuccino have a strong presence in leading commercial systems in the RoK such as Coupang - the largest Korean online retailer - and the top shopping malls such as Lotte Mart, Homeplus, Emart and Hanaromart supermarket chains.
Source: VNA/SGT/VNS/VOV/Dtinews/SGGP/VGP/Hanoitimes