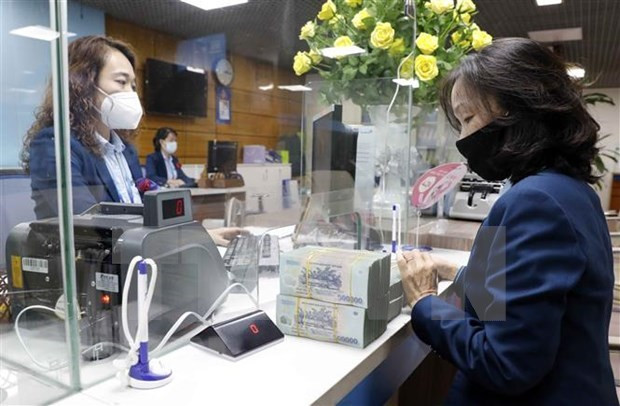 Illustrative photo (Photo: VNA)
The Singapore-based United Overseas Bank (UOB) anticipates the State Bank of Vietnam (SBV) will cut its refinance rate in the second quarter this year by 100 basis points to 5.00%.
"With the US Fed poised to end its rate hike cycle as soon as May 2023 and that domestic inflation rates are showing some tentative signs of turning, we anticipate that the SBV will cut its refinance rate sometime in the second quarter this year by 100bps to 5.00%," UOB's report emphasised.
According to the bank's newly-released report on global economic outlook, that could be a one-off move, and more rate cuts may be on tap if domestic price pressures ease off further, although this is highly uncertain for now.
From September to November last year, the SBV embarked on a flurry of policy moves given aggressive US Fed interest rate hikes, USD strength, and inflation pressures. It then unexpectedly raised its key interest rates by 100 basis points on 22 September, followed by another round of 100 bps hike a month later on 24 October.
The SBV on 17 October announced the widening of the USD/VND trading bands to /-5% from /-3% to allow for greater flexibility for the VND given a strong USD.
On 16 March this year, the SBV unexpectedly lowered its discount rate by 100bps to 3.5% from 4.5% in an attempt to boost economic growth amid global uncertainties. The US and European banking sectors are mired in a crisis of confidence. The SBV also reduced the overnight lending rate in the interbank market by 100bps to 6% and trimmed the cap on the lending interest rates for short-term loans in some sectors to 5% from 5.5%.
According to the UOB, the most important part of the latest policy move was that the SBV left the refinancing rate unchanged at 6%. This signals that the policy stance remains unchanged despite cuts in other interest rates.
As the SBV balances economic growth while ensuring price stability, there will be an increasing bias to shift towards a more accommodating stance ahead.
Experts from UOB forecast Vietnam's GDP growth will reach 6.6% this year in line with the target of 6.5% by the government.
This takes into account the first quarter growth momentum to pick up slightly at 6.45% year over year, largely due to the low base in 2022.
According to the bank, several external risks continue to weigh on its outlook including the Russia-Ukraine conflict and its impact on energy, food, and commodity prices; global supply chain shifts and disruptions; global monetary policy tightening; and the developments in the global banking sector with its impact on confidence.
Consumer prices are showing tentative signs of turning around, however it is still early to tell whether the trend is sustainable. Of concern is that core inflation remains well above the overall target, which will be a key consideration for the central bank, the bank suggested.
Quang Ninh works on air cargo transport route with Can Tho
The northern coastal province of Quang Ninh is working on a cargo transport route connecting its Van Don airport with Can Tho airport in the Mekong Delta city of Can Tho, said Secretary of the provincial Party Committee Nguyen Xuan Ky.
The route, to be launched by low-cost airline Vietjet on April 25, aims to enable fastest cargo transportation between the northern and southern parts of the country and ease overload in the North-South road, Ky said, adding that tickets for the service have been on sale from March 9.
The administrations of Quang Ninh and Can Tho will accompany and give optimal support to businesses, investors and airlines to ensure lowest transportation costs, he pledged.
According to the Asian-African Market Department under the Ministry of Industry and Trade, China has included Quang Ninh's Mong Cai border gate in the list of sites eligible to cater to food imports into China. It is expected that the amount of food to be cleared before entering China through Mong Cai (Vietnam) - Dongxing (China) International Border Gate will reach a maximum of 200,000 tonne per year.
Currently, China is a traditional market with high demand for Vietnamese agricultural and aquatic products. Notably, the Mong Cai (Vietnam) - Dongxing (China) International Border Gate pair is becoming a customs clearance gateway, promoting trade of these products between Vietnam and China.
The building of the Van Don-Can Tho air service and a waterway route between Can Tho port and Quang Ninh's Van Ninh port will facilitate the quick transport of agro-fisheries products from the south to the north and then to the Chinese market.
According to a notification released on March 7 by the Government Office, Prime Minister Pham Minh Chinh, at a working session with the Quang Ninh Party Committee, assigned the province to promptly design a cargo transport route between Van Don and Can Tho airports.
Working with Can Tho leaders in mid-March, Secretary of the Quang Ninh Party Committee Nguyen Xuan Ky underlined that the connections between the two airports, along with the upcoming waterway route between Can Tho and Van Ninh ports, will promote the expansion of the logistics system.
19th Ho Chi Minh City Tourism Fair to take place next month
The 19th Ho Chi Minh City Tourism Fair will be held in the southern metropolis from April 6-9.
The annual event will see a wide range of cultural, artistic and sport activities, and this year's edition will be one among the activities in response to the Visit Vietnam Year 2023 hosted by the south-central province of Binh Thuan.
Notably, the tourism stimulation space will have nearly 100 booths, including 46 of other cities and provinces.
Bui Thi Ngoc Hieu, deputy director of the municipal Department of Tourism, said that the fair's activities will seek to improve the quality of tourism services and promotion work.
Many factors support foreign capital flow
Many factors are expected to draw cash flow back to the stock market, especially that from foreign investors.
Although foreign investors only net bought VND400 billion in 5 trading sessions in the past week, a sharp decrease compared to over VND2.3 trillion in the previous week, analysts forecast that there is still much motivation for net buying from foreign investors in the future.
Foreign investors' net buying value on the Ha Noi Stock Exchange (HNX) also decreased by 75.6 per cent to VND41 billion, while their net selling value on UPCOM totalled VND27 billion, an increase of 66.8 per cent compared to the previous week.
In general, foreign investors net bought VND340 billion on the matching channel and bought another VND60 billion via the put-through channel. Regarding the buying side, foreign investors focused on collecting Vinhomes (VHM) shares, Hoa Phat Group (HPG), Viet Capital Inc (VCI), PetroVietnam Ca Mau Fertiliser JSC (DCM), and PVPower (POW).
The information that is supposed to support foreign capital flow into the stock market this month is that Fubon Fund has approved the 5th additional capital raising with about US$160 million. Meanwhile, VanEck fund will change its reference index, raising it from 80 per cent to 100 per cent of Vietnamese stocks from March 17, meaning that it can buy about VND2.3 trillion in the market.
According to the founder of ART Investor Vu Duc Nam, ETFs including Fubon, VanEck and VNM funds are expected to disburse soon.
The State Bank of Viet Nam's issuance of two decisions to reduce the operating interest rate from March 15 is also expected to direct the cash flow back into the market stock market, especially cash flow from foreign investors.
The corporate bond market also made initial improvements after the Government issued Decree No 08/2023/ND-CP dated March 5, 2023, to amend, supplement and suspend a number of articles in the Decrees regulating the private placement of corporate bonds for sale and transactions in the domestic market and the offer for sale of corporate bonds in the international market.
According to data from the Viet Nam Bond Market Association (VBMA), as of March 17, 2023, there were six separate issuances of corporate bonds with a total issuance value of VND11.93 trillion.
In March 2022 alone, there were two corporate bond issuances to the public and 10 private corporate bond issuances with a total issuance value of VND3.62 trillion.
Matthew Smith, Research Director of Yuanta Securities Vietnam, said that the liquidity prospect of the financial system might be loosened and interest rates would cool down, which would benefit the financial assets.
Accordingly, Viet Nam is maintaining a "golden population" structure. The middle class and urbanisation help increase domestic demand, FDI growth helps many export businesses develop. In particular, the price-to-earnings ratio (P/E) in 2023 is about 9-10x, the lowest in Asia, so the stock market is still very attractive to institutional investors and foreign investors.
According to this expert's forecast, Viet Nam's stock market will recover and may enter the "bull market" as it has recovered 20 per cent since the bottom of September last year. The VN-Index target is predicted to reach 1,300 points this year.
In the next trading week, the market will receive important macro information, such as GDP growth in the first quarter, and CPI in the first quarter. At the same time, some businesses may publish estimated business results. This will be a factor that can support investors' sentiment in the future.
Durian to make breakthrough for Viet Nam's fruit exports
The export of Vietnamese durian to China through the official channel since September 2022 opened up new prospects for Viet Nam's fruit and vegetable industry.
According to statistics from the Ministry of Agriculture and Rural Development (MARD), Viet Nam has over 100,000 ha of durian with an annual output of about 1.3 million tonnes. However, only 3,000 ha (3 per cent) of the total meet standards for export to China.
The Mekong Delta province of Tien Giang and the Central Highlands province of Dak Lak have the largest durian areas meeting export standards in the country.
According to the Deputy General Director of Dung Thai Son Import-Export Company, Vu Ngoc Huy, China is a large market with a strong durian consumption capacity.
The firm can export 500,000 tonnes of fresh durian per year, accounting for over one-third of the total durian output of the country, Huy said.
La Tran Vinh, Director of Vinh Khang Co-operative in Tien Giang, said the cooperative had worked with farmers in Mekong Delta localities such as Tien Giang, Can Tho, Vinh Long, and Ben Tre, and the Central Highlands province of Dak Lak to grow a total of over 100 ha of the fruit.
All durian from the localities would be provided for Chanh Thu Fruit Import-Export Group JSC to export to the Chinese market via the official channel, he said.
After China officially opened its door to durian, Vietnamese farmers would have more opportunities to develop this crop, he noted.
To promote the export of the product to this billion-strong market, Hoang Trung, Director of the MARD's Plant Protection Department, recommended that export enterprises and farmers must regularly update and strictly comply with regulations on quality standards, testing, quarantine, packaging, and traceability of the Chinese market.
China's customs authorities had approved Viet Nam's 51 farming area codes and 26 packaging facility codes that fully meet the requirements for export to the Chinese market, Trung said.
The MARD had asked authorities of southern localities to improve the quality of the durian value chain, toward meeting standards for exporting the fruit, Minister of Agriculture and Rural Development Le Minh Hoan said.
Specialised agencies had been tasked with identifying areas where durian can be grown sustainably, while localities had been urged to have policies for boosting the connection between farmers and export enterprises, he added.
Interbank interest rates plunge
Liquidity in the banking system has improved, which is evident in the strong decline in interbank interest rates.
Last week, the interbank interest rates for all tenors dropped, with the overnight rate plunging 2.2 percentage points week-on-week to 1.2% per year, the lowest since July 2022.
The interbank lending rates for one-week, two-week and one-month tenors now stand at 1.9%, 2.9% and 4.43% per year, down by 2.1, 1.68 and 1.35 percentage points, respectively.
The interbank interest rate is charged on short-term loans made between banks. A high interbank rate suggests a liquidity problem in the banking system and may exert pressure on deposit and lending rates at commercial banks and vice versa.
NovaGroup to sell 30 million NVL shares
Novagroup JSC, the largest shareholder of No Va Land Investment Group Corporation (Novaland, ticker NVL), has announced to sell 30 million NVL shares from March 30 to April 28 to balance its investment portfolio and restructure debt.
The announcement came after NVL shares rebounded strongly in recent trading sessions thanks to Novaland's deferral of two bond lots worth a combined value of more than VND1.75 trillion.
If the transaction goes as planned, NovaGroup's stake in Novaland would drop to 27.43%.
Vietnam's standard system to be harmonized with int'l standards
The National Standardization Strategy for 2030 has set a target for Vietnam's harmonization ratio with international, regional and foreign standards to achieve at least 65% by 2025 and rise to 75% by 2030.
According to the Directorate for Standards, Metrology and Quality, Vietnam's current national standard system with over 13,500 standards in most economic sectors has the harmonization ratio of over 60% with regional and international standards.
Despite a remarkable number of national standards, Vietnam's Global Quality Infrastructure Index only scored 54, behind many countries such as China, Japan, South Korea, India, Indonesia, Singapore and Malaysia.
Currently, Vietnam's national standards are built and managed by the 13 ministries; however, the standards were developed with a lack of long-term orientation and consistency between ministries, reported the Vietnam News Agency.
Given that Vietnam is integrating into the world's economy by joining the WTO, ASEAN and APEC and becoming signatories to new-generation free trade agreements such as CPTPP, EVFTA and RCEP, the enforcement of these treaties may cause Vietnamese businesses' production, trading and exportation to face many strict regulations on standards and technical specifications in foreign markets.
According to the Vietnam Sanitary and Phytosanitary Notification Authority and Enquiry Point (SPS) under the Ministry of Agriculture and Rural Development, in 2022 alone, Vietnam received nearly 1,000 notices from importing countries relating to food hygiene and animal inspection, a 10% increase compared to 2021.
The SPS advised raising Vietnam's harmonization ratio with international standards to respond to trade barriers imposed by the FTA's member countries and reduce the number of violations.
To meet the Government's target by 2030, Vietnam needs to expedite issuing the standardization strategy, striving to become a member of the International Organization for Standardization, a full member of the International Electrotechnical Commission in 2025.
The country also needs to complete building a database for the national standard system and integrate its digital infrastructure with ministries, departments and localities.
MoC makes suggestions on social housing
The Ministry of Construction has suggested removing a condition which states that those who want to move into social housing must have registered for permanent or temporary residence for one year or longer in the relevant area.
The ministry is proposing a draft law of the National Assembly to pilot a variety of policies to construct social housing and lodging for employees in industrial zones (IZs), in which it is recommended that buyers and lessees meet two housing and income requirements. Tenants in social housing are exempt from meeting housing and income restrictions.
In accordance with the 2014 Law on Housing, those who want to buy, rent, or lease-purchase social housing must fulfil three housing, residency, and income requirements. These individuals must have permanent resident registration in the area where the social housing is situated; otherwise, they must have a one-year or longer temporary stay.
The Ministry of Construction (MoC) said that restrictions on living conditions, such as the present statute, "are no longer acceptable in light of the changed circumstances and generate superfluous processes."
Due to regulations on the three requirements of housing, residency, and income, low-income individuals who want to rent a social dwelling (but not purchase, sell, or transfer ownership) must also complete the necessary processes and paperwork.
At the same time, businesses in IZs have an urgent need for social housing to care for their employees. Unfortunately, present legislation does not specify that this population is eligible for the social housing leasing scheme.
According to the institution responsible for the plan, it will increase the supply and demand for social housing, particularly rental housing, while decreasing the fiscal burden on the government, enterprises, and individuals. This collection of policies also contributes to social security and administrative process reform.
Also in this draft, the MoC has proposed numerous initiatives on rights and incentives for investors in social housing construction projects, such as manoeuvring regulations that permit investors in social housing construction initiatives to exchange products under an independent business plan, and not being required to retain 20 per cent of the social housing floor area in the social housing construction project for lease.
In addition, the drafting agency proposes that investors in social housing construction projects receive exemptions and reductions in land use fees and land rents, a 10 per cent profit for the area of social housing construction, and preferential treatment for doing business, providing services, and engaging in commerce in the area.
Hurdles still to climb for stock market gain

Vietnam's stock markets are likely to be improved through technical support from Japanese organisations, but more prerequisites must be met before emerging market status will be granted.

At a seminar in March on the strategy for development of Vietnam's securities market for this decade, Shimizu Akira, chief representative of the Japan International Cooperation Agency (JICA) in Vietnam said it is urgent to improve the fairness and transparency of the domestic market for Vietnam's stock sector to become a more attractive and efficient capital mobilisation channel.
"The Vietnamese government has made strides and implemented swift remedies to the issue, including on the revised Law on Securities and launching the Vietnam Stock Exchange," Akira said.
Based on the proposal of the Vietnamese government, JICA has implemented a technical cooperation project to strengthen the capacity of the State Securities Commission (SSC) and the three stock exchanges through providing practical knowledge and know-how on the regulatory activities in Japan and other advanced capital markets to upgrade Vietnam's equity market in accordance with international standards, Akira explained.
"The market capitalisation value exceeded $180 billion as of the end of 2020. Meanwhile, many foreign investors are ramping up their presence in the domestic equity landscape thanks to vast potential, including Japanese investors," he said.
The JICA project has also focused on securities market surveillance and inspection, supervision of market intermediaries, listing and public offerings in line with international standards, and raising awareness of investor protection among listed companies.
Aiming to cooperate with counterparts to develop the best practices for Vietnam's securities market, the project conducted a detailed initial survey on the Vietnamese market and grasped issues and directions for their solutions, and then implemented training programmes, consultation and seminars.
Moreover, the project has supported through consultation the drafting of various decrees and circulars under the Law on Securities, enacted in 2019.
According to Pham Hong Son, vice chairman of the SSC, Vietnam's stock market is in a new growth era, but still facing significant obstacles.
"The SSC will move on to the next initiative of strengthening capacity and promoting efficiency in Vietnam's stock market, with the support of JICA scheduled to begin from April 2024," he said. "Thus, the strategic cooperation between the Japanese and Vietnamese stock markets will become more meaningful. The domestic stock market has showing signs of improvement over the past few years, with a more transparent market supervision and management mechanism."
According to fresh statistics compiled by the SSC, there are a total of nearly seven million trading accounts on the domestic market, equivalent to around 7 per cent of the Vietnamese population.
Kojima Kazunobu, chief consultant at the Daiwa Institute of Research, believed that this figure is high and a positive sign for the future of Vietnam's stock market. However, to effectively develop, he suggested improving overall market liquidity.
Regarding the Vietnamese stock market's long-awaited upgrade, Kazunobu said that MSCI's assessment of the market was based on the criteria of accessibility for foreign investors.
Kazunobu added that there were a number of international practices from Japan and other advanced markets which could be adopted in Vietnam, including utilisation of self-regulatory organisations for upgrading market intermediaries, strengthening of listing examinations incorporating qualitative listing examination for raising the quality of listed companies, and international standard underwriting and book building in public offerings for promoting fundraising activities.
Vu Chi Dung, director of International Cooperation Department at the SSC, said that the stock market development strategy towards 2030 included increasing the outstanding balance of the bond market and the derivatives market by an average of 20-30 per cent annually from 2021-2030.
Furthermore, the agency has also set the target to enhance the participation of institutional, professional, and foreign investors, while improving corporate governance quality and implementing environmental, social, and governance standards.
"Upgrading Vietnam's stock market from a frontier market to an emerging market is also a critical target in the coming years. In addition, we aim to reach the top four markets in ASEAN by 2025," Dung said.
Small businesses, traders can get loans in 24 hours
Commercial banks announced that enterprises, traders, and household businesses can get loans in 24 hours.
After reducing deposit interest rates, many commercial banks have announced flexible and fast lending procedures to meet the needs of customers' fast capital disbursement.
For instance, Ban Viet Bank yesterday announced that it has launched a flexible 24-hour loan package, for business households and small businesses that need loans for production, business, processing, processing, and commerce with financial collateral - customers' houses.
Accordingly, business households and small businesses in need can borrow up to VND 2 billion with a maximum loan period of 60 months with an interest rate of 10.5 percent a year. Businesses will get loan approval within a few hours, with disbursements between 24-48 hours after the application approval.
Similarly, OCB leaders also said that a credit package of VND 1,000 billion was approved to support small and medium-sized enterprises which want to borrow lends. The credit package is available from now until the end of June 30. In addition to reducing interest rates by 2 percent for short-term and medium-long-term loans, OCB proactively reduced lending conditions and procedures to make it easier for businesses to access the loan.
Moreover, the OCB's representative informed that commercial banks are tending to decrease deposit rates following the direction of the State Bank and the lending interest rate in the near future could completely return to 8-9 percent a year.
A representative of VIB also said that currently individual customers and micro-enterprises with regular transactions at the bank enjoy an interest rate of only 9.5 percent a year when borrowing additional working capital, which is a reduction of about approximately 2 percent compared to the normal interest rate. VIB also improved the process with simple loan procedures and disbursements will be done two days after the application approval.
Currently, Vietbank is providing loans to supplement working capital with a loan amount of up to VND 8 billion with a 12-month-term loan. Particularly, with a loan of VND 3 billion, customers can borrow for up to 240 months with simple loan dossiers. Businesses' loan application is processed within 24 hours and business owners will have the funds in hand within 30 minutes.
Vietnam sees sharp increase in foreign arrivals in first quarter
The number of foreign visitors to the nation reached more than 2.6 million during the first quarter of the year, a figure 29.7 times higher compared to the same period from last year, the General Statistics Office (GSO) announced on March 29.
Most notably, Vietnam received 895,400 foreign arrivals in March alone, marking a drop of 4% against February, although it stood at 21.5 times higher than the figure seen a year ago.
In the first quarter of the year, there were 2.6 million foreign visitors arriving in the nation, but barely 60% of the figure from 2019, before the COVID-19 pandemic started.
Most visitors hail from Asia at 1.9 million, followed by European visitors at 385,000, and the Americas at 263,000.
Throughout the reviewed period, 89.8% of tourists came to Vietnam by air, a total of 2.4 million, 9% by road at 241,900, and 1.2% by sea at 33,700.
Vietnam hopes to serve 110 million tourist arrivals this year, including eight million foreign visitors and 102 million domestic travelers.
By welcoming 2.6 million foreign arrivals in Q1, the nation reached roughly 33% of its goal, meaning the target of eight million remains feasible, according to Pham Van Thuy, deputy general director of the Vietnam National Administration of Tourism (VNAT), at a recent press conference on Vietnam International Travel Mart (VITM) held in Hanoi.
Eight Australian energy firms explore opportunities in Vietnam
An Australian energy delegation comprising representatives of eight energy companies and two states arrived in Vietnam on March 27 for a four-day trip to promote cooperation on renewable energy.
The mission is scheduled to work both in Hanoi and Ho Chi Minh City, according to press release from the Australian Embassy in Hanoi.
The Australian Government Trade and Investment Commission (Austrade) in collaboration with the Electricity & Renewable Energy Department under the Ministry of Industry and Trade of Vietnam and Vietnam Electricity Group (EVN) organised the Energy Transformation Forum 2023 in Hanoi on March 28.
Like Vietnam, the Australian government has made a commitment to climate action, with a target of reducing greenhouse gas emissions by 43% by 2030 and to zero by 2050. The forum discussed the energy transition of Vietnam and Australia and introduce new energy technologies and solutions from Australia.
In addition to exploring trade opportunities from the decarbonisation agenda, the Australian trade mission will also sound out opportunities such as grid operation in the context of rapidly increasing integration of renewable energy; opportunities to apply energy storage solutions; solutions to optimise smart grid operation, virtual power plant, energy efficiency and enterprise digitisation applications in energy transformation; and green certification system, decarbonization technology.
According to the Australian Department of Climate Change, Energy, Environment and Water's website, the past 10 years have seen a dramatic energy transition from coal to renewables. Specifically, small-scale solar energy production has seen an average growth rate of 28% per year and wind power production has increased by 15%.
Recently, large-scale solar farms in Australia have begun to expand rapidly. Large-scale solar production has grown from negligible levels before 2016 to 4% of Australia's total electricity production in 2021, representing a five-year growth rate of 1,747%.
Australia's National Hydrogen Strategy sets out a vision for a clean, innovative, safe and competitive hydrogen industry that benefits Australians, and also adds to Australia's energy exports.
In the offshore wind sector, Star of the South is Australia's most advanced offshore wind project off Gippsland in Bass Strait, capable of providing up to 20% of Victoria's electricity needs, while creating jobs and investing in the state's renewable energy infrastructure.
Renewable energy production reached a record high share of Australia's total electricity generation capacity in the last three months of 2022, providing an average of more than 40% of the electricity in the nation's main grid.
Meanwhile, Vietnam is experiencing remarkable economic growth and is rising to become one of the fastest growing energy markets in Asia. In response to this economic development, Vietnam's energy demand is expected to grow by nearly 8% - 10% per year, leading to the need for reliable energy supply. And its renewable energy market is increasingly attractive to foreign investors.
The Australian Energy Mission to Vietnam will be an opportunity for Australian and Vietnamese businesses to discuss opportunities for cooperation in the field of renewable energy development and efforts to reduce carbon emissions and develop supply chains between the two countries.
FDI businesses pour nearly US$5.45 billion into Vietnam in Q1 2023
Vietnam attracted nearly US$5.45 billion in foreign direct investment (FDI) in the first quarter of the year, equivalent to 61.2% against the same period from last year, according to the Ministry of Planning and Investment.
Of the total, more than US$3 billion was injected into 522 new projects, up 62.1% in project number but down 5.9% from a year ago.
Meanwhile, 228 existing projects had their capital adjusted with a total amount of US$1.2 billion, up 2.6% in project number but down 70.3% in capital year on year.
Furthermore, there were also 440 capital contributions and share purchases valued at US$797.9 million, representing a rise of 10% and 3.7% in contribution and share capital, respectively.
Statistics compiled by the Foreign Investment Agency indicate that the disbursement of FDI projects throughout the reviewed period dropped by 2.2% to US$4.3 billion year on year.
Bac Giang, Dong Nai, Bac Ninh, Ho Chi Minh City, and Hai Phong were the leading localities for FDI attraction thanks to advantages in infrastructure, stable human resources, administrative reform, and numerous investment incentives.
Foreign financiers poured funds into 17 out of 21 national economic sectors. Of which, processing and manufacturing continued to lead the way with a total investment of nearly US$4 billion, followed by real estate with nearly US$766 million.
By injecting nearly US$1.69 billion, Singapore topped the list of 67 foreign investors in Vietnam, followed by China with roughly US$552 million, and Taiwan (China) with more than US$477 million.
Khanh Hoa unveils numerous events to attract tourists
A wide range of tourism events are set to be held in the southcentral province of Khanh Hoa ahead in the second quarter of the year as a means of further attracting tourists to Nha Trang city, according to the provincial Department of Tourism.
Nguyen Thi Le Thanh, director of the Khanh Hoa Department of Tourism, revealed that a ceremony will be held on March 28 at Cam Ranh International Airport in order to mark the launch of a new air service between Cam Ranh city in Khanh Hoa and Daegu in the Republic of Korea, hoping to raise the number of Korean visitors to the locality.
Furthermore, a number of tourism events will be held throughout April, including the inauguration of the "DO" theater and a Vietnamese water puppetry show at Vega City Nha Trang.
The Oceanman International Outdoor Swimming Race 2023 will be held from April 13 to 16 at The Arena resort which is expected to attract the participation of more than 650 international athletes.
Moreover, a famtrip programme will be held in late April for delegates to explore tourism products and services in Khanh Hoa, and enhance tourism connectivity among the north, central, and southern regions.
At present, the local tourism industry plans to co-ordinate with the Ministry of Culture, Sports and Tourism in organizing a scheme from May 26 to 28 to elevate the Vietnamese tourism brand through movies.
Meanwhile, Nha Trang - Khanh Hoa Sea Festival 2023 will be held this June, with the highlight being the Nha Trang Paragliding Festival 2023 from June 1 to 10 and the Ever - Glamor Nha Trang International Light Show Festival 2023 on June 3.
Khanh Hoa will also organise a wide range of tourism promotion activities to attract local and foreign visitors to the city moving forward, added Thanh.
Source: VNA/SGT/VNS/VOV/Dtinews/SGGP/VGP/Hanoitimes