Vietnam's Q1 GDP growth slowed to 3.3 per cent due to a number of factors, including weak exports. However, a recovery is anticipated as interest rates decline and the government implements measures to stimulate economic growth.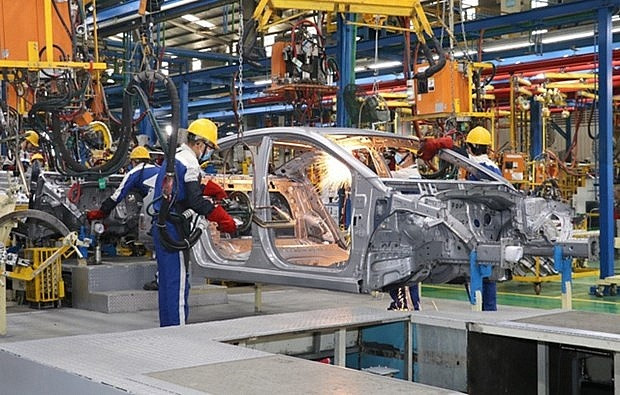 Vietnam's GDP growth slows in Q1 ahead of expected recovery, photo VNA
Portfolio manager and board member of PYN Elite – a Finnish fund focusing on Vietnamese listed equities – Petri Deryung noted in his latest letter to investors that Vietnam experienced a deceleration in its GDP growth, falling to 3.3 per cent in the first quarter.
Similar to other Asian nations, Vietnam's exports have displayed a lacklustre performance since autumn. However, the decline does not solely account for the slowdown in the country's growth.
Added to this are the actions taken by the authorities in late autumn that resulted in a decrease in liquidity and a significant rise in interest rates.
Deryung noted that they created an atmosphere of uncertainty in the domestic economy, prompting consumers to postpone their planned purchases. However, it is highly likely that domestic consumption has already reached its lowest point during the initial quarter of this year.
In Deryung's view, the Vietnamese market currently presents attractive stock prices, but the key question remains when the improved liquidity conditions and lower interest rates will entice investors to return in large numbers.
The government of Vietnam has implemented effective measures to expedite economic growth, impressing many investors with the speed of their decision-making. However, the stock market is still in a consolidation phase without a clear upward trend.
The net asset value of PYN Elite has been gradually increasing, currently standing at a year-to-date growth of more than 6 per cent.
Falling interest rates likely in H2
On May 23, the SBV announced additional adjustments to a series of key interest rates, effective from May 25. This move marks the third round of reductions designed to boost the economy in less than three months. Interest rates are predicted to soften in the second half of the year, due to several factors in both the domestic and international markets.
Figures from the State Bank of Vietnam (SBV) show that as of May 9, the value of the whole economy was approximately $532 billion, up 2.7 per cent compared to the end of 2022 and up 9.6 per cent on-year.
After the SBV reduced the regulatory annual interest rate by a half of one per cent in late March, bank deposit rates fell by 0.2-0.5 per cent in April, with a further fall expected for May.
A senior executive at BIDV said that the SBV's monetary policy is consistent with the 'loosening stance' expected to aid the economy as inflationary pressures cool significantly.
In addition, the mobilising-credit balance is forecast to further ameliorate with credit growth struggling to make a breakthrough, meanwhile mobilising is set to improve thanks to a fruitful forex supply.
In the first four months, Vietnam's average inflation rate stood at 3.8 per cent compared to one year ago.
Tran Thi Khanh Hien, head of research at Hanoi-based securities firm VNDirect, noted that in its latest meeting, the US Federal Reserve announced its 10th interest rate hike by a quarter of a percentage point as part of its plan to operate between 5-5.25 per cent, as per market expectations.
This has been deemed a positive move, as the Fed did not suggest further rate increases beyond this. Instead, its decision would be based on forthcoming macro figures.
An analytic expert at a Hanoi-based securities firm said, "Capital sources are abundant, but fewer people are taking on margin loans, pushing securities firms to reduce interest rates. Formerly, such rates touched 13-14 per cent, and they are now hovering around 11-12 per cent per year."
Amid faded exchange rate pressure, the SBV supplemented the forex reserve by around $6 billion in the first four months of the year, raising it to around $93 billion in an attempt to support banking system liquidity and rate reductions.
In that same period, Vietnam's average inflation rate stood at 3.8 per cent compared to one year ago. The rate dropped to a 12-month low of 2.81 per cent in April from 3.35 per cent in the previous month, amid declines in component rates.
Of note, Vietnam Electricity's prices increased by 3 per cent in early May, which was lower than the proposed level of a 5-7 per cent hike in the retail price of power, reducing the overall impact of inflation.
The MoIT seeks to finalise transitional power rate
The Ministry of Industry and Trade (MoIT) has issued a document requesting Vietnam Electricity (EVN) reach agreement with investors on a transitory price for energy produced by photovoltaic and transitional wind power plants by May 27.

The MoIT reported that, as of May 24, 37 out of 85 renewable energy projects have submitted their dossiers to the Power Trading Company under EVN (EVNEPTC) to facilitate the arrangement of electricity prices and contracts regarding its purchase and sale.
For the remaining 48 projects that have not yet submitted dossiers, EVNEPTC has requested in writing that investors submit the necessary documentation for negotiation and agreement as soon as possible.
The MoIT document stated, "For power plants that have been authorised to set an interim price, EVN is requested to sign contracts regarding the buying and selling of power promptly and undergo review processes for early operation and production of electricity on the grid."
After negotiating and settling on a price, investors will be compensated based on the formal price as of the date of transmission to the grid. EVN is negotiating a provisional price for the remaining power facilities with the investors, to be finalised by May 27, for submission to the MoIT.
The MoIT also suggests that EVN review documents submitted by investors, reevaluate the investors' requirements for the negotiation of electricity prices, and ensure the simplification of procedures while maintaining compliance with regulations.
Currently, 84 renewable energy projects (with a combined capacity of over 4,600 MW) are behind schedule for commercial operation. 34 transition projects (28 wind power projects and 6 solar power projects) with a combined capacity of roughly 2,100 MW have been completed and tested.
Tough times for garments and textiles firms
Garments and textiles firms are experiencing several hardships at the same time, with not only crippling interest repayments, but some are also experiencing scarcity of capital and a considerable drop-off in orders. Add in a slow and complex tax refund system, and it's easy to see why garments and textiles firms are suffering.
Viet Thang Corporation, a subsidiary of state conglomerate Vinatex, has released its first-quarter results showing an increase of $315,650 in the company's financial expenses, mainly attributable to interest fees which amounted to $275,650.
Dony Garment Company, based in Binh Chanh, Ho Chi Minh City, reported that although capital access has become easier as banks have softened their lending rate from 13 per cent to as low as 9.5 per cent, repayments are still having an impact as the company simply doesn't have enough large-value orders. Dony Garment's export market has shed nearly 70 per cent on-year, and domestic orders have fallen about 20 per cent and continue to drop.
Pham Quang Anh, director of Dony Garment, said, "We don't even dare to think about growth at this time. Surviving this tough spell represents enough of a challenge."
In the short-term, Dony Garment is considering selling part of it assets to pay back loans to reduce interest payment pressure, and in the medium term the company is pinning its hopes on an increase in orders in the domestic market.
Discussing concerns about the availability of capital, the CEO of Tran Hiep Thanh Textile Corporation, Tran Quoc Dat, said, "Last year, Vietcombank readily granted credit to Happytex, one of our subsidiaries based in Tay Ninh, but just one year later, credit provisions were halted, causing the firm many difficulties with several projects in the development pipeline."
Winning large orders means remaining competitive, and many manufacturers are having to reduce their prices to compete with China and Bangladesh. Large-sized firms in the sector have had to restructure operations and reduce their labour expenses, with some workers offered only four days a week, with many more laid off entirely.
These diverse factors make it exceedingly hard to forecast the possibility of a rebound in the garments and textiles industry, as it depends largely on export markets and investment streams.
Many manufacturers are having to reduce their prices to compete with China and Bangladesh
Pham Van Viet, deputy chairman of the Ho Chi Minh City Association of Garments, Textiles, Embroidery and Knitting, noted that the industry is still waiting for signs of improvement as order intake in Europe and the US market shows no signs of rebounding just yet, and growth in Asian markets stands still.
EVN intends to raise electricity prices from September
EVN considers that the 3 per cent rise in electricity prices enacted at the start of May 2023 has not been sufficient to cover its costs. The energy provider is seeking permission to adjust the price from September 1 to counterbalance the additional expense incurred from high input costs to ensure the company's financial stability.

EVN proposes to amend Prime Minister Decision No. 24/2017/QD-TTg in order to modify the retail price of electricity for the period 2023-2025.
EVN reports that by altering the price by 3 per cent, the average retail price of electricity rose from its previous level of 7.9 US cents per kWh (excluding VAT) to 8.2 US cents per kWh (excluding VAT). However, this increase has been insufficient to offset the cost of purchasing electricity this year, and the company is projected to incur a loss for 2023. The company saw a loss of $1.13 billion in 2022 and this year's losses are set to reach $1.74 billion.
Although electricity sales are anticipated to increase by approximately $341 million for the remaining months of the year, EVN suggests the group and its constituent entities will have a hard time balancing their finances as a result of abrupt fluctuations in fuel prices and the foreign exchange rate.
Automobile, electronics markets see poor purchasing power
Currently, the electronics market is rather sluggish. In numerous stores and supermarkets, there is an abundance of sellers compared to buyers, even though discount programs and promotions are being constantly launched.
During the weekend, the Cho Lon Electronics Supermarket located at Cach Mang Thang Tam in District 3 and other supermarkets in the same chain along Truong Chinh Street in Tan Binh District and Quang Trung Street in Go Vap District had only a handful of customers browsing. The number of visitors and shoppers is exceptionally low.
Around 7 p.m. on weekends, at Nguyen Kim Electronics Supermarket located within Pandora Shopping Mall in Tan Phu District, there were only three adults and one child browsing the displayed TVs. A similar situation was observed at other branches of this supermarket chain on Quang Trung Street in Go Vap District, where the spacious shopping areas spanning thousands of square meters had only a handful of customers. After examining the product samples and checking the price of a one-HP air conditioner, Ngo Van Phu, who lives in Go Vap District, mentioned that his small home, situated in a deep alley, tends to get quite hot, so he was considering purchasing an air conditioner. The prices range from VND5.5 million to VND11.5 million per item, with discounts ranging from 5 percent to 26 percent compared to before, depending on the brand.
According to the supermarkets, there is a significant number of customers who browse products but refrain from making immediate purchases, similar to Phu's situation. The supermarkets have introduced numerous promotions and attractive discounts ranging from 5 percent to 40 percent, including support for installation, transportation fees, and complimentary vouchers.
However, purchasing power has declined considerably by 30 percent to 70 percent compared to before the Covid-19 pandemic.
Information from Nguyen Kim Electronics, Cho Lon Electronics Supermarket, and Dien May Xanh indicates that consumers are primarily focused on essential goods, causing high-value non-essential items like electronics to fall outside the priority basket for buyers, resulting in an increase in inventory levels.
According to statistics from the General Department of Vietnam Customs, the importation of completely built-up (CBU) cars has been declining rapidly since the beginning of May. The country has imported a total of 3,257 CBU cars of various types, amounting to over US$88 million. In contrast, during the first quarter of 2023, the country imported over 42,000 CBU cars, with a total value above $925 million.
The latest update from the Vietnam Automobile Manufacturers Association (VAMA) reveals that in April, the overall car sales in the market reached 22,409 units, marking a 25 percent decrease compared to March 2023 and a 47 percent decrease compared to March 2022.
Over the first four months of 2023, the total car sales in the market dropped by 30 percent compared to the previous year, with specialized vehicles experiencing a significant decline of 58 percent.
The Ministry of Industry and Trade has highlighted that businesses are facing challenges such as high inventory levels and a sharp decrease in vehicle consumption.
These issues can be attributed to difficulties in accessing bank loans, high interest rates, exchange rate fluctuations, and inflation.
Several measures have been implemented by businesses, including staff reduction, downsizing store space, and offering substantial promotions to reduce inventory and sell additional household items like glasses and bowls.
However, the results have been limited. In an attempt to address immediate challenges, Thien Hoa Electronics Supermarket, situated at the base of Tham Luong Bridge on the border of Tan Binh District and District 12, has recently closed down and announced the transfer of its premises.
Why are people visiting stores and supermarkets much less than before? According to explanations from some businesses in the electronics industry, one contributing factor is the change in the mindset of households.
Before the Covid-19 pandemic, households were more inclined to proactively replace their appliances, such as TVs, refrigerators, and washing machines, after a certain period of use, rather than waiting for them to break down.
However, the current economic situation, with the impact on incomes, has directly affected purchasing power. Furthermore, the growing popularity of online shopping is another reason why customers are opting for virtual stores instead of visiting physical ones.
Businesses indicate that it could take several more years for the market to recover its vitality, but these are merely forecasts. Confronted with immediate challenges concerning rent, employee wages, and inventory storage, businesses must calculate and strive each day. These difficulties are not exclusive to any particular industry in the current circumstances.
However, if retailers cannot endure, and if the Government does not implement timely supportive measures, such as tax reductions and preferential interest rates, it will impact the entire economy.
Currently, domestic electronics brands like Kangaroo, Alaska, Sunhouse, and Nagakawa have a relatively small market share compared to a range of foreign giants operating in Vietnam. According to business estimates, the market size of brands such as Samsung, LG, Sony, Casper, TCL, Toshiba, Sharp, Panasonic, and Electrolux in Vietnam is approximately $2.5 billion.
FDI capital touches US$11 billion in five months
The Foreign Investment Agency under the Ministry of Planning and Investment has recently announced that between the start of the year and May 20, 2023, the total registered foreign investment capital in Vietnam reached US$10.86 billion.
The Foreign Investment Agency under the Ministry of Planning and Investment has recently announced that between the start of the year and May 20, 2023, the total registered foreign investment capital in Vietnam reached US$10.86 billion.
Among them, the newly registered capital reached over $5.26 billion, marking a 27.8 percent increase compared to the same period. Adjusted capital amounted to $2.28 billion, reflecting a 59.4 percent decrease compared to the same period. Furthermore, investment capital through capital contribution and share purchase amounted to nearly $3.32 billion, showcasing a notable 67.2 percent increase compared to the same period.
According to the Foreign Investment Agency, the situation of attracting foreign investment into Vietnam has improved. The number of new investment projects saw a slight increase of 1.2 percentage points compared to the previous four months and a significant growth of 66.4 percent compared to the same period last year.
The faster increase in the number of new investment projects compared to the overall investment capital reflects the sustained interest and confidence of medium and small-scale foreign investors in Vietnam's investment environment, prompting them to make new investment decisions.
Meanwhile, according to the report by the Foreign Investment Agency, large corporations are exercising caution and carefully evaluating the prospects of continuing major investments in Vietnam, taking into account the implications of the global minimum tax policy.
During the first five months of the year, Vietnam attracted investment from 82 countries and territories. Among them, Singapore was the top investing partner with a total investment capital of over $2.53 billion, accounting for more than 23.3 percent of the total investment capital in Vietnam, down 14.3 percent compared to the same period in 2022. Japan ranked second with nearly $2.1 billion, representing almost 19.1 percent of the total investment capital, nearly 2.2 times higher than the same period last year.
Meanwhile, China ranked third with a total registered investment capital of nearly $1.61 billion, accounting for 14.8 percent of the total investment capital, representing a 41.9 percent increase compared to the same period, followed by Taiwan, Hong Kong, and South Korea.
Hanoi is leading with a total registered investment capital of nearly $1.87 billion, accounting for almost 17.2 percent of the total registered investment capital and nearly 2.7 times higher than the same period in 2021. Bac Giang follows with a total registered investment capital of over $1 billion, representing over 9.4 percent of the country's total investment capital, nearly 2.4 times higher than in the same period. Ho Chi Minh City, Binh Duong, and Dong Nai take the remaining positions in the top 5.
Only 18 renewable power projects granted electricity operation licenses
The Ministry of Industry and Trade (MoIT), on May 26, reported that out of the 85 renewable energy projects (including wind and solar power), only 18 projects have been granted electricity operation licenses.
According to the Electricity Regulatory Authority under the MoIT, as of May 23, only 18 out of 85 transitional renewable energy power plants have been issued electricity operation licenses. Additionally, 12 transitional projects have submitted negotiation price documents but have not yet submitted licensing papers, including 11 wind power projects and one solar power project.
As of May 26, 52 out of 85 transitional solar and wind power plants, with a combined capacity of 3,155MW, have submitted documents to EVN. Among them, 42 renewable power plants, totaling 2,258.9MW, are currently in the process of negotiating electricity prices with EVN. Additionally, 36 plants, with a total capacity of 2,063.7MW, have proposed a temporary electricity price equivalent to 50 percent of the tariff as a foundation for mobilization. There are still 33 power plants, with a total capacity of 1,581MW, that have not yet submitted negotiation documents, accounting for approximately 33 percent of the total.
Due to violations of regulations concerning planning, land, and construction investment, many investors have neither been able to fulfill the necessary legal procedures nor enter into price negotiations with EVN. Despite being requested to supplement their documents since the end of March 2023, some investors have been unable to do so even after two months.
However, during the project implementation process, investors must adhere to all legal regulations regarding land, construction, electricity, planning, environment, fire prevention, and firefighting. According to the Electricity Law, electricity projects are required to obtain electricity operation licenses before commencing operations.
Russian enterprises explore investment opportunities in Can Tho
Offcicials of the Mekong Delta city of Can Tho city and relevant departments and sectors had a working session with representatives from Russian businesses on May 27 to discuss investment cooperation opportunities in terms of supply chain, import-export, technical infrastructure and logistics in the locality.
Shigabutdinov Ruslan - Member of the Board of Directors of TAIF Group said that with its strength in petrochemical refining, the firm wishes to learn about the fields of seaport services, logistics and petrochemical refining in the locality.
Local representatives briefed Russian investors on Can Tho's potential, orientation and policies for calling for investment, while infỏrming guests about the development plan of industrial park infrastructure projects and logistics centres in the city.
Tran Phu Loc Thanh, Deputy Chief of Office of the municipal People's Committee said the locality prioritises cooperation in developing pharmaceutical and biological industries, noting that the city has zoned 1,000 ha for calling for investment in these fields.
Can Tho is home to 86 foreign-invested projects worth 2.2 billion USD from 22 countries and territories. However, there are no projects from the Russia invested in the locality.
Chairman of the municipal People's Commitee Tran Viet Truong expressed his hope that Russian investors will be interested in projects in Can Tho in the coming time, especially in producing, processing and consuming agricultural products, logistics, seaport, and agricultural aviation.
Can Tho also wishes to promote trade cooperation with Russian partners to export products of its strength such rice, processed agricultural and aquatic products to Russia, he said.
The municipal authorities will create the most favourable conditions for Russian businesses to develop stably and sustainably in the locality, Truong added.
Representatives of Russian investors said they will carefully review and analyse documents to better understand opportunities and projects in the Mekong Delta city.
First batch of liquid eggs exported to RoK
Vietnamese enterprise Vinh Thanh Dat Food has exported a batch of liquid eggs to the Republic of Korea (RoK) for the first time.
The shipment opened up fresh opportunities for Vietnamese eggs to enter the global market amid a sharp drop in domestic consumption.
Truong Chi Thien, general director of Vinh Thanh Dat Food, said the firm had successfully exported a container of liquid eggs - pasteurized shelled eggs to the RoK. This type of egg is often used for restaurants and eateries in both the RoK and Japan.
In the near future, importing partners will continue to expand the export of the product, and Japan will be another target market of Vinh Thanh Dat Food, he noted.
The domestic poultry egg market is now fiercely competitive with the engagement of several big players such as C.P of Thailand, QL of Malaysia, CJ of the RoK, and local firms like Hoa Phat, Dabaco, Ba Huan, and Vinh Thanh Dat.
Currently, the purchasing power in the domestic market remains low, meaning the price of poultry eggs is falling sharply.
Fertiliser businesses see profit drop on ailing selling prices and rising costs
Falling selling prices and rising costs have caused the profits of most fertiliser businesses to plunge, after recording high profits in the previous few years.
Fertiliser prices have fallen sharply since the fourth quarter of 2022.
Profits of the fertiliser businesses in the fourth quarter of 2022 decreased deeply, with some companies even recording losses, although the profits in the whole year 2022 still grew at high rates.
Plunging profits continued in the first quarter of 2023.
In Q1 this year, PetroVietnam Ca Mau Fertiliser Joint Stock Company (DCM) recorded a 33 per cent decrease in revenue and an 85 per cent decrease in profit after tax compared to the same period in 2022, to reach VND2.73 trillion and VND229 billion, respectively. This was the lowest profit in the last seven quarters.
According to DCM, the average selling prices of urea in the first quarter of 2023 decreased by more than 32 per cent year-on-year, and the increase in selling expenses were the two main reasons for the decline in profits.
At the end of the first quarter of 2023, PetroVietnam Fertiliser and Chemicals Corporation (DPM) recorded revenue of VND3.29 trillion, down 44 per cent; profit after tax reached VND262 billion, down 87.6 per cent year-on-year.
DPM said that in the first quarter of 2023, the output of fertiliser trading products decreased, especially the selling price of urea decreased by 44 per cent. Besides, the higher gas prices in the same period led to a decrease in the sales of commodities, which resulted in a corresponding fall in profits (gas accounts for a large proportion of the cost of producing ammonia, a key raw material for fertiliser production).
Binh Dien Fertiliser Joint Stock Company (BFC) lost more than VND39 billion in the first quarter of 2023, while revenue decreased by 48 per cent over the same period last year, reaching only VND1.36 trillion.
BFC said that in the first quarter of 2023, the company actively reduced selling prices, making gross profits decrease by more than 73 per cent; sales volume fell by more than 85,000 tonnes, equivalent to a drop of 52 per cent over the same period last year. This led to a deep fall in profits, although the company actively reduced administrative expenses and selling expenses, respectively, by 51 per cent and 44 per cent.
General Director of BFC Ngo Van Dong said that in the first quarter of 2023, fertiliser prices fell sharply and quickly, so fertiliser agents only ordered fertiliser products according to actual consumption needs, not storing products in warehouses as before. Therefore, the company's output and selling price did not meet expectations.
Viet Nam's fertiliser exports from the beginning of 2023 have been under strong competitive pressure as the supply from Russia and China increases. According to the General Department of Customs, in the first four months of 2023, Viet Nam exported over 537,200 tonnes of fertiliser, bringing in US$232.16 million, down 17 per cent in volume and 43.6 per cent in value over the same period of 2022.
The decrease in demand and the increase in inventories led to a sharp drop in domestic urea prices. Urea prices in April and May 2023 decreased by 30-40 per cent over the same period last year.
MB Securities (MBS) said that the policy of restricting the export of fertilisers of Russia and China has been relaxed or is about to expire, causing an increase in fertiliser supply and a decrease in fertiliser prices. Fertiliser prices may decrease and world oil prices also tend to correct.
In that context, fertiliser manufacturing and trading companies have cautiously planned their business for 2023.
Ha Bac Fertilisers and Chemicals Joint Stock Company (DHB) expects that in 2023, revenue will reach VND4.6 trillion, profit after tax will total VND931 billion, down 28 per cent and 47.6 per cent respectively compared to the performance in 2022.
DPM expects to achieve revenue of VND17.3 trillion in 2023, profit after tax of VND2.25 trillion, down 8.6 per cent and nearly 60 per cent respectively compared to the level in 2022. Considering that market demand tends to decrease, DPM's Phy My Fertiliser plant plans to reduce production output to balance consumption capacity.
MBS predicts that DPM's business results in 2023 may not meet its plan, likely to achieve revenue of only VND15.12 billion, profit after tax of VND2.18 trillion.
Binh Dien Fertiliser plans to achieve revenue of VND7.48 trillion, profit before tax of VND220 billion, down 12 per cent in revenue but up 18.5 per cent in profit compared to last year's performance.
Analysts say that fertiliser prices will continue to decline in the first months of 2023, but will soon stabilise again due to reduced inventories and increased demand for soil nutrients. When fertiliser prices fall, farmers will buy more fertilisers to supplement soil nutrients after a limited period because of high prices in the previous two years.
Quang Tri attracts investment in logistics ​
Quang Tri Province is calling for investment in logistics and accelerating infrastructure constructions at border crossings and seaports, aiming at becoming a centre for product transshipment on the East-West Economic Corridor (EWEC).
EWEC connects with two seaports: Cua Viet and My Thuy seaports, and the main South-NorthEast maritime traffic systems.
Cua Viet seaport has a capacity of over 1.1 million tonnes of cargo annually. The logistics infrastructure attracts investment through the extension of shipyards, which will be more than 11 hectares and be finished by 2024.
My Thuy seaport has a total investment of VND14.200 billion with ten shipyards in 685 hectares. It also has a shipyard to transship goods from Myanmar, Laos, and Northeast Thailand through La Lay international border gate.
Moreover, Quang Trinh Province and Sanvannakhet (Laos) cooperate to build Lao Bao-Densavan joint cross-border Economic-Commercial Zones in 2024. The project has attracted numerous domestic and foreign enterprises to do surveys and propose investment plans.
According to the draft of the pilot project to build the cross-border Economic-Commercial Zones, the investment source mainly comes from enterprises in the form of public-private partnerships (PPP).
The province also lures investment in logistics in the Southeast Economic Zone of Quang Tri.
The logistics service centre project in the Southeast Quang Tri Economic Zone has an investment capital of over VND2 trillion (US$85.2 million) covering nearly 71 hectares and has been implemented from 2020 to 2025.
It aims to be a service centre for freight forwarding and storage, consignment supervision, and transportation of goods.
According to the representative of the People's Committee of Quang Tri Province, they have encouraged investment in the logistic project and boosted the infrastructure at Lao Bao and La Lay international border gates.
New Zealand highly values potential for cooperation with Vietnam
Deputy Secretary for Foreign Affairs and Trade of New Zealand Vangelis Vitalis has expressed his belief in stronger trade ties between Vietnam and his country, saying that the two sides will expand their cooperation to other areas in the future.
During an interview granted to the Vietnam News Agency, Vitalis spotlighted outcomes of the 8th meeting of the Vietnam-New Zealand Joint Trade and Economic Commission (JTEC) recently held in Hanoi, stressing that the two sides focused on practical issues that benefit their businesses and people.
According the Deputy Secretary, the two sides discussed customs procedures to make it easier for both sides' businesses to export goods to each country, during which they underlined the need for electronic certification and the establishment of a process to check each other in the field of agriculture.
He emphasised the two sides' commitment to realising the US$2-billion goal in two-way trade by 2024.
The completion of the market opening process for Vietnam's lemons and grapefruits, and New Zealand's squash and strawberries in late 2022 has demonstrated that effort, helping the two countries move closer to this goal, he said.
Vietnam and New Zealand are complementing each other in agriculture cooperation, he said, noting that the partnership has benefited both peooples because they can buy high-quality agricultural products at good prices.
He mentioned the possibility for New Zealand to export medical management software products to Vietnamese hospitals, adding that through the ASEAN-Australia-New Zealand Free Trade Area (AANZFTA), it is possible for Vietnamese engineers to work in New Zealand.
There will be many opportunities for the two nations to promote multifaceted cooperation in the near future, thus further strengthening the bilateral relations, he went on.
According to Vitalis, education the most important field in bilateral relations, and the two sides should consider speeding up cooperation in this area.
New Zealand can provide training courses for Vietnam, while Vietnam can benefit from the Oceania nation's high-quality education, he said.
Regarding investment in Vietnam, Vitalis said his country prioritises investment in high-quality sectors that can bring about positive changes such as health and education, thus making great contributions to Vietnam and also benefiting New Zealand itself.
Trade between Vietnam and New Zealand has grown strongly since the two countries established the comprehensive partnership in 2009, with an annual average growth rate of 14.2%.
Vietnam is now New Zealand's 13th largest trade partner. The two-way trade hit US$1.2 billion in 2022, up 14% year-on-year.
The two sides set a goal to lift their two-way trade to US$2 billion by 2024.
Established in 2006, JTEC is an important cooperation mechanism to promote economic and trade cooperation between the two countries.
During the 8th meeting, the two sides agreed to strengthen bilateral cooperation in trade, investment and economy, including multilateral trade negotiations, agriculture and agribusiness, clean technology, development of agricultural supply chain, education, aviation and tourism.
Source: VNA/SGT/VNS/VOV/Dtinews/SGGP/VGP/Hanoitimes