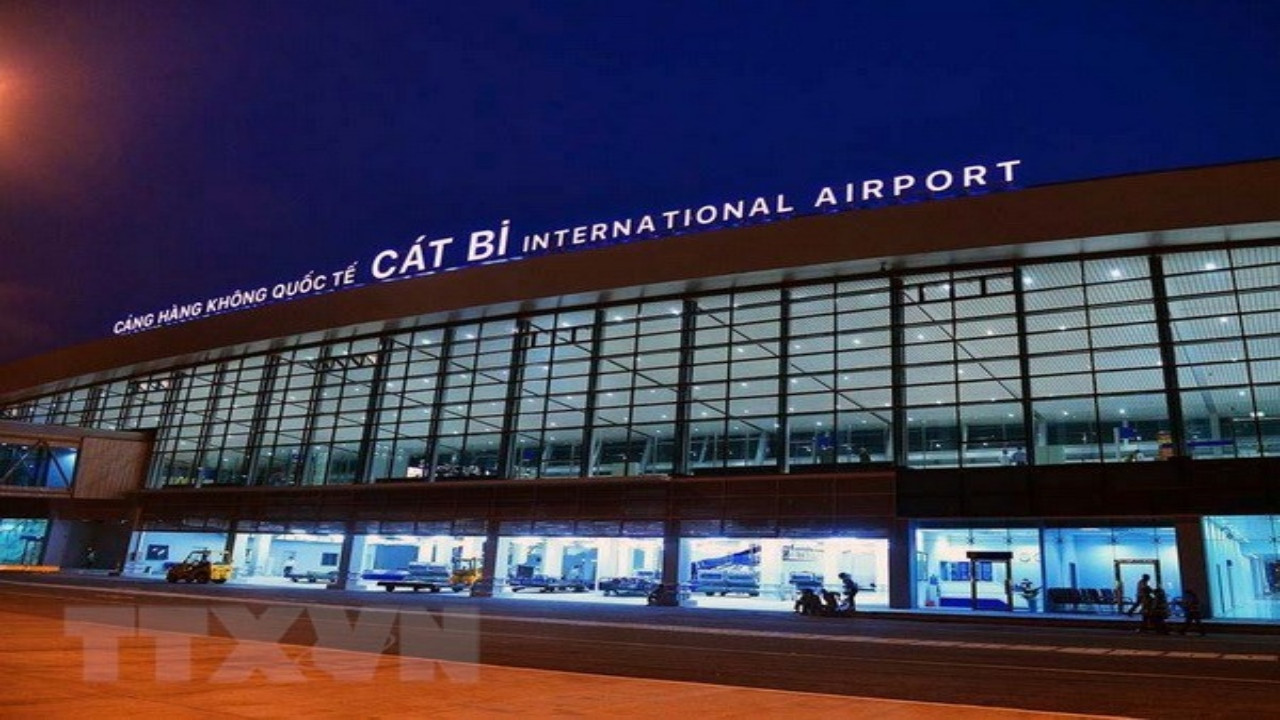 Construction of Terminal T2 at Cat Bi International Airport in Haiphong City is expected to begin in the fourth quarter of the year.
The terminal will have to be completed within one year, according to Notice No. 192/TB-VPCP on the conclusion of the prime minister, regarding his inspection of the progress of projects in the northern city, issued by the Government Office.
The government of Haiphong City was told to join with the ministries of National Defense, Transport, Natural Resources and Environment, along with other agencies, to clear hurdles for the project, facilitate site clearance, and ensure it is finished on time.
The new passenger terminal is expected to help the airport meet rising travel demand and improve the quality of services.
Upon completion, the terminal will be able to process five million passengers per year, according to the Airports Corporation of Vietnam.
Terminal T2 will handle domestic air services, while the existing T1 will become the main international terminal of the airport.
With a total area of 15,630 square meters, Terminal T1 of Cat Bi has been in service since May 2016, serving some two million passengers per year.
VN-Index likely to continue fluctuating
The stock market is still consolidating above the support level of 1,060 points. If the level is held and liquidity remains positive, the benchmark VN-Index is likely to head towards 1,080 points, said experts.
Last week, the market fluctuated despite news of another rate cut by the central bank.
The VN-Index on the Ho Chi Minh Stock Exchange (HoSE) finished the week at 1,063.76 points, while the northern benchmark HNX-Index was at 217.64 points.
For the week, the former slightly fell 0.3 per cent but the latter increased by 1.74 per cent.
Foreign investors net sold more than VND2.2 trillion (US$93.7 million).
Tien Phong Securities Corporation (TPS) said that the VN-Index marked a weekly loss after gaining for two straight weeks. However, the benchmark stayed above 1,060 points, meaning that the retesting of the downtrend starting from January has been successful and the market has a chance to move towards the target level of 1,080 points.
"The market is currently still consolidating above the support level of 1,060 points. If this level is held and liquidity stays in the positive as it does now, the index is likely to head towards 1,080 points," said TPS.
Meanwhile, Saigon - Hanoi Stock Exchange (SHS) said that after a good performance week and creating a short-term bullish wave, the market entered a correction zone with two consecutive weeks of almost going sideways.
The VN-Index continued to form a tight small accumulation foundation.
With the current state, SHS said that the VN-Index has almost completed the cumulative correction foundation and is ready to continue the next uptrend.
If it surpasses the near resistance area of around 1,075 points, the index can expect to move towards the resistance area of 1,100 points and then around 1,150 points, and create a premise for a medium-term bull market.
On the other hand, if the market fails to form a medium-term uptrend, which is beyond the 1,150-point area, SHS believes that the support level of the VN-Index will be around the area of 1,000 - 1,050 points.
"With a tight accumulation base over the past six months, the market has created a good enough accumulation base to form a medium-term wave. In our view, at the moment, the market is moving from a cautious to a more positive state," said SHS.
From a technical perspective, Vietcombank Securities Company (VCBS) said that the benchmark index ended the week with a red candle, trading around the reference level due to pressure of selling force that was mainly in large-cap stocks.
However, the market is still actively accumulating around the 1,060 - 1,070 point area along with the divergences among stock groups.
With a positive scenario, VCBS forecasts that the VN-Index will continue to fluctuate in the next 1-3 sessions. The securities firm recommended that investors continue to hold onto the market, and may consider disbursing from 20 to 30 per cent for stocks that are tending to accumulate and successfully test the resistance area.
VCBS also said that after the reduction in operating interest rates on May 23, the State Bank of Vietnam (SBV) had a meeting with senior leaders of 26 commercial banks.
Accordingly, commercial banks agreed from May 29 to reduce lending interest rates by 0.5 percentage points for existing outstanding loans to provide financial support to customers amid production and business activities showing signs of slowdown.
"This continues to be a positive signal showing the consistent policy of SBV in reducing borrowing costs of the economy, supporting businesses and people to access capital at low interest rates," VCBS said.
Vietnam's exports fall further in first half of May
Vietnam reported only US$23.9 billion in foreign trade in the first half of May, down 10.8% from the second half of April, official data showed.
Exports plunged 21.3% from the second half of April to US$11.5 billion, which is US$988 million lower than import spending.
The falling export value was attributed to significant declines in key product groups, such as computers, mobile phones, electronics and components, iron and steel, and apparel.
Still, Vietnam enjoyed a trade surplus of some US$6.6 billion in the year through May 15, though total trade plummeted 15.4% year-on-year to US$230.6 billion. Foreign-invested companies contributed US$160.3 billion to the total, down 15.1% year-on-year.
During the period, Vietnam's goods shipments abroad totaled US$118.6 billion, down 12.8% from the year-ago period, and over US$112 billion was spent on imports, a drop of 18% compared to the same period in 2022.
Bien Hoa-Vung Tau expy likely behind schedule due to slow site clearance
Work on three components of the first-phase Bien Hoa-Vung Tau expressway project is scheduled to begin by June 30, but site clearance for components 1 and 2 in the Dong Nai Province area has yet to be completed.
Dong Nai authorities have requested relevant units to speed up site clearance for the Bien Hoa-Vung Tau expressway and the building of resettlement areas for households affected by the project, reported the Vietnam News Agency.
The expressway has a total length of 53 kilometers, passing through Dong Nai and Ba Ria-Vung Tau provinces. The section running through Dong Nai Province is 34-kilometer long, which includes two components.
To build the expressway, the local authorities have to revoke hundreds of hectares of land from different organizations and nearly 4,000 households.
Dong Nai plans to build four resettlement areas for residents affected by the Bien Hoa- Vung Tau expressway project. However, three projects of which now face issues relating to land origin that need to wait for a land use purpose conversion.
Meanwhile, work on the 30-hectare Long Duc resettlement area in Long Thanh District begun earlier this year, but the project is inactive now due to hindrances to site clearance.
Floor domestic airfares likely to be abolished
A majority of National Assembly (NA) deputies have agreed to maintain the airfare cap but remove floor prices of domestic air tickets.
The NA Standing Committee said that removing the floor prices of domestic air tickets is necessary to encourage competition, reduce service prices, protect consumer interests, curtail social costs, and promote economic development.
Scrapping floor air ticket prices does not mean that unhealthy competition between air carriers is allowed, according to the NA Finance and Budget Committee.
Even if businesses lower their prices, they will still have to comply with the Competition Law. Removing the floor price does not affect airlines, as the floor price has been set at VND0 by the Ministry of Transport for years.
Moreover, it will assist in the development of the domestic aviation market, thereby increasing the number of people using air travel services and contributing to increasing state budget revenue.
On the other hand, the NA Finance and Budget Committee said that the domestic airfare cap is still necessary, as scrapping it will take away the Government's tool to manage aviation services and make it hard for low-income earners to access air services.
Without a price cap, airlines can significantly increase prices of air tickets, particularly during peak hours.
HCMC set to start work on bridge next month
Work on a VND500-billion bridge which will connect District 7 and Nha Be in HCMC is expected to start next month and be completed by the end of next year, according to the local authorities.
The Rach Dia Bridge project was approved by the HCMC People's Committee in 2001 and underwent further adjustments in September 2017 to replace the deteriorating bridge on Le Van Luong Street.
The new bridge is set to span nearly 318 meters and requires a total of over VND512 billion.
Luong Minh Phuc, director of the Transportation Works Construction Investment Project Management Authority of HCMC, said on May 23 that the investor had sent the compensation budget to the authorities of District 7 and Nha Be District.
Particularly, 41 out of 50 affected households in District 7 and 28 of 45 households in Nha Be District have accepted the compensation and handed over their land.
TCIP asked the People's Committees of District 7 and Nha Be District to speed up the compensation for the households affected by the project and to hand over cleared land before June.
Work on the new bridge will last 18 months, with the deadline scheduled for the end of 2024.
Rach Dia Bridge is one of the four aging bridges along Le Van Luong Street that needs to be replaced.
After the collapse of the Long Kieng Bridge in early 2018, the local authority decided to build a new one with VND598 billion. Work on the bridge started in October 2018 and is expected to be completed in September.
Businesses face high risk using open-source software
The attractiveness of open-source software lies in its cheap price; yet it has various weaknesses that pose serious threats to business users during their digital transformation process.
The most prominent disadvantage of open-source software is loose security even though this aspect is usually the first for enterprises to consider when choosing for their digital transformation and daily operations. These software pieces are posted publicly online, meaning it is not hard for hackers to pinpoint their vulnerabilities and take advantage of them.
Even when a security fault is identified, it is hard to update the software or eliminate that weakness as that piece was developed by various people, and thus no capable units are in full charge of patching. That is not to mention sometimes the software itself contains spyware to steal sensitive information without the awareness of its users.
Another drawback lies in the operation. Not many open-source software pieces provide a manual as detailed and precise as the one from commercial software. Hence, users may find it frustrated when encountering certain errors that are not described in the manual. Also, the infrastructure cost to implement the software might not be optimized.
One more negative of open-source software is its low compatibility with other platforms or programs. This leads to unstable operation and some rather severe cases of computer crash that requires much time and effort to handle and even data loss or leaking.
Since they are quite cheap, open-source software pieces usually lack after-sale support from experts. Even with the help of the developer community of this kind, there is no explicit commitment to the quality of this support. More seriously, certain open-source software projects can be stopped at any time when the providers change their business strategy, resulting in a need to find replacement, which is extremely costly.
Other risks include difficulties in software upgrades on demand because the person in charge of the program has no deep understanding of that software; slow performance compared to closed-source software owing to redundant codes and functions that occupy system resources; and software copyright disputes as the software might have piracy or unauthorized content, which could ultimately cause legal trouble to users.
Shell to deliver first LNG shipment for PV Gas
PetroVietnam Gas JSC (PV GAS) confirmed a purchase with Shell PLC, facilitating the world's leading LNG supplier to transport its first LNG shipment to Việt Nam.
PV GAS issued a tender on April 27 to import LNG for the trial run and commercial operation of the Thị Vải LNG warehouse.
And Shell was selected as the supplier for the first imported LNG shipment to the warehouse.
The signing confirmation is a milestone for developing PV GAS and Việt Nam gas industry. The Thị Vải LNG Warehouse is the largest scale in Việt Nam with a capacity of phase 1 of 1 million tonnes per year, then expanding to 3-6 million tonnes.
It can receive LNG vessels of up to 100,000 tonnes of LNG ships, with the main phase 1 facility including LNG storage tanks with a capacity of 180,000 m3 and technological equipment designed according to Vietnamese and international standards and regulations.
The system will supply about 1.4 billion m3 of gas to Nhơn Trạch 3 and 4 power plants, industrial customers, and a part of Việt Nam's gas shortage after 2023.
Hanoi urged to bolster economic growth drivers
Permanent Government members have asked Hanoi to bolster its economic growth drivers, namely investment, export, and consumption, during a recent meeting with the Standing Board of the municipal Party Committee.
They highly valued efforts and achievements by the Hanoi Party organisation, administration, and people which have joined the entire country in stablising the macro-economy, controlling inflation, boosting growth, guaranteeing major balances, developing culture, maintaining political stability and social order and safety, consolidating defence - security, and promoting external relations and integration into the world, according to the Government Office's announcement of the permanent Government members' conclusions made at the meeting.
However, there remains certain shortcomings, difficulties, and challenges to be addressed, they pointed out, elaborating that Hanoi hasn't made any considerable breakthroughs in economic development, especially sustainable and substantive development; the growth pace is slower than expected; while environmental pollution, traffic congestion, and infrastructure overload have yet to be improved remarkably.
They requested that the city should be further aware of its role, position, potential, and importance to national development; identify difficulties, challenges, and weaknesses; strongly bring into play self-reliance, solidarity, and the spirit of thinking big and acting bold so that it can develop comprehensively, fast, and sustainably and deserve its status as the national political - administrative headquarters and a big centre in terms of economy, culture, education - training, science - technology, and international integration of the whole country.
Hanoi should actively grasp the situation; stay ready to respond to any circumstances; improve the capacity of forecasting possible impacts on local economic development; make flexible, timely, and effective policy response; and bolster economic growth drivers (investment, export, consumption). Besides, it needs to seriously implement the Government and the Prime Minister's resolutions and directions on dealing with problems in the monetary, credit, real estate, stock, and corporate bond markets.
The capital needs to improve the management, use, and disbursement of public investment, along with funding for the socio-economic recovery and development programme and the three national target programmes. It should strive to complete the tasks and overfulfill the targets for 2023 so as to create a solid stepping stone for the following years. It is also necessary to mobilise every resource for development, promote public - private partnership, and apply new governance, investment, and management models.
Permanent Government members demanded Hanoi push ahead with administrative reforms; build a system of administrative agencies with strong solidarity, high unanimity, integrity, and democracy that work efficiently and centre on people and enterprises; and develop a contingent of professional, civilised, modern, incorruptible, and devoted cadres and civil servants who work for the sake of the people.
They underlined the importance of quickly devising the Hanoi Capital Planning for 2021 - 2030, with a vision to 2050; and adjusting the general planning for building the city by 2045, with a vision to 2065 that features a reformed mindset and a breakthrough, strategic and long-term vision, capitalises on every distinctive potential, outstanding opportunities and competitive edges, and addresses outstanding problems and weaknesses.
The city was also told to step up the implementation of national digital transformation measures and increase the provision of online public services on the National Public Service Portal.
In addition, Hanoi needs to boost socio-economic development in tandem with preserving and bringing into play traditional cultural values and protecting the environment. Social issues, social welfare policies, job creation, and educational and manpower quality should also be given due attention.
The officials required Hanoi further to guarantee political security as well as social order and safety, step up substantive diplomacy and international integration, enhance disease prevention and public health care, and augment the fight against corruption and other negative phenomena.
Local authorities were also asked to boost the Party and political system building; create a lean, efficient, and effective apparatus; and develop a contingent of moral and capable personnel, especially leaders of agencies, according to the announcement.
Banks asked to bring interest rates down
Measures must be taken to bring down bank interest rates, said the State Bank of Vietnam (SBV) at a meeting with CEOs from 26 commercial banks in the country on May 25.
In an earlier development, the SBV issued directives to reduce the policy interest rate by 0.5%, from a previous 5.5% to 5% a year, as well as the overnight interest rate in interbank electronic payment and compensatory lending interbank from 6% to 5.5% a year. In addition, the refinancing interest rate was also adjusted by half a percentage point, from 5.5% to 5.0% a year.
In another directive, the SBV has instructed commercial banks to allow restructuring repayment and maintain debt groups to support borrowers and businesses.
Failure to comply with the directives in a timely manner will result in severe penalties, according to the SBV. Banks were also told to minimise inconveniences and facilitate problem-solving to support customers.
In an earlier meeting with commercial banks and governmental agencies, Deputy Prime Minister Le Minh Khai stressed the importance of continuing with cost-cutting measures, reducing deposit rates, promoting economic development and granting businesses easier access to funds.
"Establishing a reasonable and sustainable deposit rate is crucial to our efforts to adjust lending rates," he said.
Businesses and banks must realise they are in this together. Banks will go well when businesses do well, he added.
He said top priorities for the SBV in the near future include the management of credit growth, interest rates, exchange rates and connectivity in the banking sector. Stronger efforts are also required to improve the sector's transparency, the business environment, the macroeconomy, exchange rates and the stability of the commercial banking system.
Khai urged the SBV, governmental ministries and commercial banks to provide timely information to the public and take additional steps to handle cases of harassment, corruption and group interests.
Measures to develop sustainable value chain of lotus silk products discussed
A workshop to kick off a project on developing a sustainable value chain of products from lotus silk in Vietnam to support the flood storage strategy for the Mekong Delta region was held by the International Union for Conservation of Nature (IUCN) in An Giang province on May 26.
In the 2018-2021 period, the IUCN piloted a project in support of a water retention strategy for the Mekong Delta in An Giang, Dong Thap and Long An provinces, helping over 1,000 farmers develop flood-based agricultural economic models.
Tang Phuong Gian, field coordinator of the IUCN, said the new project will also benefit farmers in these localities in the 2023 – 2025 period, focusing on providing farmers with technical support and training to implement lotus cultivation to increase flood retention areas; and building a sustainable supply chain for lotus silk products by supporting the livelihoods and improving economic conditions for lotus farmers and craftsmen in traditional villages.
According to Truong Kien Tho, Vice Director of the Department of Agriculture and Rural Development of An Giang province, the floodwater-based lotus cultivation model has contributed to helping local farmers shift to an "agricultural economy" mindset by integrating multiple values from lotus plants and diversifying products, thus improving incomes for locals.
The model also contributes to preserving and restoring the water storage capacity, increasing sediment deposition on farmland, reducing the use of fertilisers and pesticides, promoting natural aquatic species, and improving biodiversity and agricultural cultivation ecosystem, he went on.
According to Vice Director of the Department of Agriculture and Rural Development of Dong Thap province Le Quoc Dien, the locality boasts great potential and advantages to produce and develop products from lotus, and lotus silk.
Lotus cultivation becomes one of the key industries of the locality and is expected to develop stronger in the coming years, he said.
Delegates also shared experiences and opportunities, as well as challenges related to market access, planning, and policy support for these models.
In 2017, the Government approved a resolution on sustainable development of the Mekong Delta in response to climate change, producing marked changes in the region's development.
Agriculture based on the flood season in upstream provinces such as An Giang, Dong Thap and Long An is considered as a method of cultivation in harmony with nature.
HCM City int'l food expo slated for late June
The Ho Chi Minh City International Exhibition of Food and Beverages 2023 (HCMC FOODEX 2023) is scheduled to take place in late June, about four months early, to support enterprises amid the numerous challenges they face.
This year's event, the second of its kind, will be held at the Saigon Exhibition and Convention Centre from June 28 to 30 by the Investment and Trade Promotion Centre of HCM City (ITPC) and the city's Food and Foodstuff Association (FFA), heard a recent press briefing.
This major food and beverage (F&B) trade show will feature nearly 300 booths where more than 200 Vietnamese and foreign F&B exhibitors will display and promote their products.
Items to be on display include raw and processed food products such as agricultural products, seafood, spices; machinery and equipment for food production, packaging and preservation, among others.
A range of activities will take place to promote the culinary culture of Vietnam and other countries during the three-day fair.
Seminars will also be held to discuss new trends and technologies in the processed food industry, opportunities and challenges to export to major markets, and the future of green, clean and sustainable food. Meanwhile, a conference will discuss ways to improve the competitiveness of exporters of food to China, a major market for Vietnam.
Visitors will also have a chance to participate in B2B matchmaking sessions aimed at connecting F&B businesses with potential trade partners and investors.
ITPC Deputy Director Tran Phu Lu said the HCMC FOODEX, first held in 2022, is set to take place in October annually, but amid declines in both domestic consumption and exports, the ITPC and FFA decided to advance this year's fair to late June to give timely assistance to businesses in seeking partners, expanding markets, and boosting exports.
Food processing is always an important sector with much development potential in Vietnam. In HCM City, it is one of the four key industries given priority and contributes about 14 - 15% to the local industrial production value. As Vietnam has signed a number of free trade agreements, F&B firms in the country, particularly in HCM City, have great advantages to tap into the domestic market and export to major markets in the world, he went on.
Hit by domestic and global economic uncertainties, this industry has witnessed a sharp fall in exports. According to the Ministry of Agriculture and Rural Development, agro-forestry-fishery exports stood at 15.66 billion USD in the first four months of 2023, down 13.3% year on year. In HCM City, the turnover dropped 19.8% while the industrial production index in the F&B sector also decreased 0.8%.
Echoing the view, FFA Vice Chairman Nguyen Dang Hien noted though food is among essential goods, this industry has still suffered from negative impacts of inflation and prolonged military conflicts in some regions around the world. Meanwhile, despite many promotion programmes, the domestic purchasing power remains weak.
Enterprises expect HCMC FOODEX 2023 will generate chances for them to connect with partners, introduce products to domestic and international markets, and access cutting-edge technology for production and business activities, he added.
Dozens of commercial banks cut savings interest rates
Dozens of commercial banks have simultaneously decided to reduce deposit interest rates from May 25, after the State Bank's decision to cut policy interest rates.
After maintaining the highest deposit interest rate among the commercial banks for several days, at 9.2% per year, An Binh Commercial Joint Stock Bank (ABBank) has lowered its savings interest rates by up to 0.8%.
According to the interest rate for online saving and ABBank App, the savings interest rates for terms from 15 months and above, which stood at 9.2% per year for a long time, dropped sharply to 8.4% per year for the 15-month term (down 0.8%), and 8.5% per year for the terms of 18 months and above (down 0.7%).
Vietnam Thuong Tin Commercial Joint Stock Bank (VietBank) also cut savings interest rates for the 4th time in a row since early May, down between 0.1 - 0.4%.
From May 26, Saigon Thuong Tin Bank Commercial Joint Stock Bank (Sacombank) also decreased deposit interest rates by between 0.1-0.4% for some terms. Meanwhile, Asia Commercial Joint Stock Bank (ACB) cut its savings interest rates between 0.2%-0.6%, with the sharpest decline recorded in the 12-month term with a drop of 0.6% to only 6.6% per year.
Notably, most banks reduced deposit interest rates for the three-month term, with the strongest decrease recorded at ACB (down 0.7 percent).
The group of the four biggest State-owned banks (Big 4) also continued to reduce deposit interest rates from May 26, with reduced rates from 0.1 - 0.7% per year.
Currently, the highest interest rate applied to this group is 7.2% per year.
The State Bank of Vietnam (SBV) has announced two decisions to further reduce policy interest rates, which will become effective from May 25, 2023.
According to the first decision, the interest rates of the overnight interbank electronic payment and compensatory lending for the capital shortfall in offset payments by the SBV will be reduced from 6.0% per annum to 5.5% per annum.
Under the second decision, the maximum interest rate of non-term and term deposits of less than one month remains unchanged at 0.5% per annum. The maximum interest rate of deposits with terms from one month to less than six months will be reduced from 5.5% per annum to 5.0% per annum.
The central bank's decision to further cut the policy interest rates aims to stimulate economic growth, support liquidity in the interbank market, and provide favorable conditions for borrowing and lending activities within the banking system.
Air passenger volume soars during first five months
Airports in Vietnam served up to 45.5 million passengers in the first five months of this year, an increase of 37.8% compared to the same period last year, according to the Civil Aviation Authority of Vietnam (CAAV).
Of the figure, there were 12 million foreigners and 33.4 million local passengers, marking a year-on-year rise of 679.6% and 33.4%, respectively.
In May alone, airports across the country served 9 million passengers, up 3.2% from the previous month.
Between January and May, Vietnamese airlines carried 22.4 million people, a year-on-year increase of 36.9%. Of the total, there were 16.7 million domestic passengers, up 5.7% from 2022.
The volume of foreign passengers reached 5.7 million, an increase of 5,525.1% higher than from the corresponding period last year.
The sudden rise in the number of passengers after more than two years of travel restrictions caused by the COVID-19 pandemic has led to an improvement in the business results of domestic airlines.
National flag carrier Vietnam Airlines saw revenue doubling year-on-year to 23.5 trillion VND (about 1 billion USD) in the first quarter of this year. It still reported a after-tax loss of 37.3 billion VND in the period, but it is a significant improvement compared to a loss of nearly 2.69 trillion VND in the same period last year.
The airline has restored its entire domestic flight network and resumed 90% of the international routes compared to the pre-COVID-19 pandemic.
Meanwhile, during the first three months of 2023, air carrier Vietjet posted revenue of 12.88 trillion VND and after-tax profit of 168 billion VND, increasing by 286% and 320% year-on-year, respectively.
Ancillary revenue, in particular, was reported at 4.31 trillion VND, accounting for more than 33% of the total revenue. The company's consolidated revenue and after-tax profit were almost 12.9 trillion VND and 173 billion VND, respectively.
Vietnamese port among most effective container seaports worldwide
Cai Mep port of Vietnam was ranked 12th among the 348 most efficient container terminals/port clusters globally, according to the Container Port Performance Index 2022 report (CPPI 2022) which was recently published by the World Bank and S&P Global Market Intelligence.
The port cluster was also named in the large seaport group with the container throughput exceeding four million TEU per year.
Most notably, it also retained its 13th position by the "administrative approach" index, according to a technical calculation, giving a higher portion to the popular vessel sizes in that port.
The CPPI report is developed annually in order to evaluate the worldwide seaport efficiency and is based on criteria related to the total time needed for completing the loading and unloading container of each voyage at a port for the entire year.
Covering an area of 48ha, Cai Mep international terminal is located at Lan Thanh district in Ba Ria–Vung Tau province and about 50km away from Ho Chi Minh City. The terminal features a wharf stretching for 600 metres and capable of receiving large container ships with a tonnage of 160,000 DWT.
Cai Mep terminal is fast becoming the first choice of many famous shipping lines around the world.
Exploiting digital resources, promoting socio-economic development
In an era of digital growth, Deputy Prime Minister Tran Hong Ha described digital resources as more than a mere "gold mine," but rather as a fresh resource capable of stimulating economic advancements.
This declaration was made at the Viet Nam - Asia DX Summit 2023, a forum designed to examine the role of technology in shaping economic landscapes.
The event, hosted by the Viet Nam Software and IT Services Association (Vinasa), took place in Ha Noi on Wednesday, with the theme, "Driving Economic Growth Enabled by Digital Data Mining and Smart Connectivity."
Speaking about the successes of a robust digital transformation in the economy, Deputy Prime Minister Ha underscored the Government's crucial role in navigating the change. He stressed that an evolution of the digital economy and society was contingent upon the Government's directive thrust.
Nevertheless, he also underscored that corporations and experts in the realm of digital transformation bear significant responsibility. They are expected to be proactive in advising and assisting the Government in policy development to shape the digital future, he noted.
The Deputy Prime Minister highlighted the necessity for Vietnamese tech enterprises to view their involvement in digital transformation as an active engagement in the global marketplace. This process entails extending their reach internationally, tackling major global issues, introducing new technologies and experiences to address domestic challenges, and pioneering effective economic models to catalyse economic growth and societal well-being in Viet Nam.
In the recent assessment by the United Nations, Viet Nam's digital openness ranked 86th among 193 countries and territories in the preceding year, an improvement of 10 spots from its position in 2020. Despite the progress, Ha expressed that the ranking still remains modest, urging the need for a sturdy digital infrastructure and foundation as well as a proliferation of digital services to generate digital data.
Moreover, the Government leader underscored the importance of promoting the development of digital infrastructure and ensuring the security of network information, accentuating these elements as crucial to Viet Nam's digital transformation journey.
He also emphasised the building for an ecosystem of products, services and solutions in the field of digital technology; strengthen international co-operation in digital transformation, especially investment co-operation, technology transfer, attraction and training of high-quality human resources.
In a bid to boost digital transformation, Nguyen Van Khoa, chairman of Vinasa, advocated for the creation of a national digital data master strategy, which he deemed essential for optimising the value digital data could bring to the economy.
The digital technology business community is both eager and prepared to work in tandem with the Government, ministries, departments, organisations and local agencies, Khoa said.
His proposition involves efforts to establish an open legal framework and a systematic data strategy, construct advanced and efficient digital data infrastructures, and facilitate data connectivity and sharing across localities, agencies, departments, and sectors.
At the crux of these initiatives, he envisages the creation of new services through data mining that would benefit citizens and businesses alike, and subsequently engender unprecedented value for the nation's economy and society.
Jan-May foreign investment reaches nearly US$11 billion
Fresh foreign direct investment (FDI) approvals in the year to May 20 had hit US$10.86 billion, down 7.3% over the same period in 2022, according to the Foreign Investment Agency at the Ministry of Planning and Investment.
The newly-registered FDI projects had total pledged capital of US$5.26 billion during the period, rising by 27.8% year-on-year.
The number of new FDI projects registered in May inched up by 1.2% over April and soared by 66.4% against the same period last year.
In addition, foreign investors injected an additional US$2.28 billion into the ongoing FDI projects, while also getting involved in transactions of mergers and acquisitions worth US$3.32 billion.
The results demonstrated rising investor confidence in Vietnam's business environment, according to the agency.
US$7.55 billion has been disbursed for FDI projects between January and May this year, sliding by 0.8% over the year-ago period.
Processing and manufacturing industries have attracted the largest amount of foreign capital inflows with nearly US$6.64 billion, or 61.2% of the total investment.
The finance-banking and real estate sectors ranked second and third, with a total pledge of US$1.53 billion and US$1.16 billion, respectively.
Source: VNA/SGT/VNS/VOV/Dtinews/SGGP/VGP/Hanoitimes