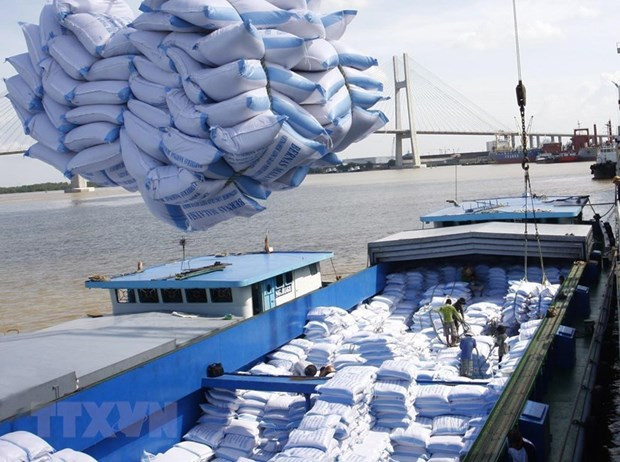 Vietnam exported 6.07 million tonnes of rice worth US$2.94 billion in the first 10 months of this year. (Photo: VNA)
About 6.07 million tonnes of rice worth 2.94 billion USD was exported in the first 10 months of 2022, up 17.2% in volume and 7.4% in value year on year, according to the Ministry of Agriculture and Rural Development.
Export prices averaged 484 USD per tonne during the period, down 8.3% from the same period last year.

The Philippines was the biggest importer between January and September, accounting for 43.9% of the total exports. It purchased 2.47 million tonnes of Vietnamese rice worth 1.14 billion USD, respectively up 35.3% and 22.2% from a year earlier.

Export revenue to Ivory Coast posted the fastest growth, over 71%, in nine months. Meanwhile, shipments to Ghana witnessed the sharpest fall, nearly 33%, the MARD said.
HCMC's Jan-Oct budget revenue beats estimate
HCMC's budget revenue totaled nearly VND393 trillion between January and October, exceeding the year's estimate by 1.6% and rising 22.33% year-on-year, according to the HCMC Department of Finance.
Of the total, domestic sources accounted for VND254 trillion, meeting 97.88% of the full-year target, and surging 19.32% year-on-year, a deputy director of the department reported at a meeting on the city's socio-economic performance on October 11.
Specifically, budget revenue from crude oil amounted to nearly VND24 trillion, skyrocketing over 100% versus the year-ago period, while imports and exports brought budget revenue of over VND114.7 trillion, a 19.29% year-on-year increase.
Within 10 months, the city's budget spending (excluding advance payments) totaled an estimated VND50,228 billion, reaching 51.9% of the target and down 20.7% year-on-year. HCMC has just disbursed over VND23,247 billion of public investment, or 53.1% of the annual plan, during the January-October period this year.
EU's yellow card continues affecting Vietnam's seafood exports
Seafood exports to the EU had reached US$1 billion in the year to September, but fish catch contributed only a minor part of the amount as a result of the European Commission's (EC) yellow card.
Data from the General Department of Vietnam Customs showed Vietnam earned some US$3.4 billion from seaproduct exports between January and September, up 40% year-on-year.
However, Vietnam's total fish-catch exports to the EU stood at US$272 million, accounting for a mere 8% of the amount and just over a fourth of the seafood shipped to the bloc. The remaining revenue from seafood exports to the EU came from farmed products, at US$771 million.
Most of the Vietnamese caught seafood was shipped to Japan, the U.S., China and South Korea, bringing in US$795 million, US$655 million, US$470 million and US$380 million, respectively.
According to the Vietnam Association of Seafood Exporters and Producers, the yellow card made life more difficult for Vietnamese fishermen amid scarce marine resources and fuel price spikes resulting from Ukraine-Russia military conflict.
The EC in October 2017 issued a yellow card due to Vietnam's inadequate action to combat illegal, unreported and unregulated (IUU) fishing. At the end of October this year, EC inspectors visited Vietnam to review the country's efforts to ward off IUU fishing.
Vietnam had strengthened its regulations over IUU fishing, Roberto Cesari, head EC inspector on IUU, said, adding that some flaws still existed in mitigating IUU fishing and carrying out regulations. Over the next six months, the EC delegation will continue evaluating IUU prevention in the country.
Vietnam-China trade put at US$148 billion in Jan-Oct
Bilateral trade between Vietnam and China amounted to US$148 billion between January and October, according to the Vietnam General Statistics Office.
Vietnam spent US$100.7 billion on imports from China and exported products worth US$47 billion to this neighboring country in the first 10 months of this year.
The January-October trade deficit from China was US$53.7 billion, up 18.8% year-on-year and nearing the entire year's figure in 2021.
The main products Vietnam imports from China include materials for production, consumer goods and agricultural products.
Currently, China is the largest export market for Vietnam's agricultural products and ranks third among the export markets for seafood, after the U.S. and Japan, according to the Ministry of Industry and Trade.
Exports of phones and components to China reached US$10.07 billion, up 42.1% year-on-year. Vietnam also gained US$8.88 billion from computers, electronic products, and components shipped to China between January and September.
Meanwhile, Vietnam exported huge volumes of machinery and devices worth US$2.66 billion to this country, up 39.8% year-on-year. In addition, wood exports totaled US$1.62 billion, up 43.9%.
The volume of agricultural products exported to China has kept increasing. Exports of seafood to China in the first three quarters of this year brought in US$1.21 billion, up 85.4% year-on-year.
100 enterprises to join Vietnam International Agriculture Fair in Can Tho
As many as 100 enterprises from both across the country and abroad will promote their products in 250 booths at the upcoming 2022 Vietnam International Agriculture Fair (AgroViet 2022), which will run from November 2 to November 6 in the Mekong Delta City of Can Tho.
According to the organising board, the fair will therefore showcase a range of high-tech agricultural products, machinery, agricultural equipment, modern agricultural product processing lines, processing and preserving agricultural products, agricultural materials, fertilisers, and pesticides.
Furthermore, several trade promotion programmes will also be held within the framework of the event.
Moreover, the opening ceremony of the event will also witness the launching of product traceability management system in Can Tho.
Economic highlights in the first 10 months of 2022
The General Statistics Office officially announced economic data for October and the first ten months of 2022, demonstrating the economic recovery as October data contributed significantly to the year's development.
First, the index of industrial production (IIP) in the first 10 months was estimated to increase by 9 percent over the same period. Demand improved significantly, reflected in the retail sales of consumer goods and services, estimated at VND4,643.6 trillion, up 20.2 percent over the same period.
Second, investment capital flow prospered, in which capital from the State budget in October was estimated at VND53.6 trillion, up 24.2 percent over the same period.
As for foreign investment, the amount of realized capital increased by 15.2 percent, reaching US$17.45 billion, the highest figure in the same period over the past five years.
Notably, export and import turnover maintained upward momentum over the same period. Compared to the trade surplus of up to US$9.4 billion in January-October period, the figure in October alone accounted for nearly ¼ of that amount.
In that context, the 10-month average consumer price index (CPI) climbed up 2.89 percent over the same period, making the year's target below 4 percent.
However, rising global interest rates also caused investment flows to decrease. For Viet Nam, although the amount of realized FDI capital reached a record in the same period of the past five years, the registered FDI inflow fell.
Over 13,000 new businesses established in October
Some 13,000 businesses were set up in October, a 13.6% rise against September, with total registered capital of VND106,900 billion.
In the January-October period, 125,800 businesses were established with total registered capital of VND1,379 trillion and 835,000 employees, according to the General Statistics Office. Compared to the same period last year, the number of businesses rose 34.3%, capital increased 5.7% and employment increased 18%.
Around 52,700 companies resumed operations in October, which rose 49% year-on-year, bringing the total number of businesses that restarted operations in the January-October period to 178,500.
On average, there were about 17,800 newly-established and re-opened firms each month.
The service sector had the most newly founded businesses, followed by the industrial and construction sectors and the agro-forestry-fishery sector.
Vietnam's companies commit sustainable business practices: PwC Vietnam
About 80% of Vietnam's companies have made ESG commitments or plan to do so in the next 2-4 years, according to PwC Vietnam's ESG Readiness Report.
The report shows among the respondents, about 57% of foreign-invested enterprises have made explicit ESG commitments, while the remaining listed companies appear to have taken a "wait and see" approach. Interestingly, 40% of private family business respondents said they had made ESG commitments.
The top reason for pursuing ESG is brand image and reputation (82% of respondents), while the second most cited reason is to stay competitive (68%). Others include employee retention, talent attraction, and increasing pressure from investors, shareholders, and the government.
Over half of Vietnamese companies have yet to make any commitments or plans on ESG in the future and are small and medium-sized enterprises (SMEs). PwC Vietnam gave the figure, citing lack of awareness as the key barrier.
According to the report, the potential reasons for this are the recent lack of clarity around ESG information in the Vietnam market. This finding indicates a strong need for (pro)active dialogues between the Vietnamese government and the SME group, which will help improve the knowledge and gradually address the issue.
The findings also underscore the need for the business community in Vietnam to continually improve knowledge and execution on ESG, especially for the senior leadership team.
Only 29% of respondents who said that there is board involvement in ESG are confident in their Board's capabilities on ESG matters. However, 43% said they have not considered training their workforce, and only 26% plan for board-level training.
Cai Mep port wharf proposed for extension for bigger ships
Cai Mep General Port Company Limited has asked the Ministry of Transport for approval to lengthen a wharf of the port to accommodate vessels of up to 150,000 DWT.
With the current wharf, the Cai Mep Port in the southern province of Ba Ria-Vung Tau could handle vessels of up to 80,000 DWT, so the company proposed extending it by 29 meters to a total of 329 meters to make it possible to receive ships of up to 150,000 DWT.
The company said that the project would not impact the operation of the Vung Tau-Thi Vai navigational passage, neighboring ports or other wharves nearby.
The Ministry of Transport has tasked the Vietnam Maritime Administration with reviewing the proposal as part of efforts to draft a strategy for national port development from 2021 to 2030, with a vision to 2050.
Strong macroeconomic foundation fuels growing hiring demand
Vietnam's recruitment market is continuing on an upward trend following the strong recovery of the economy post-pandemic.
In the third quarter of 2022, Vietnam economy showed a firm bounce back post-pandemic. The World Bank recently raised its Vietnam GDP growth forecast to 7 per cent this year, backed by a recovery in exports, retail and tourism, plus a relaxed coronavirus containment policy.
According to the General Statistics Office of Vietnam, foreign direct investment (FDI) inflows reached $15.43 billion in the first nine months of 2022, increasing 16.43 per cent on year. This marks the highest nine-month FDI inflows since 2018.
The recruitment market, therefore, saw an upward trend. Adecco Vietnam's data shows steady growth in new job openings and applications. Increasing FDI inflows and investor-friendly policies for industrial zones lead to higher demand in manufacturing, engineering, and industrial real estate.
According to Thu Ha Nguyen, director of Hanoi Office at Adecco Vietnam, the demand for middle and senior-level roles in manufacturing is on the rise, especially in electronic manufacturing, since global electronic brands and original equipment manufacturing suppliers are relocating their production sites to Vietnam following months of supply chain disruption.
The service sector also recorded positive signs in hiring demand, especially in food and beverage, as easing coronavirus restrictions and high vaccine coverage allow people to return to their pre-pandemic habits. However, staffing in hospitality has been slow in recovering since Vietnam reopened for international tourism in mid-March.
While the global tech industry is going through a hard time of large layoffs and hiring freezes, the pendulum seems to swing the other way in Vietnam, with tech candidates only meeting about 50 per cent of the hiring demand.
According to Kim Truong, associate director of Permanent Recruitment, Adecco Vietnam, Vietnam is still a competitive market for foreign and local tech employers. More foreign investors are coming, plus the shortage of qualified candidates is exaggerating the war for talent. Tech experts are sought after to fuel digitalisation projects for digital banks, fintech firms and software companies.
With regards to hiring in the year-end season, candidate movement tends to slow down during Q4 as companies and candidates need to take more factors into account.
To enhance efficiency and ensure a smooth hiring process during the year-end season, both employers and candidates should communicate upfront about their needs and expectations.
Vietjet offers cheap tickets for Lunar New Year holiday
Passengers can easily book Vietjet's hundreds of thousands of attractive promotional tickets to fly during the Lunar New Year holiday.
During six golden days from November 1 to 6, hundreds of thousands of promotional Eco tickets up to 90% off will be opened for sale and passengers only have to apply the promotion code 2023 when booking at website www.vietjetair.com or Vietjet Air mobile app to receive attractive offers.
Promotional tickets are applied to all domestic routes from the North and Central to the south with flight period from January 6, 2023 to January 22, 2023 and routes from the South to the North and Central from January 23, 2023 to February 06, 2023.
IMF expert highlights policies motivating Viet Nam's economic growth
Effective policies applied by the Vietnamese Government have contributed to the country's positive good economic results so far this year, according to Era Dabla-Norris, Mission Chief to Viet
Nam and Division Chief in the International Monetary Fund (IMF)'s Asia and Pacific Department.
The first nine months of 2022 saw a fast recovery of the Vietnamese economy when COVID-19-related restrictions were removed.
The gross domestic product (GDP) in the first three quarters of this year expanded by 8.83 percent, motivated by solid production and exports as well as the growth of retail and tourism.
Highlighting some policies that have contributed to the financial results so far this year, Ms Era Dabla-Norris pointed out that the Vietnamese Government's shift of the COVID-19 control strategy and the complete reopening of the country's economy were the key to the economic motivations.
Second, low-interest rates and generally accommodative monetary policy allowed businesses to return to production when the economy reopened quickly.
Third, tax breaks and support for workers in the Socio-Economic Recovery and Development (PRD) Program helped the economy regain momentum.
Fourth, the reduction of environmental taxes and other taxes and fees on petroleum products helped to reduce the impact of world oil prices on Vietnamese households and businesses.
Finally, the price freeze for several services, including electricity, health care and education, contributed to keeping inflation under control.
However, Ms Era Dabla-Norris pointed to several challenges Viet Nam faced and gave several recommendations, especially on monetary and fiscal policies.
She also recently welcomed the trading band's expansion for the exchange rate and advised Viet Nam to maintain inflation at around 4 percent in 2023.
She underscored the need to maintain flexible policies and the financial system's stability, along with improving the business environment and the productivity of domestic firms, the capacity of laborers, and continuous economic digitalization.
In its latest global economic outlook report, the IMF predicted that the world economy would see a fall of 2.7 percent, while Viet Nam would enjoy a growth of about 5.8 percent.
VinFast recalls 730 VF e34 cars to replace sensors
The Ministry of Industry and Trade's Vietnam Competition and Consumer Authority has announced the recall of 730 VF e34 electric cars of Vinfast, which are available only in the domestic market, to check and replace their side crash sensors.
Among these 730 units, assembled from May to July, 709 had been sold, while the rest were still in stock of dealers.
The side crash sensor of the airbag system equipped with the VF e34 model is likely to encounter an incompatibility error with the airbag controller, and therefore may send an incorrect signal to the controller, VinFast said in a statement.
The company said it has not recorded any breakdowns or complaints from customers about the sensor errors.
Customers are advised to quickly bring their cars to the company's showrooms, service factories and distributors from October 17, 2022 to October 17, 2023 for free checks and replace of sensors.
Petrol prices rise by over VND400 per litre in latest adjustment
The retail prices of oil and petrol recorded an increase of more than VND400 as of 3 p.m. on November 1, following the latest price adjustments made by both the Ministry of Industry and Trade and the Ministry of Finance.
The changes see the price of E5RON92 gasoline increase by VND380 to VND21,870 per litre and that of RON95 bio fuel rise by VND410 to reach VND22,750 per litre.
This marks the third consecutive time that domestic petrol prices have increased after experiencing four recent reductions.
The ceiling prices of diesel oil, kerosene, and mazut are therefore to be capped at VND25,070 per litre, VND23,780 per litre, and VND13,890 per kilo, respectively.
As part of the adjustment period, the two ministries also decided to extract VND200 to VND300 VND per litre from the petrol price stabilisation fund.
This year has seen petrol prices undergo 29 price adjustments, with 16 increases and 12 drops, whilst one time prices remained unchanged.
Currently, the price of E5 RON 92 and RON 95 is hovering around VND21,800 and VND22,700 per litre, the lowest level since the beginning of the year and equivalent to the end of October, 2021.
Vietnam Sports and Cycle Expo to open in Hanoi

Thousands of sports lovers across the country will visit the 7th Viet Nam International Sports and Cycle Exhibition (VIETNAM SPORT & CYCLE EXPO 2022), which will take place from November 3 to 5 at the Hanoi International Exhibition Center (ICE) at 91 Tran Hung Dao Street.
Covering an area of 2500sq.m, the exhibition will have 150 booths, featuring products and services of 100 businesses in five main fields: outdoor sports and entertainment, fitness and health care, sports fashion, two-wheelers and accessories, and sports infrastructure.
The event is expected to attract the attention of the industry's business community and the community of people who love and practise sports, with more than 1,500 visitors visiting every day. In addition, it will be a platform for manufacturers and businesses to introduce and promote trade and exchange with the community.
In 2019, the exhibition welcomed over 6,000 trade visitors from 16 countries and territories; sports product manufacturers, importers, distributors, retailers and stores.
The exhibition will feature made in Viet Nam brands such as RITA VO SPORT, known for its MOVEMIA series exercise equipment, and DYNAMIC, which has nearly 30 years of experience in the production and export of sports products.
Hoa Sen Group records huge loss in Q4/2022

Giant steel maker Hoa Sen Group suffered a record loss of VND886 billion (US$35.7 million) in the fourth quarter of the fiscal year 2021-2022, starting from October 1, 2021 to September 30, 2022.
In the period, the group recorded revenue of VND7.9 trillion, down by half compared to VND15.7 trillion recorded in the same period last year.
Doing business below cost made the company's gross profit total negative VND230 billion, while in the same period last year this figure was VND2.47 trillion.
After deducting expenses, Hoa Sen reported an after-tax loss of more than VND886 billion. This was also the largest loss the business ever reported.
Explaining the third quarter business results, Hoa Sen said that the main reason was the continuous decrease in steel prices together with slow consumption demand, leading to a sharp decline in gross profit margin.
In the whole fiscal year 2021-2022 (from October 1, 2021 to September 30, 2022), Hoa Sen reported revenue of VND49.7 trillion, completing 107 per cent of the yearly plan but net profit was only VND251 billion, down 94 per cent.
Hoa Sen Group said that although the business plan for the fiscal year 2021-2022 was carefully built, the unforeseen fluctuations mentioned above made the business unable to complete the profit plan.
As of September 30, 2022, Hoa Sen's total assets decreased by 36 per cent compared to the beginning of the year at VND17.02 trillion. In which, inventory reached VND7.37 trillion, accounting for 43.3 per cent of total assets; fixed assets reached VND5.96 trillion, accounting for 35 per cent of total assets.
In the Vietnamese market, steel prices continuously fell while demand was slow, inventories could not be reduced immediately, leading to losses for businesses in the fourth quarter of 2022.
Luxshare ICT invests additional US$150 million in Nghe An
The central province of Nghe An on October 28 agreed on the investment planning for two foreign-invested projects worth $275 million, including one by Luxshare ICT.
The factory, which is invested by Luxshare – ICT Nghe An Co., Ltd., will produce electronic components with a capacity of 74 million products per year and an investment capital of $150 million.
The project's construction is expected to kick off in January 2023 and officially come into operation in March 2024. Once completed, the factory will generate 14,000 jobs.
It is the second project invested by Luxshare ICT Co., Ltd. in Nghe An, following a $140 million electronic component factory.
The other is the Tan Viet metal science and technology factory, which is invested by Yongjin Metal Science and Technology Vietnam Co., Ltd. with a total investment of more than $125 million.
The construction of the project is planned to divide into three components. The first component is expected to start operation in the fourth quarter of 2023, and the second and third are expected to be completed in the third quarter of 2026.
The two projects will be located in Dong Nam Economic Zone.
Two expressway projects asking for deadline extension
The Transport Ministry yesterday announced that the organizations in charge of Ben Luc – Long Thanh Expressway project and Cam Lo – La Son Expressway project have just asked for a deadline extension to 2025 and 2023, respectively.
Accordingly, Vietnam Expressway Corporation (VEC), responsible for the construction project of Ben Luc – Long Thanh Expressway has requested an extension to the end of the third quarter of 2025, 3 years later than the adjusted planned date approved by the Prime Minister in 2020.
At present, the total construction load of its 11 sub-projects is around 80 percent of the progress. However, as the procedures to allocate foreign capital to these sub-projects as well as their counterpart funds have not been completed yet, the main project needs an adjustment for its deadline.
Con Dao waste treatment plant to receive investment of over VND78 billion
Ba Ria – Vung Tau Province People's Committee has just issued Decision No.3319/QD-UBND on approving the investment plan for the construction project of Con Dao waste treatment plant, located in Con Dao District.
Accordingly, the project on a surface area of more than 1.9ha in Ben Dam of Con Dao District will receive the total investment amount of at least VND78.26 billion (US$3.15 million). The new treatment plant will have a capacity to process 36 tonnes of waste a day in 2030, increasing to 50 tonnes and 66.23 tonnes per day in 2040 and 2045, respectively.
At present, Con Dao District disposes about 25 tonnes of waste a day, while its current treatment capacity via incineration technology can only reach 5 tonnes per day. The amount of waste left in Bai Nhat landfill in the past 30 years has come to 70,000 tonnes.
VN to spend more to increase capacity of Inland Container Depot for export
Vietnam will invest in Inland Container Depot (ICD) more to increase the capacity of its dry ports.
The Vietnam Maritime Administration has just submitted the planning for the development of the inland port system in the period of 2021 - 2030 with a vision to 2050 for the Ministry of Transport's appraisal.
Accordingly, by 2025, the country's inland port system will be able to handle about 20 percent to 30 percent of the demand for import and export goods, with a total capacity of 6-8.7 million TEU per year.
The Northern region will have inland ports with a capacity of about 2.2 - 3 million TEU a year while the Central and Central Highlands regions have dry ports with a capacity of about 0.24 - 0.37 million TEU a year and dry ports in the South have a capacity of about 3.5 - 5.3 million TEU/year.
By 2030, the inland port system will be able to handle about 25 percent- 35 percent of the demand for import and export container transport with a total capacity of about 11.6 - 15.7 million TEU a year.
Storms and floods leave heavy socioeconomic impact on Danang
Storms and floods in October adversely affected Danang's socioeconomic conditions, the Danang Statistical Office reported.
October witnessed unprecedented torrential rains, flooding many streets and residential areas in the city, damaging properties and causing price spikes in some commodities and services.
Motorcycle service and repair costs soared 73.1%, household wares edged up 5.1%, while vehicle prices inched down 4.3% over September, Tran Van Vu, head of the office, said.
Overall, retail sales in the month were estimated to increase 3.1% over September and 17.4% year-on-year, at over VND5.8 trillion. Of the amount, sales at supermarkets stood at VND301 billion, dropping 0.8% versus the previous month and increasing 10.2% over the same period last year.
Tourism and travel-related services in October were not as good as in September, with revenue of VND225.3 billion, down 21.9%.
The storms in September and October damaged the province's tourism sector, leading to the sector's revenue and arrivals not being as good as expected despite the city's efforts to attract domestic and overseas tourists.
Meanwhile, the weakened tourism led to a drop in incomes of the consumer service sector, with profit from administrative support services and arts, entertainment and recreation services falling by 10.6% and 7.2%, respectively.
Hanoi calls for investment from major US corporations
Hanoi is calling for investment by large US companies in fields that both sides have great potential. Vice Chairman of the Hanoi People's Committee Nguyen Manh Quyen said at meetings with US authorities and businesses.
Quyen is leading a delegation from Hanoi to visit the US and Belgium from October 27 to November 4 to look for business opportunities and new partnerships after a long period disrupted by the Covid-19 pandemic.
On October 28, the delegation held a meeting with the Mayor's Office of San Francisco and organized a conference with San Francisco authorities and businesses on cooperation opportunities in investment, trade and tourism development between Hanoi and the state of California.
On the same day, at the meeting with Vietnam's Consulate General in the US, Hanoi's vice chairman made a brief presentation on the city's socio-economic conditions and visions to attract investment capital from US partners, especially those from San Francisco.
In Washington D.C, the delegation had a meeting with the Vietnamese Embassy in the US.
Throughout various meetings, Quyen introduced to investors investment incentives in the city, and the potential of Hanoi as one of the two largest economic hubs of Vietnam.
According to Quyen, the city is looking for more investment from the US to strengthen trade and economic cooperation.
In 2021, Hanoi's exports to the United States reached US$3.4 billion, accounting for 21.5% of the city's total exports, and an increase of 25.9% year-on-year.
In return, the city imported goods and products worth $1.3 billion from the US, representing an increase of 23%.
Source: VNA/SGT/VNS/VOV/Dtinews/SGGP/VGP/Hanoitimes