VIETNAM BUSINESS NEWS JANUARY 28
Quang Ninh: Cross-border trading with China resumed after Tet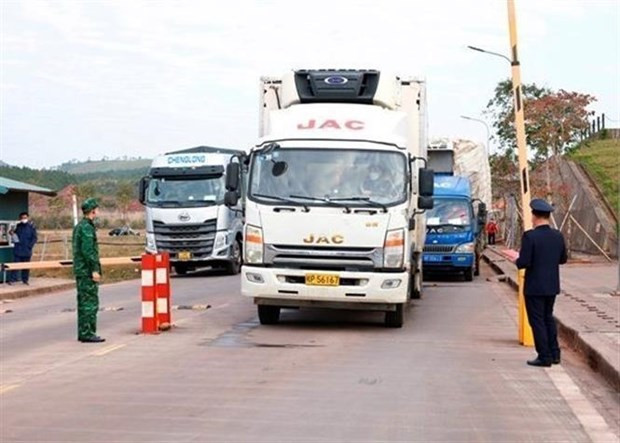 Trucks carrying exports to China via the Mong Cai International Border Gate on January 28 (Photo: VNA)
Export and import via Bac Luan 2 Bridge and pontoon bridge Km3 4 Hai Yen of the Mong Cai International Border Gate in northern Quang Ninh province resumed on January 28 morning after a week-long Lunar New Year (Tet) holiday.
Trading activities were suspended from January 21 (the 30th day of the 12th lunar month) to January 27 (the sixth day of the first lunar month).
They have been restored as agreed by the administrations of Mong Cai city of Quang Ninh and Dongxing city of China.
On January 28 morning, 115 trucks passed pontoon bridge Km3 4 Hai Yen to carry exports to China, including fresh seafood, flowers, frozen fish, and fruits. Meanwhile, four containers of electronic components from China passed Bac Luan 2 Bridge to enter Vietnam.
The Mong Cai International Border Gate is one of the first of its kind on Vietnam's border with China. It holds an important role in Vietnam's economic activities with regional countries via the northern borderline.
PM urges banking sector to make more innovations
Prime Minister Pham Minh Chinh expressed his hope that the baking sector will be more proactive, creative and responsive to policies in 2023 at a meeting on January 27 or the sixth day of the Lunar New Year.
The sector should continue to follow policies and guidelines adopted by the Party and the State, while closely coordinating with ministries, agencies and localities to fulfill socio-economic tasks, he said.
Priorities should be given to maintaining the macro-economic stability, controlling inflation, spurring growth and ensuring major economic balances, the leader continued.
PM Chinh asked the State Bank of Vietnam (SBV) to improve its analysing and forecasting capacity, provide timely consultancy and flexibly respond to developments of the domestic and international situation.
The central bank was also urged to intensify inspection and supervision, ensure transparency, promote digital transformation, raise service quality, and support innovations and small-and medium-sized enterprises.
It needs to further consolidate monetary institutions, mechanisms and policies to create a concerted legal corridor, thus giving a push to the monetary and credit markets, and making the baking sector safe, healthy, effective and sustainable, the PM stressed.
He also asked the sector to continue with mechanisms and policies in support of people and enterprises, noting that credits should be focused on production and business, especially priority fields.
For her part, SBV Governor Nguyen Thi Hong affirmed that the sector will drastically implement a project on restructuring the system of credit institutions in parallel with handling bad debts in the 2021-2025 period, promote cashless payments, boost digital transformation and reform administrative procedures this year.
Viettel named most valuable telecoms brand in Southeast Asia
Viettel is the most valuable telecoms brand in Southeast Asia and the 17th in the world, according to the latest Brand Finance Global 500.
At the 234th position globally, Viettel is the only brand of Vietnam and the only telecoms one of Southeast Asia listed in the 2023 rankings.
Meanwhile, e-commerce company Amazon surpassed Apple to become the world's most valuable though its brand value fell about 15% to 299.3 billion USD this year from 350.3 billion USD in 2022.
Apple dropped to the second place as its brand value declined 16% to 297.5 billion USD.
Brand Finance, founded in 1996, is the world's leading brand valuation consultancy present in 20 countries and territories.
Only VN locality enjoying trade surplus of over US$10 bln in 2022
Surpassing industrial hubs such as Binh Duong, Dong Nai and Bac Ninh, Thai Nguyen is the only Vietnamese locality that produced a trade surplus of more than US$10 billion in 2022.
The northern mountainous province generated an export surplus of US$11.6 billion in 2011, topping the list of localities that produced a trade surplus for the whole year, said the General Department of Vietnam Customs.
Statistics show the province raked in more than US$31 billion from exports (up 6.6% year on year), but only spent US$18.3 billion on imports (up 3.3% year on year).
Thai Nguyen mainly exports electronic products, garments, non-ferrous metals and non-ferrous metal concentrates, transport spare parts, paper and paper products. Its main imports included raw materials for animal feed processing, iron and steel products, machinery and equipment and spare parts, fabrics and textile materials.
According to the Thai Nguyen Provincial Portal, the locality last year attracted a large number of investors interested in production projects that mainly serve export needs. Other operational businesses applied for an increase in capital to expand production in the locality.
Notably, Samsung Electro-Mechanics Vietnam decided to pump an additional US$920 million into its expansion project, starting in 2022. Meanwhile, Sunny Opotech committed to pouring US$350 million into its second project in the locality.
The local export value in recent years has always grown by over 10% per year, directly contributing to the province's export value.
Newly-announced ceiling prices insufficient to cover costs: project developers

Many project developers are expressing concern that the ceiling prices for solar and wind energy set recently by the Ministry of Industry and Trade are not high enough to offset their costs.
The representative of four wind farms in Gia Lai Province Tran Minh Tien remarked that the construction of the wind farms was completed a year ago but they have been idle due to the absence of official purchasing prices.
"We have spent US$300 million to build our wind farms that have been lying dormant for one year. Meanwhile, interest payments and depreciated costs pile up day by day," said Tien.
The introduction of the ceiling prices did not make the representative any happier because it is never easy to negotiate an agreement with Vietnam Electricity (EVN), under which the power corporation purchases electricity from the wind farms at exactly the prices.
Even if the agreement is reached, the wind farms would not be able to make a profit with such low prices. They incur a cost of 7.0 cents for each kWh of electricity generated, whereas the ceiling prices for wind energy are set at VND1,587.12 (6.8 cents) per kWh.
"Price negotiation takes at least three months, and one year is for most cases. We will petition the government to raise the ceiling prices as the current prices are insufficient to cover our costs," added Tien.
The presentative of the Ben Tre Renewable Energy Community reveals that about 62 newly-built wind farms have been staying inactive since the expiration of the Feed-in Tariff (FIT) mechanism on November 1, 2021.
"No official purchasing prices in place means no revenues for wind farms. Meanwhile, the farms incur various costs day by day, including overheads, depreciated costs, and interest payments," said the representative.
He is concerned that renewable energy would not be able to take root in Viet Nam should solar and wind farms keep falling into disuse as such.
He also opines that the newly-announced prices would not make any difference to the gloomy situation as they are not high enough to propel the farms into profitability.
"Project developers need those ceiling prices that are high enough to help farms in distress turn profits. The newly-announced prices are not what they have expected," he added.
The denomination of the prices in VND, rather than in strong currencies as it was in previous legal documents, is another matter of concern for the representative because VND is depreciating against certain strong currencies, exposing the developers to an exchange rate pass-through.
"The denomination of the prices in VND would put developers at a cost disadvantage in the long term since most of their costs are denominated in USD," he added.
The representative calls for higher ceiling prices for renewable energy to support those developers that have built their farms in Viet Nam and incentivise those that are considering investing in the country.
According to the securities firm VnDirect, the ceiling price applicable to ground-mounted solar projects is 29.5 per cent lower than its corresponding expired FIT; floating solar projects, 17.3 per cent; onshore wind projects, 21.2 per cent; and offshore wind projects, 21.8 per cent.
As such, the prices are estimated to reduce the internal rate of return (IRR) of ground-mounted solar projects to 5.1 per cent; onshore wind projects to 8.0 per cent; and offshore wind projects to 7.9 per cent. Under the old FITs, IRRs of the projects were over 12 per cent.
Supermarkets, traditonal markets gradually resume normal operations amid abundant supply

Many supermarkets in HCM City such as Co.opmart, Co.opXtra, Co.op Food, Go!, Big C, Tops Market, and AEON reopened on January 23, the second of the new year.
Traditional markets too have been gradually reopening since January 23, especially those that sell fresh foods, flowers, fruits, and vegetables.
According to a Ministry of Finance report on the market and prices, sales in the city's wholesale markets on the fourth day of the new year (January 25) were 31-52 per cent of normal while prices were mostly normal.
The volume of vegetables and fruits arriving at the Thu Duc Wholesale Market was 1,172 tonnes, or 52 per cent of normal days and an increase of 28.5 per cent from the same period last year.
At the Hoc Mon Wholesale Market it was 860 tonnes, which was equal 48 per cent of normal days and a decrease of 12 per cent from last year.
Supermarkets have also launched many promotions after Tet to stimulate demand.
From January 25 to 27 customers at Co.opmart with bills worth VND500,000 or more have the chance to receive vouchers worth VND30,000-500,000 under its 'Hai loc don phuc – Sung tuc ca nam' programme.
The supermarket chain is also offering discounts on confectionery, milk and dairy products, vegetables, fruits, household utensils, cosmetics, clothes, and others.
Retail market predicted to recover in 2023

Although 2023 is forecast to see many difficulties, experts expect it will be a recovery year for the retail sector after the COVID-19 pandemic as there are many signs showing the return of investors and higher demand.
According to the Ministry of Industry and Trade (MoIT), the scale of the Vietnamese retail market is US$142 billion, which is expected to reach $350 billion in 2025, with contributions of 59 per cent to total GDP.
Last year, the total revenue from retail sales of goods and services rose 21 per cent, exceeding the target of 8 per cent.
A survey by Vietnam Report showed that over 53.8 per cent of total retail firms enjoyed similar and higher business results compared to the pre-pandemic level.
Experts held that the growth of retail sales is being supported by a rise in incomes and the strong recovery of the tourism sector as well as relevant sectors such as transport and accommodation, as well as the effectiveness of inflation control measures.
Additionally, there are signs of vibrant retail activities as many foreign investors have announced their plans to return after the pandemic.
Recently, Thailand's Central Retail said that it will pump additional VND20 trillion ($852.87 million) into the Vietnamese market in the next five years, pushing its investments in Viet Nam in the 2022-2026 period to VND65 trillion. With this plan, Central Retail will raise their coverage from 40 localities currently to 55.
Meanwhile, Japanese giant retailer Aeon Group plans to build another megamall in Ha Noi, raising its total trade centres in Viet Nam to 20.
Phung Trung Kien, Founder of Vietnam Holdings Inc, said that retail businesses will see good growth in early 2023, especially those trading consumer goods thanks to the Lunar New Year Festival.
In 2023, four trade centres are scheduled to be launched – Central Premium plaza, Vincom Megamall Grand Park, Sunrise City Central and Emart 2 with total area of over 116,000 sq.m.
Many experts predicted that this year, retailers will expand their selling channels, bringing their products to different trading platforms to optimise online retail channels.
Appropriate strategies needed to help local businesses join global supply chains: experts

Imports and exports continue to be a bright spot for Viet Nam despite facing numerous difficulties. According to experts, Vietnamese enterprises can penetrate the global supply chains with good strategies.
Tran Phu Lu, Deputy Director of the Investment and Trade Promotion Centre of HCM City (ITPC), said Viet Nam's economy experienced impressive growth in 2022. In addition to a faster-than-expected recovery in the fields of manufacturing, services and domestic consumption, he said exports were a main driving force.
The import-export turnover of goods in the first ten months of 2022 reached US$616 billion, up 14 per cent over the same period in 2021. The export value was $312 billion, up 15.9 per cent year-on-year.
He cited HCM City as an example, attributing the city's growth rate of more than 9 per cent to the significant contribution of import and export activities.
The total export turnover of goods by enterprises through HCM City ports, including crude oil, in the ten months of 2022 hit nearly $36 million, up 10.1 per cent over the same period in 2021. Commodity groups that have enjoyed robust year-on-year growth are textile and garment, up 42.7 per cent; machinery, tools and spare parts, 33.5 per cent; and seafood products, 69.7 per cent.
China remained the largest export market for HCM City enterprises, with a 10-month export turnover reaching $8.2 trillion, up 7.3 per cent year-on-year. It was followed by the US and Japan, with $6.3 trillion and $2.4 trillion, respectively.
Mizushima Kozo, Chairman of the Japan Business Association in HCM City, said that compared to other Southeast Asian countries, Viet Nam's economic recovery speed is extremely impressive.
A survey by the association showed 63 per cent of Japanese enterprises said they would continue investing in operation expansion in the next 1-2 years, reflecting that investors have great expectations for Viet Nam's economic growth.
According to Lu, difficulties facing the world economy and global trade are forecast to remain in early 2023, and Viet Nam's export growth will depend on the inflation situation as well as pandemic prevention and control measures in large export markets. However, he said, it also provides an opportunity for enterprises to overcome challenges and maintain export growth.
Export enterprises can take advantage of tariff reductions under free trade agreements (FTAs) that Viet Nam has signed, especially new-generation FTAs such as the Comprehensive and Progressive Agreement for Trans-Pacific Partnership (CPTPP) and European Union-Viet Nam Free Trade Agreement (EVFTA), he said.
As Vietnamese goods have shown their quality and prestige, and the structure of exports has also undergone a strong shift from exporting raw materials to processed products with high added value, enterprises should seize this opportunity to expand export markets and increase their export turnover, Lu said.
Talking about Viet Nam's export potential, Alex Tatsis, Economic Section Chief at the US Consulate General in HCM City, said that Viet Nam is the 10th largest trading partner of the US globally and a vital link in the supply chain of essential goods to the US economy.
US supply chain links with Viet Nam are not one-way, he said, saying that Viet Nam imports computer chips, hardwoods, cotton, and animal feed from the US to use as raw materials for producing semiconductors, furniture, apparel and domestic seafood.
Two-way trade enables Viet Nam to develop its domestic economy and exports to global markets. He said that the US had paid attention to investment to help Viet Nam strengthen its role in the global supply chain in the long term.
The US enhances trade facilitation and the competitiveness of the private sector in Viet Nam, helping small and medium-sized enterprises to improve their production capacity, access financial resources, and embark on digital transformation, Tatsis said, adding that this enables them better participate in the global supply chain for the mutual benefits of the two countries.
Outstanding loan falls sharply in Q4

The Vietnamese stock market witnessed a turbulent year in 2022. In the last quarter of 2022, the market plunged and hit a two-year low of below 900 points in the middle of last November.
The quick and strong recovery helped the VN-Index recoup the majority of its losses before being corrected, and it ended the quarter with an 11 per cent drop.
After a slight gain in the third quarter of last year, the whole market's outstanding loan balance posted a significant decrease in the fourth quarter. According to estimations, as of the end of 2022, outstanding loan balance of securities firms was VND120 trillion (US$5 billion), a decline of VND40 trillion over the previous quarter. The amount excluded triparty loans.
Of the outstanding loan balance, margin lending accounted for around VND115 trillion, while the rest was cash advances. Margin balance of the whole market was estimated to fell about VND40 trillion over the previous quarter.
After peaking in the first quarter of last year, the market's margin balance tended to fall after a force-sale wave. On the other hand, many securities firms also raised capital dramatically in the past year.
Therefore, the margin to equity ratio at most securities was below 1x at the end of 2022 instead of approximately 2x (the maximum prescribed level) as of March 31, 2022. This means that securities companies still have room to lend, and the pressure to raise capital is no longer as urgent as it was a year ago.
Foreign securities companies have been competing with and even surpassing domestic enterprises in some aspects. For example, in the lending race, Mirae Asset has been leading for many quarters in terms of outstanding loans, while KIS and KB Securities were also in the top list.
While most domestic securities companies saw sharp decreases in outstanding loans, according to statistics in the fourth quarter of last year, foreign ones still maintained stable lending activities.
Lending activities shrank due to unfavorable movements in the general market.
With great financial potential, foreign securities companies are ready to raise capital and cause great competitive pressure in all aspects, from service quality to the number of branches and especially in the ability to provide loan services.
The huge development potential of the Vietnamese stock market is expected to continue to push the group of foreign securities companies to spend money to gain market share, and if there are no more breakthrough changes, it is likely that domestic securities companies will be lagging behind.
Jewellery companies brace for God of Wealth Day rush
Jewellery companies have stocked a wide range of gold items to meet the usual surge in demand on the God of Wealth Day, which this year falls on January 31.
Many people believe buying a piece of gold on the day, which falls on the 10th day of the lunar year, brings good fortune and prosperity to their business and family through the year, and so buying usually skyrockets.
This year, besides traditional figurines of the God of Wealth inscribed with the words Phuc (Happiness), Loc (Prosperity), Tho (Longevity), and Tai (Wealth), the 12 zodiac animals and lucky charm bracelets made of 24k and 18k gold, companies have also launched a wide selection of cat-inspired statues and jewellery since this is the Year of the Cat.
Le Tri Thong, CEO of Phu Nhuan Jewelry JSC, said his company has launched many unique products with new designs and packaging and at various price points to meet a range of demand.
PNJ has also launched limited edition sets of three, six and 12 gold pieces inscribed with word carrying special meaning on each piece, lucky charm bracelets, and cat figurines.
Bao Tin Minh Chau Jelwery JSC has launched many items made from 14k, 18k and 24k gold and jewellery products to suit a range of needs and budgets.
DOJI has prepared 450,000 products for its 2023 Gold Festival from January27 to 31, with the main ones being 24k cat-inspired pieces in blister packs weighing 0.1, 0.2 or 0.5 tael and gold coins inscribed with images of God of Wealth. A tael equals 37.5gm.
Other jewellery companies like Sacombank Jewelry Company, SJC and Phu Quy Gold, and major gold shops across the country too have stocked a wide range of products.
Gold and jewellery shops also plan to remain open longer than usual to meet the likely rush.
Jewellery companies are also selling gold online, and customers who place order before the God of Wealth Day can get delivery at home or at the store at a designated time.
At 2:30pm on January 27 SJC was buying gold at VND67.5 million (US$2,870) per tael and selling at VND68.5 million ($2,916).
Shares gain on strong buying force
Shares gained on Friday as strong buying forces brought an upswing on blue chips, lifting indices.
On the Ho Chi Minh Stock Exchange, the VN-Index gained 0.81 per cent, to close at 1,117.10 points.
Liquidity declined compared to the previous session with more than 604.9 million shares worth VND11.1 trillion (US$473 million) traded in the southern market.
The market breadth was positive with gainers outnumbering losers by 275-132. Another 59 closed flat.
Blue chips led the market uptrend. Twenty-eight out of the top 30 shares by market value and liquidity on the HoSE gained value.
The VN-30 Index, tracking the 30 biggest stocks on HoSE, rose 0.78 per cent to close at 1,130.65 points.
In the VN-30 basket, the biggest gainers included property giant Vinhomes (VHM), Hoa Phat Group (HPG), Bao Viet Holdings (BVH), Masan Group (MSN), Mobile World Group (MWG), Vingroup (VIC) and Vietjet (VJC).
In the banking group, all stocks differentiated, with gainers including Military Bank (MBB), Vietcombank (VCB), Bank for Investment and Viet Nam International Commercial JS Bank (VIB) and Saigon-Hanoi Commercial JS Bank (SHB), and Tien Phong Bank (TPB). On the other side, losers were Sacombank (STB), Development of Viet Nam (BID), VietinBank (CTG) and Techcombank (TCB).
Energy stocks also performed positively with gainers such as Viet Nam National Petroleum Group (PLX), PetroVietnam Technical Services Corporation (PVS), PetroVietnam Drilling and Well Services Corporation (PVD) and Drilling Mud Joint Stock Corporation (PVC).
According to Viet Dragon Securities Co, it is expected that the market will struggle around the resistance area of 1,100 points of VN-Index and explore supply and demand in the near future. Therefore, investors should slow down and observe the supply and demand movement at the resistance area to assess the market's state, but can exploit some short-term opportunities in stocks with a positive accumulation background.
On the Ha Noi Stock Exchange, the HNX-Index rose 0.40 per cent to close at 220.76 points.
Trading value on the northern exchange reached VND954 billion, with trading volume of 68.6 million shares.
Positive prospects for Viet Nam stock market this year

The market's uptrend will continue to be consolidated in the first trading session of the Year of Cat.
Indices recorded a new high and closed above the resistance area of 1,100 points of VN-Index, equivalent to 1,120 points of the VN30-Index. Although cash flow has not improved much, supply pressure has not put great pressure on the market.
The market is expected to continue to be supported and gain points in the next trading sessions. Therefore, investors can still expect the market's ability to expand the uptrend and exploit some short-term opportunities in stocks with positive accumulation background, said Viet Dragon Securities Co.
The market continued to record new highs and surpassed the resistance zone of 1,100 points of the VN-Index in the last trading week.
2022 was an eventful year for the Vietnamese stock market with many records set.
After a prosperous 2021, the VN-Index continued to stay at its historic peak for the first three months of 2022. However, the market then declined, putting itself on the list of markets with the sharpest decreases in the world. As of December 27, the VN-Index had dropped to 1,004.57 points, or 34.2 per cent lower than the 1,520-point gained in April.
In some months in 2022, half a million trading accounts were opened. Foreign investors' net purchases reached a record high. The liquidity of some shares at times reached hundreds of millions of units each trading session.
In November and December, the market witnessed the strongest recovery sessions in the world.
In 2023, economic growth will be somewhat slower than the previous year. Some pressure from tight monetary policy in the world will make money flow into the stock market more difficult, said La Giang Trung, CEO of Passion Investment Co.
He added: "Two major factors affecting the stock market in 2023 are cash flow and the process of restructuring and shifting resources of the economy. If interest rates continue to rise sharply, the stock market will face difficulties, whereas when interest rates cool down, it can help the market grow.
"I am quite optimistic about the picture of the stock market in 2023. The first three to six months of the year will be a period of continued difficulties. But when the difficulties are over, the monetary policy will start to be loosen, which will open a new cycle for the stock market. Then the market will easily conquer new height in the following years."
There are two scenarios for the stock market in 2023. Firstly, the bottom of the VN-Index this year will not be lower than the level of 873 points set in 2022, and the market will go up gradually.
Secondly, the VN-Index will look for a new bottom before recovering at the end of the year. The market may fall to the old bottom of about 780-800 points, this possibility becomes real if the US economy falls into a sharp recession in 2023.
With the forecast that monetary policy will be eased soon in the second quarter of 2023, the market can increase by 50 per cent from the bottom, equivalent to 1,200 points at the end of this year. In 2023, there may be quite big fluctuations, but the general trend towards the end of the year is still positive, Trung said.
Source: VNA/SGT/VNS/VOV/Dtinews/SGGP/VGP/Hanoitimes